A family vacation to California's Disneyland is filled with thrilling theme park rides, magical parades and delicious dinners with your favorite characters. But when children tire of the excitement and the whole family needs a break from the parks, head to the shores that line the West Coast. From soft sand to unforgettable sunsets, finding a beach for your family to escape to will be far from difficult. There are the best beaches near Disneyland—within an hour of the theme parks.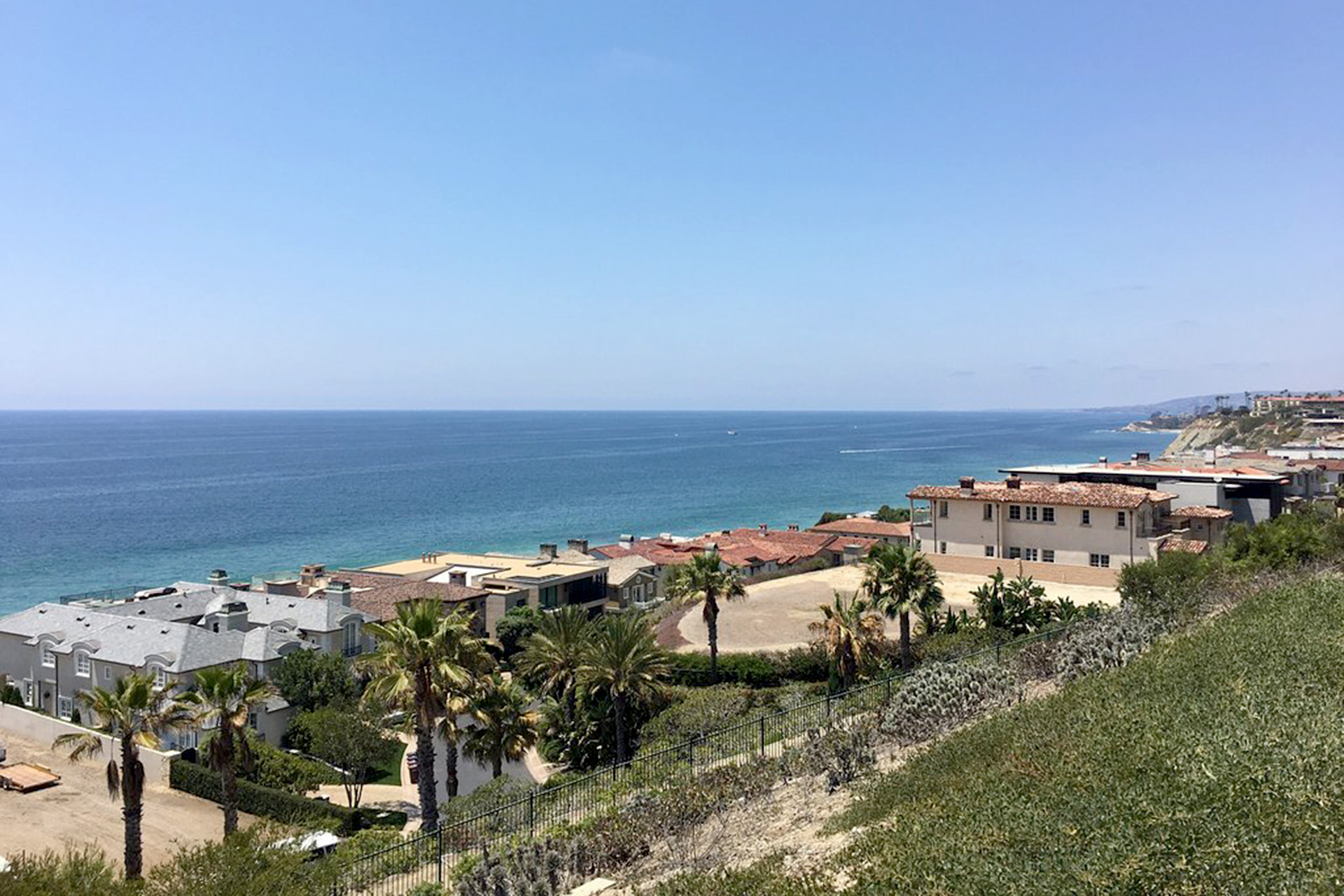 1. Doheny State Beach
Best known for its campsites, picnic areas and fire pits, Doheny State Beach in Dana Point is perfect for families who want to escape the energy of Disneyland and just relax. About 45 minutes from the theme park, this state beach is also home to waves that are ideal for surfers, tide pools for children to explore, and volleyball courts for active beachgoers. Lifeguards are stationed in the sand year-round, and restrooms and snack stands are available. When it's time for a break from the sun, take kids to the visitor's center at the entrance to the beach—it has an aquarium and animal displays.
Recommended Hotel: Laguna Cliffs Marriott Resort and Spa
2. Seal Beach
Seal Beach is named for the animals that once swam the waters off the coast of the seaside town. Today, seals don't visit much, but families easily can, as it's just a 30-minute drive from Disneyland. The beach is known for prime sandcastle building, kite surfing and swimming conditions, though it's also just steps from local shops and restaurants in the town of Seal Beach. Plus, free parking, picnic tables and bathroom facilities are available to all. Visit on Wednesday evenings in the summer season for the local concert series right on the beach—it's free.
Recommended Hotel: The Pacific Inn
3. Sunset Beach
As its name implies, Sunset Beach in Huntington Beach offers families amazing views of West Coast sunsets. Spend a day in the sand or just drive here for an evening picnic dinner on the beach—either way, it's doable since it's just 30 minutes from Disneyland. Celebrities are often spotted at Sunset Beach, which may be an added bonus for star-struck teens, but it's also known for its surfing and fishing. Lifeguards are on duty during peak seasons and public restrooms are available. Free parking is available on the street, but is limited.
Recommended Hotel: The Waterfront Beach Resort, a Hilton Hotel
4. Bolsa Chica State Beach
For families visiting Disneyland by RV, take a trip to Bolsa Chica State Beach in Huntington Beach for an overnight getaway with the kids. Located just 30 minutes from the theme park, the beach is home to the city's largest RV camp facility. Picnic areas, fire pits and popular outdoor activities also draw families to Bolsa Chica for beach days. Kite surfing is popular, as are bicycling and roller blading along the path at the beginning of the beach. Rentals, snack stands, showers and restrooms are available, and parking is about $10 per day. When evening sets in, head to one of the nearby restaurants for a family dinner.
Recommended Hotel: BEST WESTERN Surf City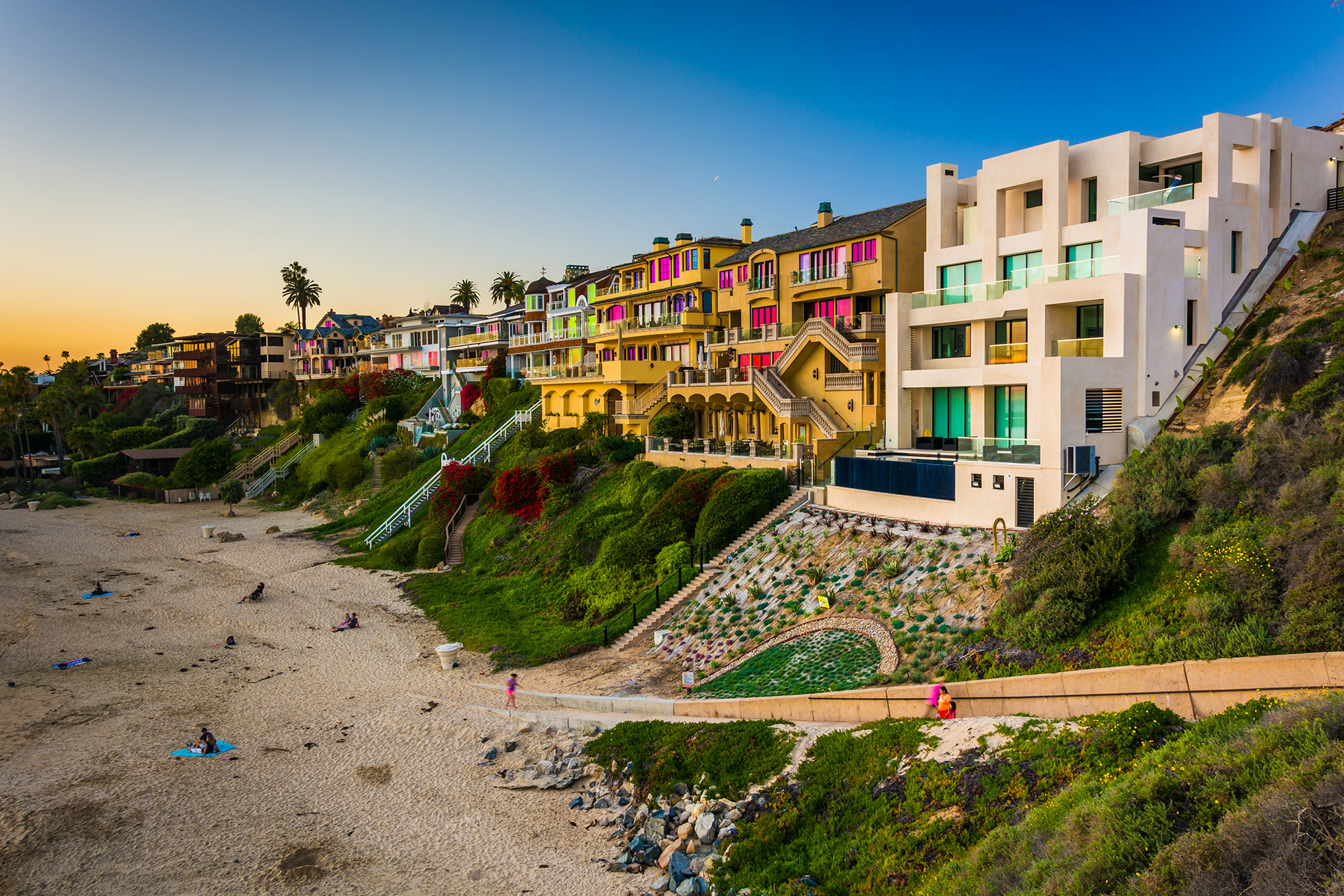 5. Corona Del Mar State Beach
6. Huntington State Beach
Connected to Huntington City Beach, where the famous Huntington Beach Pier is located, Huntington State Beach offers families a slightly quieter area for a day in the sand. Located about 30 minutes from Disneyland, the beach offers daily parking in a lot for about $10 per car, volleyball nets, bonfire pits and seasonal concession stands. During the summer, ice cream, soda, water, hot dogs, sandwiches and the like are sold, so families don't have to worry about lugging a cooler along for the day. Bring bikes for the paved trail that runs along the beach, or rent surfboards at a local shop—this is Surf City USA, after all.
Recommended Hotel: Newport Channel Inn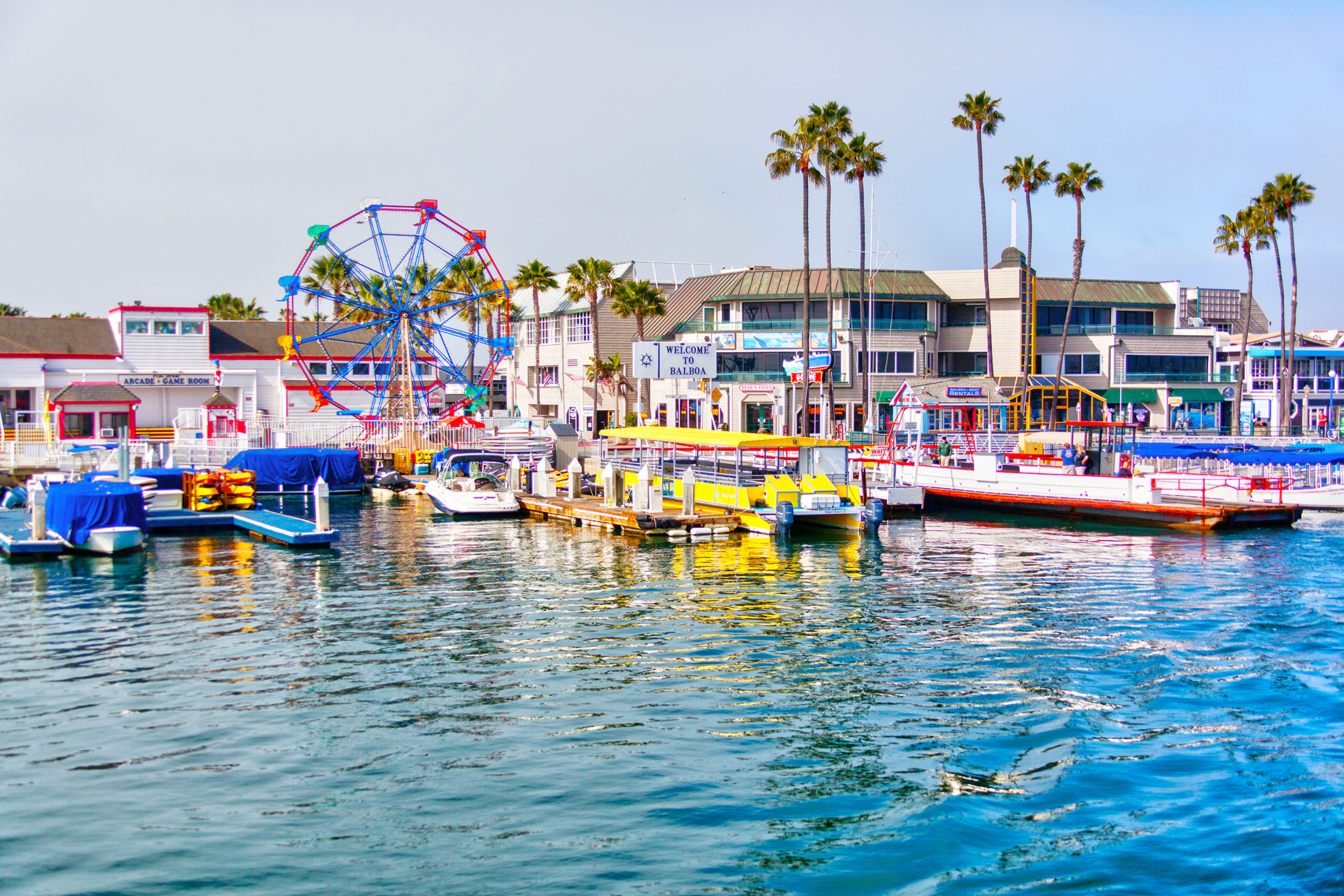 7. Balboa Beach
Newport Beach has a long strip of sand and surf, but we suggest Balboa Beach for families. With its public restrooms, kids' playground, family-friendly eateries, and more, Balboa Beach is a great place to spend a day away from Disneyland. It's just over a 30-minute drive from the theme park. For fun without the crowds of Disney, visit Balboa Fun Zone. Just a few minutes from your spot in the sand, it offers a traditional Ferris wheel and old-fashioned arcade games.
Recommended Hotel: Bay Shores Peninsula Hotel
8. Main Beach
Located in the heart of Laguna Beach, a little over 30 minutes from Disneyland, Main Beach and its adjacent park are kid-friendly. Families can explore the various tide pools, build sandcastles or stroll along the pathways lining the beach. The waves are great for swimming, and parents may be happy to know that surfing is not permitted during the summer months and fishing is never allowed. Main Beach has volleyball nets, two basketball courts, and shower and restroom facilities. Once you see the large white lifeguard tower, you'll know you've reached Main Beach.
Recommended Hotel: The Inn at Laguna Beach
9. Treasure Island Beach
With a name like Treasure Island Beach, families can surely expect to find something special at this Laguna Beach secret spot. Kids will love exploring the tide pools for starfish, collecting shells for sandcastles and picking up unique rocks along the surf. (Local laws prohibit guests from taking any treasures home, though.) Additionally, parents may find it interesting to learn that the 1934 film, Treasure Island, and the 1953 Lucille Ball and Desi Arnaz movie The Long, Long Trailer, were both filmed here. Treasure Island Beach is located behind the Montage Laguna Beach resort, about 40 minutes from Disneyland. It is open to the public, though secluded, with steep stairs the only way to get to the sand.
Recommended Hotel: Montage Laguna Beach
10. San Clemente State Beach
Slightly further south than most of the other beaches on this list (about 45 minutes from Disneyland), San Clemente State Beach has been a popular choice for families since the 1930s. Sandy cliffs surround the beach, allowing for a little privacy from the hustle and bustle of the town. It's popular with water sport enthusiasts and those who want to sleep in the sand under the stars—there are 160 campsites along the beach, each with a private fire ring and picnic table.
Recommended Hotel: Comfort Suites San Clemente Beach
What to Pack for Your Next Trip
For info on these editor-selected items, click to visit the seller's site. Things you buy may earn us a commission.
Our team of parents and travel experts chooses each product and service we recommend. Anything you purchase through links on our site may earn us a commission.