Whether it's your first camping trip or your kids can't get enough of sleeping in a tent, there is always something new to learn about the outdoor experience. We interviewed KOA Campground experts — some of the best in the industry — as well as our own Family Vacation Critic readers, for their advice on making a camping trip go well.
PLANNING & PACKING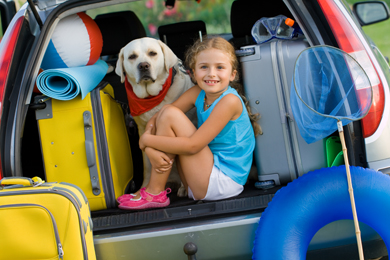 Packing can get a little tricky when it comes to spending a few nights in the great outdoors with children. Things get messy and sometimes uncomfortable. According to KOA Campground experts and our members, there are a few things your family just can't forget (or have enough of!) when in the wilderness.
1. Pack and Stack Storage Bins
Chrissy O. and her family pack everything in storage bins when getting ready for their camping trip. "They stack easily, pack in the car neatly and are pretty much waterproof," she says. If the bins are strong enough, you can even use them to sit on around the campfire.
2. Bring Extra Blankets or Foam Pads for Your Tent Floor
"Pack extra blankets for padding and make sure you get all of those rocks cleared before laying the tent," says Jamie K. If you don't want to get blankets muddy, try using foam floor tiles. KOA Campground's Manager of Training and Events, Stacey Huck, says that these foam tiles are softer and make for a comfortable tent floor.
3. Pack Clothes For All Types of Weather
While you need to pack only what can fit in a vehicle, pack for all types of weather. While it may be warm during the day, the nighttime temps may drop significantly. Bring clothing that can be layered, and bring extra clothing in case kids get too muddy or wet while exploring. For parents with little ones, Liz T. suggests packing each daily outfit in Ziplock bags, which can also be saved and reused. "These keep things prepared and dry [from dew]," she says. "Also, bring wet bags to keep dirty and wet clothes contained."
4. Keep First-Aid Kits Handy
Bug bites, scrapes and cuts are inevitable when camping in the woods. Polly Mulvaney, KOA Campground's director of content marketing, suggests keeping first-aid kits everywhere — in the truck, camper, backpack and purse. A great way to keep other sprays and creams together is by putting them in labeled Ziplock bags. "Always have an emergency kit in the car," adds Laurie H. "Ours has been worth every penny when items are forgotten on a camping trip.
5. Protect Yourself From Bugs
When camping or hiking in the woods, ticks and mosquitos can be big pests. Huck says a simple mixture of tea tree oil and water can prevent tick bites. "Add one part tea tree oil and two parts water to a spray bottle," she says. "The solution is a natural tick repellent." To prevent mosquitos from swarming your campsite, she recommends adding bundles of sage to the fire. If you do get a bite, Huck says use a hot spoon. "Bring spoons and heat one [over the fire] to stop the itching of a mosquito bite."
CAMPING ACTIVITIES
The best part about being in the great outdoors is often the fact that kids (and parents) must disconnect from Wi-Fi and cell phones. It also means tech-driven kids will need activities to save them from their social media and video game loss. Hiking and eating S'mores around a campfire are a given, but our members have other suggestions, as well.
6. Visit Ranger Stations for Activities
Many state and national parks will offer ranger-led programs on weekends and holidays, including family hikes, scavenger hunts, animal encounters and crafts. Matt and Val P. always visit the ranger station to see what kid-friendly activities are taking place during their stay. "See if they have any wildlife identification checklists, too," they say. If camping in a National Park, be sure to see what the kids can do to become Junior Rangers.
Created by International Star Registry.
7. Create Your Own Ranger-Like Games
If there isn't a ranger station, try creating your own scavenger hunt, says Huck. Kids can be on the lookout for a red bird, a Daddy Long Legs, or a moss-covered rock, for example. You can also try geo-caching, suggests Amy L., who tried geo-caching with her kids on her last camping trip. Parks may have sites set up for geocaching, and, says Amy, "most of the boxes in the state parks are educational and children can learn something about the area you are camping in. Children will be excited to go on a treasure hunt."
8. Think of Fun for Rainy Days
If it should rain or become too cold for outdoor fun, visit the nearest Tourist Center for ideas. If one isn't available, visit a local store and ask residents for their tips. Also be sure to pack reinforcements like travel games or a deck of cards. Patty A. suggests picking up several Dollar Store toys and keeping them hidden until an emergency. "Bubbles, water guns and balloons all are great things to hand off to your kids when they get bored," she says.
MEAL TIME
Cooking campfire meals for the family doesn't take a five-star chef, but it's not always easy, either. Besides trying to cook over a camp stove or a grill, a lack of a refrigerator and running water can become issues.
9. Prepare Meals at Home
Preparing food items at home allows for more fun at the campsite and makes cooking meals easier. Pre-pack menu items, and, like Mulvaney recommends, prep food at home before the trip. "From making dips to chopping veggies. I want to enjoy my time outdoors — not be stuck in the 'kitchen,'" she says. A few easy meals to prepare, according to Jodi K., include pocket stews, meatballs and seasoned veggies in foil — all of which can be slow cooked over the campfire. Soups, frozen pasta meals, and even pre-made, frozen Sloppy Joes work well at the campsite.
10. Keep Food Cold
Pack a cooler with ice for those foods that need to be refrigerated, i.e. butter, eggs, milk, etc. Many campgrounds are located near general stores that are able to assist campers, and most offer ice for restocking.
11. Pack Plenty of Cooking Utensils
A camping stove will make cooking go faster and tongs are great for lifting items off of the fire grill. Be as detailed as you can about what you will need to have with you to prepare the meals you are packing.
12. Pack for Cleanup
Pack garbage bags that are large and durable and designate one for trash and one for recyclables. Many campsites will offer hanging hooks for trash bags to keep raccoons from scrounging, but if you do not have a way to store trash off the ground, try an empty cooler or the trunk of the car. For cleaning up the kids before and after activities, KOA's Local Marketing Programs Coordinator Louie Mann suggests using hand sanitizer, which is easy and convenient. "Clorox Wipes and other disposable wipes work great, too," she says. These can be used for dirty arms and legs, as well as grills and other cooking essentials, and become a means to "shower" and "wash dishes." Be sure to bring plenty paper towels, plates and toilet paper – you can never have too much, says Mulvaney.
CHOOSING A CAMPGROUND
Campgrounds range in size and offer various accommodation areas, from tents, to RV hook-up areas, to cabins with all of the essentials from home. KOA offers three different styles of camping for families.
Holiday Campgrounds
Hook up your RV or settle in a deluxe cabin with running water and bathrooms at a KOA Holiday Campground. The Holiday campgrounds are meant for families who want to have a carefree vacation in the wilderness. KOA Holiday Campgrounds are offered in more than 24 states throughout the U.S.
Our Holiday Campgrounds Picks
Orlando/Kissimmee KOA
Boston/Cape Cod KOA
Traverse City KOA
Delaware Water Gap/Pocono Mountain KOA
Pigeon Forge/Gatlinburg KOA
Mystic KOA
Resort Campgrounds
The name says it all – Resort KOA Campgrounds offer a resort feeling for families camping in both RV's and cabins. Enjoy onsite food service, scheduled recreational activities and more. And with only four locations, families will be sure to receive high-quality service. And with only four locations as of October 2014, though several more KOA Resorts opening in the coming year, families are sure to enjoy a unique camping experience.
Our Resort Campgrounds Picks
Cape Hatteras KOA
Port Huron KOA
Waterloo/Lost Island Waterpark KOA
Shelby/Mansfield KOA
Journey Campgrounds
With convenient locations throughout the United States along highways, where families are often traveling, KOA Journey Campgrounds offer quick and easy set-up for those looking to just stay a night or two. RV supplies are offered and a well-lit, late-night check-in service is offered.
Our Journey Campgrounds Picks
Grand Canyon/Williams KOA
Yellowstone Park/Mountainside KOA
Clinton/Knoxville North KOA
For more information on KOA Campgrounds, please visit their website.
More from Family Vacation Critic:
A Beginner's Guide to Family Camping
A Beginner's Guide to RV Family Vacations
Summer Camps for Families
Our team of parents and travel experts chooses each product and service we recommend. Anything you purchase through links on our site may earn us a commission.