Sad your family vacation is over? Have a serious case of wanderlust? These inspirational travel quotes are the remedy you need (and the reason you'll immediately start planning your next family vacation).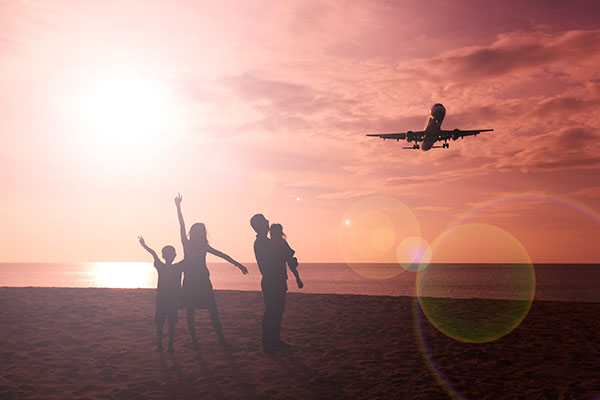 1. "As soon as I saw you, I knew adventure was going to happen." – Winnie the Pooh
2. "Good company in a journey makes the way seem shorter." – Izaak Walton
3. "I have found out that there ain't no surer way to find out whether you like people or hate them than to travel with them." – Mark Twain
4. "A journey is best measured in friends, rather than miles." – Tim Cahill
5. "Travel is more than the seeing of sights; it is a change that goes on, deep and permanent, in the ideas of living." – Miriam Beard
6. "Travel is the only thing you buy that makes you richer." – Unknown 7. "The real voyage of discovery consists not in seeking new landscapes, but in having new eyes." – Marcel Proust 8. "Wherever you go, go with all your heart." – Confucius 9. "To travel is to take a journey into yourself." – Danny Kaye 10. "Exploration is really the essence of the human spirit." – Frank Bowman
11. "There's a great big hunk of world down there and no fence around it." – Lady and the Tramp
12. "Once a year, go someplace you're never been before." – Dalai Lama
13. "People don't take trips; trips take people." – John Steinbeck
14. "Traveling — it leaves you speechless, then turns you into a storyteller." – Ibn Batutta
15. "It is not down in any map; true places never are." – Herman Melville
16. "Twenty years from now you will be more disappointed by the things that you didn't do, than by the ones you did. So throw off the bowlines. Sail away from the safe harbor. Catch the trade winds in your sails. Explore. Dream. Discover" – Mark Twain
17. "We travel, some of us forever, to seek other states, other lives, other souls." – Anais Nin
18. "The world is a book and those who do not travel read only one page." – St. Augustine
19. "Life is either a great adventure or nothing." – Helen Keller
20. "To move, to breathe, to fly, to float, to gain all while you give, to roam the roads of lands remote, to travel is to live." – Hans Christian Andersen
21. "It is good to have an end to journey toward; but it is the journey that matters, in the end." – Ernest Hemingway
More From Family Vacation Critic:
9 Once-in-a-Lifetime Family Vacations
12 Places Kids Should See Before They Grow Up
Our team of parents and travel experts chooses each product and service we recommend. Anything you purchase through links on our site may earn us a commission.