1. Celebrate a Historic Anniversary.
The first shots of the Civil War were shot 150 years ago and even 150 years later, the war that divided our country remains an important part of American history. Give your school-aged children an up-close and personal history lesson by visiting some of the Best Historical U.S. Sites for Kids like Gettysburg, Pa., and Charleston, S.C.
2. Meet Po in Person.
The Atlanta zoo welcomed its newest baby panda late last year — a big deal when you realize how few endangered panda cubs are born and survive annually. In the spring, the baby panda received its name: Po, after the Kung-Fu fighting panda in Disney's "Kung Fu Panda." Atlanta has other great sites to see, as well, so add it to your list. (Don't worry, most everything in Hot-lanta is air-conditioned!)
3. Release Your Inner Cowboy.
For a rip-roaring good time that your kids will rave about for years to come, consider a dude ranch. The entire family can get outdoors for horseback riding, fishing, hiking, and swimming in ponds and streams, and then gather nightly around the campfire for stories and S'mores. Check out 10 Best Dude Ranches for Families for ideas.
4. Do Some Good.
Instead of sitting on the beach this summer, consider lending a hand in a vacation that gets your kids involved in helping others. Volunteer Vacations are becoming increasingly popular among families, especially in the wake of natural disasters in Haiti and Japan. You can travel abroad with a reputable group like Cross-Cultural Solutions, or stay right here and help clean up the national parks and trails by joining the Sierra Club for a multi-generational project.
5. Ride a Loop de Loop.
What kid doesn't want to run around an old-fashioned amusement park, screaming wildly when they are flipped, looped, and tossed about on a number of rollercoasters. Even better with a parent who doesn't have nerves of steal. (Something about watching us squirm makes them laugh — and appreciate our efforts more.) So, be a kid again and hit a local amusement park of one of our favorite 8 Electrifying Amusement Parks.
6. Celebrate Lady Liberty's Birthday.
This year, the Statue of Liberty turns 125, so give the lady her due with a visit to New York. Hop a ferry over to Ellis Island and Liberty Island, taking in the rich history of the thousands of immigrants who arrived here by boat and glimpsed these very shores with smiles and anticipation, then, if little legs can handle it, make the climb. You can elect to climb to the pedestal (Liberty's base, and still a hearty 192 steps) or make it all the way to the top of the crown for the best views of Manhattan (a whopping 354 steps).
7. Cruise with Disney to Alaska.
Disney is making its first trip to Alaska in May (and we'll be covering it all!) and throughout the summer to provide families a chance to visit one of the most pristine land and waters in the U.S. — all with Disney's magic touch. Disney Cruise Lines are renowned for being family-friendly and their Alaska trip aboard Wonder will be filled with Disney characters, kids' clubs and activities, and uber-kid-friendly adventures at ports like Skagway and Ketchikan.
8. Have a Sleepover at a Major Museum.
Did your kids love "A Night at the Museum" (did you?)? Take part in the real thing at a number of museums across the country. The American Museum of Natural History in New York is featured in the film, and we've got it plus nine other Best Nights at the Museums programs to check out.
9. Getaway to a Resort that IS the Destination.
You know what we're talking about — the grand resorts that sit atop a mountain, nestled beside a lake, or overlooking a gorgeous coastline. These old-fashioned resorts harken back to yesteryear, when families would spend a week or their entire summers amongst friends they would see year after year. Here, it's not about what you'll see and do over your vacation, but about spending time together, and enjoy activities outdoors with the kids. Visit our 10 Best Grand Resorts for some of our favorites.
10. Visit the Water Park Capital of the World.
For kids, there isn't anything that beats splashing around in cool water on a hot summer's day. (Me? I once saved all of my babysitting money for a year to blow it at a water park for one week with my little sister.) The Wisconsin Dells in Wisconsin is the self-proclaimed water park capital of the world, and we won't dispute it when they offer up nearly two dozen massive water parks to visit, some indoors, some outdoors. Even if you're not in the Midwest, making a trek to the Dells is a true gift to your kids this summer.
11. Take a Road Trip.
The Great American Road Trip is an oft-written passtime (think Kerouac's "On the Road") and most of my childhood vacation memories include the drives. Right out of "National Lampoon's Vacation," we would stop at obscure sites en route. Then again, sometimes the road trip can be the vacation, such as driving the Pacific Coast Highway from San Francisco to Los Angeles. Famed for its coastal views and Big Sur, it remains a dream trip for many folks. We've got more Sensational Drives for Families, as well as advice for surviving a car trip.
12. Give Harry a Proper Send off.
This summer, the last Harry Potter movie will premiere, ending what has been a fantastic nine-year run of movies from the beloved J.K. Rowlings series. Make it an extra special farewell with a visit to Universal Studios Orlando's The Wizarding World of Harry Potter.
13. Catch a World Cup Soccer Game.
Although the U.S. is behind the rest of the world in enjoying and following professional soccer, join the international world in supporting the Women's World Cup soccer tournament. From June 27 through July 17, the best women soccer players in the world will descend upon Berlin — a great excuse to visit Germany (if you didn't already want to check out where the former Berlin Wall stood). Berlin is filled with fun for the kids outside of the soccer arena, as well, just check out our Berlin for Families guide.
14. Celebrate 100 Years of Thunder.
Kicking off summer every year is the Memorial Day Weekend Indianapolis 500 car race. For anyone who hasn't been to a race, the ground shakes as the cars thunder by, and this year will be the Indy's 100th anniversary. Indianapolis is also a great destination for families, easy to get to from the Midwest, and filled with sports-loving attractions for any child who loves basketball, football or other sports outside of automobile racing.
15. Celebrate Another Red, White & Blue Celebration.
Bastille Day, July 14, is the date the French celebrate their independence, and French nations come alive with fireworks and events. You don't have to go to Paris (although it certainly wouldn't hurt!) for the fun, Quebec City and Montreal both offer fun festivals. Even American cities like Boston and Philadelphia have parties through their Alliance Francaise, blocking off streets for fairs and food-filled fun.
16. Sample Some Sweets.
Hit the road on a tour of our 10 Best (and Sweetest!) Factory Tours. Visit the Jelly Belly Factory in California, indulge in chocolate at Hershey Chocolate World in Pennsylvania, eat more than one chip at the Cape Cod Potato Chip Factory in Massachusetts, and get a brain freeze eating ice cream at the Ben & Jerry Ice Cream Factory in Vermont.
17. Watch the Amazing Speeds of Cyclers in France.
Everyone knows who Lance Armstrong, is, but who will be the next great cyclist to win a string of Tour de France's? The endurance sport will roll through the country between July 2 and July 24, and you and the family can then enjoy the family-friendly attractions and sites in Paris.
18. Visit Major Museums for FREE!
When it comes to traveling with the kids, free is always better, and who can beat free admission to some of the best museums in the world? Washington, D.C.'s 19 Smithsonian Museums, including the Air & Space Museum, Museum of Natural History and the National Museum of American History, are all, yep!, free! In PhiladelphiaMuseum of Art. Visit Target's website, as well, for it's list of free museum days around the country that they have sponsored.
19. And National Parks, Too!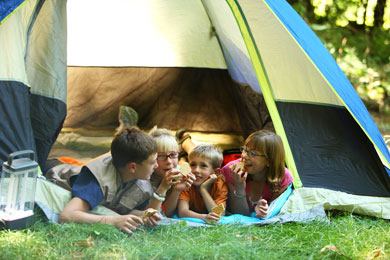 The U.S. National Parks also offers free admission on the first day of summer (June 21), so take advantage of another freebie and start your summer off right! Admission is free at ALL the parks, including Acadia in Maine, Yellowstone, and the Great Smoky Mountains in Tennessee.
20. Vacation Like a Vanderbilt.
Boy the ultra-wealthy sure knew how to enjoy their summers back in the day: in grand mansions with outstanding views. Head to Newport, R.I., to visit the Vanderbilt's summer "cottage," The Breakers, or to their mountain estate in Asheville, N.C., The Biltmore. Then enjoy the area's other family-friendly activities.
21. Enjoy the Slopes, Sans Snow.
Once the snow melts, ski resorts actually come to life in the summer. Using their lifts to bring people to the mountain peaks for downhill mountain bike or hiking on the trails, families can continue to enjoy mountain resorts year round. All that melted snow results in nearby rivers offering fantastic river rafting adventures, like in Colorado, and winter resorts open throw open their doors for summer travelers who splash in their pools, and gather 'round fire pits for S'more-filled evenings.
22. Bunk at a Summer Camp Together.
Summer camp is no longer just for the kids! There are a host of family summer camps that allow parents to sleepaway with their tots and participate in all of the fun from potato sack races to greased watermelon swimming races, and then gather at night for ghost stories and scavenger hunts. Check out our Summer Camps for Families.
23. Enjoy Long Weekends Mini-Getaways.
Memorial Day Weekend, Independence Day Weekend and Labor Day Weekend are three great excuses for hitting the road. Looking for a quiet beach to make your escape? Consider the Jersey Shore's many family-friendly (not at all MTV-like) areas, Cape Cod, Hilton Head or Myrtle Beach if you're on the East Coast. Midwesterners can head to the Lake of Ozarks, the Florida Panhandle, or the Upper Pennisula of Michigan. On the West Coast? Slip away to Santa Cruz or Santa Barbara.
24. Celebrate a King in August.
If you needed one more reason to visit our nation's capital, make it the unveiling of the Martin Luther King Jr. National Memorial. The 28-foot-tall statue will be located near where he delivered his famous "I have a dream" speech before crowds on the National Mall. The Washington, D.C., unveiling will be held in August 28, where King's memorial joins the Mall's many monuments and memorials, including the Lincoln Memorial, the Vietnam War memorial and the Washington Monument.
25. Say So Long to Summer in New York.
The U.S. Open is a fantastic kid-friendly tennis tournament held annually in New York, but many don't realize that before the event is a great kids' specific event. The Arthur Ashe Kids Day, named for the renowned U.S. tennis champ, is filled with Disney performers and kids' faves putting on concerts while tennis greats introduce kids to tennis. The event will be held on August 27 this year, with the U.S. Open following for two weeks. Besides the tennis, families will have a number of attractions to visit and things to do in New York.
Of course, if these ideas don't float your boat, take a look at our 10 Best Family Vacations ideas. You'll find 10 Best Movie Destinations, 10 Best Beaches for Families, 10 Best Caribbean Family Resorts and more. Of course, our Destination reviews can also give you insight on the family-friendly attractions (and hotel choices) in various cities and areas you may want to explore this summer.
Our team of parents and travel experts chooses each product and service we recommend. Anything you purchase through links on our site may earn us a commission.