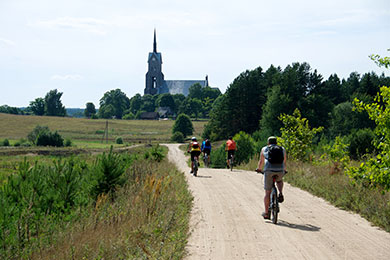 Sightseeing in Europe can get tiresome for kids, but add the excitement of bicycling from place to place and the camaraderie of traveling with others, and suddenly even your teenagers will be eagerly getting up early in the morning to join each day's programs.
Cultural immersion and history naturally come with the territory on these slow-travel journeys. The organizers carefully curate the best of their destinations, letting parents off the hook when it comes to planning and managing logistics. Most trips have multiple guides, so while one guide is racing the kids up a hill for a gelato, another might be stopping for an aperitif with the parents. And while most of the guided trips are pretty flexible and freewheeling, there are also self-guided options for families who want the logistical support of a tour, minus the schedules.
We think the best family bike trips are big on off-road and tranquil backroad routes, kid-oriented learning activities, and family friendly accommodations, with a pool, beach or space to run around. With that in mind, here, in no particular order, are five of our favorites:
1. Ciclismo Classico's "Fun in the Sardinian Sun" – Sardinia, Italy
The combination of beaches, cultural immersion and historic sites dating back to the heydays of the Phoenician and Roman civilizations make the seven-day "Fun in the Sardinian Sun" itinerary from Italian bike tour pioneer Ciclismo Classico ideal for families. No worries if you're not avid cyclists — there's a choice of routes with varying mileage on most days, and a "sag wagon" to hop into for an air-conditioned boost up a big hill or a break.
Sardinia is one of Italy's off-the-beaten-path treasures. The second largest island in the Mediterranean, unspoiled Sardinia is home to four million sheep and well under two million people. The trip takes full advantage of its rocky, cove-scalloped coastline and long stretches of pristine sandy beaches.
Among the highlights are a kid-oriented visit to the Phoenician museum, stops to swim and snorkel in pristine coves, and boat and canoe trips. You'll also visit small fishing villages and learn about the "mattanza," a traditional communal method of fishing for giant bluefin tuna during their annual spring migration.
Unlike most bike tours, which change hotels almost every night, Ciclismo Classico family trips try to minimize the moves to avoid the stress of packing everyone's luggage every morning. This also makes opting out of a ride easy if someone isn't interested, and makes the trip welcoming to non-cyclist travelers. The Sardinia route sets up loop rides from two lovely hotels, one with a pool and the second, a resort situated along a lovely white sand beach.
A Ciclismo Classico hallmark is its emphasis on cultural immersion, which includes gentle language lessons along the way. So don't be surprised when your kids say "arrivederci" as they depart from Sardinia.
2. Austin Adventures' "Mosel Valley Tour" – Mosel Valley, Germany
This trip covers two thousand years of history as imposing castles, ancient Imperial Cities and the remains of Viking and Roman civilizations make the past come alive on the seven-day Mosel Valley family itinerary from Austin Adventures (formerly Austin-Lehman Adventures).
Life seems unchanged by time in the small villages along the Mosel River, with their lively town squares surrounded by sidewalk cafes. Here, street performers and vendors selling medieval garb, toys and treats like strudel, spaghetti-shaped gelato and French fry-style potatoes served in a cone with mayonnaise, provide instant immersion.
Kids will also appreciate Austin Adventure's fun twists on tours. For example, a local guide might dress in Roman robes and share weird details of life in Roman times. Among the highlights is Burg Eltz, a medieval castle, where you'll learn how cleverly the ancients built their castles for comfort and safety, and St. Castor Church, where your guides try to time your visit so you can hear the hauntingly beautiful pipe organs.
A paved, traffic-free bike path runs along the Mosel — and gently downhill from Trier to Koblenz — making this a great trip for younger kids, and the sag wagon and e-bikes (electric bikes that boost your pedal power available on all Austin Adventures itineraries) make it easy for less fit family members to pedal along.
The Austin Adventures trip focus is connecting with the culture. Hotels are chosen for local flavor and architecture, as well as comfort. Restaurants (all meals are included) feature authentic regional cuisine. And often, a tasting of local wines will be presented by a local vintner, or a chef might step out to talk about local spices and meal preparation.
3. Butterfield & Robinson's "Normandy Family Biking Tour" – Normandy, France
From Viking settlements and the Battle of Hastings in 1066 to the D-Day landing during World War II, Normandy is filled with history for families to discover together. But it's the enticing separate activities — the afternoons that kids (suggested ages of eight and up) spend horseback riding, racing quads and sand-surfing on the beach, while their parents enjoy leisurely afternoons of cycling, sightseeing and kicking back to sip Calvados — that really set the five-day Normandy Family Biking tour from Butterfield & Robinson apart.
With more than 300 miles of dedicated bike paths and long stretches of flat terrain, Normandy seems made for cycling. D-Day gets a lot of attention on this tour, as it should. A visit to the compact Invasion Museum at Arromanches introduces families to the geography, challenges and strategies. Together, families deepen their understanding by visiting Omaha Beach, Pointe du Hoc, the American cemetery and other sites, and on the last evening, have the chance to dine with a member of the French Resistance.
Other shared experiences include biking through the lush Norman countryside to a private chateau for a grand country lunch, complete with two local specialties, cider and Calvados, and a bike ride through the wetlands of Vernier, known for its thatched roof cottages, to Honfleur, where impressionists Claude Monet and Eugene Louis Boudin found inspiration. Another family experience is the high ropes tree-climbing course, where kids usually outclimb their parents.
The caviar of bike tour operators (with prices to match), Butterfield & Robinson, accommodates cycling families at Le Normandy Barriere of Deauville, a historic grand dame hotel with a lovely indoor pool, and at the new Villa Lara, a boutique design hotel in vibrant heart of the medieval Norman town of Bayeux, with spectacular views of the 11th century Cathedral, and just steps from the lively bistros and quaint shops that line its narrow pedestrian-only streets.
4. ExperiencePlus' "Costa Brava" – Catalonia, Spain
Costa Brava means "rugged coast" and this varied itinerary from ExperiencePlus! combines coastal rides with treks inland to walled medieval hill towns. Delights include beaches, castles and the dramatically beautiful, gnarly stretch of rocky coast that inspired artists such as Savador Dali, Joan Miro and Pablo Picasso. Rated for intermediate beginners, the terrain is generally gently rolling or relatively flat with a few challenging climbs that can be easily shuttled past.
In this corner of Spain, modern crafts people and artists work in centuries-old walled cities, and new resorts sit side-by-side with traditional fishing villages. The trip starts in Girona, a vibrant, ancient city known for its cuisine, street festival ambience and well-preserved pedestrian-only Old Town.
Cycling highlights include the Vias Verdes, a rails-to-trails route from Girona to the Mediterranean Sea, a boardwalk trail along the beach, the scenic Cap De Creus and Dali's summer home in Cadaques. The journey ends in Figueres, Dali's birthplace and home to the world-famous Dali Museum. While ExperiencePlus! doesn't arrange kid-specific activities, its strong cultural focus draws kids in, and accommodations, all either on a beach or with pool, include several two-night stays.
ExperiencePlus! cyclists never feel pressure to keep up with the group. And they don't need to look at maps, either. That's because every morning, the guides "chalk out" the day's route on the roads, drawing distinctive white arrows at every turn. The popular white-chalk navigation system has special appeal to older teens — and adults — who love being able to ride independently without consulting directions or worrying about staying on course.
5. Pure Adventures' "Loire Valley Classic" – Loire Valley, France
A parade of fairytale-like chateaus, gentle terrain, riverside bike trails and wonderful bakeries, restaurants and food markets places the Loire Valley high on our list. The customizable, self-guided four- to seven-night "Loire Valley Classic" tour, from Pure Adventures, provides a detailed RoadBook and onsite support that make it easy for families to explore the region at their own pace and budget.
The history of France comes to life in the Loire Valley, where for centuries, French royalty built their most lavish chateaus. Today, many are open to tourists or have been converted to hotels. A choice of easy or moderate loop rides from the hotels in Amboise and Blois lets you cycle to some of the most spectacular, including the river-spanning Gothic/Renaissance Chenonceau and multi-towered, 440-room Chambord, the largest in the region.
Kids will especially enjoy the Parc Leonardo da Vinci at the Chateau du Clos Luce in Amboise, an open-air museum where interactive exhibits like a swing bridge bring the inventor's work to life. Accommodations choices include Le Choiseul in Amboise, where 18th century residences and an outdoor pool are set amid Italian-style gardens, and the modern Mercure, with its heated indoor pool, in Blois.
Pure Adventures self-guided trips kick off with an in-person orientation and bike set-up, and include telephone support, baggage transfer and emergency van service. One of the delights of these free-wheeling trips is the freedom to stop whenever you choose, so as you pedal past vineyards and pastures with grazing sheep, goats and cows, watch for "degustation" or tasting signs. Cheese, wine, grape juice and chocolate are among the fun local products to sample.
More from Family Vacation Critic:
10 European Train Trips for Families
Family Vacations Ideas in Europe
5 Places to Explore Harry Potter's Britain
Our team of parents and travel experts chooses each product and service we recommend. Anything you purchase through links on our site may earn us a commission.