Undertaking family travel can be a challenge at times, so before you head for your next family vacation, check out these innovative travel gadgets that make it all a little easier and more fun, too!
1. AIR-O-SWISS Travel Ultrasonic
There's nothing worse than being stuck in a hotel room with a child who can't sleep due to a stuffy nose. With the compact, lightweight Travel Ultrasonic by AIR-O-SWISS, it's super-easy to provide clean, moist air in your on-the-go environment, allowing your child (as well as the rest of the family) to sleep soundly. The ultra-quiet, energy-efficient Travel Ultrasonic uses high frequency vibrations to create a controlled micro-fine, cool mist, which is dispersed into the room where it evaporates. The best part is its simplicity: to use, just attach your own water bottle and plug it in! An auto-shut-off and empty-indicator ensures safety, and included transcontinental AC adapters and exchangeable plugs allow use throughout North America and Europe.
Available from AIR-O-SWISS, $40
2. GRANDMAX Tweakers GoRock Wireless Stereo Speakers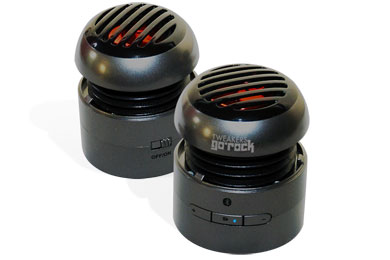 There's no reason to sacrifice on sound quality or convenience when you travel with the portable Tweakers GoRock Wireless Stereo Speakers, rechargeable wireless mini speakers that pack a punch — a twist pops up the bass chamber. The compact speaker works with most Bluetooth-enabled electronics and all Apple devices like your smartphone, smartpad, MP3/MP4 player, and laptop, increasing your enjoyment of listening to music and watching movies while traveling. An alternate wired connection allows use with electronic devices without Bluetooth. Enjoy music for hours with a single charge of its rechargeable lithium battery or continuous play when connected to a power source via the included USB charging cable. Speaker set includes a carrying pouch, a charge adapter and an instruction manual.
Available from GRANDMAX, $60
3. KODAK PLAYFULL Waterproof Video Camera
Now you can have it all; with the PLAYFULL Waterproof Video Camera, you can capture high-quality video of your kids being goofy underwater in the pool or even up to 10-feet underwater while snorkeling (the underwater correction mode keeps the colors saturated and vibrant). When above water, turn on the LCD Glare Shield and easily view your screen even in blinding-bright sunlight. PLAYFULL's lightweight and compact size, about the size of a credit card, makes it perfect for carrying in your pocket or purse, and it's durable, too, withstanding falls from up to 5 feet. Record all day long, up to 10 hours, and at the end of the day, use the Share button or pop-out USB arm to easily share your fun with friends and family via email or your favorite sharing sites. Compatible with both Mac and PC.
Available from Kodak, $100
4. Brookstone 4-in-1 Power Charger
A must for any traveling family, Brookstone's 4-in-1 Power Charger will keep your smartphone, digital camera, Kindle, and just about every handheld electronic device (except your iPad) ready and charged while away from home. Choose from four different sources of power: your vehicle's power socket, a computer USB port, a 9-volt battery or a standard wall plug. When you're back home, keep the charger with you as back-up while you're out around town. The Power Charger is compact, simple to use, has a retractable cord and comes with a charger case.
Available from Brookstone, $40
5. AERIAL7 Arcade Children's Headphone
With kids in mind, Aerial7 designed special children's headphones that are not only stylish, but also ensure safety with Automatic Volume Reduction (AVR) technology; if the volume is accidentally bumped up, it is automatically reduced to 85 decibals, keeping the sound both crystal clear and safe for kids. The award-winning headphones feature a headband designed to fit kids' heads and soft ear cushions, which keep listening comfortable for hours. Available in four color choices, both girls and boys will find a favored pick.
Available from AERIAL7, $35
6. Travelon Ergonomic Digital Scale
Don't risk paying hefty overweight and oversize baggage fees or hurting yourself while juggling your luggage overhead while trying to see the read-out on your bathroom scale! With Travelon's Ergonomic Digital Luggage Scale, simply hook your suitcase handle onto the compact, handheld scale and voila, an accurate digital reading is delivered, up to 75 pounds. The backlit digital read-out is easy to read and stays locked until cleared with a twist. The dual-feature handle includes options for lighter and heavier bags, as well as a handy tape measure to ensure your suitcase meets size requirements. When you're done, the scale's hook tucks safely away.
Available from select Web sites and stores, from $25
7. JOBY GorillaMobile for iPhone 4/4S
Perfect for travel, JOBY's GorillaMobile conveniently positions and stabilizes your smartphone or other handheld device for taking photos, filming video, playing a game or watching a movie. Modeled after their famous GorillaPod for cameras, the GorillaMobile is a mobile tripod designed for the Apple iPhone 4G and 4GS, and comes with a soft, protective phone case, adaptor clip and high-bond adhesive clips (allowing use with other mobile phones and almost any handheld device including your iPod Touch, GPS unit, compact digital camera and mini video camera). Simply mount your device to the GorillaMobile and easily stand it on a flat surface or wrap the super-flexible and grippy legs around a stroller handle, an airplane tray, a pool or beach umbrella poll, or even a tree branch!
Available at select select Web sites and stores, from $30
For more family vacation ideas, check out:
Visit our Forums for discussions on Family Vacation Planning, Tips and Ideas.
Our team of parents and travel experts chooses each product and service we recommend. Anything you purchase through links on our site may earn us a commission.