When you think of an all-inclusive vacation, your mind probably heads straight for the Caribbean or Mexico. But did you know there are all-inclusive resorts in the U.S.? Some hotels in the U.S. provide all-inclusive accommodations, while others offer packages and plans with accommodations, meals and activities included in one easy price. These are our favorite all-inclusive resorts in the U.S. for 2020.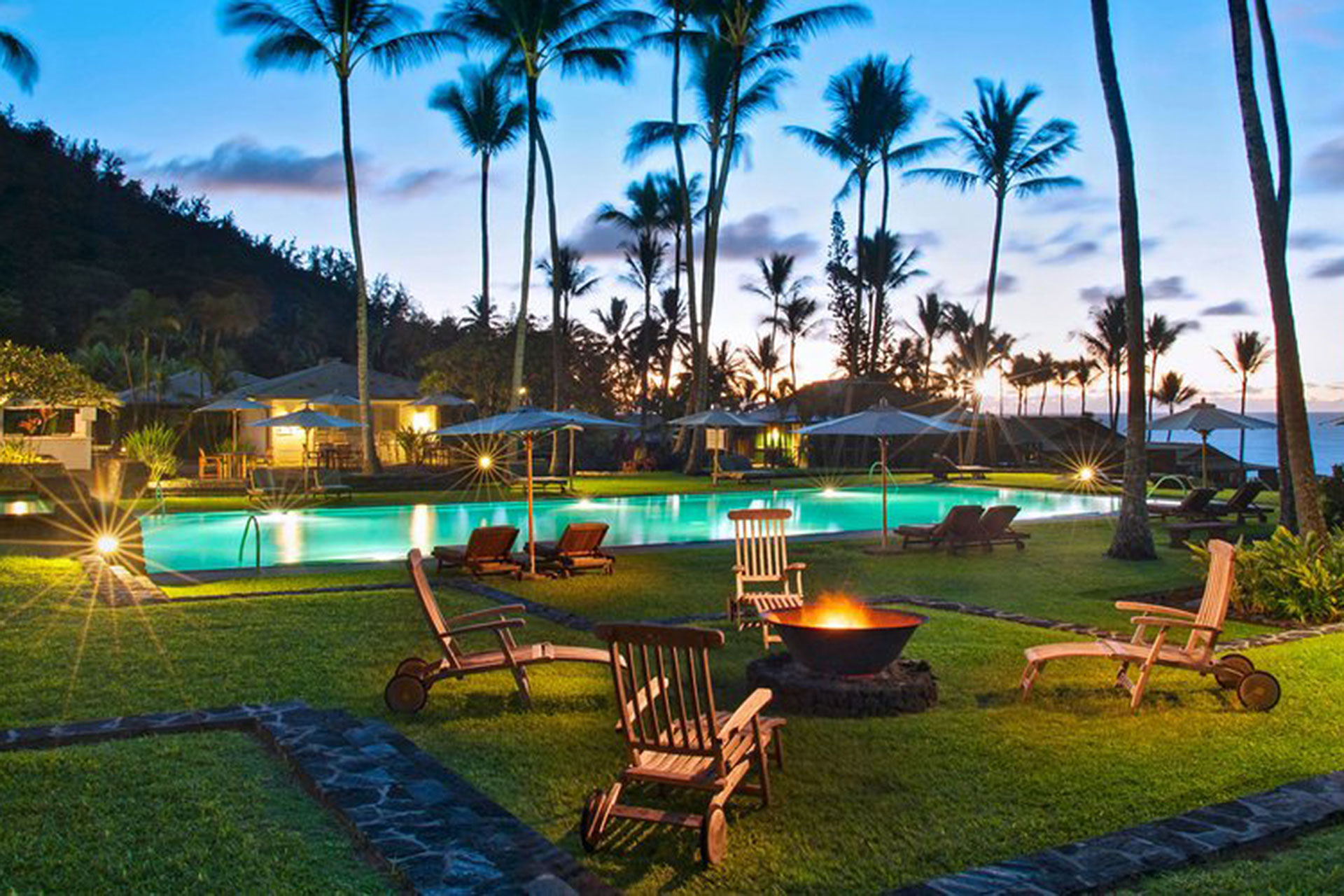 1. Travaasa Hana – Maui, HI

Travaasa Hana is a beautiful resort in the area of Hana on Maui. Rustic wooden cottages sit among palm trees near the beach, with luscious green lawns surrounding them. Families can also stay in luxurious family suites with stylish seaside wooden interiors. The nearby activities on offer make Travaasa a truly special family getaway. Spend the day visiting waterfalls or black-sand beaches, rent kayaks or go horseback riding past mountain scenery. The unique personality of this resort combines luxury with nature to create a destination that blends into the local landscape.

2. Rocking Horse Ranch Resort – Highland, NY
The perks of an all-inclusive resort combine with the charm of a boutique hotel to create a memorable family experience at Rocking Horse Ranch Resort in Highland, New York. This year-round destination resort (especially fun in the fall) offers unlimited horseback riding, an indoor water park, outdoor pools, water sports on the lake, an arcade, mini bowling and so much more. It also offers themed holiday events and pricing incentives throughout the year. The kids will love the guestrooms with bunk beds, and you'll rest assured everyone will eat well as the kitchen staff cooks fresh, delicious meals and happily caters to those with dietary restrictions and special requests.

3. Mountain Sky Guest Ranch – Emigrant, MT

This western dude ranch is so much more than a traditional dude ranch! Visit the Mountain Sky Guest Ranch in Montana and you'll ride horses, fish, hike and enjoy the great outdoors. The upscale dude ranch also features gourmet dinners, wine and cheese hours, and private cabins so you can enjoy the Wild West in style and comfort. Kids' programming will keep the kids happy, and the entire family will enjoy the mountain air and dude ranch's rugged location.
4. Migis Lodge – South Casco, ME

Migis Lodge feels like a well-kept secret—and that's exactly why we love it. It offers a fantastic "Full American Plan" getaway option for families, with wonderfully styled and luxurious cabin accommodations, daily meals, and a number of activities and kids' programs included. Kids can learn to water ski (included!), fish, swim, kayak and more on Sebago Lake, as well as enjoy special children's activities and the Children's Zoo in the evenings. Families will also love the Lobster Bakes and Island Cookouts.

5. Woodloch Pines – Hawley, PA

Located on 1,200 acres of land, Woodloch Pines traces much of its success to a decision not to host a children's program. Instead, the lakefront Poconos resort provides much for families to enjoy together. In the summer, guests can water ski, kayak, sail, bike, hike, play mini-golf and swim in indoor and outdoor pools. Join in family games, cookouts, scavenger hunts and karaoke, too. In the winter, go snow tubing, ice skating and fishing. Room rates come with meals and most activities. The two- to five-bedroom Guest Homes may be rented with or without a meal plan.
6. Tyler Place Family Resort – Swanton, VT

Tyler Place Family Resort's formula for good, old-fashioned family fun features morning and evening children's programs with afternoons free for families to bike, hike, canoe and sail together. Little ones fish for perch and play dress-up; preschoolers listen to stories and jump on trampolines; and grade-school kids go on nature hikes, participate in gymnastics and put on marionette shows. Tweens take to zip-lines and go on fishing trips while teens add bicycle trips and water skiing. The accommodations, whether in the resort's rooms or cabins, tend toward basic, but are comfortable. Kids and parents are separated at dinnertime, ensuring parents have time to relax, too.

7. Club Med Sandpiper Bay – Port Saint Lucie, FL

Located in Port Saint Lucie, Florida, Club Med Sandpiper Bay is America's only all-inclusive chain resort. One of the best all-inclusive resorts in Florida, Club Med Sandpiper Bay makes the cut for its renowned amenities and activities, all included in the price. The resort features three swimming pools, an 18-hole golf course, an International Tennis Academy, and kids' programs for all ages, from infants to teens. The resort's 337 rooms are divided between seven buildings along the St. Lucie River. Families can dine in three onsite restaurants and one casual sports bar, with the Marketplace restaurant featuring its Baby Corner for children to play in during dinner.

8. Pine Ridge Dude Ranch – Kerhonkson, NY

Pine Ridge Dude Ranch is a laidback and wildly fun all-inclusive ranch getaway experience that the whole family can enjoy. Set in the foothills of the Catskill Mountains, only 90 miles from New York City, Pine Ridge offers a range of rooms that can sleep from two to seven people. During the day, adults and kids alike can channel their inner cowboy (or girl!) and horseback ride through the wilderness. There are a huge range of other activities on offer, too, such as a mini-water park, archery, and campfire sing-alongs with S'mores. Three all-you-can-eat meals are served per day.

9. Mohonk Mountain House – New Paltz, NY

Rock scrambles, carriage rides, woodland hikes, trout fishing, lake swims and campfires with S'mores are just some of the activities featured at Mohonk Mountain House, a 265-room National Historic Landmark resort. Sprawled across roughly 1,200 acres in the Hudson River Valley, the castle-like resort also offers a complimentary kids' club for ages 2 to 12, and a teen program for those ages 13 to 17. Young kids can ride ponies, sail on boats and go on frog hunts while older ones can choose from tennis, hiking, orienteering and other activities.

10. The Grand Hotel – Mackinac Island, MI

A grande dame property on Michigan's Mackinac Island, The Grand Hotel, dubbed "America's Summer Place," dates back to 1887 when wealthy families arrived for vacations by steamer. Families still arrive by boat and are usually met by a horse-drawn carriage, as motorized vehicles remain prohibited. Part of the old-fashioned fun is getting around by bicycles or on foot. Although not a traditional all-inclusive resort, The Grand Hotel's rates include a full breakfast and dinner daily, plus supervised children's activities for ages 5 to 14, Memorial Day through Labor Day.

11. Sunny Hill Resort & Golf Course – Greenville, NY
When it comes to all-inclusive resorts in the U.S., it doesn't get much better than Sunny Hilly Resort & Golf Course. Located on 600 acres in the Catskills, this resort provides an endless array of amenities and activities. All-inclusive rates cover accommodations, three meals per day, family movies under the stars, lawn concerts, fishing tournaments, fitness classes, mini-golf, monster truck rides, wine and cheese mixers for parents… we could keep going. Look out for the "Kids R Free" weekends and other themed events and specials.

12. Lodge on Little Saint Simons Island – Saint Simons Island, GA

The Lodge on Little Saint Simons Island is set among a nature-lover's paradise on Georgia's meandering coastline. Just about an hour and a half from Jacksonville, The Lodge is a delightful getaway for families of all sizes, who have a sense of fun and adventure. Guests can rent rooms, adorable wooden cottages, or even rent the entire island for 32 people! Only accessible by boat, the resort offers a slower pace of life, filled with fishing, boating and nature excursions. The all-inclusive option includes three delicious meals a day, plus hors d'ouvres prepared by the chefs, unlimited drinks and assorted snacks. It also includes boat transfers, excursions, and leisure equipment rentals.

13. Chula Vista Resort – Wisconsin Dells, WI
Chula Vista Resort is one of many water park resorts in Wisconsin Dells, known as the Water Park Capital of the World. But what sets it apart from the rest is its all-inclusive rate option. The all-inclusive package includes accommodations, access to the onsite water park, unlimited drinks (alcoholic and non-alcoholic), and meals at Kilbourn City Grill and Luigi's Pizza.
What to Pack for Your Next Trip
For info on these editor-selected items, click to visit the seller's site. Things you buy may earn us a commission.
Our team of parents and travel experts chooses each product and service we recommend. Anything you purchase through links on our site may earn us a commission.