Summertime has always meant exciting playtime for kids, and what better way to have fun than at an amusement and water park? First appearing in the U.S. in Connecticut in 1846, amusement parks provide a place where kids can be kids and run and slide and soar in a variety of rides. Kids of all ages (parents, too!) can find fun and laughs across the country — especially in this collection of the biggest and best amusement parks in each state.
Alabama
A 20-acre water park near the Alabama coastline, Waterville USA in Gulf Shores adds more fun to a beach getaway on the Gulf of Mexico. The water park is open seasonally, from the end of May through September, and features a wave pool, a lazy river, FlowRider, and a number of waterslides, from the Screamin' Demon 60-foot drop slide to the Triple Dog Dare body slide. For little kids, WaWa World has splash and play areas for those under 42 inches in height.
Alaska
Just because it is Alaska doesn't mean the kids can't enjoy some slip-sliding fun. H2Oasis Indoor Waterpark in Anchorage provides a year-round splash destination with a wave pool, lazy river, flume and body slides, and a splash zone.
Arizona
Castles-n-Coasters, a 10-acre amusement park in Phoenix, began with miniature golf and video arcades, but has since morphed into a full amusement park with the state's only double loop roller coaster and log flume ride. Zip line, challenge yourself on a ropes course and ride thrilling rides like Desert Storm year-round.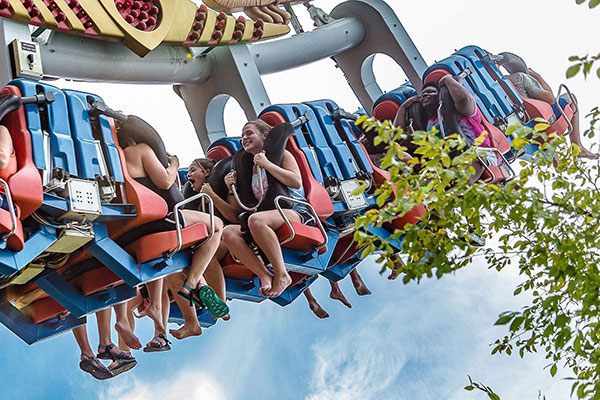 Arkansas
In Hot Springs, Arkansas, less than an hour from Little Rock, awaits this combination amusement and water park. For the landlubbers, coasters that make you scream include the Sky Shark sky diving experience and The Gauntlet looping coaster. For those looking to make a splash, a seven-slide tower and water raceway will get your heart pumping. Both land and water fun also feature kiddie and family areas. The seasonal Magic Springs and Crystal Falls opens for weekends in April through October, with summer daily hours available.
California
It's just too hard to pick one amusement park for California, especially when Southern California beckons with so many different parks and the large state has parks all across its many different settings. Disneyland and its California Adventure in Anaheim are surefire hits, while teens love the screams they'll have at Universal Studios Hollywood, all three near Los Angeles. Little ones will enjoy LEGOLAND, near San Diego, and families will also enjoy smaller parks like Knott's Berry Farm in Orange County.
Boardwalks feature coasters and amusements, including those in Santa Cruz and the Santa Monica Pier. SeaWorld, in San Diego, features wet and dry coaster options, along with animal encounters. Six Flags Discovery Kingdom in Vallejo, between Sacramento and San Francisco, is home to a 135-acre animal-themed park with big coasters, and then there are more high-flying coasters found at California's Great America in Santa Clara and Six Flags Magic Mountain in Santa Clarita.
Colorado
The seasonal Elitch Gardens in Denver works hard to change up its lineup at both its theme park and water park every year, including the new 17-story thrill ride for 2017's season. From Memorial Day to Labor Day weekends, the park provides a host of water rides, kiddie rides, and family rides, as well as thrills that will take you twisting and turning and flipping upside down. The water park also features a combination of family and thrill rides, with cabana rentals to enjoy the day.
Connecticut
The oldest continuous operating amusement park in the country, Lake Compounce in Bristol, Connecticut, has been providing thrills since 1846. While its piece de la resistance Boulder Dash wooden roller coaster remains popular, it also opened New England's first triple launch coaster, Phobia, inverting riders 150 feet in the air. The seasonal park, which includes a water park section, is open from May through Labor Day weekend.
Delaware
Delaware is a small state, and so is its Funland amusement park. That doesn't mean families won't enjoy a visit to this boardwalk-style "Funland" at Rehoboth Beach, though. The park is open seasonally from May through some special Halloween events in October. Most of the rides are kiddie rides, with rides like the Gravitron and Bumper Cars considered the thrill rides.
Florida
Like California, Florida is renowned for its amusement and theme parks, particularly Orlando, the Theme Park Capital of the World. When you think of Florida, of course you think of Walt Disney World, which includes Disney's Animal Kingdom, Disney's Hollywood Studios, Disney's Magic Kingdom and EPCOT.
Highly advertising itself as the theme park for kids when they start to grow out of Disney is Universal Orlando, with its Universal Studios and Universal's Islands of Adventure featuring Harry Potter and Marvel-themed rides, as well as its new water theme park, Volcano Bay, open this summer.
Just outside of Orlando, there are still some thrills to be found. In Tampa, just an hour to the west, is the animal-themed scream park, Busch Gardens. Just north of Orlando, in Winter Haven, is a second LEGOLAND location for younger kids.
Georgia
The capital of the South, Atlanta, has its share of fun, as well, with its Six Flags collection. Two parks are actually located near Atlanta, its 290-acre Six Flags Over Georgia, in Austell, and its water park, Six Flags White Water in Marietta. Visitors to the park will find a new Justice League 4D interactive battle ride this season, and can enjoy a completely refurbished Blue Hawk 2,800-foot steel coaster.
Hawaii
Hawaii's draw is its many outdoor adventures that provide shrieks of joy, from swimming with sea turtles to dipping into natural pools beneath waterfalls. But if you're still looking for amusement in the island state, Wet 'n Wild in Honolulu provides 29 acres with 25 rides and attractions the kids can enjoy. Try the Tornado or Island Racer water slides, and learn to surf on a FlowRider.
Idaho
Just an hour from Spokane, in the summer vacation area of Coeur d'Alene, awaits Silverwood Theme Park, the largest theme park in the Northwest. Silverwood features more than 70 rides and attractions, including Aftershock, an inverted hanging coaster towering 191 feet. The park is open seasonally from May through September, and offers Boulder Beach water park rides, as well as its thrill, family and kiddie rides.
Illinois
For those visiting the Greater Chicago Area, Six Flags Great America is within an easy driving distance in Gurnee. Opening in 2017 is The Joker, a wild rollercoaster ride first introduced in New Jersey that spins you in multiple directions – a success that is spreading to more Six Flags locations. Like most Six Flags parks, the park is open seasonally from late spring into early fall and offers a water park option, Hurricane Harbor, for just $10 more on your ticket.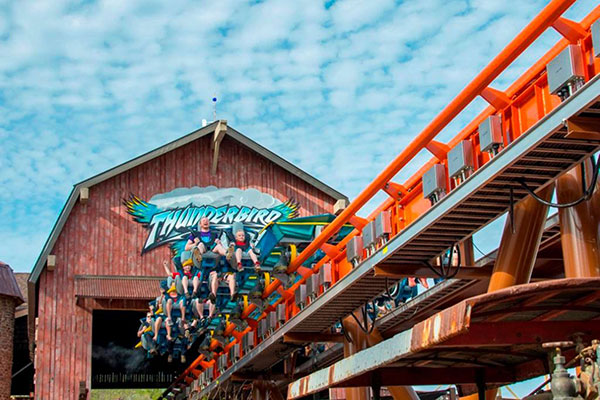 Indiana
In a town called Santa Claus, you would expect to find fun for kids based around a holiday theme, and while it does offer winter events, the town's summer draw is its Holiday World & Splashin' Safari. Holiday World is filled with roller coasters and rides for kids of all ages, including the only launched wing coaster in the country. At its Splashin' Safari, you can ride the world's longest water coaster, Mammoth. The park is open weekends in late spring and September, but mostly May through August.
Iowa
Iowa's summer attractions can be found outside of the fairgrounds at the seasonal Adventureland in Altoona, not far from Des Moines. With double-looping roller coasters, wooden coasters, and wild water rides like Raging Waters, kids of all sizes will love this amusement park. Adventure Bay features Iowa's largest wave pool and longest lazy river, and kiddie, family and thrill rides are abundant, with more than 100 rides and attractions in which to try.
Kansas
Keep cool in Kansas City at the expansive Schlitterbahn Waterpark. A chain with locations mainly in Texas, those in Kansas can ride towering water slides, surf on the Boogue Bahn, and get their kicks on water coasters that will leave them shrieking. Little kids have a play area with 13 mini slides, and parents can enjoy the swim-up bar and private cabanas available. The water park has heated pools and is open from Memorial Day Weekend through Labor Day Weekend.
Kentucky
There is more in Louisville than baseball and horse racing: it is also home to the 53-acre Kentucky Kingdom amusement park. Coasters include Storm Chaser, Thunder Run and T3, with many rides best-suited for families and school-aged kids. What's summer fun without a water park, and Kentucky Kingdom has that too, in the form of Hurricane Bay. It has the standards: a wave pool, a lazy river and a splash area. The parks are open Memorial Day Weekend through Labor Day Weekend.
Louisiana
Baton Rouge is home to two amusement parks, Dixie Landin' and Blue Bayou Water Park. The parks are a bit smaller than others around the country, but the best fun you'll find outside of New Orleans. Dixie Landin's 29 rides like the Tilt-a-While, Merry Go Round and Giant Wheel may seem for the softer set, but big kids will love the Ragin' Cajun, Side Winder and Hot Shot thrill rides. Waterslides, racers, a lazy river and wave pool are just across the way at Blue Bayou. Like the others, this seasonal combination operates Memorial Day to Labor Day.
Maine
Along Coastal Maine, near Old Orchard Beach and Kennebunkport, is Funtown Splashtown. The land attractions include Maine's only wooden roller coaster, a 220-foot drop tower, and the tallest log flume in New England. At the water park, find tube and drop slides, splash and aqua play areas, and the new Poseidon's Plunge thrill slide. Funtown opens for weekends in May and fully in June through August. Splashtown begins operating on weekends in late June and fully in July through August. Both parks remain open for Labor Day weekend and then close for the season.
Maryland
For the largest amusement park in Washington/Baltimore area, Six Flags America is the spot. Located in Upper Marlboro, the popular chain continues to thrill and delight in the Mid-Atlantic with thrilling coasters, playful family rides and plenty for little ones. Hurricane Harbor, included with your admission, provides water park fun with waterslides, pools and many ways to stay cool during the park's summer season. The park opens briefly for spring break, then operates mainly Memorial Day through Labor Day.
Massachusetts
Another Six Flags location makes the list in western Massachusetts, along the Connecticut border. Six Flags New England in Agawam, near Springfield, is the oldest amusement park in Six Flags chain, operating formerly as Riverside beginning in the late 1800s. Like its sister parks, The Joker ride becomes part of the fun in 2017 and admission to Hurricane Harbor Water Park is included. The park opens in April through summer and weekends in September and October; the water park is open May through August.
Michigan
Michigan's largest amusement park is Michigan's Adventure in Muskegon. The 250-acre park includes the state's largest water park, Wildwater Adventure Waterpark, which operates three wave pools and more than 20 waterslides. It's included with park admission, as are the family and thrill coasters and rides, including Shivering Timbers, the longest and fastest wooden roller coaster in Michigan.
Minnesota
As the Mall of America is the country's largest mall and an attraction in its own right, is it any wonder the mall includes the 7-acre Nickelodeon-themed amusement park, Nickelodeon Universe? The Bloomington, Minnesota park offers 27 rides and character fun with Dora the Explorer, SpongeBob and the Teenage Mutant Ninja Turtles. As part of the mall, the amusement park is open every day of the year, except Christmas.
Mississippi
It sure can get hot in Mississippi in the heat of summer, and that is where Geyser Falls comes to the rescue. For anyone not close enough to visit the Gulf Shores, this aquatic fun center in central Mississippi will keep you cool from mid-May through Labor Day. Rides include a 1,200-foot lazy river, a wave pool, tons of waterslides and cabana rentals for shade near palm trees for the day. The park is open daily Memorial Day through end of July, and weekends in May and August.
Missouri
If you haven't been to Branson, Missouri, you have been missing one of the most popular destinations in the Midwest. Located in the beautiful Ozarks near Table Rock Lake, Branson is home to the nearly 60-year-old Silver Dollar City, a theme park that takes you back into a simpler time in America. The park features demonstrations on pottery making, blacksmithing, glass blowing and more with over 100 craftsmen preserving 1880s Ozarks, while there are also 40 live shows performed daily. And, of course, there are rides! More than 30 different rides are available for all ages, and families can enjoy shopping and dining in more than 60 spots. The park is open April through December, with special holiday events and shows.
Montana
Montana is Big Sky country and if you're not out enjoying nature's amusement park – all of the outdoor adventures you could image at numerous state and national parks – then the best you may be able to do is pop into the small water park known as Big Sky Waterpark. With just 10 waterslides, miniature golf, bumper cars and video games, it may be just what the kids need when they are tired of swimming in natural watering holes and hiking! The water park opens in June through Labor Day and is just $15 per person for all-day rides.
Nebraska
The largest amusement park in Nebraska can be found in Omaha, of course. The Fun Plex is home to the only roller coaster in the state. Offering go-karts, a Tilt-a-Whirl, bumper boats and kiddie rides galore, Fun Plex may not keep up with the likes of high-flying amusement parks like Six Flags, but it does provide smiles! The amusement park's Wet & Wild Water Park offers waves, lazy rivers, waterslides and the state's only swim-up bar for the folks. The water park is open Memorial Day through Labor Day, and Fun Plex earlier for weekends in May.
Nevada
Las Vegas is an adult playground, but it is also aiming for kids with casino resorts offering amusements. Adventuredome, at Circus Circus, for example, is a 5-acre indoor park with daring roller coasters, and the Stratosphere Tower is guaranteed to make you scream with its rides swinging over the edge of the building above the Strip. But, New York New York's amusement park may get the most attention for its looping coaster that comes right out of the building above the streets of Vegas, and even the city's SlotZilla Zip Line flies above the pedestrian streets of Downtown Las Vegas, making the entire city feel like one giant amusement park.
New Hampshire
One of New Hampshire's most prized amusements for generations is Story Land, a German fairytale-inspired theme park that has been offering kiddie rides since the 1950s. So many New Englanders visited the park as children, they return again as parents and grandparents to give the kids the same fairytale experience. Today, the park is nearly 35 acres near North Conway, bordering the White Mountains and Mount Washington. The park opens Memorial Day Weekend and operates all summer, with weekends available in September and early October during fall foliage season.
New Jersey
New Jersey is home to a number of small amusement parks and water play areas, particularly along the Jersey Shore. But the state's biggest amusement park with the tallest rides can be found at Six Flag's Great Adventure. Nestled between New York City and Philadelphia, the Jackson location is also not too far from the Shore, making the park easy to get to from anywhere in the state. Thrilling roller coasters include El Toro wooden coaster that drops riders 176 feet, and the unbelievably fast Nitro that will have you rolling in all directions at 80 mph. The park is also home to Six Flags Safari, where you can meet animals in a variety of programs. The park is seasonal, and opens for spring break, summer and some fall festivities.
New Mexico
The largest amusement park in New Mexico can be found in Sunland Park at Western Playland. This 30-acre amusement park has fair-style fun like, Tilt-a-Whirl, Merry-Go-Round, and a Sky Glider, as well as two powerful coasters: the Bandito and the Hurricane. The park is open on weekends in April, May and September, with most of summer open Wednesday through Sunday.
New York
New York is home to the iconic Coney Island, and although the state may offer more shrieks and laughs at a bigger amusement park like Great Escape in Lake George, it's hard to pass up a visit to Luna Park in Coney Island, just for the right to claim you have visited the nostalgic park. Originally opened in 1903 in Brooklyn and rebuilt after a devastating fire, the park recently renovated and returned its Cyclone wooden coaster, with sea views. The park is open for the summer season and welcomes visitors from Long Island, Manhattan and around the world to its famed boardwalk.
North Carolina
Bordering both North and South Carolina, the Charlotte-based Carowinds is nearly 400 acres of entertainment during the summer season. Carolina Harbor, the largest water park in the Carolinas, keeps guests cool, while coasters and spins can be enjoyed at the park and its ragtime County Fair, with four new rides in 2017. Coasters with names like Intimidator, Afterburn and Vortex will leave you breathless. The park opens for spring break and weekends in April and May, daily in the summer, and back to weekends in September and October.
North Dakota
You won't find too many amusements in North Dakota, where the state's lure is enjoying the great outdoors, including the Badlands. Still, you can head to Fargo for simple joys like go-karting, bumper cars, laser tag and mini golf at Thunder Road; it's the best "amusement park" available across the state. The park opens at the end of April through the end of August.
Ohio
In Ohio, you have a choice between two 364-acre amusement parks, both offering wild rides, water parks, huge coasters and plenty of fun for a vacation. Cedar Point in Sandusky rests along Lake Erie, closest to beaches and island-hopping additions to your amusement park getaway, while Kings Island, in Mason, is just north of Cincinnati. New at Kings Island this year is its 3,265-foot wooden coaster, Mystic Timbers. Cedar Point is the second-oldest operating park in the country, and features 17 roller coasters in three different areas. Kings Island opens for weekends in April, then operates nearly daily from May through August, and returns to weekends through December. Cedar Point opens in May, operating on weekends in September and October.
Oklahoma
When you are traveling around the prairies of Oklahoma, it's no wonder you will find a Western-themed park that harkens back to the state's root. Frontier City, located in Oklahoma City, is the only amusement park in the state, and this summer is opening Wild West Water Works to provide a water park portion to its expanding fun zone. The park is open weekends April, May, September and October, and daily in June through mid-August.
Oregon
The Pacific Northwest is renowned for its lush forests, thriving in the often-rainy climate. For families wanting adventure at an amusement park, you can head to a different forest: the Enchanted Forest. Located in Salem, Oregon, the Enchanted Forest is a fairytale land with an Old European Village, Tofteville Western Town, and Storybook Lane, where nursey rhymes like "The Old Lady Who Live in a Shoe" come to life in rides. Rides are more suited to school-aged and younger children, but, of course, big kids will have fun on bumper cars and the log ride with their siblings.
Pennsylvania
You know Florida and California are filled with amusement parks, but did you know Pennsylvania ranks right up there for having multiple choices, all within driving range of Philadelphia? Dorney Park & Wildwater Kingdom in Allentown can be spotted for miles with its roller coasters looming through Lehigh Valley; little kids can't get enough of Sesame Street-themed Sesame Place in Langhorne; and Hershey, the home of the chocolate, offers crazy fun at Hersheypark. All three have water park aspects to their amusements, as well.
All said, one of our personal favorites is Knoebels Amusement Park in Elysburg. This family-owned park remains old-fashioned in that entrance is free and rides are ticketed.
Rhode Island
In the tiny state of Rhode Island, you can find the tiny amusement park known as AdventureLand in Narragansett. This is the place to enjoy after a day on the beach or sailing Narragansett Bay. Here, you will find bumper boats, go karts, batting cages, mini-golf and a carousel. Who needs coasters to enjoy some family time together? The park opens for spring break in April, operates on weekends in May and September, and is open daily from June through August.
South Carolina
Hitting the beaches of South Carolina? Then you won't be able to miss Family Kingdom Seaside Amusement Park. This seaside park in Myrtle Beach offers 37 different rides, including splash rides, thrill rides, classic rides and coaster rides. Family Kingdom opens in April through early October. The park is connected to Splashes Water Park, which is open from Memorial Weekend to Labor Day Weekend. The water park has kids' play areas, a lazy river, and water flumes, tubes and speed slides.
South Dakota
Like its northern counterpart, South Dakota's amusements can also be found at Thunder Road, with a second location in Sioux Falls. Laser tag, go karts, mini-golf, bumper cars and boats, batting cages and bungee rides are available daily from May through September, with weekend hours in April and October.
Tennessee
Dolly Parton put Pigeon Forge and Gatlinburg, Tennessee, on the map, with thousands visiting the area and the Great Smoky Mountains National Park each year. The addition of her amusement park, Dollywood, provides just one more feature to the beautiful, rolling hills of Tennessee. Dollywood offers more than 40 rides, along with a 35-acre water park, Dollywood's Splash Country. The theme park is open April through October, while the water park opens in late May and remains open until Labor Day. Each park requires its own ticket.
Texas
In the great state of Texas, there isn't just one giant Six Flags amusement park; there are two! You'll find Six Flags Fiesta Texas in San Antonio and Six Flags Over Texas in Arlington near Dallas. Both parks open in April and operate through October weekends. Both parks feature a water park component. And both parks feature thrilling roller coasters. At Fiesta, the new Thunder Rapids Water Coaster is the first blast rocker water coaster in the country, and the Dallas location is welcoming its own Joker coaster in 2017.
Utah
Just outside of Salt Lake City is Utah's manmade outdoor attraction: Lagoon. When you are done exploring Utah's great national parks, Lagoon's kiddie rides, carnival-style rides, wooden roller coasters, log flumes and looping steel coaster will keep you entertained all day long. The park operates on weekends in April, May, September and October, and is open throughout summer. Keep cool in the desert heat at the park's Lagoon A Beach water park, which charges for inner tube rentals for enjoying the lazy river and waterslides.
Vermont
In the winter, Vermont's Bromley Mountain is one of the best ski resorts in the Green Mountains. In the summer, Bromley transforms into an adventure park with an alpine slide, climbing wall, waterslides, space bikes, chairlift rides and a Kidzone. The mountain's Sun Mountain Flyer is a four-track alpine coaster that can send you down the hills at 50 mph. And the mountain's Aerial Adventure Park provides challenging rope courses, zip-lines and suspension bridges on five different courses. The summer season takes place Memorial Day weekend through Labor Day, with weekends through Columbus Day.
Virginia
While getting your history on at Colonial Williamsburg or visiting the beaches of the Virginia coastline, you can also explore the 383-acre Busch Gardens theme park. The coasters at this park have always enticed thriller-seekers with 360-degree loops and high speeds on steel tracks, and in 2017, Busch Gardens adds its first wooden coaster, with a 74-foot plunge and speeds of more than 50 mph. The park's Water Country USA is the largest water park in Virginia. You'll need passes into each park separately, with Water Country opening at the end of May through mid-September, and Busch Gardens operating from April through December with special holiday-themed events.
Washington
Formerly the Enchanted Village, Washington's Wild Waves Theme & Water Park provides twice the fun at its land-based and water-based parks. The theme park provides kiddie, family and thrill rides, while the water park offers a lazy river, wave pool, splash playground and waterslides. Located in Federal Way, the theme park operates weekends in May, September and October; June through July; and most of December with a holiday lights event. The water park opens Memorial Day Weekend and closes at the end of August.
West Virginia
One of the oldest operating amusement parks in the country is found in Huntington, West Virginia. Originally a picnic place in 1902 for those traveling along the Camden Interstate Railway, Camden Park is a 26-acre park with more than 30 rides and attractions. Camden Park is open weekends in May, September and October, and throughout most of June, July and August. It is closed Mondays, with the exception of Memorial and Labor Day.
Wisconsin
Wisconsin Dells is known as the Water Park Capital of the World, and the massive indoor/outdoor Mount Olympus Water & Theme Park is one of the largest in the area and the state of Wisconsin! The outdoor theme park features the Hades 360-degree rollercoaster, and the outdoor water park's Lost City of Atlantis will cool off the kids. Indoor parks, which operate throughout the winter, include a giant water park and a small amusement area with bumper cars, laser tag, rock climbing and an arcade.
Wyoming
Wyoming's natural wonders are definitely a thing of beauty, and although the state doesn't feature any large amusement parks, it does provide hot mineral pools and water slides at Star Plunge. Using the natural spring water from Hot Springs State Park, visitors can swim in an indoor or outdoor pool, and play on three waterslides. It's open daily from 9 a.m. to 9 p.m. in Thermopolis, Wyoming.
Our team of parents and travel experts chooses each product and service we recommend. Anything you purchase through links on our site may earn us a commission.