Do you have the same faded beach towels you've been using for several years now? Ready to invest in a new set for the family? There are some interesting options out there: beach towels that are super lightweight, soft, have secret pockets and perfectly fit onto beach chairs. We've found some stylish colors, lightweight materials and fun designs that make trips to the beach or pool even more sublime. These are the best beach towels.
1. WETCAT Original Turkish Beach Towel
Turkish beach towels are in right now because they are thin-woven with a chic fringe on the ends. Lightweight, yet quick drying and highly absorbent, these WETCAT Original Turkish Beach Towels are large at 39 x 71 inches and Amazon's Choice for Turkish beach towels. Perfect for traveling, Turkish towels roll up, pack beautifully and can double as beach cover-ups. My friends adored the Aqua color I ordered and my beach bag is significantly lighter with it inside rather than my standard beach towel.
Related: 11 Swimsuit Cover Ups You Need In Your Closet Now
2. BOGI Microfiber Sports Travel Beach Towel
The vibrant stripes of these BOGI Microfiber Sports Travel Beach Towel make them fun, and the lightweight material means they are super space saving. You can use these towels as anything from a yoga mat to a cute on-the-go tablecloth. At the end of the day, they pack down into a self-contained carrying bag complete with carabiner clip, leaving more room in your tote for other beach day essentials.
3. Little Tinkers World Hooded Towels for Kids
These adorable hooded beach towels for toddlers are perfect for beach day play and birthday gifts. Your little ones can transform into a lion, a dragon, an elephant, and more for a fun day of make believe at the beach. They're great to wrap up in after time in the water, can double as a robe and can even be used for dress up. These towels measure 50 x 30 inches, a perfect fit for children 1 to 6 years old and suitable for older kids as well,
4. KOVOT 2-in-1 Lounge Chair Towel Cover
Perfect for the beach or pool, this beach towel is specifically designed to cover your beach lounge chair perfectly and provides pockets for your phone or drink. The soft terry cloth and polyester fabric is lightweight and absorbent and the entire towel folds up into a convenient beach tote.
Related: The 11 Best Beach Bags for Travelers
5. Warner Beach Towel
This towel is a top choice for versatility and fashion. The Warner Beach Towel from Missoni Home makes a cozy and stylish addition to your beach set-up. Best of all, the upscale pattern means it looks as good draped over your patio furniture as it does laid out on the sand.
6. Lux Oversized Beach Towel
The Lux Oversized Turkish Towel with Hidden Pocket is a top pick for luxury beach towels with pockets and was a huge hit with my friends. The secret zipper pocket is fantastic for stashing a phone, keys, cash or credit cards. The manufacturer claims these thin, lightweight towels dry 1o times faster than traditional towels and that sand doesn't stick. It's available in a variety of different designs.
7. Burritos Tortilla Blanket, Round Beach Towel
If you've ever wanted to wrap yourself up as a human burrito, now is your chance! This soft, round tortilla beach towel is Amazon's Choice for funny beach towel and all 31 of its reviews are 5-star. The microfiber material absorbs almost five times as much water as cotton. The 59-inch towel also makes a great picnic blanket or gag gift.
8. 'Lucky' Turkish Pestemal Towel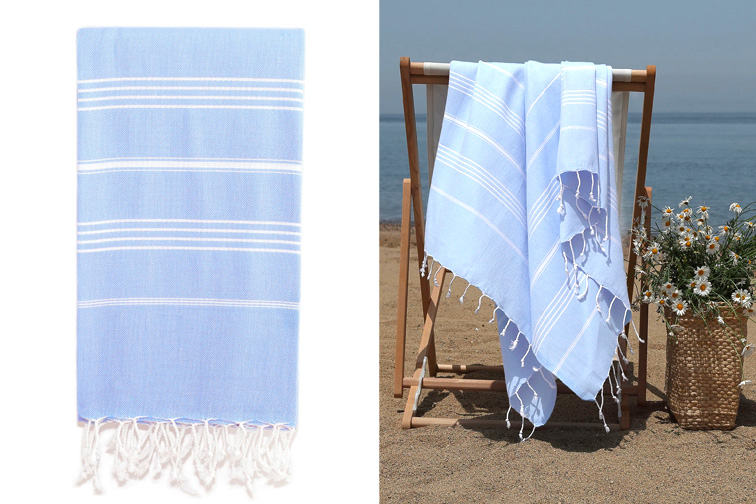 This Lucky Turkish Pestemal Towel is another choice of Nordstrom Trunk Club stylist, Elle White. The hand-woven Turkish cotton is lightweight and beautiful and can lull you into daydreams of tranquil Turkish baths. "I love this color!" declares White. "You can wear it as a wrap after a day at the pool or beach, or use it as a tablecloth for a summer night!"
Cortney Fries (pronounced "freeze") is an award-winning Chicago-based writer and mom to two spunky elementary school-age kids. She loves nothing more than traveling with family, having adventures with friends and exploring the outdoors. Cortney believes that you should definitely do things that scare you just a little bit. Follow her on Instagram, @cortneyfries.
Our team of parents and travel experts chooses each product and service we recommend. Anything you purchase through links on our site may earn us a commission.