Becoming a parent or primary caregiver to a child opens you up to a lot of new life experiences—including the myriad, utterly mind-boggling amount of options out there when it comes to the best diaper bag of the bunch. In reality, there's a diaper bag for every human still in diapers and the people who love them. And searching through the endless options is as dizzying as a kid on a carousel. So we've done the research to whittle it down to the best diaper bags for every situation and style.
Best Backpack Diaper Bags
Even when you're sure it's a backpack diaper bag that will best suit your family, the options are vast and varied. Backpack diaper bags are great because they're often hard to distinguish from a regular backpack and they're easy to tote along most anywhere. The best backpack diaper bags have space for your laptop or a tablet in addition to all the necessary compartments to keep diapers and wipes, a changing pad, bottles and the like. Here are the best backpack diaper bags to cover all your bases.

JuJuBe Be Right Back Backpack Diaper Bag
Where to start with all the things we love about this lifesaver of a backpack, the JuJuBe Be Right Back Backpack Diaper Bag. There's the Thinsulate-insulated bottle pockets on the side that make it a cinch to grab and feed without opening the bag. But when it's time to unzip things, that's a breeze, too, with easy access from the top into a mesh pocket and zippered area as well as a top storage pocket where you can keep your cell phone within easy reach. Comfort is big with this bag, too, with an included memory foam changing pad stashed neatly inside for your baby as well as ergonomically-curved shoulder straps and memory foam padding to protect the wearer's back.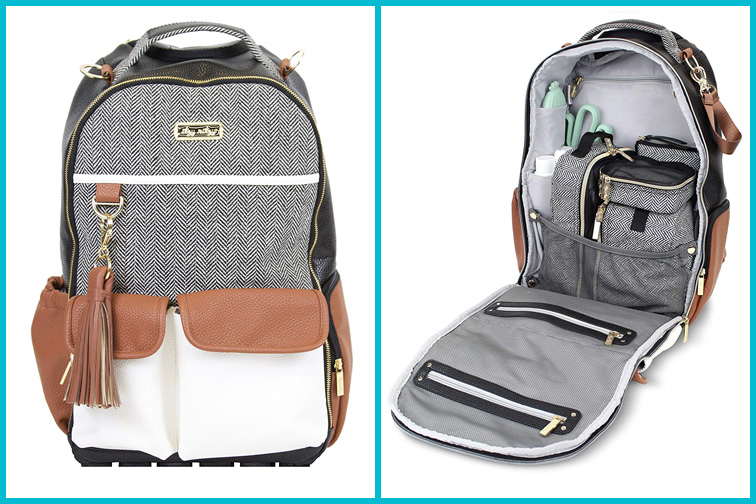 Itzy Ritzy Boss Diaper Baby Backpack
It's hard to imagine a backpack diaper bag that looks less like a backpack diaper bag than this Vegan leather wonder. Parents who know there's a place for everything make full use of the Itzy Ritzy's 17 pockets (10 on the inside and seven you can access on the outside of the bag) for stashing everything from bottles and the included changing pad (in its own zippered pocked on the back, which also helps to cushion the wearer's back – genius!) to delicate items that can be placed inside a velvet-nook. It's over the top, yet, when you take full advantage of all this backpack diaper bag offers you might just feel like the most organized parent on the planet. And who wouldn't love that?
Best Diaper Bag for Twins and Two Kids
Having multiple kids in diapers is no easy feat. And when you take the show on the road, you'll need the heft to carry the supplies along with you, too. Try these diaper bags for twins—or for two kids still in diapers, pull-ups and the like.

Medium Zip Top Canvas Tote Bag by Land's End
While not officially a diaper bag, this ample canvas tote by the popular outdoor clothing brand is a favorite for twin moms and moms of multiple kids thanks to its sturdy design and spaciousness. It's perfectly sized to fit 10 diapers or more, a Costco-sized pack of wipes and anything else you need along for the day. Size up to the large tote if you think you need extra room.
Skip Hop Duo Diaper Bag Tote
Designed to hang across the back of a side-by-side double stroller (linked to the outside handles by special clips), the Skip Hop Duo Diaper Bag Tote is pretty much made for twins—or any two diaper-clad kids, for that matter. Side pockets for bottles, a phone compartment and front zip pockets offer lots of storage in addition to the roomy interior. The bag can also be worn messenger-style across the shoulder.
Related: Best Double Strollers for Travel
Best Designer Diaper Bags
Fashion doesn't have to fall by the wayside in the diaper bag search. When you're willing to splurge, diaper bags can look like a fashion accessory. Here are two of the best designer diaper bags for 2020.

Happ Paige Carryall Dusty Rose
Only a sleuth could tell this dusty pink Happ Paige carryall, which weighs less than two pounds, is a diaper bag! It's so stylish with the herringbone-style exterior design. Open the bag's super-wide top opening, however, and find two interior bottle pockets, compartments for diapers and tons of yawning space inside. The structured frame helps it keep its casually-slouchy look and the water-resistant nylon fabric is easy to wipe clean.
Lily Jade's Caroline Bag
Here's another diaper-bag-in-disguise that ranks among the best designer diaper bags of 2020 thanks to its street savvy look. The Lily Jade Caroline bag's vegan-leather exterior and water-resistant liner are easy to keep tidy. And you can wear this bag as a backpack or tuck the straps in and zip them away for a tote-style look. A changing pad, diapers, wipes, sippie cup and much more can all fit easily inside, with convenient outer compartments for all your mommy accessories.
Best Backpack Diaper Bag for Twins and Two Kids
Backpacks go the distance at carrying the load (no pun intended) of multiple kids. Read on for the best backpack diaper bags for twins and two kids.

Skip Hop Forma Diaper Bag Backpack
The compact look of the Skip Hop Forma Diaper Bag—a favorite with twin parents'—is deceiving. Inside, you'll find a cushioned changing pad, an insulated cube for bottles and snacks, a mesh cube for a change of clothes and multiple pockets and compartments for keeping everything organized on the go. The straps can be worn backpack-style or used to attach the bag to a stroller. It's hard to get more versatile, and you won't believe how much this backpack can accommodate inside.
Skip Hop Diaper Bag Backpack Duo
With a more traditional backpack look, the Skip Hop Diaper Bag Backpack Duo has a vegan leather trim and easy-to-grab top handle, should you wish to transport it as a tote. A total of nine pockets include exterior side pockets for bottles, front zip pockets and a laptop compartment inside that can double for storing books or magazines. We love the D-ring for attaching a pacifier or stroller toy for easy access.
Related: Best Stroller and Car Seat Toys for Babies and Toddlers
Best Men's Diaper Bags for Dads
Don't be the dad with a diaper and wipes in the back pocket of your jeans at the playground. There are lots of great options for men's diaper bags for dads who want practical over pretty.

Hafmall Diaper Bag Backpack
With a look similar to a gym bag, this durable and light backpack-style Hafmall diaper bag can double as a tote and easily stores in the under-carriage compartment of most strollers. Insulated bottle pockets can be easily accessed from the outside with no need to rustle around the interior. The bag opens wide at the top to the area best for storing diapers, wipes, a change of baby clothes and snacks. Easy and practical. What more could a dad want?
Bagitalist Backpack Diaper Bag
We love the urban look of this Bagitalist backpack-style diaper bag for dad that comes with a total of 16 pockets in two divided sections to make staying organized all the easier. There's an exterior side pocket made for easy access to wipes, insulated pockets for bottles and snacks and separate stroller straps and backpack straps.
Related: Best Baby Carriers for Dads
Best Diaper Bag for Toddler and Newborn
The best diaper bag for a toddler and newborn has to be big enough to carry the goods to children of two different ages, yet not bog you down to the point of limiting mobility. We've got you covered here, too.

Bag Nation Diaper Bag Backpack
Here's another deceptively spacious diaper bag-meets-backpack in an appealingly compact package. Grab your baby's bottle from the outside insulated zip pocket, access wipes from a pocket just for them and keep the changing pad neatly tucked inside. A place for everything makes this bag an organizational miracle that can help you juggle the circus of two kids in diapers.
Lekebaby Large Diaper Bag
With a well-structured, boxy design and lots of compartments and wide open spaces inside that make it easy to see and grab everything you need, this large diaper bag by Lekebaby is a winner. It comes with stroller clips that attach easily to the back of single and double-wide strollers. And the additional strap makes it easy to throw over your chest for a messenger-style look, too. Magnetic closures at the top let you access contents in a hurry.
Best Diaper Bags for Toddlers
Toddlers in diapers can happen not only at the one- and two-year-old mark, but onward to three and beyond. And the best diaper bag for a toddler is one that can either carry just the basics (diapers and wipes) or provide extra room for books and snacks, too. Choose what works best for you.

Skip Hop Pronto Changing Station
If your toddler is on their way toward potty training, you're probably going through fewer diapers in a day. Consider minimizing what you bring along by toting this convenient and streamlined Skip Hop Pronto Changing Station. Basically, it's an extra-wide changing mat that you can stuff several diapers and a small pack of wipes into, and have everything you need in a thin envelope of sorts. The changing mat might be a bit small for larger toddlers, but it's easy enough to make do and protect what matters from dirty surfaces.
JuJuBe BFF Convertible Diaper Bag
With thoughtfully-planned interiors and well-made fabrics, JuJuBe is a brand that makes some of the smartest diaper bags out there. The BFF Convertible Diaper Bag is a crowd favorite thanks to features like the mold and mildew resistant interior, multitude of zippered pockets and cute hardware and patterns that set you apart from the playground crowds.
Best Diaper Bags for Reusable and Cloth Diapers
Cloth and reusable diapers have many benefits, but one thing you aren't likely to do is throw them away on the go like disposable ones. Soiled reusable diapers will need to be stored until you can wash them, so having a special compartment in your diaper bag for that is essential. Here are some of the best diaper bags for users of cloth diapers.
KiddyCare Diaper Bag Backpack
The dedicated "wet clothes" pocket in this ample KiddyCare Diaper Bag Backpack makes it easy to store soiled reusable diapers until you can get them home to wash. A whopping 15 pockets on the inside and out give you plenty of storage space for everything else. We like how streamlined the exterior is, with nothing to get snagged on as you go about your day. Everything tucked neatly in its place inside.
HaloVa Diaper Bag
Here's another great backpack-meets-tote option with a wet storage area that makes it easier to deal with soiled cloth diapers on the go. The HaloVa Diaper Bag makes it easy to distribute bulky items in different compartments while maintaining a compact look and feel. A special aluminum pocket is perfect for keeping baby's milk temperature-controlled.
Best Diaper Bags for Mom and Dad to Share
Stash a diaper bag for mom and dad to share by the door at home and you'll be ready for any occasion and for whoever is heading out with the kids. We love the unisex designs and practical assets of these diaper bags for mom and dad to share.
LEQUEEN Diaper Bag Backpack
Don't let this bag's name deceive you. The LEQUEEN has a look that will appeal to kings, too, and functions as a backpack, shoulder bag, messenger bag and tote to accommodate its users desires. Easy access pockets on the outside for wipes and tissues pair with perks like insulated bottle storage to make sure you've got all the baby bases covered.
RUVALINO Large Diaper Tote
This slate-colored diaper tote could easily be mistaken for a laptop bag. It has a nice unisex, urban look, yet manages to contain all your diapers, wipes, snacks, bottles, toys and more in a tidy package that can be worn messenger style, carried like a tote or even strapped onto your suitcase for ease of movement through the airport. Unzip the wide opening at the top and find bottle storage pockets, a diaper mat and a surprising amount of room for much more inside.
Best Diaper Bags for Breastfeeding Moms
Whether you've pumped milk at home and are bringing it along or you plan to pump on the go, the best diaper bag for breastfeeding moms requirers extra space, above all. Our picks wrap in plenty of other benefits, too.

Miss Fong Synthetic Leather Diaper Bag Backpack
Roomy enough inside to fit compact breast pumps and with insulated pockets for storing expressed milk, this synthetic leather Miss Fong backpack diaper bag has the look of real leather and is a top choice for breastfeeding moms who don't want to sacrifice style. The minimalist design has a large central interior and insulated pockets, and the bag can be affixed to the handle of a carry-on suitcase for ease of transport.
Momcozy Breast Pump Bag
With special breast pump access pockets on the side that work with a wide range of pumps, this Momcozy Breast Pump Bag is specifically made for breastfeeding mothers that take their breast friend where they go. With 12 pockets and a cavernous interior, there's room for your pump and much more. On the go, strap it onto your stroller, grab it like a tote or wear it over your shoulder.
Related: Traveling While Breastfeeding: What to Know, What to Pack, and More
Best Diaper Bags for Petite Mom
A big, bulky diaper bag can really drag a smaller mom down and make her look like you're taking the garbage out. Enter these diaper bags for petite moms that let you carry what you need to—with your head held high.

Aspen Mini Classic Bag by Freshly Picked
Vegan leather that cleans off easily and matte gold hardware lend a sophisticated, yet pared down look to this Freshly Picked diaper bag that looks as much like a regular handbag as possible. There are five interior pockets and three on the outside, with plenty of room for a stack of diapers, wipes, a bottle, your phone, wallet, sunglasses and more—all while not bulking you up.
Fawn Design Mini
Fawn Design has a cult following among fashion-conscious moms, and when it comes to designing bags for petite frames, the company has figured it out. This mini tote works best as an over-the-shoulder bag, but has backpack straps, too. It makes for a great diaper bag for petite women. The half-round zip at the top opens to a surprisingly ample interior with just enough room for diapers, wipes, and a bottle or two.
Best Backpack Diaper Bags for Petite Moms
Backpack diaper bags needn't be bulky. Our picks for the best backpack diaper bag for petite moms could pass as stylish knapsacks that have nothing do with nappies at all—and isn't that the point, anyway?

TUMI Voyageur Just In Case Backpack
The sleek design of this TUMI backpack and easy double-zip access from the top into the spacious interior make it an ideal backpack diaper bag for petite moms. The bag weighs just over half a pound but fits easily enough diapers, wipes and other baby accessories to get you through the day. While there are no zippered interior pockets, you can store your phone and other items in the large outside pocket.
Julien Canvas Backpack by Leader Bag Co.
There's something so minimalist and Scandinavian about the envelope-like look of this gorgeous canvas backpack by Leader Bag Co. It's hard to believe, from the sleek and simple design, that the bag has six compartments inside and four on the outside. The change pad compartment can be used for your laptop or tablet, if you prefer, and the durable canvas exterior cleans with ease.
Longtime travel writer and adventurer Terry Ward lives in Florida with her husband and young son and daughter. She's constantly on the lookout for the next Scandinavia Airlines Kids Fly Free deal to save money on flights to Norway, her favorite place to visit both in the winter (Northern Lights!) and summer (Midnight Sun!). A travel writer since 2001 (read: long before the kids came along), she's written for such publications as Endless Vacation Magazine, Conde Nast Traveler and Scuba Diving Magazine, among many others. Find Terry on her website, Terry-Ward.com.
What to Pack for Your Next Trip