Anyone who's ever flown a drone will tell you that it's the coolest six to eight minutes you can have on land! Thankfully, the prices of drones have dropped significantly and the usability has become easier, making it possible for even little kids to enjoy the thrill of being a drone pilot! Of course, you're restricted in when and where you can fly a drone (no national parks and stay far away from airports), but with any of these drones for kids, your children can live the drone life, making jaw-dropping aerial videos and seeing UFO light shows at night—all without breaking the bank!
1. SNAPTAIN H823H Mini Drone for Kids
This rad quadcopter drone looks futuristic and will wow young friends and older family members alike thanks to the awesome altitude hold feature. This feature keeps the sleek black and aqua blue drone's height freakishly steady before being punctuated by dazzling 360-degree flips and exiting stunt rolls. A trio of speed modes allow your children to up the ante as they learn how to be a drone pilot, and the "idiot proof" one-touch return ensures your kid's newest favorite toy will come back to them without a worry.
2. Jasonwell Hand Operated Drone
This magical mini drone operates with nothing more than your kid's hands—extended out to start the flight, then pull away to watch the UFO-esque drone fly indoors or outside. From there, simple gestures help this drone for kids turn and fly higher, while you're confident the protective shell will keep your kid's new toy safe from harm and their fingers away from the rotating gyroscopes. And there's little reason to fear your knickknacks on the shelves thanks to five sensors detecting objects, making it possible for this cool drone to avoid collisions during its five to eight minutes of flight on a full charge.
3. Holy Stone HS170 Predator Mini RC Helicopter Drone
Like most drones, this wicked cool mini helicopter style toy delivers six to eight minutes of thrills on every full charge (fully charged in under an hour). But this is one of the best drones for kids because of the headless security system that enables pilots of all levels to fly without any trouble at all. Headless means that no matter what direction the drone is flying, the remote control stick directions stay constant—forward is forward, backward is backward. The wind-resistant control and stable six-axis gyro stabilization will give your drone pilot child incredible performance, and colorful LED lights dazzle in low light, making them the envy of the playground.
4. SNAPTAIN S5C Wi-Fi FPV Drone with 720p HD Camera
Looking like a device straight out of the Matrix, this SNAPTAIN drone is a little more than just a toy, but the extra investment is worth it to get one of the best drones for kids on the market at an affordable price. The features of this Wi-Fi drone include a stunning 720p HD camera to take instantly sharable drone photos, voice and gesture control, and video transmission up to 80 meters. This awesome kid's drone also does flips and rolls, offers headless mode for uncomplicated steering, and has propeller guards for maximum safety in the air and on the ground during landing. Finally, the gravity control's built-in sensor will have your kid showing off their drone piloting skills by adjusting its flying position using their smartphone.
Related: Best Cameras for Vacation 2020
5. FlyNova Hands-Free Mini Drone
The FlyNova drone for kids is basically a personal mini UFO, so your little kids are going to flip out playing with this awesome toy! The 360-degree spins, otherworldly LED lights, and lightning-quick USB connectivity that dishes out eight minutes of flying for every 15 minutes of charging make this drone perfect for every kid, whether age 6 or 16! This tiny gesture-controlled, hands-free drone fits in the palm of a kid's hand, or in their front pocket, making the FlyNova ideal for family vacations and backyard summer hangouts.
6. DROCON Drone for Beginners
Watch live HD video on your smartphone of everything your drone sees from up above with this exciting, affordable and easy-to-use quadcopter. One of the best drones for kids (and beginner adults, too), the DROCON X708W records video and takes still photographs, giving your kid incredible, drool-worthy content to share on their social media channels. After making the investment in this drone for your kids, rest assured knowing the headless mode with one key return means that with just the touch of a button, the drone will safely fly home to your child. As with most drones, expect seven to 10 minutes of time in the air for every hour of charging.
7. DROCON Mini Drone for Kids
If you're in the market for a kid's drone to stash away in a carry-on bag during family vacations and road trips, this mini DROCON is one of the best drones for kids because it folds up into a compact square package and fits neatly into the center of the remote control—kind of like the drone version of the Nintendo Switch! This beginner drone is also a great travel toy thanks to headless mode, one-key take-off and landing controls, and inventive dual charging, with a standard USB and built-in charging cable (inside the controller) that'll power up the drone while stored away. As if all that wasn't cool enough, the bright LED light makes it possible to pilot this mini drone at night!
8. Potensic T25 GPS Drone

If your older kid has mastered hands-free and beginner drones, and you feel confident they're ready to take their drone pilot game to the next level, this remarkable Potensic T25 GPS Drone is the one to buy them. This is the best drone for kids who are showing an aptitude and interest in drone photography and video, because it films in glorious 1080p HD, delivers live video straight to their smartphone back on solid ground, and offer stellar field of vision. The Potensic T25 gives your young drone pilot all that and so much more! Custom flight paths paired with 120-degree field of vision and 75-degree adjustable wide angle lens will help your child produce stunning, gallery-worthy drone photography, and Follow Me Mode enables this professional grade drone to capture everything you do on Earth. Included with the drone is a solid aluminum carrying case, pair of batteries, extra blades, guards and landing gears, and more. This drone is an investment you won't regret making!
9. KO-ON Drone for Kids

Fly for up to 24 minutes thanks to the two extra rechargeable batteries included for free, and fly well into the dark of night with the colorful LED lights powered by 28 lamp beads promising a dazzling spectacular in the sky above your kiddo. The four propeller guards make this KO-ON one of the best drones for kids (and concerned parents too!) One touch take off and landing helps younger kids learn the basics of drone piloting without any frustration typical of such hi-tech new endeavors.
10. Force1 Drones with Camera for Adults
A great mid-price drone that records video in 720p high definition and shoots stunningly clear photography from on high, this Force1 X5UW quadcopter style is one of the best drones for kids looking to get started as a drone photographer. The custom route maker on the mobile app allows kids to design their own flight path, making it easier than ever for a young person to fly a drone. Classified as a beginner drone but capable of so much more, such as 360-degree flips, VR compatible, and flying for longer than most other drones thanks to three total batteries included, this Force1 is a stellar entry point drone.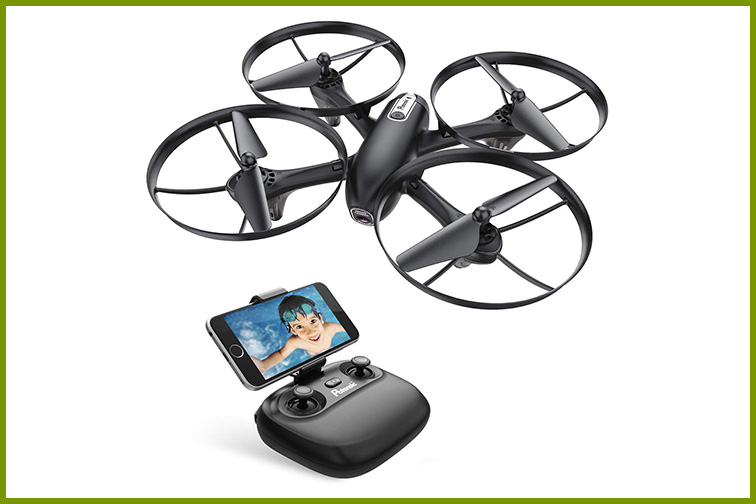 11. Potensic U47 Camera Drone

Sleek and uncomplicated, the Potensic U47 camera drone lets your kids watch the video they're shooting in real time using Wi-Fi, and sharing their drone movies instantly is a cinch. The photographs and videos will be smooth thanks to the altitude hold feature that will keep your drone hovering at the same height in the air. A trio of speeds will let everyone in the family, from novice drone pilots to experts, find immense pleasure in playing with his awesome toy and thanks to the low battery alarm, you won't have your drone going down in a remote location!
Jeff Bogle lives in the suburbs of Philadelphia with his two teen daughters, two cats, one dog and six (yes, six) guinea pigs. He is an award-winning photographer and respected travel journalist with bylines on Reader's Digest, Good Housekeeping, PBS, Esquire and more. Jeff (probably) spends too much time in England watching football and far too many hours plotting his family's future travel adventures. Find Jeff on his own site, Out With the Kids.
What to Pack for Your Next Trip
Our team of parents and travel experts chooses each product and service we recommend. Anything you purchase through links on our site may earn us a commission.