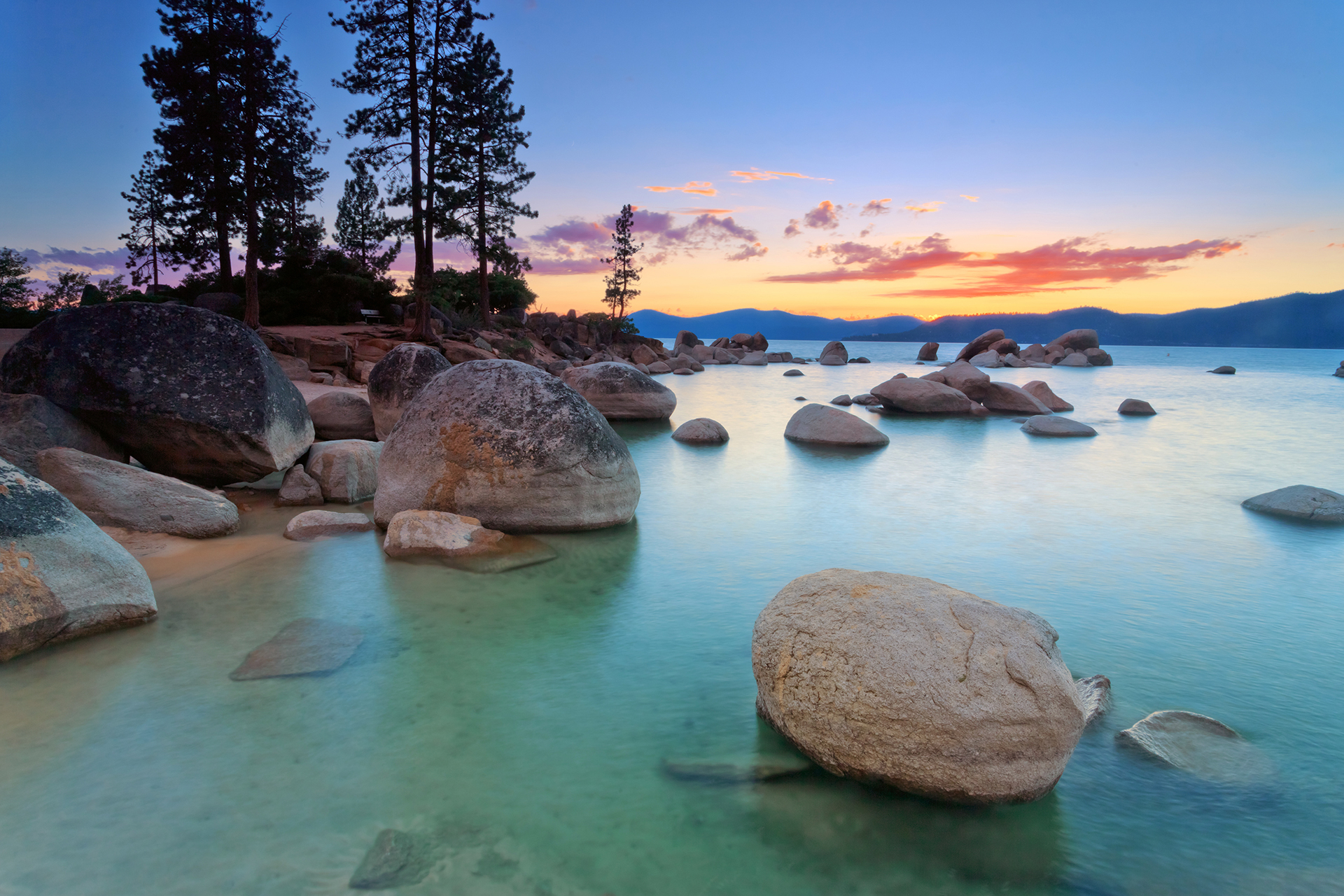 No matter what time of year you visit Lake Tahoe, you'll find a reason to enjoy the largest alpine lake in North America. While best known as a snowy haven for skiers, the beaches are equally appealing in warm-weather months, with soft sand and plenty of activities for the whole family to tackle. Stand-up paddleboarding, boating, fishing and swimming are just a few of the available activities in the water, while adventurers can also parasail or try hot air ballooning, hiking, horseback riding and helicopter trips. If little ones want a change of pace, they can visit the historic Hellman-Ehrman Mansion, explore the Kidzone Museum, or even play a round of miniature golf.
Still, a change of pace can also be as simple as making the 40-minute drive to the other side of the lake –the south has more of a fast-paced, urban feel, while the north is more relaxed and outdoorsy. The lake is also divided by the state line between California and Nevada. Though the Nevada side only makes up one-third of the lake, it's also the only side to offer legal gambling and casinos. Wherever you go (and whatever side of the lake you choose) though, Lake Tahoe has something for everyone in your family.
Consider one of these Lake Tahoe hotels for your next family vacation.
Written by Liane Bonin Starr
1/10
Cedar Glen Lodge
An intimate Lake Tahoe hotel with just 31 cottage-style units, this lodge books up early for good reason. With multiple bedrooms, full kitchens and fireplaces (plus three units that are pet friendly for an additional fee), there is something for every family at
Cedar Glen Lodge
. The lodge has direct lake access, as well as an onsite pool to entice the kids, who will also be drawn to the Ping Pong table, putting green and volleyball available outdoors. Complimentary breakfast is served daily, a restaurant serving dinner is open Wednesday through Sunday, and nightly campfires (with S'mores) are a lodge tradition.
2/10
Ritz-Carlton, Lake Tahoe
While the Ritz-Carlton has a reputation for grown-up luxury, this resort is friendly to families, too -- making it one of the best Lake Tahoe resorts. Dining options at the
Ritz-Carlton, Lake Tahoe
range from casual to upscale, and you'll want to pack your swimsuits -- not only is a large, heated pool available year-round, there's also a lap pool, hot tubs and a luxury spa. An outdoor ice/roller rink is nearby, plus there's a kids" club to keep little ones busy. If you visit during ski season, you'll want to take advantage of the ski in/ski out access to four different lifts, plus dedicated ski concierges. Deluxe guest rooms have a king-size bed or two queen beds, plus fireplaces, but families may choose an executive suite. Equipped with one or two bedrooms, these feature king beds, fireplaces, and separate living rooms with a pullout couch. Suites are the size of a house (between 1,900 and 2,600 square feet) and come with their own kitchens and Jacuzzis (though the prices are as steep as you might expect).
3/10
Holiday Inn Express South Lake Tahoe
Location, location, location -- visitors to South Lake Tahoe will find that the
Holiday Inn Express South Lake Tahoe
provides easy access to the lake, shopping, casinos and grocery stores. Another bonus is that the hotel's driveway has a stoplight, allowing guests to get in and out easily, even in heavy traffic. While the hotel is somewhat dated, it also gets high marks for cleanliness and service. Breakfast is complimentary, and guestrooms and suites have king or double beds, as well as mini-fridges, microwaves and coffeemakers. Cribs are free, and rollaway beds are available for $10 a night.
4/10
Stardust Lodge
This homey lodge offers lots of reasons to stay on the grounds, including some recently remodeled rooms, a free DVD library and complimentary breakfast. Those who want to explore Lake Tahoe, though, will appreciate the free bike rentals, sleds and snowshoes available to guests at the
Stardust Lodge
. While there's no onsite restaurant, that doesn't mean you"ll go hungry. Suites have their own kitchens, cookies are served at check-in, coffee and popcorn are available all day long and plenty of restaurants are within walking distance. Guests can take advantage of onsite BBQ grills and picnic areas to enjoy family meals, too. On Wednesday nights, there's a visiting performer and everyone is invited to dance and sing along. Parking is free, and babysitting services can be arranged. Big families will be happy to know the largest suite of the 84 available can sleep up to six.
5/10
Tahoe Lakeshore Lodge and Spa
For those traveling to Lake Tahoe during the summer months, this lodge has a very appealing perk - direct beach access. That doesn't mean it's not a great pick for the winter months, however, with condo-style suites that can sleep five or more with full kitchens, large balconies and lake views. An onsite spa means massages and mani-pedis are just steps away. While there's no onsite restaurant at
Tahoe Lakeshore Lodge and Spa
, there is one next door, and others are within easy walking distance. Families can enjoy the pool, BBQ areas for grilling, a volleyball court and fire pits on the beach for evening festivities.
6/10
Lake Tahoe Resort Hotel
Just across the street from Lake Tahoe (and just one block from the Nevada state line), the
Lake Tahoe Resort Hotel
is close to casinos, shopping, the Heavenly Gondola and in winter, skiing. A ski concierge can assist with information about ski schools and lift tickets, while skiers can also stash their equipment at the ski and snowboard check-in. Breakfast is complimentary, and in the evenings, there is a manager's reception that includes free drinks. The spacious two-room suites include pull-out sofas and small kitchenettes with mini-fridges and microwaves. Cable (including HBO) is included, though kids might be more excited by the large, indoor pool, which also has a hot tub and a sauna.
7/10
Resort at Squaw Creek
Squaw Creek is 5 miles from Lake Tahoe, but if you're looking for one cozy location for your vacation, this resort might fit the bill. With access to a mountain chairlift right outside some of the rooms at the
Resort at Squaw Creek
, the location will appeal to skiers, but families with young kids (and non-skiers) will also find plenty to do. There's a kids' program for ages 4 to 12, and biking and hiking are also popular activities near the resort. On the property, there are pools, hot tubs, a salon, restaurants and shops all in close proximity to one another. For those who don't want to eat at the onsite restaurants, recently remodeled rooms have kitchenettes with stoves, pull-out dishwashers, microwaves, toasters and refrigerators, as well as pots and pans.
8/10
Beach Retreat & Lodge at Tahoe
With 262 guestrooms and suites, the
Beach Retreat and Lodge at Tahoe
lives up to its name with access to the lake and a dock right next to the property. During the summer season, there are kayaks, jet skis and more water sports rentals available, although those looking for lower-key fun may just want to walk along the dock. For those who don't want to try the lake, there's an outdoor heated pool, plus families can visit the seasonal outdoor tiki bar and ice cream stand. Two restaurants offer breakfast, lunch and dinner daily, and parking is free. Suites have king and double beds, fireplaces and flat-screen TVs, but animal lovers will be even more excited to learn that pet-friendly rooms are available for an additional fee.
9/10
Marriott Grand Residence Club
Located in South Lake Tahoe, the
Marriott Grand Residence Club
is an ownership property that allows visitors to enjoy studio, one-, two- and three-bedroom units when the owners are away. Most have fully equipped kitchens, dining tables and bathrooms with sunken tubs, making this a getaway that may feel more like home than expected. For families who want a mix of snow sports and indoor activities, the residence club is located steps away from both Heavenly Gondola (which connects to 29 chair lifts) and Heavenly Village, which has upscale shopping, dining and a movie theater. In the winter, a small miniature golf course is transformed into an ice rink, so skis aren"t necessary. The property also has onsite restaurants, a year-round heated pool, two hot tubs, a fitness room, a sauna, a steam room, a spa and a library.
10/10
The Landing Resort & Spa
Located on the lake in South Lake Tahoe,
The Landing Resort & Spa
is praised for new, luxurious rooms and excellent service. All suites are equipped with mini-fridges, flat-screen TVs and fireplaces, and the largest units are three-bedroom suites with full kitchens that sleep up to six. Guests can luxuriate by the pool, indulge in spa services, or visit the fitness center. Older kids will appreciate that biking, skiing, sailing on the lake and fishing are all available outdoor activities, while little ones might just want to enjoy the expansive views of the lake. Onsite dining is available all day with indoor and outdoor seating, and parking is free.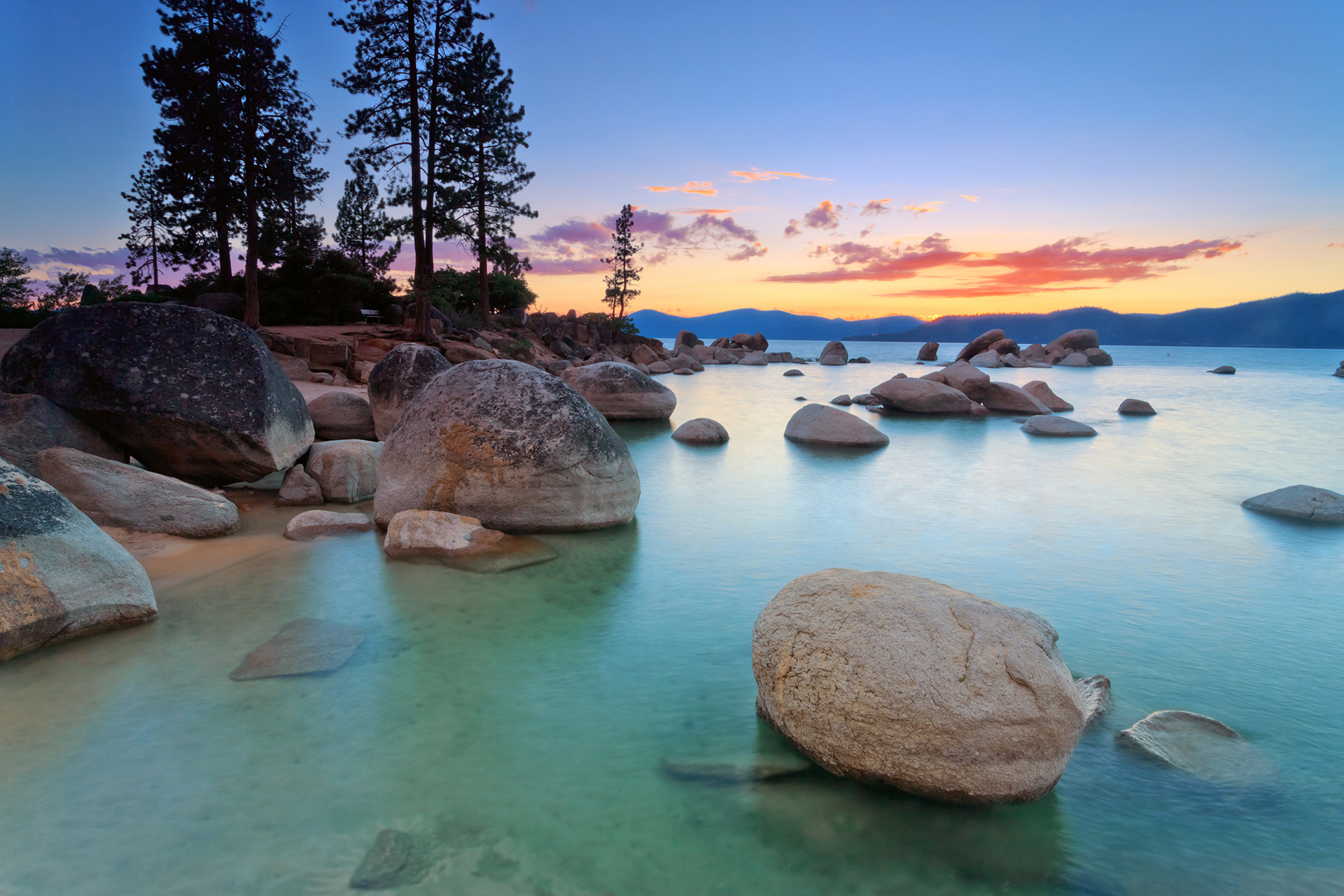 Our team of parents and travel experts chooses each product and service we recommend. Anything you purchase through links on our site may earn us a commission.