This month, the best newly released middle grade (MG) and young adult (YA) books feature "unteachable" kids, fairy tale retellings, historical heists, feminist epics, and a Hogwarts-like school where murder, not magic, takes center stage. Grab one of these new releases for your kids' next road trip, plane ride, or family vacation!
Editor's note: Every month, Family Vacation Critic's Senior Executive Editor Josh Roberts shares his picks for the best new MG/YA books for traveling families. Follow him on Twitter @joshwritesYA to join in the #kidlit conversation.
1. The Unteachables by Gordon Korman
From the publisher: "A hilarious new middle grade novel from beloved and bestselling author Gordon Korman about what happens when the worst class of kids in school is paired with the worst teacher—perfect for fans of Ms. Bixby's Last Day.
The Unteachables are a notorious class of misfits, delinquents, and academic train wrecks, like Aldo, with anger management issues; Parker, who can't read; Kiana, who doesn't even belong in the class—or any class; and Elaine (rhymes with pain). The Unteachables have been removed from the student body and isolated in room 117.
Their teacher is Mr. Zachary Kermit, the most burned-out teacher in all of Greenwich. He was once a rising star, but his career was shattered by a cheating scandal that still haunts him. After years of phoning it in, he is finally one year away from early retirement. But the superintendent has his own plans to torpedo that idea—and it involves assigning Mr. Kermit to the Unteachables.
The Unteachables never thought they'd find a teacher who had a worse attitude than they did. And Mr. Kermit never thought he would actually care about teaching again. Over the course of a school year, though, room 117 will experience mayhem, destruction—and maybe even a shot at redemption."
What the critics say: "[An] underdog story that champions teamwork, kindness, and hidden sparks." —Publishers Weekly
Family Vacation Critic's take: Another reliably funny entry from Gordon Korman, a true a master of the form. Perfect for kids who want a good laugh.
Age range: 8 to 12
Find it on Amazon: Hardcover | Kindle | Audiobook
2. The Whispers by Greg Howard
From the publisher: "Eleven-year-old Riley believes in the whispers, magical fairies that will grant you wishes if you leave them tributes. Riley has a lot of wishes. He wishes bullies at school would stop picking on him. He wishes Dylan, his 8th grade crush, liked him, and Riley wishes he would stop wetting the bed. But most of all, Riley wishes for his mom to come back home. She disappeared a few months ago, and Riley is determined to crack the case. He even meets with a detective, Frank, to go over his witness statement time and time again.
Frustrated with the lack of progress in the investigation, Riley decides to take matters into his own hands. So he goes on a camping trip with his friend Gary to find the whispers and ask them to bring his mom back home. But Riley doesn't realize the trip will shake the foundation of everything that he believes in forever."
What the critics say: "A dreamy novel recalling Bridge to Terabithia." —Entertainment Weekly
Family Vacation Critic's take: The Whispers seems destined to make all of the end-of-year awards lists for middle grade fiction.
Age range: 9 to 14
Find it on Amazon: Hardcover | Paperback | Kindle | Audiobook

3. Dragon Pearl by Yoon Ha Lee
From the publisher: "Rick Riordan Presents Yoon Ha Lee's space opera about 13-year-old Min, who comes from a long line of fox spirits. But you'd never know it by looking at her. To keep the family safe, Min's mother insists that none of them use any fox-magic, such as Charm or shape-shifting. They must appear human at all times.
Min feels hemmed in by the household rules and resents the endless chores, the cousins who crowd her, and the aunties who judge her. She would like nothing more than to escape Jinju, her neglected, dust-ridden, and impoverished planet. She's counting the days until she can follow her older brother, Jun, into the Space Forces and see more of the Thousand Worlds.
When word arrives that Jun is suspected of leaving his post to go in search of the Dragon Pearl, Min knows that something is wrong. Jun would never desert his battle cruiser, even for a mystical object rumored to have tremendous power. She decides to run away to find him and clear his name.
Min's quest will have her meeting gamblers, pirates, and vengeful ghosts. It will involve deception, lies, and sabotage. She will be forced to use more fox-magic than ever before, and to rely on all of her cleverness and bravery. The outcome may not be what she had hoped, but it has the potential to exceed her wildest dreams."
What the critics say: "Lee offers a perfect balance of space opera and Korean mythology with enough complexity to appeal to teens." ―Publishers Weekly (starred review)
Family Vacation Critic's take: The Rick Riordan Presents line of books continues to be a revelation. Plus, Sci-Fi and Korean mythology—what more could you ask for?
Age range: 8 to 12
Find it on Amazon: Hardcover | Kindle | Audiobook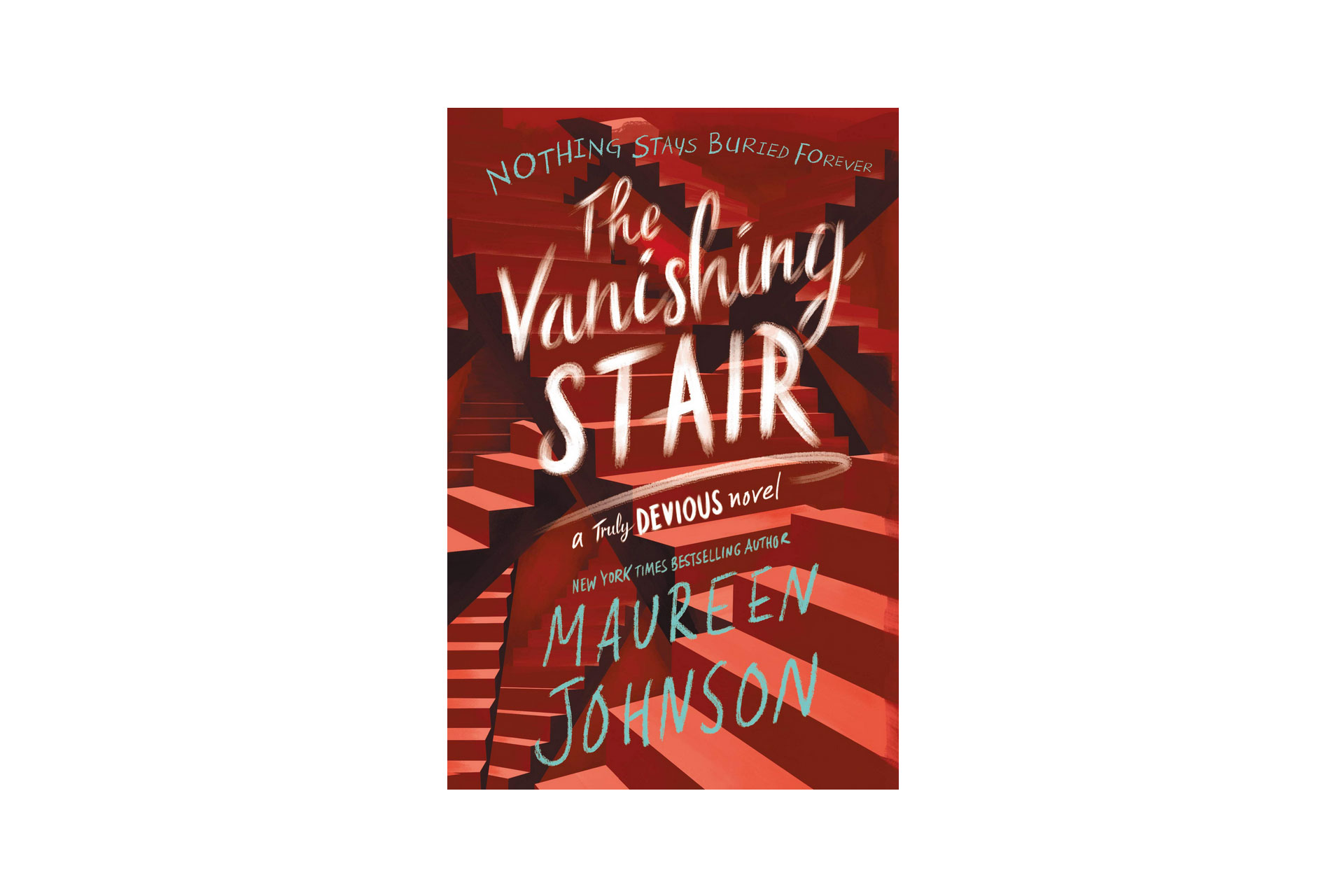 4. The Vanishing Stair by Maureen Johnson
From the publisher: "In New York Times bestselling author Maureen Johnson's second novel in the Truly Devious series, there are more twists and turns than Stevie Bell can imagine. No answer is given freely, and someone will pay for the truth with their life.
The Truly Devious case—an unsolved kidnapping and triple murder that rocked Ellingham Academy in 1936—has consumed Stevie for years. It's the very reason she came to the academy. But then her classmate was murdered, and her parents quickly pull her out of school. For her safety, they say. She must move past this obsession with crime.
Stevie's willing to do anything to get back to Ellingham, be back with her friends, and solve the Truly Devious case. Even if it means making a deal with the despicable Senator Edward King. And when Stevie finally returns, she also returns to David: the guy she kissed, and the guy who lied about his identity—Edward King's son.
But larger issues are at play. Where did the murderer hide? What's the meaning of the riddle Albert Ellingham left behind? And what, exactly, is at stake in the Truly Devious affair? The Ellingham case isn't just a piece of history—it's a live wire into the present."
What the critics say: "Remember the first time reading Harry Potter and knowing it was special? There's that same sense of magic in the introduction of teen Sherlock-in-training Stevie Bell." —USA Today (four stars)
Family Vacation Critic's take: Johnson's first entry in the Truly Devious series left readers with a killer cliffhanger. Now she's back with answers . . . and more questions.
Age range: 14 and up
Find it on Amazon: Hardcover | Kindle | Audiobook
5. Famous in a Small Town by Emma Mills
From the publisher: "For Sophie, small town life has never felt small. With her four best friends―loving, infuriating, and all she could ever ask for―she can weather any storm. But when Sophie's beloved Acadia High School marching band is selected to march in the upcoming Rose Parade, it's her job to get them all the way to LA. Her plan? To persuade country singer Megan Pleasant, their Midwestern town's only claim to fame, to come back to Acadia to headline a fundraising festival.
The only problem is that Megan has very publicly sworn never to return. What ensues is a journey filled with long-kept secrets, hidden heartbreaks, and revelations that could change everything―along with a possible fifth best friend: a new guy with a magnetic smile and secrets of his own."
What the critics say: "Rife with witticism, like a finely honed sitcom, and brimming with heart." ―Kirkus Reviews
Family Vacation Critic's take: Like all of Mills' books, this one is at once cute and funny—but Famous in a Small Town also hits all the right dramatic notes, too.
Age range: 14 and up
Find it on Amazon: Hardcover | Kindle
6. Slayer by Kiersten White
From the publisher: "From New York Times bestselling author Kiersten White comes a brand-new series set in the world of Buffy the Vampire Slayer that introduces a new Slayer as she grapples with the responsibility of managing her incredible powers that she's just beginning to understand."
What the critics say: "The ending . . . is a genuine surprise and a brilliant twist." ―Kirkus Reviews
Family Vacation Critic's take: It's been more than 20 years since TV's Buffy the Vampire Slayer made its debut, but the Slayer mythology continues to resonate with the teen and young adult audience.
Age range: 14 and up
Find it on Amazon: Hardcover | Kindle | Audiobook
7. The Love and Lies of Rukhsana Al by Sabina Khan
From the publisher: "Seventeen-year-old Rukhsana Ali has always been fascinated by the universe around her and the laws of physics that keep everything in order. But her life at home isn't so absolute.
Unable to come out to her conservative Muslim parents, she keeps that part of her identity hidden. And that means keeping her girlfriend, Ariana, a secret from them too. Luckily, only a few more months stand between her carefully monitored life at home and a fresh start at Caltech in the fall. But when Rukhsana's mom catches her and Ariana together, her future begins to collapse around her.
Devastated and confused, Rukhsana's parents whisk her off to stay with their extended family in Bangladesh where, along with the loving arms of her grandmother and cousins, she is met with a world of arranged marriages, religious tradition, and intolerance. Fortunately, Rukhsana finds allies along the way and, through reading her grandmother's old diary, finds the courage to take control of her future and fight for her love.
A gritty novel that doesn't shy away from the darkest corners of ourselves, The Love and Lies of Rukhsana Ali provides a timely and achingly honest portrait of what it's like to grow up feeling unwelcome in your own culture and proves that love, above all else, has the power to change the world."
What the critics say: "This hard-hitting and hopeful story is a must-purchase for any YA collection." ―School Library Journal
Family Vacation Critic's take: An important story of identity and culture.
Age range: 14 and up
Find it on Amazon: Hardcover | Kindle | Audiobook

8. A Curse So Dark and Lonely by Brigid Kemmerer
From the publisher: "In a lush, contemporary fantasy retelling of Beauty and the Beast, Brigid Kemmerer gives readers another compulsively readable romance perfect for fans of Marissa Meyer."
What the critics say: A fast-paced, richly detailed feminist epic." ―Kirkus Reviews (starred review)
Family Vacation Critic's take: Not all fairy tale retellings are created equal, but this richly imagined and ultra-page-turning epic is a worthy new take on the "tale as old as time."
Age range: 12 and up
Find it on Amazon: Hardcover | Kindle

9. The Gilded Wolves by Roshani Chokshi
From the publisher: "It's 1889. The city [of Paris] is on the cusp of industry and power, and the Exposition Universelle has breathed new life into the streets and dredged up ancient secrets. Here, no one keeps tabs on dark truths better than treasure-hunter and wealthy hotelier Séverin Montagnet-Alarie. When the elite, ever-powerful Order of Babel coerces him to help them on a mission, Séverin is offered a treasure that he never imagined: his true inheritance.
To hunt down the ancient artifact the Order seeks, Séverin calls upon a band of unlikely experts: An engineer with a debt to pay. A historian banished from his home. A dancer with a sinister past. And a brother in arms if not blood.
Together, they will join Séverin as he explores the dark, glittering heart of Paris. What they find might change the course of history—but only if they can stay alive."
What the critics say: "An opulent heist adventure that will leave readers voracious for more." ―Kirkus Reviews
Family Vacation Critic's take: Perfect for older kids who love historical fantasy and a dash of adventure.
Age range: 14 and up
Find it on Amazon: Hardcover | Kindle | Audiobook

10. The Girl King by Mimi Yu
From the publisher: "Two sisters become unwitting rivals in a war to claim the title of Emperor in this richly imagined, Asian-inspired fantasy for fans of Renée Ahdieh and Sabaa Tahir.
Sisters Lu and Min have always known their places as the princesses of the Empire of the First Flame: assertive Lu will be named her father's heir and become the dynasty's first female ruler, while timid Min will lead a quiet life in Lu's shadow. Until their father names their male cousin Set his heir instead, sending ripples through the realm and throwing both girls' lives into utter chaos.
Determined to reclaim her birthright, Lu has no choice but to go on the run, leaving Min to face the volatile court alone. Lu soon crosses paths with Nokhai, the lone, unlikely survivor of the Ashina, a clan of nomadic wolf shapeshifters. Nok never learned to shift—or to trust the empire that killed his family—but working with the princess might be the only way to unlock his true power.
As Lu and Nok form a shaky alliance, Min's own hidden power awakens, a forbidden, deadly magic that could secure Set's reign . . . or allow her to claim the throne herself. But there can only be one emperor, and the sisters' greatest enemy could very well turn out to be each other.
This sweeping fantasy set against a world of buried ancient magic and political intrigue weaves an unforgettable story of ambition, betrayal, and sacrifice."
What the critics say: "With its Asia-inspired worldbuilding, lush descriptions, and a weighty sense of history, this sprawling fantasy is . . . a strong debut." ―Publishers Weekly
Family Vacation Critic's take: Ambitious and richly detailed, The Girl King is perfect for older kids and teens who love complex epic fantasy.
Age range: 14 and up
Find it on Amazon: Hardcover | Paperback | Kindle | Audiobook
Family Vacation Critic is a participant in the Amazon Services LLC Associates Program, an affiliate advertising program designed to provide a means for sites to earn advertising fees by advertising and linking to Amazon.com.
Our team of parents and travel experts chooses each product and service we recommend. Anything you purchase through links on our site may earn us a commission.