What's better than a beach vacation? A beach AND water park vacation! You can easily accomplish that kind of trip in Myrtle Beach, South Carolina, where many hotels offer direct access to the sand and surf and water parks when it's time for a break. Here, seven of our favorite hotels with water parks in Myrtle Beach.
1. Sea Crest Oceanfront Resort
The water park at Sea Crest Oceanfront Resort has NINE pools! Options include a kids' activity pool, baby pool, indoor pool, indoor lazy river, outdoor pool, outdoor lazy river and more. Especially fun for kids is the opportunity to meet a real-life mermaid at the water park⁠—kids can get a "mermaid makeover" and pose for photos! Other things we love about this oceanfront hotel: the wide variety of accommodations and the regularly offered discounts.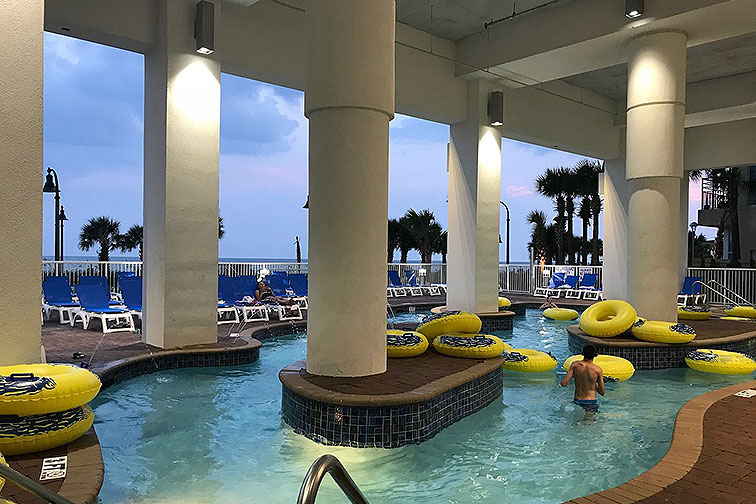 2. South Bay Inn & Suites
The newest hotel to open in Myrtle Beach, South Bay Inn & Suites offers an indoor water park with two waterslides, an indoor/outdoor pool, and a splash pad for little ones! It also has the ever-important lazy river, as well as three hot tubs.
3. Caribbean Resort and Villas
The Caribbean Resort and Villas touts an outdoor water park with a waterslide called Pirates Plunge, a kiddie area with a submarine, and two lazy rivers⁠—one inside and one out! There's also a regular pool and pool deck when it's time to chill. The resort caters to families of all sizes, with accommodations ranging from traditional rooms for four to condos for 12.
Related: 12 Best Indoor Water Park Hotels in the U.S.
4. Sand Dunes Resort – Oceanfront
Guests of Sand Dunes Resort receive complimentary access to the outdoor water park that features waterslides, a lazy river, kiddie pool, playground and more. The water park is also available to guests of the other three Sands Resorts in Myrtle Beach: Ocean Dunes Resort, Sands Ocean Club and Sands Beach Club. We love Sand Dunes Resort's variety of spacious rooms, many with full kitchens.
5. Ocean Reef Resort
It's all about the Shipwreck Water Park at Ocean Reef Resort! Here, you'll find the Lagoon Launcher waterslide, a kids' activity pool, lazy river and outdoor pool deck. Be sure to get your photo taken with the giant Tiki Men! The largest accommodations at Ocean Reef can sleep 12.
6. Dunes Village Resort
A Family Vacation Critic Favorite Hotel, Dunes Village Resort offers an indoor water park with a waterslide for big kids, a sprayground for little kids, and a lazy river the whole family can enjoy together. This oceanfront resort also offers a pirate ship playground, arts and crafts, and magic shows. The largest accommodations can sleep up to 16 guests, with the smallest units sleeping four. This is a family resort through and through!
Related: 13 Best Water Parks in the World
7. Long Bay Resort
Long Bay Resort has Silly Sub Water Park, with a three-story waterslide and kids' activity pool with a yellow submarine. The hotel offers guestrooms, suites and condos; condos can sleep up to eight guests.
Swimwear for The Whole Family
For info on these editor-selected items, click to visit the seller's site. Things you buy may earn us a commission.
Our team of parents and travel experts chooses each product and service we recommend. Anything you purchase through links on our site may earn us a commission.