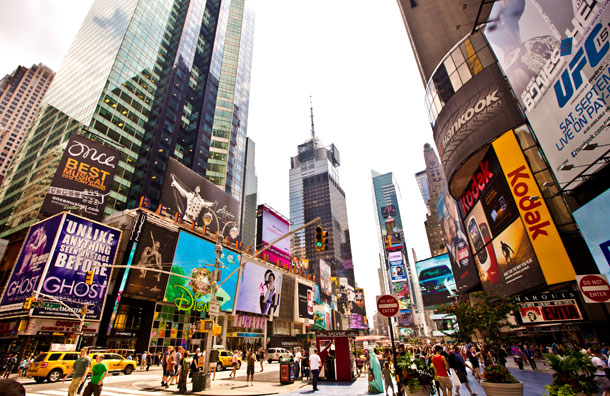 Some families may choose to stay in a hotel "off the beaten path" in New York City, perhaps one that"s situated in a residential neighborhood. Many families, however, prefer a central location in Times Square, with easy access to popular attractions. In terms of convenience, these hotels are the best for families, rated by our editors and families like you.
Written by Amanda Geronikos
1/10
Casablanca Hotel
The "Lullaby of Broadway" can practically be heard from
Casablanca Hotel
, located across the street from several theaters. In the heart of Times Square, the deluxe hotel also offers easy access to popular attractions, such as the flagship Toys R" Us and Madame Tussaud"s Wax Museum. When families return to the hotel, they"ll enjoy evening receptions with wine and cheese for parents and cookies and popcorn for kids. Other perks include complimentary breakfast, served in the onsite restaurant, and mini-fridges and free Wi-Fi in guestrooms and suites.
2/10
Hotel Giraffe
Hotel Giraffe
is a boutique property in Manhattan, with just seven guestrooms on each floor. Guestrooms include free Wi-Fi and DVD players, with complimentary DVDs available to borrow. The resort serves a complimentary breakfast each morning, and is located near Madison Square Park -- perfect for youngsters who need a break from all the action.
3/10
Hotel Elysee
Built in the 1920"s,
Hotel Elysee
transports guests to yesteryear, with deluxe, antique furnishings. Yet, it caters to today"s families, with free breakfast and evening receptions, where kids are warmly welcomed with treats of their own. Some rooms have kitchenettes, and all have free Wi-Fi and DVD players. With a location on Fifth Avenue, it"s easy to get to some of the city"s best shopping -- including FAO Schwarz.
4/10
Dumont NYC, An Affinia Hotel
In the Big Apple, hotel rooms typically come in one size: small. That"s not the case at
Dumont NYC, An Affinia Hotel
, however, which is an all-suite property. Each suite features a fully equipped kitchen for even more convenience. The hotel provides telescopes and bicycles upon request, as well as room service provided by nearby Cinema Café. Ask for the Family Fun Chest to enjoy board games, themed kits and other treats.
5/10
Omni Berkshire Place
Omni Hotels & Resorts are a solid option no matter the destination, and the
Omni Berkshire Place
in New York City is certainly no exception. The hotel features the Omni Sensational Kids Program, with welcome amenities and kids" menus (at the onsite restaurant, Fireside), as well as babysitting services for parents who want to enjoy a night on the town. The storied hotel, which dates back to 1926, features several themed suites, including the Rodgers and Hammerstein Suite. It was in this room that the duo wrote "Oklahoma!"
6/10
Conrad New York
Opened in 2012,
Conrad New York
is modern in décor and accommodations, all of which are spacious suites. Some suites sleep up to six guests, and all offer bottled water and free Wi-Fi. The Conrad also has an onsite restaurant, and offers activity books and crayons. It is situated on a quiet street, just a few blocks from the One World Observatory and National September 11 Memorial & Museum.
7/10
The Ritz-Carlton New York, Central Park
The idyllic location in Central Park
is enough of a reason to stay at this deluxe hotel; the accommodations and amenities just add to the appeal. Kids enjoy board games, in-room movies, and the opportunity to feed the carriage horses that set up shop across the street. Teenagers and well-behaved youngsters might also enjoy the hotel"s afternoon tea. The hotel has an onsite restaurant, and room service is available. Request a telescope for your room so you can get close-up views of Central Park.
8/10
The Benjamin
The Benjamin
features some fun perks for kids, including a complimentary children"s program that provides mini-pillows, bedtime books, and child-size bathrobes to guests ages 2 to 10. Parents are given a pillow menu of their own, and pets are included, too, with a Dream Dog Program. The hotel offers an onsite restaurant, and families can prepare snacks in their rooms -- all have fully equipped kitchenettes.
9/10
New York Marriott Marquis
The
New York Marriott Marquis
is a hub within a hub. It constantly bustles with excitement, offering four onsite dining options -- including a revolving restaurant on the rooftop. There are a total of 1,892 rooms, all with access to Wii and Wi-Fi. Outside, you"re just steps from all the fun in Times Square -- restaurants, attractions, and shopping, including American Girl Place.
10/10
Ink48 — A Kimpton Hotel
If you"re planning a cruise out of New York City, book a pre- or post-cruise stay at
Ink48 – A Kimpton Hotel
in Hells Kitchen. The hotel is within easy walking distance of the Manhattan Cruise Terminal, and offers a kids" program (Kimpton Kids), two restaurants and complimentary wine receptions (where kids are welcome). The hotel also offers in-room technology that speaks to teens: Wi, Netflix, Apple TVs and more. Sign up for Kimpton Rewards (free) to enjoy free Wi-Fi and a $10 credit for the mini-bar.
Our team of parents and travel experts chooses each product and service we recommend. Anything you purchase through links on our site may earn us a commission.