Parents know all too well the horrors that await you in the event your child leaves behind a beloved stuffed animal or other treasured toy.
One way to guard against that possibility while traveling is with personalized kids luggage. There are several suitcases, duffle bags and backpacks that can be ordered on Amazon with free embroidered names or initials.
Don't want to commit to fully embroidered luggage? We also found several options that include luggage wraps, special characters and, of course, luggage tags in a variety of irresistible designs for kids.
1. Fvstar Travel Luggage Cover
A great way to personalize your children's luggage without necessarily committing to full personalization is to have them choose a cheerful design in a suitcase cover like the Fvstar Travel Luggage Cover. They come in a variety of fun colors and designs, are machine washable, and fit both hard and soft-sided suitcases.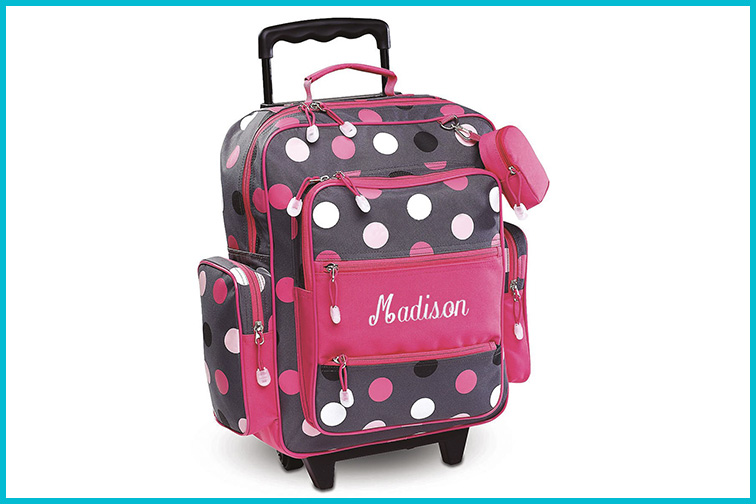 2. Lillian Vernon Personalized Travel Bags
Lillian Vernon offers a variety of unique backpacks, duffle bags and rolling suitcases in prints and patterns that appeal to kid and can be personalized with double-stitched name embroidery, included with your Amazon order. For a rolling suitcase, kids can choose from grey with pink polka dots or camouflage blue print—both with plenty of external pockets and compartments for stowing games and snacks.
3. Stephen Joseph Quilted Duffle
Some parents might not want to broadcast their child's name out of privacy concerns, so instead have them select a special character on their duffle bag, like the Stephen Joseph Quilted Duffle, that they can easily pick out of a crowd. Some design options are a unicorn, truck or an owl, and a cute coordinating zipper pull is included. This personalized kids luggage is fully lined, features a small interior zipper pocket and is machine washable.
4. Travelers Club Personalized Carry-On
Do you like the idea of personalizing a bag with a photo, but you don't want to commit to using the photo forever—particularly when your children's tastes will inevitably change? Check out the Travelers Club Personalized Carry-On, which features a clear frame that can be customized with any 8×10 photo. Some parents and grandparents like to print out photos of favorite TV characters for children—and they can even be changed and customized for every trip.
5. Personalized Licensed Duffle Bags
If your son or daughter is a fan of JoJo Siwa, Frozen, the Avengers or other characters, check out these licensed character duffle bags. The official licensed bags can be embroidered with a child's name or initials free of charge for easy identification while traveling, making the bags ideal personalized kids' luggage.
6. Justice Personalized Sequin Backpack
Who among us can't use a little more glitter in our lives? Justice provides the remedy with these adorable magic sequin backpacks, which can be personalized with a name or initials. Flip the sequins the other way to hide the name. Justice fans can also find a variety of single initial bags, but stock availability can vary on Amazon.

7. Luggage Tags for Kids
Don't feel like investing in personalized bags? For a much smaller price, check out some of the cute kid-themed luggage tags that can personalize kids' luggage in a snap! We liked the animals from Nido Nest that come in a pair of two, so they are great to match with checked and carry-on luggage, and this set of four tags from Little, that are made from silicone and can be bent, squeezed and bumped without being damaged. The bright colored characters and animals will help your child's bag stand out in a crowd or on the baggage carousel.
8. Emoji Sticker Suitcase
Involve your child in personalizing his or her suitcase with this fun hard-sided bat (or demon?) Emoji style suitcase. The personalized kids' luggage comes with a variety of included stickers to allow your child to create whatever face he or she would like to give it—naughty, silly or happy.
9. Fully Personalized Bag Cover
This Spandex suitcase cover can be completely customized with your own photo, quote or phrase. We suggest emblazoning the phrase, "Are we there yet?" on your kids' personalized bag. It's sure to get a lot of knowing smiles as your entourage makes its way through the airport.
Cynthia J. Drake is a travel writer based in Austin, Texas, where she lives with her husband and two sons. Since becoming a mom, she's been stranded at sea with her family, gotten lost in the Rocky Mountains, dealt with more than her fair share of public vomiting, and still can't wait for the next trip. She writes regularly for AAA magazines, Austin American-Statesman, Texas Highways and Cruise Critic. Follow her on Facebook and Twitter.
Our team of parents and travel experts chooses each product and service we recommend. Anything you purchase through links on our site may earn us a commission.