One of the most fun parts of the holidays is the stocking. Kids can't wait to get their hands on the sweets and little gifts. However, it can be difficult to decide what to put in your child's stocking. You don't want to spend too much money, but you also don't want to include junk that your kid will toss aside immediately. These are the best stocking stuffers for kids of all ages.

1. Nookums Paci-Plushies Buddies
Yeah, your baby doesn't understand the whole holiday stocking thing. That doesn't mean he can't go for a cool new pacifier. The Nookums Paci-Plushies Buddies are excellent gifts for babies of all ages. Thanks to the attached plush toy, your chubster will be able to easily grasp and maneuver the pacifier. When he's in a touchy-feely mood, the soft texture of the plush is perfect for touch and exploration. Paci-Plushies are available with a variety of animals, including an elephant, dog, lion, horse, and cow. The pacifier holder comes with a medical-grade silicone pacifier that is BPA, PVA, and Phthalate-free. But if your baby is into a different brand of pacifiers, Nookums Paci-Plushies are compatible with most of the top brands. Simply swap out the original pacifier for your baby's fave. Cleaning is just as easy. Detach the plush toy and put it in the machine for washing. Paci-Plushies can be used in several ways—with a pacifier, an optional chillable teether add-on (sold separately), or just the plush toy itself once your child weans from the pacifier. Chances are, he'll still love his familiar friend.
Related: Best Holiday Gifts for Infants 2019
2. Hatchimals Pixies
Hatchimals have been all the rage since they launched in 2016. This year, a new kind of egg landed in Hatchtopia. Hatchimals Pixies start off with a brightly-colored egg. To hatch it, your child will have to rub the purple heart until it turns pink. Then, hold the egg and press down gently to crack the shell. Inside is a super adorable pixie, three mystery accessories, a pixie bed, and a display stand. Though the pixies are only 2.5 inches tall, each of these little ladies is fabulous. They have colorful hair, a super cute outfit, a moveable head, and glittery wings that flutter. These collectibles are a great stocking stuffer for kids ages 5 and up. There are four eggs and eight different Hatchimals Pixies available, with more to come. It's one of the best stocking stuffers for kids, and your child will want them all!
3. Dragamonz Collectible Figure & Trading Card Game
Sticking to the egg theme, this one is for the slightly rougher crowd. Rather than being gentle, the Dragamonz Collectible Figure & Trading Card Game encourages children to smash the egg to find out which Dragamonz figure hides inside. The game comes with six Dragamonz, 6 Dragon cards, and 30 battle cards, enough for a two-player battle. There are more than 70 figures to collect (sold separately).
4. Crayola My First Fingerpaint Kit
Let your little artist do some holiday decorating. The Crayola My First Fingerpaint Kit is perfect for toddlers who want to unleash their creative side. The kit comes with four easy-squeeze tubes of non-toxic fingerpaint in red, blue, yellow, and green. It also includes 10 large glossy fingerpaint sheets. Good news for you: The paint is washable! So your budding Picasso can do his thing without leaving a permanent mark.
5. justBe Charm Bracelet Making Kit
With the justBe Charm Bracelet Making Kit, your child can make a charm bracelet and customize it to his or her liking. Suitable for children ages 6 and older, the kit comes with three bracelets, so your child can make a bracelet for themself, one for a sib' and one for a friend. Your daughter can personalize the bling on her wrist using a mixture of the 45 beads, which include a heart, star, snowflake, dolphin, Cinderella's glass slipper, rabbit and clock from Alice in Wonderland, the fairy from Peter Pan, anchor and starfish from Little Mermaid, and many more. There are metal and rainbow-colored beads and some dangle charms. One of the best things about this kit is it doesn't require any tools or glue. Simply unscrew and remove the end cap, slide the beads on (or off) and screw the end cap back on tightly.
6. Bag of Reindeer Farts Cotton Candy
What's a holiday stocking without the sweet stuff? This Bag of Reindeer Fart Cotton Candy will elicit a big response, either giggles or screams of "ewww." Don't let the name fool you. It's definitely one of best stocking stuffers for kids! This peppermint-flavored cotton candy is tasty. It's also allergy-free and doesn't contain gluten or high-fructose corn syrup.
7. B. Toys FunKeys
No more trying to wrestle your car keys away from your toddler. The brightly-colored B. Toys FunKeys are designed for babies who are 10 months and older and need their own set of keys. Just like mommy and daddy's, your kiddo's remote starter will trigger a variety of sounds, including a car horn, ignition starting, alarm system and a doorbell. There's even a working flashlight. Plus, the three keys swing freely and make a slight jangling sound when shaken. Unlike the adult version, these are safe for youngsters to play with and chew. FunKeys are phthalate-free, BPA-free, have no sharp edges, and they are larger and thicker than normal keys.
8. Kinetic Sand
Encourage your child's creativity this season (and beyond) with this stocking stuffer for kids. Kinetic Sand allows kids to create whatever they want over and over again. Or, they can play with the sand, stretch it and let it run through their fingers. Think of it as sensory and imaginative play without the mess of real sand. Kinetic sand sticks to itself, not your kid. Therefore, clean-up is easy. Get a ball of the sand, use it to pick up the smaller pieces and put them in the bag. This sand doesn't dry out and won't turn into a hard lump either. So your child should have it for a long while. Kinetic Sand is appropriate for kids ages 3 and older. It's available in blue, green, pink and purple.
9. Treasure X Aliens Dissection Kit
If you're looking for stocking stuffers for boys, look no further. The Treasure X Aliens Dissection Kit is gross, so most kids will love it. Suitable for children ages 5 and older, the kit requires kids to use the included tool to dissect an alien's slime-filled belly and save the hunter. While digging around, your child will also find stomach critters and the hunter's weapon and treasure. There are 18 hunters to collect (sold separately). Your kiddo will be glad to know he can reuse the ooze and perform dissections over and over.
10. Scentco Holiday Smencils
With these pencils, your kid will write, draw, sketch and doodle for the smell of it. Scentco Holiday Smencils are specially designed to give off an alluring holiday aroma. The package of five has the following scents: candy cane, gingerbread, holiday cheer, sugar plum and hot cinnamon. Each Smencil has a decorative character top and a freshness tube to help it hold its scent for two years. Best of all, these are #2 HB pencils with an eraser, so they'll work for all your child's school needs. If you don't think your kid will dig holiday scents throughout the whole year, try the original Scentco Smencils, which smell of strawberry, blueberry, grape jelly, orange and kiwi. For kids who use pens, there's also a 4-pack of Scentco Tri-Color Smens with yummy scents. Smencils and Smens are for kids ages 3 and up.
11. Mattel Games Uno Emoji Card Game
If you want to include a card game as a stocking stuffer for your kids, don't go with regular degular ones. Put a fun spin on it! The Uno Emoji Card Game is sure to be a hit. The game is played just like classic Uno, with one twist: There's a new type of action card. When someone plays the special action card along with an Emoji face card, the next player must make the face shown on the card and hold it for two turns. If they can't, draw four! The game is designed for kids ages 7 and older, but younger kids may love trying to imitate the faces.
Related: Best Family Card Games to Play on Vacation
12. PodSkinz Keychain AirPods Case
Your kid won't have to worry about damaging his AirPods case if you get him a PodSkinz Keychain AirPods Case. All he has to do is slip the original case inside the PodSkinz one to protect it from scratches and other damage. This case even makes it less likely for him to lose his AirPods. The attached carabiner makes it easy to clip the Pods on a backpack, purse, keyring, belt loop, wherever. PodSkinz cases are available in a variety of colors and work with first- and second-generation AirPods.
Related: Best Kids Headphones for 2019, According to an Expert
13. Lip Smacker Liquid Lip Gloss Party Pack
Just as it probably was for you when you were younger, these Lip Smacker Party Pack Lip Glosses may become your kid's fave' lip accessory and stocking stuffer. They moisturize lips and smell delectable. The original version comes with flavors ranging from watermelon to kiwi to oatmeal cookies. And there are other party packs, including Coca-Cola, Disney Princess, M&M, Star Wars and Starburst. So you're sure to find a flavor your kid will love. Each party pack contains eight lip balms, perfect size for the perfect stocking stuffer for kids.
Related: Best Holiday Gifts for Tweens 2019
14. QIAYA Selfie Light Ring
If your teen is all about capturing the perfect selfie, give her a hand. The QIAYA Selfie Light Ring has three levels of brightness to assure she always has the best light for her pics. It even works in dark rooms and at night. The ring clips on easily to most smartphones and is small and light enough to carry in hand or fit in a pocket. Also, since the light ring recharges with a USB cord, there's never a dead battery. So your teen doesn't have to worry about missing an awesome selfie opportunity.
Related: Best Holiday Gifts for Teens 2019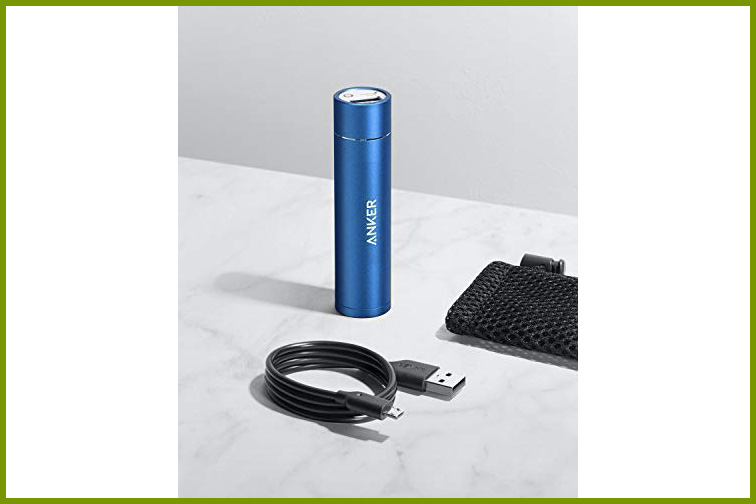 15. Anker PowerCore+ Mini Portable Charger
With as much time as older kids spend on the phone, they'll be especially thankful if you put this gift in the stocking. The Anker PowerCore+ Mini 3350mAh Lipstick-Sized Portable Charger allows for charging on the go. That means your teen won't have to worry about not having enough battery power next time he forgets to charge his phone. This charger is small, shaped like a lipstick and it comes with a travel pouch. Therefore, it's easy to carry around in a pocket, purse or backpack. The Mini Portable Charger is available in black, blue, pink, silver and gold. It's compatible with iPhone and Android devices, making it one of the best stocking stuffers for kids.
Related: The Best Travel Inspired Gifts For Every Age 2019
Tamekia Reece lives in Houston, TX with her husband, son and two spoiled Shih Tzus. Tamekia has written for Parents, Woman's Day, GoodHousekeeping.com, Oprahmag.com, American Airlines, and more. Find Tamekia on her website, TamekiaReece.net.
What to Pack for Your Next Trip