A busy baby is a happy baby, Keep baby busy—and happy—while on the go with these stroller and car seat toys, which include plenty of multi-sensory options to stimulate your little one. These are the best stroller and car seat toys for babies and toddlers.
1. Tiny Love Meadow Days Sunny Stroll Stroller Arch
Every day is a sunny day for baby with Tiny Love's Meadow Days Sunny Stroll Stroller Arch. Suitable for boys or girls, the sweet interactive "baby-operated" stroller toy set features eight fun activities and three cute woodland characters. The versatile, portable arch easily attaches to a stroller, car seat or to a baby bouncer.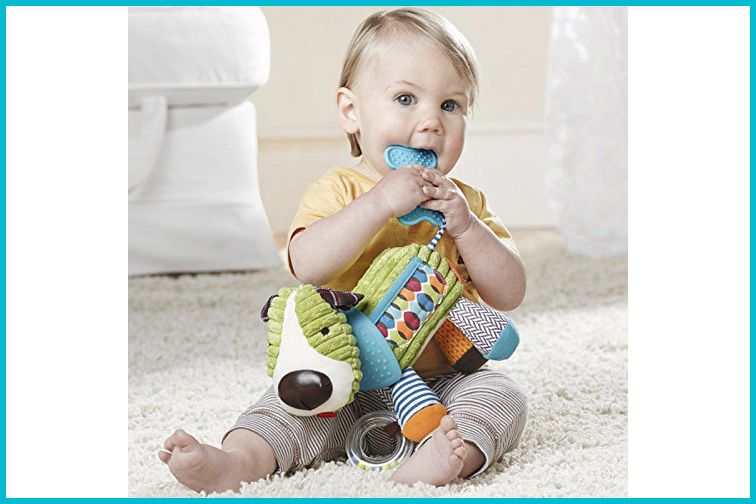 2. SkipHop Bandana Buddies Baby Activity and Teething Toy
Keep baby entertained during a trip around the block—or in the car seat—with SkipHop Bandana Buddies. Adorable and affordable, the multi-sensory stroller toy has a variety of textures and sounds for babies to explore. Choose from a playful puppy or a sweet elephant.
3. OBall Flex and Go Activity Arch Take Along Stroller Toy
Sure to spur on smiles from babies and toddlers (and from parents, too), the colorful and flexible OBall Activity Arch Take-Along Toy encourages batting, grabbing and motor skills practice. Easy to attach and easy to wash, the stroller toy arch can be adjusted to different angles, providing your little one with a changing variety of fun challenges as she grows.
Related: Best Umbrella Strollers for Travel
4. Chewbeads Grammercy Baby Teething Stroller Toy
Easy to grasp and easy to clean, Chewbeads stroller toy is a BPA-free product designed to soothe your teething baby. Made by the same company that produces the popular line of Chewbeads sensory "chewelry," this mom-approved stroller toy is gentle on baby's gums. Simply clip it on a stroller bar, car seat or baby carrier, and calm and entertain baby on the go!
5. Taggies Crinkle Me Baby Toy
Cute and cuddly and safe for teething babies, the drool-worthy Taggies Crinkle Me stroller toy makes a great baby shower gift. Babies love the soft ribbon tags and parents love the adorable animal images. Pattern options include a puppy, a hedgehog, an elephant and a cow.
6. SkipHop Silver Lining Stroller Arch Toy
Designed to entertain baby from birth, SkipHop's Silver Lining Jitter Stroller Toy Arch should be on every expecting mom's baby registry. Infants will love exploring a variety of stimulating textures, sounds and graphics—and a cloud that vibrates when you pull the teether handle. The sensory toy has a built-in loop so that you can easily attach it to a stroller arch or to baby's car seat.
Related: Baby Registry Checklist: Baby Registry Must Haves for Jetsetting Parents
7. Playgro Sports Balls
Score big points with growing sports fans on-the-go and help parents keep crawlers entertained during the "Diaper Changing Olympics" with a gift of Playgro Sports Balls! This stroller toy comes as a tri-pack of cute, clip-on miniature plush sports balls that shake, rattle and roll and can safely be mouthed by baby.
8. VTech Baby-On-The-Moove Activity Bar
Got a busy mover? Give them the freedom of movement—even when they're securely strapped in a stroller—with VTech's Baby-On-The-Moove Activity Bar. Baby will enjoy singing along with a crooning cow, admiring herself in a ladybug mirror and batting at a duck that twists and rattles. The easy-to-attach, take-along toy can be used with a stroller or with a car seat.
Related: Best Double Strollers for Travel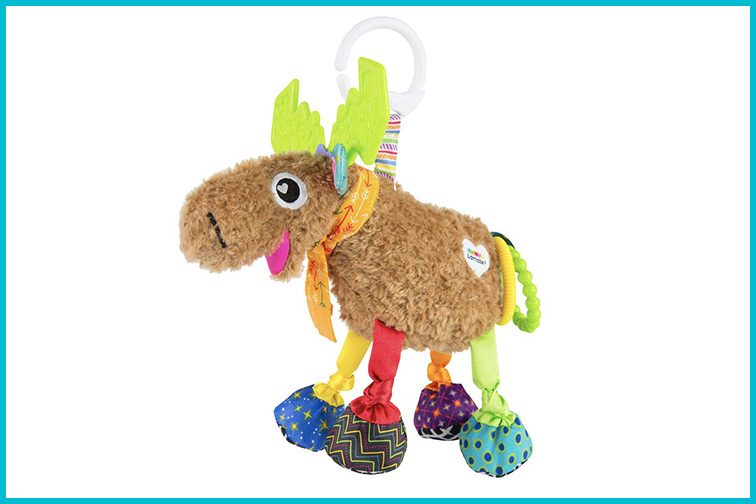 9. Lamaze Mortimer the Moose Clip on Toy
What's cuter than a stuffed cartoon moose? Your baby enjoying Morty the cartoon moose and an assortment of stimulating activities for hours on end. Use clip-on rings to attach the multi-function, chewable sensory toy to a stroller. This easy-to-grip, squeak-able stroller toy is washable and durable, making it a popular hand-me-down item.
10. VTech On-the-Go Baby Driver
Put baby in the driver's seat with VTech On-the-Go Baby Driver. Great for older babies and toddlers, this super-charged stroller toy features a carload of wheelie fun activities! Junior racers will have a ball taking the wheel, honking the horn and checking the rear view mirror. Attach it securely to baby's stroller with included hook-and-loop straps.
11. Manhattan Toy Whoozit Activity Spiral Stroller and Travel Activity Toy
Vibrant colors, eye-catching patterns and plenty of hands and textures to grab and explore make Manhattan Toy's Whoozit Activity Spiral Stroller and Activity Toy a perennial favorite with parents and babies. Rattles, squeakers and a hidden "mirror" will delight baby and keep her busy.
12. Lil' Jammerz Baby Music Toy
Does your little one love to experiment with sounds? Parents sing the praises of Little Jammers Baby Music Toy! Program music and sounds, then use an app on your smartphone to play them on the Bluetooth speaker built in to the plush toys. A special white noise feature helps lull baby off to sleep, making this must-have stroller toy particularly priceless.
Jackie Perrin has covered the best of family travel for nearly two decades, for media ranging from newspapers and magazines to TripAdvisor.com. At home and on the go, she manages a crew of companions. Follow her on Pinterest, TripAdvisor and Instagram, @NYfamtravels.
Great Outfits for Baby
For info on these editor-selected items, click to visit the seller's site. Things you buy may earn us a commission.
Our team of parents and travel experts chooses each product and service we recommend. Anything you purchase through links on our site may earn us a commission.