Mom's toiletry bag is Command Central for the entire family, isn't it? Owning a bag that holds everything from aloe for sunburns, waterproof bandages, a mini sewing kit for inevitable lost buttons, motion sickness bracelets and a zillion other things is essential when traveling with kids. Tired of searching frantically in bottomless-pit dark compartments packed with too much stuff, or repairing busted compartments with duct tape? Check out these heavy-duty toiletry bags, designed to withstand all kinds of family vacation needs.
1. Maxchange Hanging Toiletry Bag
Moms will love stuffing the four compartments that unfold out of the Maxchange Compact Hanging Toiletry Bag. Featuring zippered mesh pockets, elastic loops and transparent sections, this expandable waterproof bag with reinforced zippers can hold up to eight bottles of water, so it can certainly handle anything your family needs to haul. A large hanging hook can be used to store the bag on any doorknob, shower rod or towel rack for easy access to everything.
2. Hanging Travel Toiletry Bag and Shower Organizer Kit
Looking for a leak-proof and oversized solution to your family's cosmetic conundrums? The Expert Travel Hanging Travel Toiletry Bag and Shower Organizer Kit comes in multiple colors and in large and extra-large sizes with extra-deep pockets, sturdy zippers, and thick, reinforced plastic compartments. A lifetime warranty and guarantee not to ooze shampoo into your suitcase make this a great choice for families on the go. Bonus: The bottom pocket is detachable in case you want to toss it into a beach bag for the day.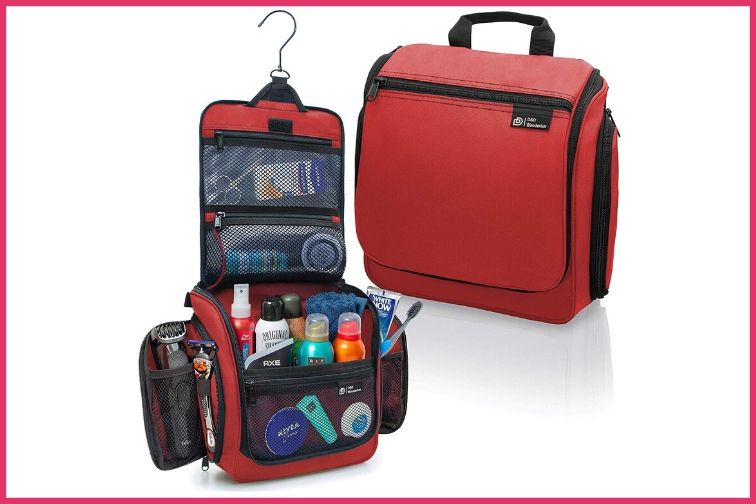 3. D&D Hanging Toiletry Bag
Named for a dad and daughter who designed this family travel organizer, the D&D Hanging Toiletry Bag offers six zippered pockets to make hauling your cosmetics and personal care products a breeze. Forget pouring your products into teeny-tiny bottles—this bag can easily handle full-size containers of shampoo, sunscreen and shaving cream, and the main compartment's mesh structure keeps bottles upright and secure. Made of waterproof nylon and available in four colors, the bag features premium zippers and a metal swivel hook for super easy access. Bonus: It comes with a lifetime guarantee and a free e-book, The Ultimate Packing Checklist.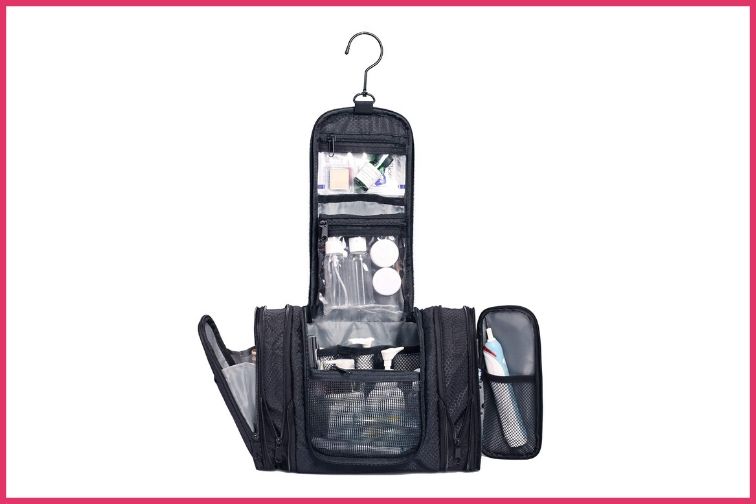 4. WANDF Expandable Toiletry Bag and Dopp Kit
Whether you need a small cosmetic bag for a weekend getaway or a heavy-duty performer for a two-week cruise, the WANDF Expandable Toiletry Bag and Dopp Kit delivers both, thanks to its expandable design that offers 50 percent more room when both sides are unzipped. Available in four colors, the waterproof bag offers multiple interior and exterior pockets, plus a detachable, leak-proof clear plastic pouch that speeds up airport security while providing a great carrying case for sunscreen during a day at the beach. Bonus: The bag includes six TSA-approved, BPA-free travel bottles and refill accessories.
5. Ellis James Designs Large Travel Toiletry Bag with Hanging Hook
Families who prefer to travel with the contents of their toiletry closet will adore the large-capacity, luxurious Ellis James Designs Large Travel Toiletry Bag with Hanging Hook, which can easily stash full-size beauty products, plus your hair dryer and straightener and your husband's shaving kit. With a lovely quilted exterior, the bag also has a detachable make-up bag that's water-resistant with clear interior pockets. Hook it up or stand it up on a counter—it's versatile enough for any family trip.
6. BUBM Small Purse Toiletry Handbag
Small families will love the waterproof BUBM Travel Kit Organizer, which is large enough to hold a ton of supplies, but compact enough that it doesn't take up half your suitcase. The top compartment has plenty of room for skincare products, soap and shampoo, while the bottom section features two mesh pockets and nine elastic loops to corral smaller items like a thermometer, lipsticks and eyeliners. Available in several fun two-tone colors, this bag can be used as a cosmetic case or even a small evening clutch.
7. Gonex Hanging Travel Toiletry Bag
When you have numerous compartments to fill, you won't have to leave your fave products at home when you go on vacation. The lightweight, waterproof Gonex Hanging Travel Toiletry Bag is made of PVC and polyester, and comes with several mesh pouches, a large center compartment as well as zippered pockets, and a sturdy 360-degree hook. Don't need all the space? This bag folds flat when not filled to capacity. Smooth zippers, reinforced stitching and easy cleaniblility make this a durable choice for families who travel often.
Montreal-based Wendy Helfenbaum is a journalist, content strategist and TV producer who writes for dozens of digital and print magazines, as well as many brands. Wendy loves cruising, adventure travel and venturing off the beaten path with her husband and teenage son, and she can pack a carry-on bag like nobody's business. Follow her @WendyHelfenbaum.
Outfit Choices for Mom
For info on these editor-selected items, click to visit the seller's site. Things you buy may earn us a commission.
Our team of parents and travel experts chooses each product and service we recommend. Anything you purchase through links on our site may earn us a commission.