Whether you're flying to the Alps, renting a cabin in Ontario, or staying somewhere closer to home, winter typically means cold, so bring on the coats! Since winter weather can be fickle—breezy one day, downright frigid the next—it can be tough to choose the best winter coat for kids. The last thing you or your kiddo want is a winter coat that's scratchy and uncomfortable, too hot, or not warm enough. That's why we're here to help! These are some of the best winter coats for kids of all ages, sure to keep them comfortable and warm, yet oh so cool.
1. Old Navy Soft-Brushed Hooded Coat for Baby
Young babies don't need huge coats, even in the wintertime. A bulky coat will make the baby too hot and miserable. And you'll have to struggle to take it off and put it back on when traveling by car (since babies shouldn't wear heavy, puffy coats in a car seat). The Old Navy Soft-Brushed Hooded Coat for Baby will keep your baby's body at just the right temperature. It's lightweight, slides on and off easily, and won't restrict your little one's movements. The coat is available in newborn sizes for up to 24 months.
Related: Best Travel Car Seats, According to an Expert
2. Carter's Baby Girls Fleece Lined Critter Puffer Coat
Cutie alert! The Carter's Baby Girls Fleece Critter Puffer Coat is adorable with its little critter pockets. Beyond its looks, this winter coat for kids is sturdy enough to stand up to a busybody toddler who's venturing from one place to the next in a foreign (or not-so-foreign) land. And it does an excellent job of providing protection from the cold. This coat is made to fit babies and toddlers in the 12-to-24 months range. Bonus: The coat has a little tag on the inside for you to write your child's name.
3. Columbia Kids' Double Trouble Jacket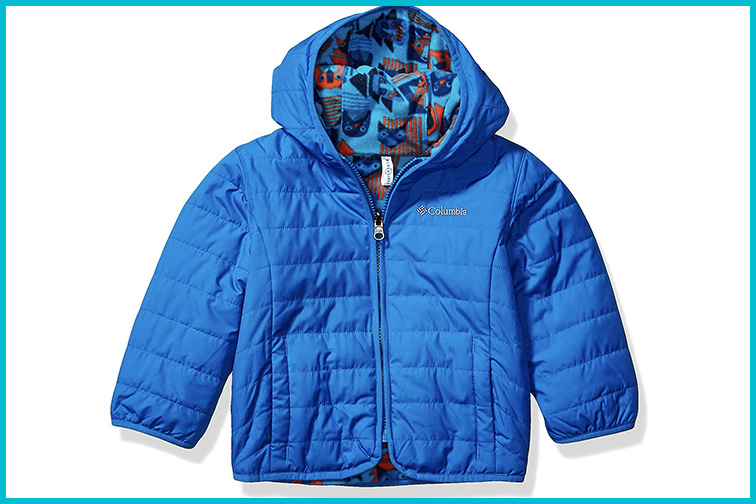 You get a two-for-one deal with the Columbia Kids' Double Trouble Jacket. One day your kid can wear it as a solid color, then flip it to the print side the next day for some added cuteness. This winter coat is for boys or girls and comes in a variety of colors and sizes for toddlers and preschoolers. Columbia Kids' Double Trouble has enough soft insulation so kids stay warm, but it's not so much that it's big and bulky. With the possibility of two different looks, your kid will never want to take this winter coat off. Fortunately, it's machine-washable so it's easy to clean.
Related: Flip It and Reverse It: Clothing Items That Do Double-Duty on Vacation
4. OshKosh 4-In-1 Jacket
You know how toddlers run hot one minute and cold the next, even during the winter? The OshKosh B'gosh Colorblock 4-In-1 Jacket is the solution. On brisk days, you can dress your toddler in just the inner jacket. It's reversible so it can be worn on either side. On colder days, they can wear the parka by itself. And for those super frigid days and nights, zip the jacket and parka together for ultimate warmth. This coat is super functional and cute, making it one of the best winter coats for kids.
5. Lands' End Boys Squall Waterproof Winter Parka
This hardy winter coat protects little guys from water, wind and cold. The Lands' End Boys Squall Waterproof Winter Parka has a fleece lining in the body and hood and the insulation is thin, but plentiful. So your son will feel cozy, but the parka won't weigh him down. Even better, this winter coat for boys is designed to fit now and later. It comes in sizes small, medium and large, with an adjustable waist and cuffs. Plus, the sleeves extend up to 1.5 inches. That means your boy can still rock this coat even when he gets bigger and taller. The Lands' End Girls Squall Waterproof Winter Parka is also a great option.
6. Columbia Girls' Katelyn Crest Jacket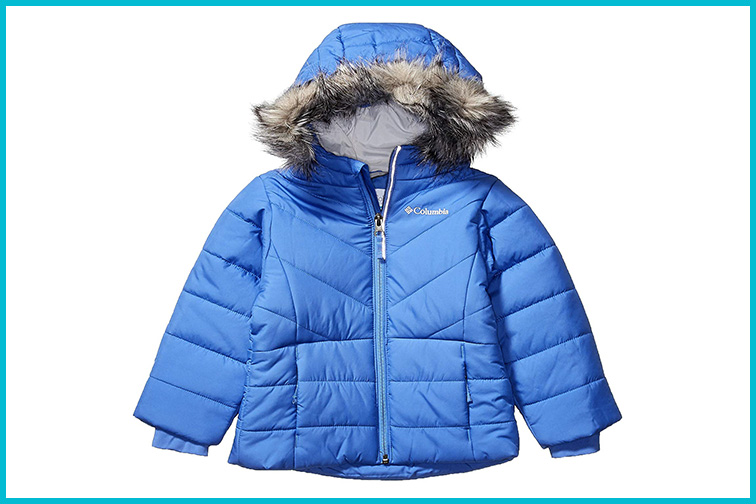 Hello, style! With a slightly gathered waist, a hood with removable faux fur, and a variety of color options, the Columbia Girls Katelyn Crest Jacket is super cute. It's functional, too! The puffy insulation, fleece-lined pockets and adjustable hood will keep your best girl's head, face, ears and body at a comfortable temperature. Also, the coat features reflective detailing so she's highly visible in any winter weather conditions. This one is available for toddler girls on up to big girls.
7. SOLOCOTE Heavyweight Winter Coat for Boys
This is a strong and sturdy coat for boys of nearly any age—little ones, big ones and teens. The SOLOCOTE Heavyweight Winter Coat is made of 100-percent cotton and has a sherpa lining. The double cuff sleeves seal in warmth while keeping wind out. This coat is water-resistant, so it can even take on drizzle and light rain. Although the coat is heavyweight, it's still flexible. It won't slow your kid down when he's playing outside (or, in the case of your teen, cramp his style while he's sitting on the porch with his eyes glued to his phone).
8. Carhartt Boys Active Taffeta Quilt Lined Jacket
You know those days when you wish you could take your blanket with you? Well, your kids can get close to that. The Carhartt Boys Active Taffeta Quilt Lined Jacket has a soft lining and insulated front pockets so he'll stay toasty. The outer canvas material gives that rugged look and feel that some kids adore. On top of that, this winter coat for kids comes in a variety of colors and size options for baby boys on up to big boys. It's also very durable and will hold up well after tons of rough-and-tumble play at the winter cabin or recess. The quality of this winter coat is so good that you may even be able to pass it down to a younger sibling.
9. Sportoli Girls' Mid-length Quilted Fleece Lined Winter Coat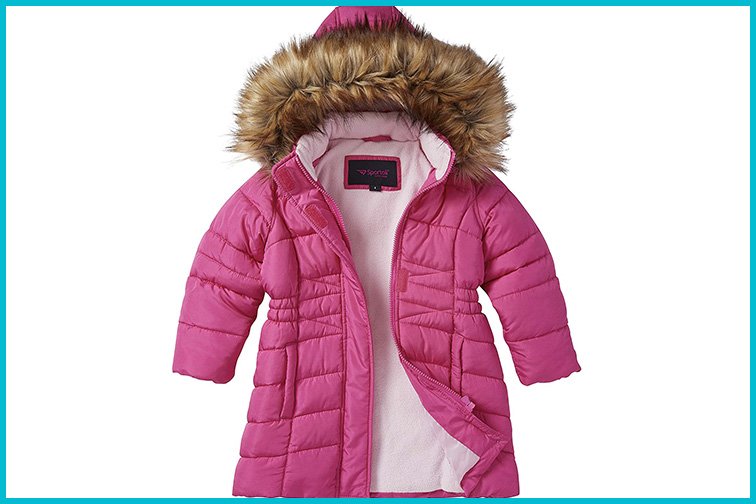 Available in black, light pink and fuchsia, the Sportoli Girls' Midlength Fleece Winter Coat feels as good as it looks. It has a hefty layer of down alternative filling and a fleece-lined neck, body and cuffs so kiddos stay super warm. Also, the detachable hood is very stylish with its faux fur trim. Little girls or big girls can rock this winter coat for girls as it comes in sizes 4 to 16.
10. F.O.G. by London Fog Big Boys' Technical Heavyweight Coat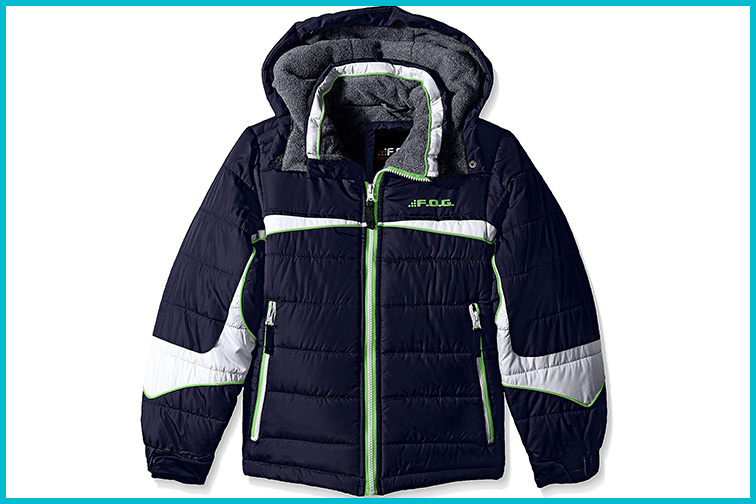 The London Fog Big Boys' Technical Heavyweight Coat is perfect for those walks in a winter wonderland (or to and from school). The soft fleece lining and hood will have pre-teen and young teen boys feeling nice and snuggly. And even with it being a heavyweight winter coat, it's not stiff, so boys can still move around freely.
11. The North Face Women's Gotham Jacket II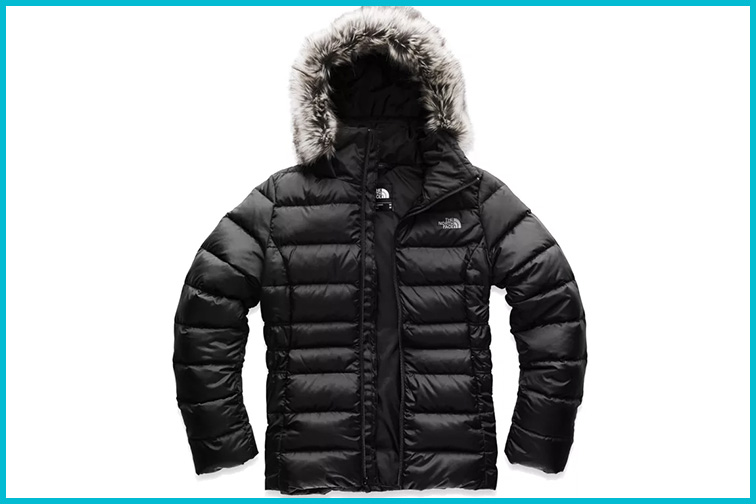 When it comes to winter coats for kids, girls can be very picky (especially the older ones). The North Face Women's Gotham Jacket II is a good choice for teens who want to be warm, but still look good. It has two different types of insulation, 550-fill down and synthetic, so it's sure to keep things at a pleasant temp. But probably more important to your teen, The North Face jacket is stylish. There are a variety of color choices and the fully-adjustable hood has a removable faux fur trim. This beauty even has an internal media pocket so your daughter can slip her phone, lip gloss or whatever else inside. And because no teen girl wants to look like a marshmallow in her winter coat, this one has elastic thread at the waist for a snugger fit.
Tamekia Reece lives in Houston, TX with her husband, son and two spoiled Shih Tzus. Since Houston is always hot and humid, Tamekia counts down to the moments when she and her family get to wear their big coats during vacations. Tamekia has written for Parents, Woman's Day, GoodHousekeeping.com, Oprahmag.com, American Airlines, and more. You can view her writing at TamekiaReece.net.
Our team of parents and travel experts chooses each product and service we recommend. Anything you purchase through links on our site may earn us a commission.