Tiny mittens are adorable, aren't they? But finding ones that fit properly and actually stay on can be a frustrating task. Isn't it funny how something so challenging to put on—hello there, little thumb that never goes in the right place!—somehow falls off in two minutes? We all want our toddlers to get plenty of fresh air, but that's not going to happen unless they're sporting a pair of warm, waterproof mittens that can stand up to a kid actually playing in the cold, wet snow. You don't need to consider duct-taping mittens on anymore. These are our picks for the best winter mittens for toddlers.
1. N'Ice Caps Kids Easy-On Wrap Waterproof Thinsulate Warm Winter Snow Mitten
We love wrap-style mittens like N'Ice Caps Kids Easy-On's, which have a fold-over flap: Undo it and the mitten opens wide so your toddler's hand will slip in with no whining (well, one can hope). Fasten the hook and loop closure for a snug and secure fit. These super affordable toddler mittens come in close to three dozen colors and patterns and are perfect for your child's first active winter outside. Insulated with 3M Thinsulate and featuring a grippy palm, the mittens are waterproof and warm, with a 2.5-inch knitted cuff you can tuck underneath your kid's jacket sleeve to prevent snow from getting in.
2. Veyo Kids – Flipper Mittyz – Waterproof Kids Mittens
Wet, cold hands lead to one thing: A meltdown (theirs or yours; take your pick!). Veyo Kids' Waterproof Flipper Mittyz were designed by the father of twins specifically for kids under age 6. The mittens are available in sweet penguins, dragons, snow princess and tiger motifs. They feature a fully waterproof, breathable liner that keeps moisture out. A cozy layer of insulation inside keeps small hands toasty, and we love the integrated EasyThumb shape that replaces the dreaded disappearing thumb hole. Pull the oversized gauntlets over even the puffiest coat sleeves, and the double pull wrist strap ensures the mittens stay on your kid's hands, while the bungee around the cuff keeps it extra-secure. Bonus: The outer layer of the mittens is super-soft, which comes in handy since every toddler we know wipes their runny nose with their mittens!
Related: Best Winter Coats for Kids
3. MCTi Kids Mittens
Lined with lightweight, cozy Sherpa fleece lining, MCTi's Kid Mittens come in black, pink or grey and feature a waterproof nylon outer shell and a long cuff with a hanging string you can loop through your child's coat sleeves to be sure they never get lost. Reinforced, non-slip palm and finger grips make these perfect for building a snowman or sledding on the coldest days. With a reflective tape trim that makes the gloves visible on foggy or snowy days, these mittens are durable enough for any outdoor activity. The elastic wrist and buckle ensures the mittens stay on tightly. Bonus: There's a three-year warranty against rips.
4. HIGHCAMP Toddler Long Sleeve Waterproof Winter Snow Ski Mittens
With a windproof and water repellent shell, the brightly colored HIGHCAMP Toddler Long Sleeve Mittens for boys and girls keep little fingers warm and comfortable. The long cuff, with its wide elastic opening, easily slides over any coat jacket to block out the snow, while a second waterproof membrane sits below the wrist to make sure no cold snow trickles in. The warm interior padding features moisture-wicking fabric that helps keep tiny, sweaty hands dry. A pair of YKK clips ensures these mittens don't become strays, and the adjustable hook and loop wristband keeps them on your child, not buried in a snowbank somewhere.
Related: Best Waterproof Winter Boots for Kids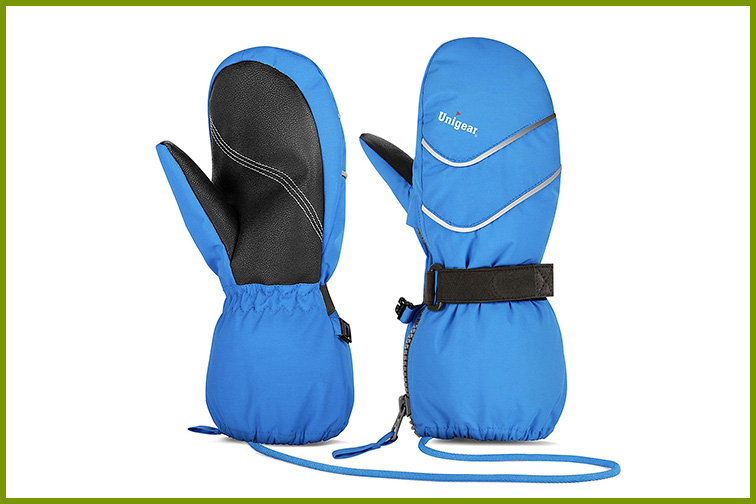 5. Unigear Kids Ski Mittens Waterproof Winter Snow Thinsulate Mittens with String for Boys and Girls
Available in blue, black and pink, Unigear's Kids Ski Mittens feature 150g of Thinsulate insulation for total warmth even in the wettest environments. Long cuffs with elastic closures keep snow out, even after hours making snow angels. These mittens offer triple waterproof protection with a durable nylon outer fabric, a TPU coating and membrane inserts that suck out moisture. A sanity-saving, easy-access side zipper makes these mittens a cinch to put on, and you can adjust the Velcro closure so they stay on until you take them off. A sturdy leather fabric that covers palms and fingers allows your child to grip that carrot for the snowman's nose with ease, and a hanging string with clips ensures you make through at least one winter without losing them.
6. Stonz Mittz Toddler Mittens
For a snug, waterproof option, pick up a pair of Stonz Mittz Toddler Mittens, which feature a wide over-the-arm opening that cinches easily, plus no thumb holes, so your child can easily slip their hands in. Designed in Canada with frosty childhood winters in mind, this brand offers thick insulation that's warm but not bulky, and the breathable, wind-resistant lining helps little hands stay warm all day. Two adjustable toggles give your child a custom fit, and these are so durable you may even be able to pass them down to a younger kid next season.
7. FREETOO Kids' Ski mittens
With its ultra-soft cotton filling and lightweight insulation, FREETOO's Kids' Ski Mittens are ideal when you're teaching your toddler to ski. Available in blue and pink, the back of the mittens are crafted with high-density, water-repellent polyester, while the interior has a waterproof membrane that prevents snow and ice from getting through. The palms are made of sturdy ultra-fibre leather for gripping ski poles, and the double-tightening long cuff design with wrist buckle ensures the mittens don't fall off when you're on the chairlift. Bonus: Write your child's name on the 'anti-lost' label.
8. Gordini Easy On Mitts for Children/Toddlers
With its wide, zippered opening, you can get your kid ready to go outside in a flash when putting on Gordini's Easy-On Mitts for Children and Toddlers. A dry-max waterproof insert and elasticized gauntlet make this a smart choice for toddlers who love to throw snowballs and go tobogganing. The long cuff goes halfway up the arm, so there's no way any snow is getting in, and Velcro keeps the mittens from sliding off. The long zipper allows older toddlers to put them on and take them off themselves. Some parents say these run a little big, so size down if you want an extra-snug fit.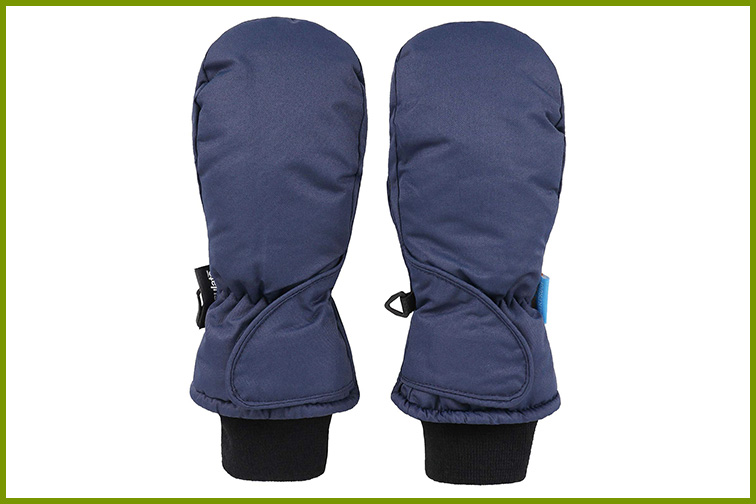 9. Livingston Kids' Thinsulate Insulated Waterproof Snow Ski Mittens
Available in nearly a dozen bright colors for kids aged one and up, Livingston's Kids Insulated Waterproof Mittens are lightweight, breathable and super warm. The protective exterior, plus long inner cuffs, prevent snow and water from seeping into the mittens, and reinforced palm and thumb areas offer a secure grip. Adjustable wrist straps keep the mitts from tumbling off whether your little one is skating, tubing or sledding, and the Thinsulate lining will let them enjoy the snow for hours at a time.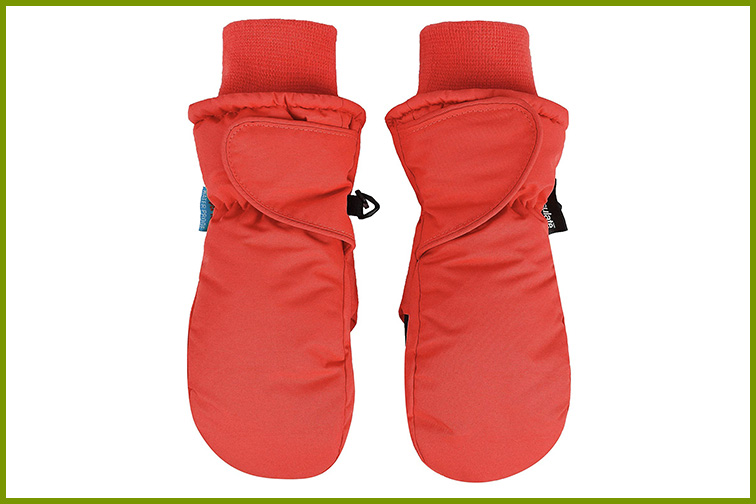 10. SimpliKids Children's Snow Sports Thinsulate Insulation Waterproof Winter Mittens
Active families need the right winter gear, period. SimpliKids Children's Snow Sports Mittens provide warm and waterproof protection for cold days on the slopes or on the toboggan runs. Oversized and easy-to-adjust wrist straps help keep mittens snug, and they're so affordable you can let your child pick out more than one from the available 16 colors. A soft lining, plus lightweight insulation, offer toasty warmth that's not bulky, and high quality means you may even get more than one season's worth of wear.
Montreal-based Wendy Helfenbaum is a journalist, content strategist and TV producer who writes for dozens of digital and print magazines, as well as many brands. Wendy loves cruising, adventure travel and venturing off the beaten path with her husband and teenage son, and she can pack a carry-on bag like nobody's business. Follow her @WendyHelfenbaum.
What to Pack for Your Next Trip
Our team of parents and travel experts chooses each product and service we recommend. Anything you purchase through links on our site may earn us a commission.