Some travel gadgets seem so genius that you have to wonder if they're actually useful—and many times, they aren't. But these cool travel gadgets—while slightly pricey—are actually worth the investment for your next trip with the kids.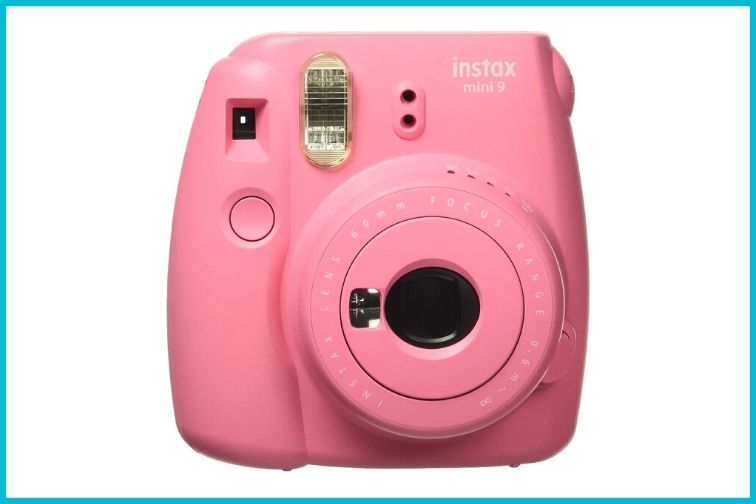 1. FujiFilm Instax Mini Camera
Your kids watch you take photos during vacation, so why not get them their own camera for vacation? Our 17-year-old daughter loves her FujiFilm Instax Mini camera. "It's very vintage and that's in style right now," she says. "Plus, you get to see the pictures right away."
The Instax Mini 9 contains a selfie mirror for proper photo framing, as well as a lens attachment for close-up photos. It's available in five different fun colors that appeal to kids: Smoky White, Cobalt Blue, Ice Blue, Lime Green, and Flamingo Pink. You can also get it bundled as a gift set that contains a custom-fitted case (same color as the camera), photo album, close-up color lens attachments, larger selfie mirror, photo frames, stickers, and more. Finally, don't forget packs of Fuji Instax film to go along with it.
2. Nikon D3500 DSLR Camera
Speaking of cameras, are you thinking of stepping up from smartphone photos to full-scale photography? The Nikon D3500 DSLR camera has a much larger image sensor than a camera phone and a wider array of settings that allow more control over your photography. The Nikon D3500 DSLR is easy to use, takes great photos, and has plenty of manual controls so you can create the images you want as you learn more about photography. For a little bit more, you can purchase the D3500 bundled with many of the items needed for more advanced photography, including a 70-300 mm zoom lens, flash, memory card, filters, tripod, and more.
Related: The Best Travel Cameras for Kids
3. Amazon Kindle Paperwhite
Now that the e-Reader has been around for more than a decade, it's easy to forget how revolutionary the device was. The Amazon Kindle makes it easy to browse, purchase, and read thousands of e-books, newspapers, and magazines without having to lug around all that heavy paper. The latest version of Amazon's Kindle Paperwhite is waterproof for beach or poolside reading, and thinner and lighter, making it easier to pack. You can even listen to audio books from Audible when the Kindle is paired with speakers or headphones via Bluetooth.
4. Bose QuietComfort Wireless Headphones
Hear us out: noise-canceling headphones are not for parents looking to block out the noise from kids in the backseat on long family road trips (although they could be). The best use of the Bose QuietComfort 35 Wireless headphones are for family vacations that involve long stretches of travel by plane or car. The active noise cancellation will help silence the roar of airplane engines and/or the road, and the battery lasts nearly 20 hours—good for those long drives and flights. Face it, there are times on family trips when it's okay for members of the family to be in their own little world. We travel to connect with each other, but that connection will not occur 24/7! The Bose QuietComfort 35 Wireless Headphones makes those times you need a little space, but cannot physically get away, more pleasant.
Related: The Best Kids Headphones, According to An Expert
5. Nintendo Switch
It's all about the Nintendo Switch. Again, similar to the Bose QuietComfort 35 Wireless headphones, there is a time and a place for video games during family vacations. We're all for anything that can take some of the tedium out of the less glamorous aspects of travel. The benefit of the Nintendo Switch is it behaves as a home console, as well as a handheld gaming system. The LCD touchscreen acts like a tablet computer and the game controllers attach to each side, making the Switch easy to use in an airplane or backseat. Don't forget a couple of games when purchasing the Nintendo Switch. Finally, be sure to set some ground rules for gaming while traveling so kids know when it's appropriate to play or not.
6. Anker PowerCore Charger
You simply can't travel without a portable charger these days. The Anker PowerCore+ 26800 PD with 30W Power Delivery Charger, portable charger bundle has the capacity to charge phones, tablets, and gaming devices. When fully charged, the Anker PowerCore+ 26800 PD can charge an iPhone up to seven times. It can charge multiple devices at once, as well as the Nintendo Switch (in undocked mode).
Related: 12 Best Portable Chargers
7. Travel Cable Organizer Bag
It's time to organize all those charging cords, headphones, and devices. This organizer bag keeps cables separate; has individual compartments for your smartphone, tablet, etc.; and is water- and fire-resistant. The organizer utilizes a popular camera bag strategy with Velcro dividers to create any size compartment. When everyone in the family has their own device on the family trip, this bag will keep all those chargers and needed cords organized and close at hand when someone inevitably asks where their charger is.
Dave Parfitt lives in Rochester, New York, with his wife and two daughters. A runner with a PhD in neuroscience, he lived in numerous Northeastern and Midwestern U.S. cities before taking a college job in the Finger Lakes. He's traveled worldwide, but a Walt Disney World trip with two budding princesses is the trip that elicited the family travel wanderlust. He shares his vacation tips and tricks on AdventuresbyDaddy.com.
What to Pack for Your Next Trip
For info on these editor-selected items, click to visit the seller's site. Things you buy may earn us a commission.
Our team of parents and travel experts chooses each product and service we recommend. Anything you purchase through links on our site may earn us a commission.