When it comes to Disney, everything is magical—especially the food served at the parks. Craving a creamy Dole Whip or wishing you were starting your day with Mickey-shaped pancakes? We've found ways to easily recreate your favorite Disney treats at home. Bonus: With parks closed indefinitely due to COVID-19, Disney has released several of its original recipes for families to make in their own kitchen.
1. Churros
With families socially distancing at home due to COVID-19, Disney has released its official recipe for Churros Bites.
Ingredients
Directions
Combine water, butter, salt, and ¼ teaspoon cinnamon in 1 ½-quart saucepan over medium heat. Bring pot to rolling boil.
Reduce heat to low.
Add flour and stir vigorously until mix forms a ball. Remove from heat and let rest for 5 to 7 minutes.
Add eggs, one at a time, and stir until combined. Set aside.
Heat oil in medium skillet or 1-quart saucepan over medium-high heat or until temperature reaches 350 degrees.
Spoon dough into piping bag fitted with large star tip. Pipe 1-inch strip of dough over saucepan, cut with knife, and drop into hot oil. Repeat until churro bites fill saucepan with room to fry.
Fry churro bites until golden brown. Remove with slotted spoon or mesh spider strainer.
Drain churro bites on a paper towel.
Mix sugar and ½ teaspoon cinnamon in medium bowl. Toss in churro bites until coated. Serve with your favorite dipping sauce.
2. Dole Whip
Disney has also released its famous Dole Whip recipe via the Disneyland app, and you won't believe how easy it is to make.
Ingredients
Directions
Add all ingredients to a blender and blend until consistency is thick.
Create the iconic swirl shape by dispensing the ice cream via a piping bag with pastry tip.
Note: The original recipe has dairy-free ice cream, but you can substitute it with regular ice cream.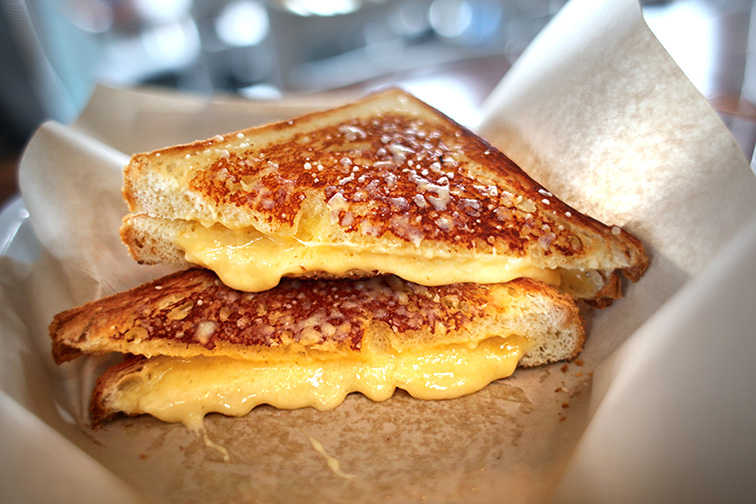 3. Grilled Cheese
Grilled cheese for lunch sounds good, but why not make it extra-special by using the recipe from Woody's Lunch Box at Disney's Toy Story Land?!
Ingredients
Cream Cheese Spread
Garlic Spread
Grilled Three-Cheese Sandwich
Directions
Cream Cheese Spread
Combine cream cheese, Double Gloucester or cheddar, heavy cream, and salt in food processor. Blend until smooth. Set aside.
Garlic Spread
Combine mayonnaise, garlic, and salt in small bowl and stir until blended. Set aside.
Grilled Three-Cheese Sandwich
Lay out artisan bread slices on parchment paper or large cutting board.
Place two slices of cheddar on four of the bread slices. Place two slices of provolone on remaining bread slices.
Equally spoon cream cheese spread on slices with provolone. Gently smooth cream cheese spread over each slice.
Press cheddar side and provolone side together.
Heat a large skillet over medium heat for 5 minutes, until hot.
Brush both sides of the sandwiches with garlic spread.
Grill sandwiches for two minutes on each side, until cheese is melted and bread is golden brown.
4. Cookie Fries
If you know, you know. The Cookie Fries at Beaches & Cream Soda Shop at Disney's Beach Club Resort are out-of-this-world good, and with the official recipe released, you can now make this plant-based treat at home.
Ingredients
Directions
Combine flour, powdered sugar, and plant-based margarine in bowl of electric mixer fitted with paddle attachment. Beat on medium speed until smooth.
In small bowl, combine warm water and egg substitute. Add egg substitute and molasses to mixer. Mix on medium speed until smooth.
Fold in chocolate chips.
Place in an 8×8-inch pan and refrigerate for 30 minutes.
Preheat oven to 325 degrees. Line two baking sheets with parchment paper or silicone baking mats.
Cut into 32 strips that are 1/4-inch wide and 4 inches long. Place 16 strips on each baking sheet.
Bake for 20 to 22 minutes, until crunchy.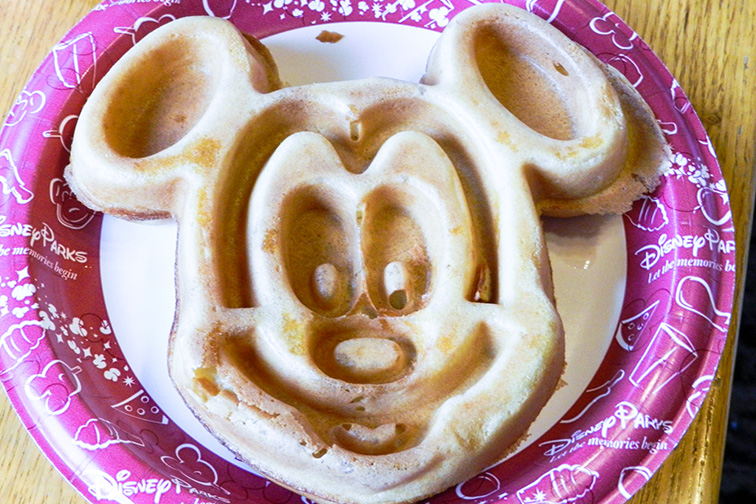 5. Mickey Waffles
This might be the easiest Disney recipe you can make at home! All you need for delicious Mickey-shaped waffles is a Mickey waffle maker and your favorite pancake/waffle mix. If you want to get as close to the original recipe as possible, the Disney Food Blog recommends using Golden Malted Waffle Mix.
6. The Grey Stuff
"Try the grey stuff, it's delicious," Lumiere sings in Beauty and the Beast. As it turns out, he's right, and anyone who's had the decadent dessert (featuring cookies and cream sandwiches and pudding) at the Be Our Guest Restaurant at Disney World can attest to that. Want to make the grey stuff at home? We found a great recipe for it via Disney Family.
7. Peanut Butter and Jelly Milkshake
What's better than a peanut butter and jelly sandwich? The Peanut Butter and Jelly Milkshake served at 50s Prime Time Cafe at Disney's Hollywood Studios! You can easily make it at home with four ingredients: peanut butter, jelly, milk, and vanilla ice cream. Check out the full recipe over on the Disney Food Blog.
Fun At-Home Activities for Kids
For info on these editor-selected items, click to visit the seller's site. Things you buy may earn us a commission.
Keeping Kids Busy While At Home
Our team of parents and travel experts chooses each product and service we recommend. Anything you purchase through links on our site may earn us a commission.