New York City is one of the best cities in the world, and there are so many things to do with kids. But the Big Apple is also expensive, and if you don't know it very well, you might find yourself spending a small fortune.
But did you know there are lots of free (or low-cost) things to do with kids in NYC? As a matter of fact, many of the best things to do in NYC don't cost anything. Stick with us and we'll take you on a magnificent adventure your kids will be talking about for years to come—without breaking the bank!
These are the 20 best free things to do in NYC with kids. Armed with this list, phones for Instagramming, bottles of water, and boundless energy, you can expect your kids (and you) will love every minute.
1. Stroll Down the High Line
The High Line is one of NYC's best-known secrets and kids will love it. Once a railroad that was built in 1934, the High Line is now an art-filled, one-mile long public park above ground. It stretches from 14th to 34th street, and a walk with the kids includes Instagram-worthy views of NYC, industrial-themed playgrounds, and unusual art installations. It also offers free family programs, including free stargazing on Tuesday nights, April through October. Free historical tours of the High Line are offered on Saturdays all year long.

2. Explore the Whitney Museum of American Art
After your stroll on the High Line, head to the city's new Whitney Museum of American Art (which used to be on the Upper East Side). The museum is dedicated to the likes of reputable artists such as Andy Warhol, Edward Hopper, and Roy Lichtenstein, all artists you want to introduce to the kids. On Friday nights, the museum offers "pay what you wish" nights from 7 to 9:30 p.m. so it's virtually free and is one of the best things to do with adults and kids alike.
3. Ride the Staten Island Ferry
The Staten Island Ferry is one of the best free things to do in NYC with kids. It's a wonderful way to see the city; just be sure to grab a good viewing spot to capture the skyline. The ride goes from the South Ferry Terminal in NYC to the St. George Ferry Terminal on Staten Island. Once in Staten Island, there are a few things you can do for free. The Staten Island Children's Museum is free every Wednesday from 3 to 5 p.m. and the Empire Outlets just opened (but are of course free if you don't buy anything!).

4. Transport Kids Back in Time at Seaport District and at the South Street Seaport Museum
The Seaport District, formerly known as the South Street Seaport, will transport kids to an era when cobblestone streets were the norm and open fish markets filled the area. There is entertainment, boating, biking, and restaurants with views of New York harbor. After a walk around the Seaport, check out the maritime displays and the historic schooner Pioneer at the South Street Seaport Museum, which is free on Fridays and includes visits aboard its boats.

5. Go Kayaking in NYC
Yes, there's FREE kayaking in NYC, and it's a real treat. Located at North Moore Street at Pier 26 at the Downtown Boathouse, it's easy to do and very memorable. You just need to sign a waiver, get fitted with life jackets, and then you board the kayaks swiftly. This activity is for all ages, and the views of the city from the kayaks are outstanding.
6. Walk Across the Brooklyn Bridge
We guarantee a trip across the Brooklyn Bridge is one of the best things to do in NYC with kids, and it's totally free. Designated a National Historic Landmark, the bridge holds a special place in every New Yorker's heart. The views of the city from the bridge, which connects Manhattan to Brooklyn, are superior. Be sure your kids have their cameras or iPhones at the ready for photos.
7. Visit the 9/11 Memorial & National September 11 Memorial Museum
If you think your kids are up to it, don't miss a visit to the 9/11 Memorial. This landmark, which marks the footprints where the Twin Towers once stood, is always free and open to the public from 7:30 a.m. to 9 p.m. The National September 11 Memorial Museum is free for kids 6 and under; others have to pay, but the whole family can get in for free on Tuesdays from 5 p.m. to closing. Free-admission tickets are distributed on a first-come, first-served basis at the museum starting at 4 p.m.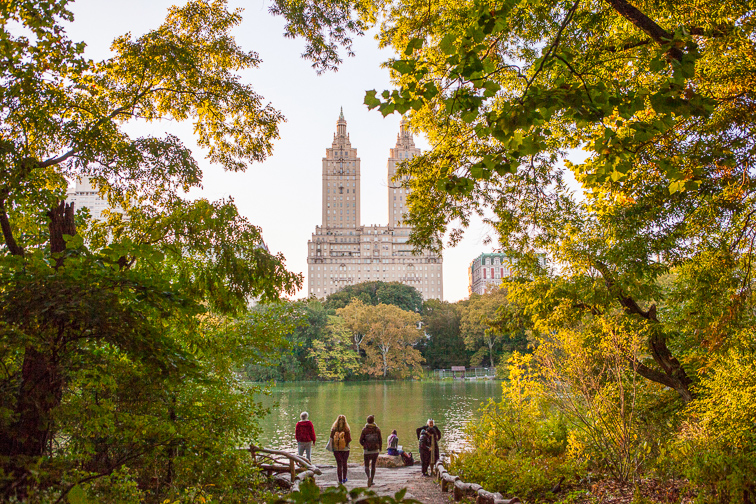 8. Go Bird-Watching in Central Park
Central Park is wonderful for so many reasons, but have you gone bird-watching there? Here's a trick to make this idea come to life in a magical way: Stop by either The Charles A. Dana Discovery Center or Chess & Checkers House for a complimentary Discovery Kit, which has kid-friendly binoculars, field guides, a hand lens, colored pencils, and sketch paper. Then go scouting for one of the 250 types of birds you can discover in Central Park, free all day, every day.

9. Ice-Skate for Free at the Rink in Winter Village in Bryant Park
The Rink at Winter Village in Bryant Park is NYC's only free-admission ice-skating rink for people who have their own ice skates. (Otherwise, you have to rent them.) Another trick is to carry your own bags, or else you have to check them into a paid locker. The rink is right near the big Christmas market and tree, and the views of midtown from the ice are spectacular.
10. Get Hip (and Great Food) at Smorgasburg
If you want to be known as the "cool" parent, head to Smorgasburg in various locations in Brooklyn. Check the website for summer information. In the wintertime, it's held at 25 Kent Avenue, alongside the Brooklyn Flea. Smorgasburg is the largest weekly open-air food market in America, with food from 100 local vendors. It's free to look around only; of course, the food costs money, but it sure is fun to roam the market and eyeball all of the delicacies. If you're lucky, some of the vendors will offer your kids samples.

11. Stroll Past the Holiday Window Decorations in Department Store Windows
A must-do in the wintertime is the Christmas window displays in NYC in department windows at the likes of Bloomingdale's, Saks Fifth Avenue, Lord & Taylor, and Macy's. Bundle everyone up to stroll down the avenue and be prepared for big lines as tourists and natives alike love the holiday lights. The stores change up the lights annually, and the results are made for kids' imaginations. Best of all, the hours you spend looking at the windows are totally free!
Related: Christmas in NYC With Kids: 12 Bucket List Experiences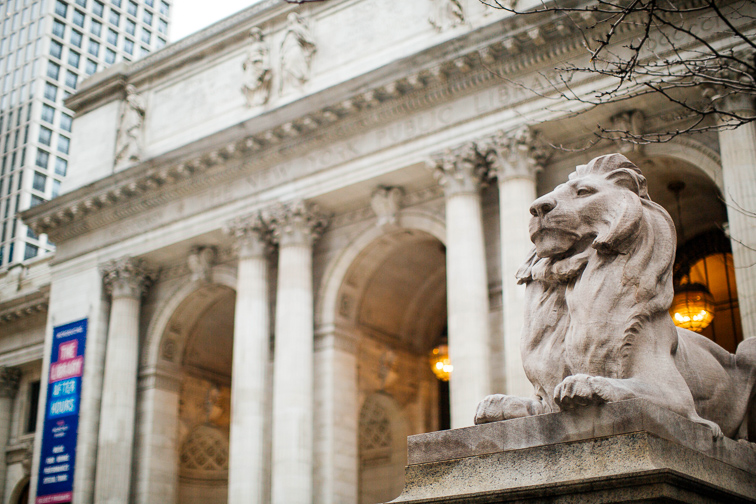 12. Explore the Iconic New York Public Library
The New York Public Library on 42nd Street is one of the most visually stunning libraries in America, and it happens to have a lot going on for kids. Besides roaming through the library's history, it has a Children's Center used for storytelling and a big selection of informational books for kids, stations with internet access, musical and theatrical performances, and guest appearances by authors—and it's all free!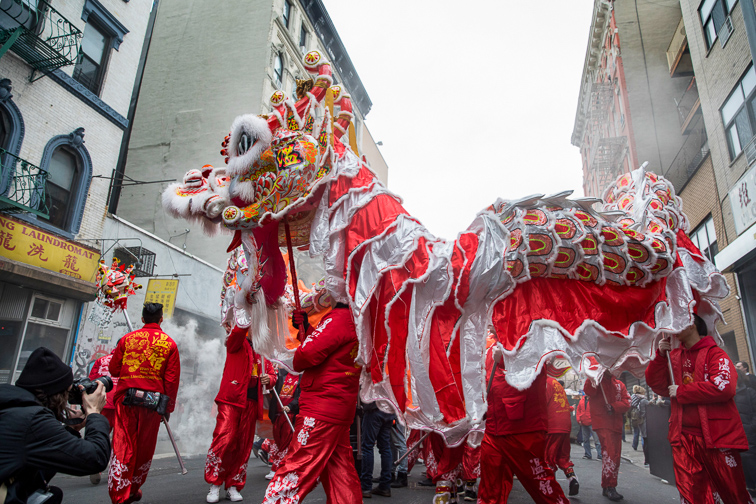 13. Go to the Lunar New Year Parade in Chinatown
If you want to take your kids to bring in the Chinese Lunar New Year in a big way, head to Chinatown. The holiday falls in February every year, so keep your eye on the calendar for dates and times. Bear in mind that the parade gets very crowded, so get there early to get close to the floats, marching bands, and lion and dragon dances. The event is completely free and completely memorable.
14. Head to Grand Central Terminal to Watch the Trains and More
NYC's Grand Central Terminal is a place where many New Yorkers pass through many times a week or day, but it also happens to have so much for kids. Little train lovers will love watching the trains take off. They should also visit the NY Transit Museum Gallery, where there's an annual holiday train show. There's also the Whispering Gallery where kids can deliver secrets through walls outside the Oyster Bar. For young history buffs, the Grand Central Partnership offers a 90-minute tour, where they'll learn about the history and architecture of the building.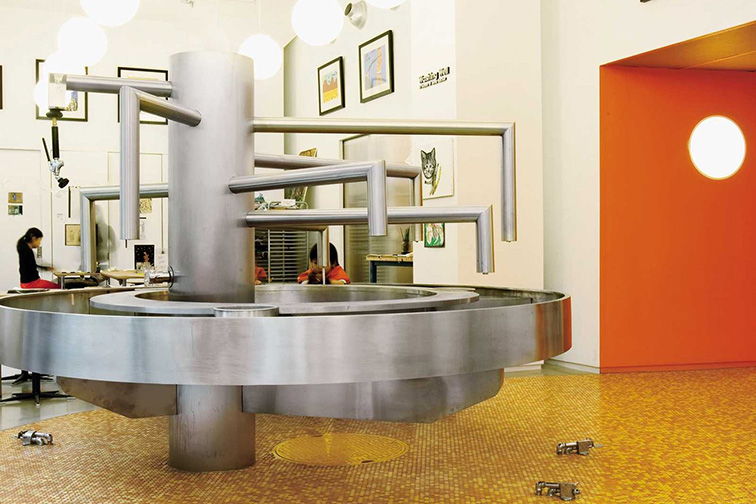 15. Take Art-Obsessed Kids to the Children's Museum of the Arts
While children under age 1 are always free, the Children's Museum of the Arts offers pay-what-you-wish hours on Thursdays from 4 to 6 p.m. The museum is a 10,000-square-foot museum in Tribeca that offers curated exhibitions inspired by children's art and art-making using real, tactile materials like paint, glue, and sandboxes.
Related: 8 Secrets to Getting Cheap Broadway Tickets, According to an Insider
16. Take Animal Lovers to the Bronx Zoo on Free-Admission Wednesdays
Every Wednesday, the Bronx Zoo has free entrance. Located at 2300 Southern Boulevard, the zoo is completely accessible by subway from Manhattan and features more than 6,000 animals on 200 acres. The animals derive from all over the world. Don't miss the Bug Carousel, World of Reptiles, Wild Asia Monorail, Jungle World, Nature Trek, the Aquatic Bird House, and Birds of Prey. Kids will also love Treetop Adventure, an aerial ropes course and zipline.
17. Head to the Queens County Farm Museum
The Queens County Farm Museum is open year-round, and always free except during events. Spanning 47 acres, the museum features old-fashioned farm buildings, a greenhouse complex, livestock, planting fields, an orchard, an herb garden, petting zoo, and a vineyard. The museum is like a trip out of the city, yet it's not.

18. Stroll the Coney Island Boardwalk and Go to the New York Aquarium
If you're up for a real treat and one of the best things to do in NYC with kids, head to Coney Island in Brooklyn to the boardwalk for a good, old-fashioned stroll by the sea. During the summer, kids can ride the waves and build sandcastles. Admission to the New York Aquarium, located right on Coney Island, is a pay-what-you-wish donation on Wednesday afternoons from 3 p.m. to last entry. It's a great stop for kids that features sea lions, seals, walruses, a giant octopus, and a shark tank.
19. Be Artsy in MOMA's Art Lab
Admission to the Museum of Modern Art (MOMA) is high, but you can enter through their Education Building and utilize the children's Art Lab for free. The Art Lab, one of many family-friendly programs at MoMA, is an all-ages space that encourages hands-on experimentation, play, and creativity through activities directly connected to the MoMA collections that mom and dad love. Admission to MOMA is free for all visitors every Friday evening, 5:30 to 9 p.m., so that's a good time to go to the Art Lab.
20. Let Your Kids Burn Steam at Brooklyn Children's Museum
Every Thursday from 2 to 6 p.m., the Brooklyn Children's Museum offers free hours. The Brooklyn Children's Museum offers fun, educational exhibits that teach children about world cultures, history, science, and nature in a collection of 30,000 historical artifacts. There's even a special area for children under age 5.
Related: Best Broadway Shows for Kids
Holly Rosen Fink is a marketing, communications, public relations, branding, social media expert and writer based in Larchmont, New York.
What to Pack for Your Next Trip
For info on these editor-selected items, click to visit the seller's site. Things you buy may earn us a commission.
Our team of parents and travel experts chooses each product and service we recommend. Anything you purchase through links on our site may earn us a commission.