Multigenerational travel with the entire family is popular, but vacations for grandparents and grandchildren are just as exciting (and likely welcomed by parents, who can enjoy a vacation of their own). Plus, many resorts and destinations offer activities specifically designed for grandparent-grandchild bonding on grandparent grandchild trips. Before you start planning your trip, we'll help you hash out the important details, which include steps to ensure a truly "grand" time traveling with grandchildren, as well as some fun trips for grandparents and grandchildren alike.
What You'll Need
No matter where you travel, you'll want to bring a few copies of the children's photos with you, in case of an emergency. It is also a good idea to obtain a limited power of attorney if traveling abroad with grandchildren.
Domestic Travel
A notarized letter from the absent parent giving their permission for you to travel with the child. The letter must include the absent parents' address, phone number and authorization to travel, as well as the destination and the length of stay. This should be carried with you at all times.
A notarized letter from the parents giving permission for medical care.
Copies of the grandchildren's medical and dental insurance cards, as well as prescriptions (if applicable).
International Travel With Grandchildren
If you are traveling to Mexico, Canada or areas in the Caribbean, grandchildren ages 15 and under can use certified copies of their birth certificates instead of a passport, though a passport is the easiest solution.
To fly to Europe, children must have their own passports, as well as the documents necessary for domestic travel. You can check the U.S. Department of State's website for country-specific information.
Best Places to Travel With Grandparents
Camping
If you are healthy and physically fit, camping is a great way to travel with your grandchildren. You can camp almost anywhere, and there are special camping rates offered for seniors. Jellystone Park Camp-Resorts, for example, is a continent-wide chain of campgrounds that specialize in family-friendly camping experiences. We also like Great Camp Sagamore, located in the Adirondacks, which offers a Grandparents' and Grandchildren's Camp, complete with canoeing, swimming, hiking, crafts, campfires and sing-alongs. It also offers separate programs just for grandmothers and their granddaughters, perfect for a girls' day.
National Parks
America's national parks are some of the best in the world, and even if you don't camp in one, places like Denali, Everglades, Yosemite, Yellowstone and the Grand Canyon are fascinating places to visit. Plus, most admit seniors and children under age 16 free of charge — it's a highly affordable and easy way to vacation, even if just for a day trip.
Related: 10 Best National Parks for Families
All-Inclusive Resorts
The least work-intensive destination for a vacation with grandkids is an all-inclusive resort. Meals are provided and there are excellent programs to keep little ones busy. Plus, the facilities are all within reach, usually inside a gated and protected area. This reduces a lot of anxiety for first-time visits with young grandchildren. We're not just talking about Caribbean all-inclusive resorts either — Lake Tahoe's Sierra Club offers a Grandparents and Grandkids Only experience in rustic lodging that includes hikes along the Pacific Crest Trail, swimming in fresh mountain lakes, and a full program of evening activities. In the Caribbean, we like Beaches Resorts, as many of them offer large suites. We also suggest Franklyn D. Resort & Spa in Jamaica, which features complimentary nanny services. It also has a "Bring Your Own Grandparent" (BYOG) offer, which allows up to two grandparents to stay free with a family, plus a free upgrade for a shared suite.
Related: 10 Best All-Inclusive Caribbean Family Resorts for 2016
Specialty Group Tours
Tour companies are beginning to tailor programs to Grandparent and Grandchildren travel experiences, and this can be an excellent and worry-free way to travel. It has the added advantage that your fellow travelers will be grandparents with grandchildren, too.
Road Scholars conducts such group tours, designed for grandchildren of different age levels. Destinations include Costa Rica, Italy and Africa, each one completely planned with activities for both grandparents and grandchildren and designed to be an intimate and memorable experience.
Grandparents and their grandchildren can enjoy dinner and conversation (practice in French!) with a family in Paris and have a portrait painted by an artist in Montmartre. They can also tour the control room and underground bunker at the bottom of the Eiffel Tower. On an African Safari in Kenya, visit the Wildlife Trust's Orphan Project, where orphaned baby elephants are being prepared to return to the wild, or, in Spain, tour replicas of the Nina, the Pinta and the Santa Maria, and visit the monastery from which Christopher Columbus left on his voyage of discovery to the New World.
Related: 7 All Inclusive Multigenerational Tours for Families
Rental Properties
For quality time with your grandchildren, a rented condo, villa or cottage can be ideal, since they provide all the amenities you usually have at home, and more. For example, one of our best experiences included an ocean-side villa in Kauai with our grandson. We were able to cook our own meals and enjoy breakfast on the balcony by the ocean. We also swam, boogie-boarded and visited the seals that came to sun on the sand. There were other children at the beach and at the communal pool, too, but there was still plenty of time for just us, looking at birds, marveling at roosters (who seemed to be everywhere), and just spending good, quality time together.
Plenty of popular vacation rental destinations offer similar amenities, and many are close to boardwalks and theme parks.
Related: 10 Best Vacation Rental Destinations for Families
Cruising
Disney, Norwegian and several other cruise lines specialize in child-friendly sailings. These are floating palaces, with organized meals, activities and informal kid-friendly dining options. Children 5 years and older are sure to love one of these experiences. Disney Cruises feature animation classes, live productions of Disney favorites, like Aladdin, and family karaoke. Plus most cruises have excellent day programs for children and teens.
International Travel
We believe children need to be at least 10 years old to appreciate — and endure — overseas and international travel. While it's tempting to see as much as possible, too much moving around from hotel to hotel can be tiring and confusing. It's better to plan to spend chunks of time in a few places. European countries are generally kid-friendly, particularly Italy — where it seems children are spoiled at every table. Conclusion: approach international travel with grandchildren with caution.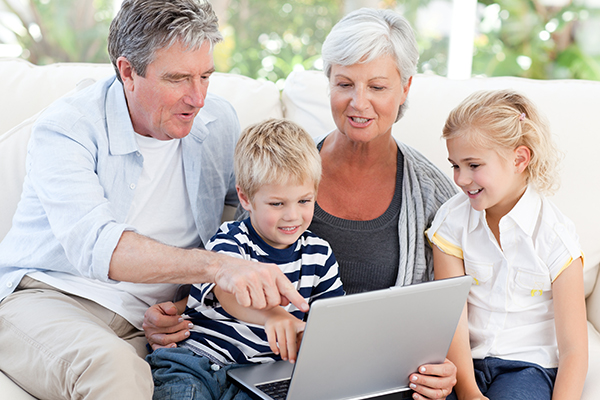 Additional Tips
1. Do a Test Run
If you haven't spent time alone with grandchildren, try it out before you go, for an overnight or a weekend visit. If all goes well, you are set to go. If not, you have a better idea of the problems that might arise and can plan for them.
2. Use FaceTime
Set up FaceTime on your tablet or phone, and have regular chats with parents if little ones get homesick. But don't overdo the contact either — a little distance is good for both sides.
3. Research Plans with Your Grandkids
Do some sleuthing to find age-appropriate activities, restaurants and parks beforehand, and let your grandkids weigh in on the plans!
4. Consider Your Own Needs
Don't be overly ambitious about how much you can physically handle. Just as young children need their rest, grandparents do, too. Look for a destination with built-in babysitting for a break from busy children, if you think you might need it.
5. Follow Mom and Dad's Rules
You are not a stranger to your grandchildren but you are not a parent, either. We want to indulge our grandchildren, but we need to be respected, too. Don't permit bad behavior that would not be approved of at home. Everyone will be happier.
6. Nexus and Global Entry Pass
If you wish to use your Nexus Pass or Global Entry Pass, the grandchildren will have to have the pass, too, if you are traveling together. It will save you a lot of time — you can bypass long lines at customs.
More From Family Vacation Critic:
Age-Friendly Travel Tips
10 Tips for Multigenerational Travel
10 Best Resorts for Family Reunions
Our team of parents and travel experts chooses each product and service we recommend. Anything you purchase through links on our site may earn us a commission.