History is not everyone's favorite subject. But when the lessons are delivered by covered wagon on the Great Plains or by canoeing a path where American troops snuck up on the British in the War of 1812 — well, history becomes a lot more fun.
Here are 10 road trips that embrace American history, with destinations that do more than tell a story. They allow your family to bring history to life in ways even the best classroom teacher could never do. Here, 10 historic family road trips you never knew existed.
1. Lewis & Clark Trail
A significant unit in your children's American history courses will be devoted to the Corps of Discovery led by Captains Meriwether Lewis and William Clark. Charged by President Thomas Jefferson, Lewis and Clark and 26 men set off in May 1804 to find a water route across North America to the Pacific Ocean.
Begin in St. Louis and follow the Missouri River all the way to Idaho. Then imagine the challenges the Corps experienced by walking the rest of the way to the Pacific Ocean. No, you don't have to hike it, although there are plenty of opportunities for hiking, canoeing and riding horseback along the same path. Thanks to the bicentennial of the Lewis & Clark Expedition beginning in 2004, nearly every community along the trail has museums and family-friendly activities.
Recommended Hotel: Country Inn & Suites by Radisson, St. Charles, MO
2. The Santa Fe Trail
If Kansas is one of the 50 states you need to check off your list, the Santa Fe Trail will help you do so. Nine hundred of the 1,200 miles of this historic trail are in the Sunflower State.
For nearly 60 years, from the 1820s to the 1880s, hundreds of thousands of wagons, horses, oxen, and people traveled a path from roughly Kansas City, Missouri to Santa Fe, New Mexico. There were so many that now, 200 years later, you can still see the wagon ruts in the prairie! This journey allows you and your kids to ride in covered wagons, to explore historic forts, and to walk in tall grass prairies that have never been broken by plow. Real cowboys — you'll find plenty of them in the wide-open spaces of Kansas, too.
Recommended Hotel: Hampton Inn and Suites Dodge City
3. Pony Express Trail
In this day of instant communication, it's hard to imagine that it used to take months for mail from Washington, D.C. to arrive in California.
That was life in April 1860 before the Pony Express. The end of the railroad west was in St. Joseph, Missouri (just north of Kansas City), so mail came that far by train. Then a relay system of hardy young riders on horseback — who literally rode night and day for nearly 2,000 miles — delivered mail to Sacramento in an astonishing 10 days.
The Pony Express headquarters in St. Joseph remains intact, as do a few original relay station buildings along the way. But today you can drive a historic route that crosses through eight states. Ride horseback in a few locations, but you'll be much more comfy in a vehicle with horse power under the hood.
Recommended Hotel: Drury Inn & Suites St. Joseph
4. Freedom Trail/Black Heritage Trail
These two pedestrian trails in Boston overlap in many places, but both speak to the struggle for freedom in a young nation. The Freedom Trail is just 2.5 miles long, but oh, the sites packed into those 10,000 steps! Included on the list of 16 sites are Paul Revere's home, Bunker Hill and the Old State House.
The Black Heritage Trail begins in the Beacon Hill neighborhood and includes the oldest surviving African American church in the U.S., as well as schools and the Museum of African American History. Devote at least a day to each trail.
Recommended Hotel: The Constitution Inn
5. Star-Spangled Banner Trail
Covering 560 miles on land and water, this historic trail is all about the War of 1812, which is when the Star-Spangled Banner was written. Sites are scattered around each side of the Chesapeake Bay, but the focal point is the Fort McHenry National Monument in Baltimore, where Francis Scott Key watched those bombs bursting in air.
Kayak the water trail, where significant troop movements happened, or bike along historic roads where British and American troops marched. Got a budding musician in the family? Sign them up for the Fife and Drum Camp at Fort McHenry each summer.
Recommended Hotel: Courtyard Baltimore Downtown/Inner Harbor
6. Civil Rights Trail
Encompassing more than 100 locations in 14 states, the Civil Rights Trail is a powerful and emotional experience that only children of a certain age or maturity level will truly appreciate. But children of all ages and races, as well as their parents, will find something that increases their understanding of the desire for freedom.
The states of Alabama, Mississippi and South Carolina have the most designated sites, but perhaps your children can best relate to the Monroe Elementary School in Topeka, Kansas or Little Rock Central High School, where public education was the focus of the struggle. Choose a state and visit all of the sites, or simply include these sites as part of a larger family travel experience to the region.
Recommended Hotel: Little Rock Marriott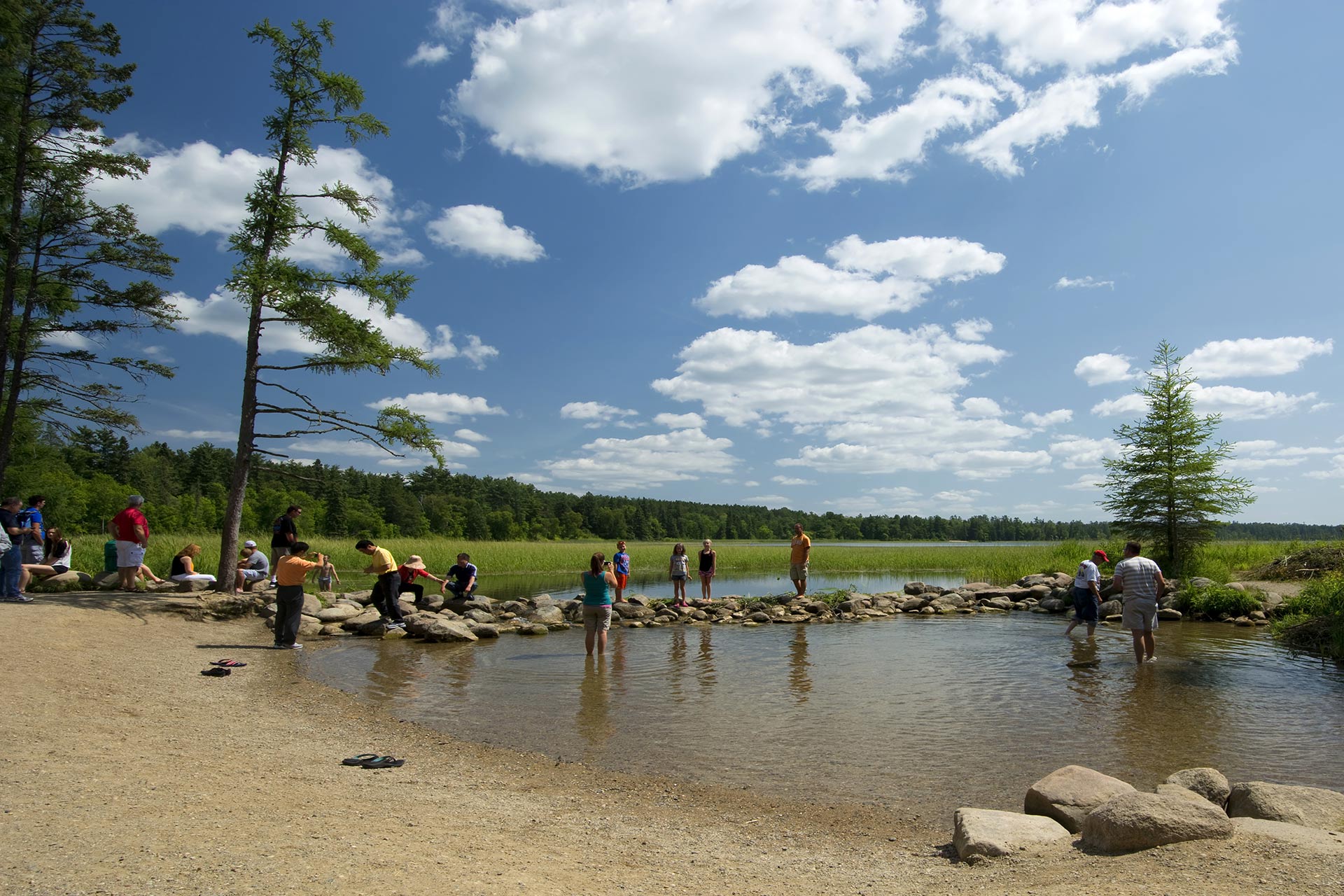 7. The Great River Road
Quick history quiz: Who were Marquette and Joliet? They were the first European explorers to travel the length of the Mississippi River. There are statues of both men all along the Great River Road, which follows the great river more than 3,000 miles from its source in Minnesota to New Orleans. Technically, it's not a historic trail, but you can experience some great history here.
Jump across the river at Itasca State Park in Minnesota, water ski where the sport was invented at Lake Pepin, and white wash a fence with Mark Twain in Hannibal. Visit Effigy Mounds National Monument in Iowa, the newly refurbished Gateway Arch in St. Louis, and on and on until you reach the Gulf of Mexico.
Recommended Hotel: Douglas Lodge
8. The Natchez Trace Parkway
For thousands of years, human beings have walked this ancient pathway from roughly Nashville, Tennessee to Natchez, Mississippi. At roughly 450 miles long, you'll pass through three states on a scenic roadway that includes waterfalls and rivers, hiking trails and equestrian paths, and quiet forests that invite you to hike, picnic or simply take a deep breath.
The entire parkway is bike-friendly, although there is not a dedicated bicycle lane. Opportunities for horseback riding parts of the trail are another option. In addition to Native American history of the region, this roadway encompasses Civil War battlefields, the birthplace of Elvis, and other historic sites.
Recommended Hotel: Natchez Grand Hotel
9. Juan Bautista de Anza Historical Trail
Start this historic journey in Tucson, Arizona, which is just north of Hermosillo, Mexico, where the actual journey began in 1775. Juan Bautista de Anza was given the responsibility of expanding Spain's presence in the New World by establishing a mission in Monterey, California. An ambitious guy, Bautista de Anza also mapped the first land route to San Francisco.
This 1,200-mile trip is one that will fill the photo storage on your smartphone — from colorful cacti, wildflowers and rock formations in the Arizona desert to the rich colors and rocky coast of the Pacific Ocean. The trail includes numerous opportunities for exploring the dessert, sand dunes and coastal areas by foot or bicycle.
Recommended Hotel: Hotel Tucson City Center
10. Ala Kahaki National Historic Trail
The best part of this trail? The beaches. Located on the west side of Hawaii's Big Island, this 175-mile trail has been used by Polynesians for more than 1,500 years. You'll encounter lava fields and black sand beaches all with the stunning backdrop of the Pacific Ocean. Added to the National Park Service in the year 2,000, this trail is not completely developed for thru hiking, but you can enjoy miles of hiking through state parks and road ways. The Ala Kahaki National Trail Association coordinates hiking events for families.
Recommended Hotel: Courtyard by Marriott Kamehameha Kona Beach Hotel
More From Family Vacation Critic:
Beginner's Guide to RV Family Vacations
15 U.S. Landmarks Every Kid Should See
Our team of parents and travel experts chooses each product and service we recommend. Anything you purchase through links on our site may earn us a commission.