The Roshambo Baby and Toddler Sunglasses are kid-sized, fashionable and UV protective. They protect from the sun's harmful rays, while also allowing kids to look cool while building sandcastles or sliding down the slide at the playground. But the best part about the Roshambo Baby and Toddler Sunglasses is that they're unbreakable. Kids can bend them, flip them, twist them or throw them, but none of that will cast shade on these kids' shades.
Roshambo Baby and Toddler Sunglasses Review
Price and Where to Buy: The Roshambo Baby and Toddler Sunglasses are available on Amazon and Roshambo Baby for prices ranging from $20 to $25.
Bonus: Use code FAMILY15 for 15 percent off sunglasses for orders over $80 (plus free shipping) or code FAMILY10 for 10 percent off orders over $60 (plus free shipping) at Roshambo Baby.
Related: 13 Best Sunglasses for Babies and Toddlers
How the Roshambo Sunglasses Rate
Durability: 10/10. The durability of these kids' sunglasses are the reason we love them so much. Let's face it—kids tend to break things. But the Roshambo Baby and Toddler Sunglasses are unbreakable. Toddlers can twist and bend them, babies can shake them and drop them on the ground, adults can even sit on them, but these kids' sunglasses will stay intact. We tried to break them and it was impossible.
Ease of Use: 9/10. Toddlers and little kids can easily slide these shades on their face with little help from parents. The included shades strap and ear adjuster kit makes them easy to fit on any small face. The baby shades are recommended for ages 0 to 2, toddler size for ages 2 to 4, junior size for 5 years old and up, and there are even small, medium, large and extra-large sizes for adults. A cute and convenient kid-sized sunglasses case is also available.
Usefulness: 10/10. The Roshambo sunglasses are polarized and block 100 percent of the UVA/B/C rays from the sun, protecting little eyes. The lenses are shatter resistant and have an added glare reduction so seeing while playing at the pool, beach or backyard won't be slowed down by sun glare. The frames are soft and even safe if kids end up chewing on them. They are BPA-, lead-, latex- and heavy-metal free.
Style and Comfort: 10/10. Kids will feel extra cool and stylish when they're wearing their Roshambo shades. There are a ton of bright solid and two-tone color shades from which to choose. The mirrored lenses make kids feel even more like Hollywood stars while wearing them—get ready to take some selfies! Because they're sized specifically for children, they also easily stay on little faces and won't easily fall off.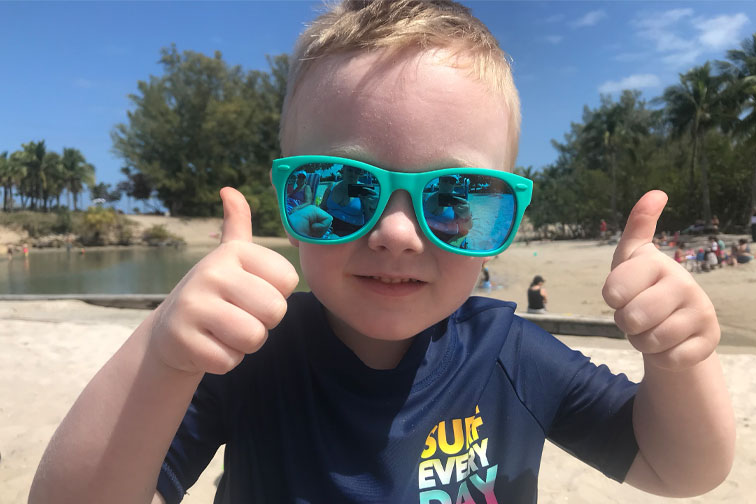 Final Verdict
The Roshambo Baby and Toddler Sunglasses are cool, protective, unbreakable and affordably priced. We say—rock, paper, scissors—buy these awesome baby and toddler sunglasses!
Related: Body Glove Paddle Pals Life Vest Review: The Life Vest Kids Will Actually Want to Wear
Don't Forget the Swimsuits
For info on these editor-selected items, click to visit the seller's site. Things you buy may earn us a commission.
Our team of parents and travel experts chooses each product and service we recommend. Anything you purchase through links on our site may earn us a commission.