Overview
Royal Caribbean's Anthem of the Seas is the latest addition to its Quantum Class. Similar to its sister ship, Oasis of the Seas, the cruise ship accommodates nearly 4,200 passengers in nearly 2,100 cabins and features so many bells and whistles, you family will never run out of things to do at sea.
The gigantic ship is a beauty, and guests will get a dose of luxury at every turn. Stroll through The Esplanade and The Via to see the numerous restaurants, bars and shops in Anthem's interior hub. Head up to the SeaPlex to find an array of fun, including bumper cars, rollerskating, video games and more. As days wind down, Anthem's nightly entertainment is meant to wow you as much as the ship, and does so with live music and Broadway-style shows, including "We Will Rock You" and the Cirque-like "Spectra's Cabaret," the latter of which is housed in Two70, a gorgeous two-story, floor-to-ceiling glassed dining and entertainment facility located Aft.
Kids will also enjoy the numerous kids' programming and supervised activities at Anthem's Adventure Ocean kids club. Parents will certainly want to take advantage of the kids' club to enjoy the many adults-only treats on board. Anthem is a fantastic ship, and families won't be disappointed on its sailings, which depart from Cape Liberty near New York and sail to Caribbean ports.
Family Activities
Adventure Ocean
Anthem's supervised kids' club, included with the cruise, is spread across two decks and divided into separate rooms for various age groups between 6 months and 11 years. For potty-trained kids, Aquanauts is available for ages 3 to 5, Explorers for ages 6 to 8, and Voyagers for ages 9 to 11. A shared Science Lab is open for all ages, and Aquanauts invites parents to stay and play with younger children.
Kids must be signed in and out by parents, and be registered at the start of the cruise to attend. As typical in kids' clubs, the ship provides arts and crafts, games, sports and scavenger hunts during its programming, which is available 9 a.m. to noon and 2 to 5 p.m. (It closes for lunch.) Parents can utilize the kids' club at port, when the club opens 30 minutes prior to the first shore excursion departure.
The Royal Babies & Tots Nursery is open for kids from as young as 6 months to age 3, but this service is available at an additional cost of $6 per hour, per child, until 6 p.m., and then $8 per hour until midnight. This service can only be booked on board, and the staff ratio is 1 to 4 children, so be sure to book quickly if you need it, as it could fill fast.
If parents want to enjoy an early dinner without the children, Adventure Ocean is also open from 5 to 7 p.m. on some evenings, providing kids with a children's dinner at the Windjammer Caf?. This is also included with the cruise.
Additional late-night services are available for parents looking to enjoy the festivities onboard. From 10 p.m. to 2 a.m., the club is open to children ages 3 to 11 at a cost of $10 per hour, per child.
The Living Room
Unfortunately, teens may not be entirely enticed by the Living Room, as it is open to ages 12 to 17, combining preteens and teens, which never goes well. During peak seasons, the staff may divide kids into two groups: preteens (12 to 14) and teens (15 to 17), which is most likely preferred by your picky teens. However, the Living Room is a comfortable hang out space with beanbag chairs, video games, and a huge TV for movies.
Fuel
The teen nightclub on Anthem is located near the SeaPlex and the Living Room, and features themed party nights, such as glow nights. Again, this area is for ages 12 to 17, which may not appeal to the older teens who think the 12-year-olds are too young for them.
SeaPlex
Personally, this is the place in which my son spent all of his indoor time and is a family-friendly fun zone. Its convertible basketball court becomes a roller rink during some evenings, and a bumper car hot spot on others. (Yes, bumper cars, on a boat!) Overlooking the court are SeaPods with a variety of gaming options, such as the Xbox video game lounge, Foosball and air hockey in another, and other social games and lounge areas.
RipCord by iFly
Located on the aft outer deck, overlooking the sea, is just about one of the coolest activities families will find on a cruise ship: simulated skydiving. Anthem and its sister ship, Oasis, are the only ships to offer RipCord, where guests have a chance to feel what it's like to sky dive in a clear air tunnel where an instructor will help guide you. The free amenity is quite popular, so reserve a time as soon as you get on board so you don't miss your chance. Guests must wear closed-toe shoes and will need to watch an instructional video and wear a provided jumpsuit, helmet and goggles. (Earplugs are available, if you are concerned about noise. It does get quite noisy in the machine, so it is recommended for children.) Children as young as 3 can participate, but parents will not be allowed in the simulator with their children.
FlowRider
If my son wasn't at SeaPlex, it was because he was on the ship's simulated surf ride, FlowRider. Also located on the aft's upper deck, all ages 52 inches and taller are invited to ride the waves aboard a boogie board, and for those 58 inches of taller, to try their feet at surfing. Some crewmembers allow kids to be unaccompanied by parents, but some do not, so be sure to go with your younger children to confirm. The simulator is free of charge and guests take turns and can ride again and again while it is open.
North Star
For those not afraid of heights, the North Star is Anthem's signature amenity. The glass-enclosed capsule resembles a capsule on the London Eye and lifts passengers 300 feet above sea level in an arm that rises above the sun decks and then extends out over the ocean. The ride takes about 20 minutes and is free, but also fills fast, so book reservations in advance. It operates day and night, during non-wind conditions.
Pools
Anthem of the Seas features two pools for families. The main pool also houses dive-in movies during the evenings. Adjacent to this pool is a smaller pool and a wading pool under a retractable roof for bad weather days. (A third pool is available for adults only.) Near the main pool is also the ship's H20 Zone, which is meant for little kids with a splash pool, small "lazy river," and kid-sized chairs. All little ones must be in swim diapers.
Spectra's Cabaret
Showcasing the technology available on Royal Caribbean's Quantum Class ships, which the cruise line boasts is the best at sea, this cabaret-style performance takes place nightly (often twice) in the ship's back-facing Two70. During the day, the space features floor-to-ceiling windows and beautiful views, with ample dining space and bars, as well as a second-floor library, Internet Caf? and scrapbooking craft area. But at night, the space is converted into Spectra's private song and dance show, featuring acrobatic performances and dancing video screens. The downside? If the technology glitches, the show has to reboot. And we found some of the music performed a bit dated. Kids are welcome, but they seemed a bit bored by the spectacle. Arrive early and nab a mezzanine seat for the best views, as performers sing, dance and appear in separate side stages near the seating.
Royal Theater
The hot spot on the ship is the Royal Theater, which is home to the Broadway-style "We Will Rock You," featuring the rock 'n' roll of famed British rock band, Queen. The show can be a bit raunchy and loud and is best suited for older children, although my 10-year-old son loved it and hasn't stopped singing Queen songs since we were onboard. The performance lasts two hours, so factor the timing in when planning dinner. The theater also hosts other performances throughout the day.
Vitality Spa
The spa welcomes teens to receive special massages, facials, manicures and pedicures and haircuts.
Heartbeat Chandelier
Head through the Esplanade and you'll find a towering chandelier that flashes lights based on a guest's heartbeat. Place your hands on the podium and the chandelier's 200 lights will begin to blink to measure your heartbeat.
DreamWorks Characters
Near the heartbeat chandelier is also where kids may spot one of the characters from "Madagascar" passing by and taking photos. Royal Caribbean has partnered with DreamWorks and kids will have various opportunities to meet their favorite characters, including Shrek, Kung Fu Panda and the Penguins of "Madagascar." Dive-in movies often feature DreamWorks films, and families can even dine with the characters in a special DreamWorks Character Breakfast. Kids will have the opportunity to take pictures with their favorite characters here, as well as some random pop-up sessions in the kids' clubs.
Rooms/Cabins
At this Quantum size, Anthem of the Seas features 2,090 cabins, of which more than 1,500 offer balconies. Cabins are outfitted with mini-bars that can be emptied to hold your own items. Rooms without balconies may feature ocean views and range in size from 182 to 302 square feet, while balcony cabins range from 177 to 198 square feet with balconies roughly 100 square feet in size.
Interior Cabins
Interior rooms, which measure 166 square feet, utilize the ship's innovative technology to provide those without windows a view. Creating "virtual balconies," the back wall of the cabin is an 80-inch flat-screen, floor-to-ceiling flat-screen TV providing real-time views of what those in balcony rooms are seeing. (We have to admit, the technology is very cool!) Sixteen of these rooms connect to create larger rooms for families.
Family Suites
Suites are available, including Junior Suites that can be connected to create Family Suites. The Junior Suites alone are 276 square feet in size, while 28 Family Junior Suites with Balconies are available with 301 square feet. These cabins can sleep five with a king bed and a convertible sofa that provides a double bed, or a trundle bed below the main bed. A small child can also use a rollaway bed or crib, available by request and as available. Bathrooms in the Family Junior Suites include a tub, perfect for washing little ones.
Royal Family Suites are made up of two bathrooms and two bedrooms and can sleep eight. There are only four of these cabins available, with the main bedroom providing a king bed and bathroom with tub, and the second bedroom outfitted with two twin beds and two drop-down twin beds. The bedroom's bathroom, however, only offers a shower, so the kids will need to use the main bedroom's bath. These suites also feature a living area with a wraparound sofa that converts into a double bed, plus wraparound balconies, double the size of the standard balconies.
Suites
Other suites are available, of which the smallest are Grand Suites. These 351-square-foot suites provide a living room with convertible sofa and a bedroom area separated by a curtain or half wall. The bed is a double that can be made into two twins. These suites also provide bathtubs.
Sky Loft Suites (just six available) are two-story suites with a living area on the ground floor and a bedroom on the upper. The living area features vaulted ceilings and offers a sofa bed, dining area and half bath. Upstairs, a king-sized master features impressive walk-in closet space and a bathroom without a tub. Six more Grand Loft Suites are similar, but provide larger space and balconies.
Larger suites are available, including the Owner's Suite and the Royal Loft Suite. Both are the equivalent of presidential suites at hotels.
Kid-Friendly Dining
Royal Caribbean is known for its Dynamic Dining, which means no fixed seating tables, no fixed tables, and no main dining room. Walk right in (or make a reservation) to any of the ship's free dining establishments between 5:30 and 9 p.m. Passengers who do want a bit of the old-fashioned dining style can do so with the Dynamic Dining Classic, with set dinner times at 6 or 8:30 p.m., and the same table and same waiters, rotated among the ship's four main restaurants. The ship's four free restaurants swap out menus, so if you find a favorite place, you'll get a different menu. Each restaurant provides appetizers, main courses and desserts, and kids' menus are available. The four main free restaurants are American Icon Grill, Chic, Sorrento's and Windjammers.
Dining at the ship's at-fee restaurants is highly worth it, with the high caliber chefs and cuisine offered. Kids can order from special kid menus with a collection of traditional and non-traditional items. At $8 per child, it's a deal, although children 13 and older are charged the full adult price offered on the menus. The fee restaurants are Chops Grille, Izumi Japanese Cuisine, Jamie's Italian by Jaime Oliver, Johnny Rockets, La Patisserie, Michael's Genuine Pub, and Wonderland Imaginative Cuisine.
American Icon Grill
For comfort foods and all-day dining, American Icon Grill is one of the four free restaurants onboard. Located on Deck 4, it serves breakfast from 7:30 to 9:30 a.m. on port days, and 8 to 10 a.m. on sea days. Lunch is available on sea days from 12 to 1:30 p.m., and then American Icon Grill reopens for dinner hours.
Caf? Promenade
For grab-and-go coffee and pastries, as well as light bites and sandwiches, Caf? Promenade is located in the ship's Esplanade. It is open from 6 a.m. to 3 a.m.
Chic
Located on Deck 3, the name indicates the hipness of this dining space; however, we found it a bit old-school in its white tablecloths and d?cor of gold and silver. The restaurant is only open for dinner.
Caf? at Two70
With its great views, this is one of our favorite places to grab a bite on the ship. The bistro-like caf? provides continental breakfast daily from 7:30 to 10:30 a.m., then reopens for lunch at 11:30 a.m. and remains open until evening show times, closing at 7:30 p.m.
Coastal Kitchen
This restaurant is only available for guests staying in suites. Grand Suite guests can enjoy all-day dining, with breakfast running 7:30 to 9:30 a.m., lunch 12 to 1:30 p.m., and dinner 5:30 to 9:30 p.m. Guests in Junior Suites are welcome for dinners only. The restaurant features a cool California vibe and serves up a coastal Mediterranean cuisine.
Chops Grille
The ship's steakhouse features delectable steaks and chops, and is difficult to get into, as it is only open for dinner. Book in advance to enjoy it, although expect it to be pricey — you're paying for high-quality meats. If you really want to splurge, enjoy the five-course dinner with wine pairings that takes place at the Prime Table. Available for $95 per person, the table needs at least 12 diners to take place, although they do not need to be from the same family.
Devinly Decadence
Located in the ship's Solarium, which is adults-only, this bistro is named for celebrity chef Devin Alexander, who is the creator of television's "The Biggest Loser" menus. This means you'll find healthy options that still taste great, with dishes all less than 500 calories. Buffet breakfast is served from 7:30 to 10:30 a.m., a lunch buffet is offered from 12 to 1:30 p.m., and then an a la carte dinner menu is featured at night. The restaurant is gluten-free friendly, and bread is a no-no for this calorie-counting chef.
Izumi Japanese Cuisine
For high-end sushi and sashimi, Izumi is the place for you. Overlooking the Esplanade for table dining (you can sit countertop, as you would in a traditional land sushi spot), the Japanese menu is provided for lunch, 12 to 1:30 p.m., and dinner, 6 to 9 p.m. Prices are a la carte.
Jamie's Italian by Jamie Oliver
Whatever you do, book this hotspot before you get on the ship, as this is one of two restaurants everyone on board wants to try. Created by celebrity U.K. Chef Jamie Oliver, this family-style Italian restaurant is open for lunch and dinner. Lunch, 12 to 1:30 p.m., will cost you $20 per person, and dinner, from 6 to 9:30 p.m., will be $30.
Johnny Rockets
Curses to Johnny Rockets for its location near the SkyPlex, pools and kid fun, as kids will want its delicious burgers and milkshakes — and it's not included with the cruise. Waits can be long for food, and it's open from 11:30 a.m. to 7 p.m.
La Patisserie
Kids won't want to pass up La Patisserie, which is a combination of a Starbucks and a pastry shop. Being a Starbucks, the lines are heavy in the mornings, and prices are similar to what you pay on land. It's open from 7 a.m. to 10 p.m.
Michael's Genuine Pub
This traditional English-style pub is a literal cornerstone between The Via and The Esplanade on Deck 4. Named for chef Michael Schwartz of Miami, the pub features mainly finger foods and classics like bangers 'n' mash and fish and chips. The pub also features a great selection of craft beers. The restaurant is open from 11:30 a.m. to 1 a.m., with prices starting as low as $3 for small bites.
SeaPlex Dog House
Located next to SeaPlex, in easy reach of the kids playing there, this "food truck" provides hot dogs between 11:30 a.m. and 7 p.m.
Silk
Located on Deck 4, Silk is the ship's Asian-inspired restaurant, which includes Chinese, Thai, Vietnamese and even Indian cuisine. The d?cor features red and gold, and large tables offer Lazy Susans for meal sharing. The restaurant is open for dinner only and is $6 per person for ages 6 and older. (It's free for younger ones.)
Sorrento's
A popular spot for families, Sorrento's is the all-day pizza spot, included in the free dining. Pizza is available by the slice or at your order, which we preferred because the pizza seems to get stale pretty quickly. Two giant Coke machines disperse any type of soda you can imagine (at a fee). The restaurant is located in the Esplanade and is open from 11:30 a.m. to 3 a.m.
Windjammer Marketplace
The ship's main buffet is Windjammer Marketplace, located on Deck 14. Breakfast begins as early as 6:30 and runs until 11 a.m., lunch is offered between 11:30 a.m. and 3:30 p.m., and dinner begins at 6 p.m. Kids who are in the evening kids' program will dine here.
Wonderland
The second most sought-after reservation is for this whimsical restaurant with an Alice in Wonderland theme. The restaurant itself is beautiful, and menus appear on paper only after you have painted them with water. The menu, however, is not kid-friendly, using unique techniques — molecular gastronomy — and flavors and tastes most kids won't want to savor. Leave the kids in the kids' club and make sure you try it on a date night. The restaurant is open only for dinner, 6 to 9:30 p.m.
DreamWorks Character Breakfast
For an additional fee, Anthem of the Seas features a special character breakfast featuring your kids' favorites, including Shrek, Fiona, Puss in Boots, Kung Fu Panda, the Penguins of "Madagascar" and more. The breakfast is by reservation only and takes place on an at-sea day, with two seatings available. Kids will find Magic Potions to drink and healthy and fun breakfast dishes.
Room Service
The ship provides 24-hour room services, with some items complimentary, and others at a fee, depending on where the food is coming from. (You can order from some of the ship's restaurants.) The service is free, except between 11 p.m. and 5 a.m.
Planning & Tips
All About the Extras
Wi-Fi
Royal Caribbean touts the fastest and best Internet at sea with its VOOM service, which is fast enough for video streaming. But guests will pay for this service: $15 per day, per device. A 50-percent discount is available for a secondary device for a total of $22.50 per day is you want it on both your laptop and phone. If the kids want service, the Internet will add up quickly, so utilize the Internet Caf? in the Two70. The ship also features Cellular at Sea roaming for phone calls using your cell phone's date. AT&T customers can utilize special cellular packages.
RFID Bracelets
Continuing its high-tech theme, guests wear RFID bracelets that serve as room keys and credit cards on the ship. Guests can also check-in on iPads and hop online for booking activities and dinner reservations.
Smoking
The ship provides designated smoking areas, including a spot near the pool and sun deck.
Fitness Center
Anthem and Quantum both have some of the largest fitness centers we have seen on a cruise ship. The two-story fitness center on Anthem is forward-facing with floor-to-ceiling views that will make it easy to keep up with your gym routine while on vacation. The fitness center offers a wide array of equipment, including cardio and strength training. Studios provide spin, aerobics, yoga and other sessions, for additional fees. Also available is an outdoor deck for running and walking. (Two lanes are separated, so as not to disrupt those moving faster than others.)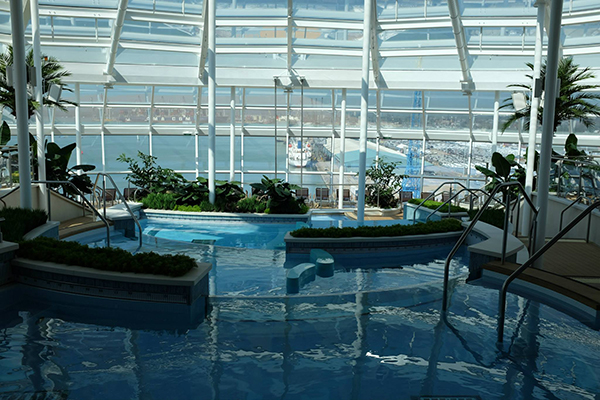 For Mom and Dad
Solarium
The Solarium is a quiet and serene pool located in the front of the ship with panoramic views. The pool is actually tiered and spills into pools on different levels with plenty of chairs and even a giant swing built for two. The area features its own bar, and parents will love enjoying the views and the quiet at least once on the sailing.
Bars
Parents will also want to utilize the kids' nighttime programming and enjoy the late-night bar scene found in The Via. The ship's two-story hub is home to many restaurants and bars, including the not-to-be-missed Bionic Bar on Deck 5. Here, two robotic "arms" mix your drinks that you have ordered at table tablets. Order your drink and watch the robots dance around as they collect ice, mixers and alcohol, then shake or stir the drinks before sliding it down a slot to you. Two screens striding the bar let guests know whose drink is being prepared. The bar space is small and snagging is table is tough, particularly the later it gets into the evening.
Other fantastic bars in The Via include aptly named Vintages Wine Bar, the piano bar Schooner's, a Latin-themed hotspot called Boleros, and the English-style pub Michael's. Of course, there are bars in the Solarium, Two70, around the pools, the North Star bar, the live music venues, and the casino. (Also for adults-only.)
Vitality Spa
Vitality Spa features more services than those offered for the teens, including massages, facials, body treatments, couples services and more. The spa doesn't feature its own pool, which is disappointing, but does have a sauna and steam room.
More From Family Vacation Critic:
Carnival Splendor
Are Short Disney Cruises Worth the Price?
12 Best Family Hotels in Cruise Ports
Our team of parents and travel experts chooses each product and service we recommend. Anything you purchase through links on our site may earn us a commission.