The second-largest cruise operator in the world, Royal Caribbean has some of the largest ships in the industry. The line's ships are also some of the best for families, with everything from family cabins to interactions with DreamWorks characters.
Considering a Royal Caribbean family cruise? Here, we help you understand what the Royal Caribbean family ships offer, where they go, and more.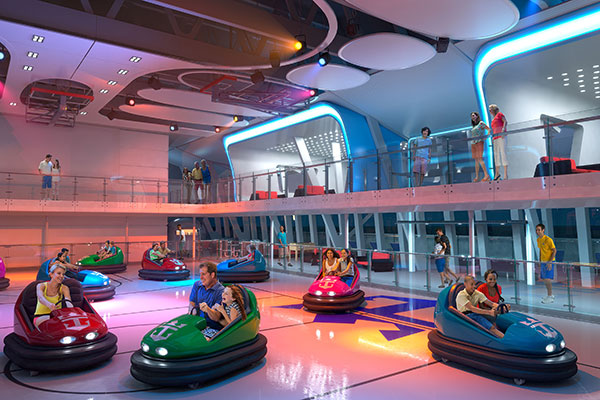 Royal Caribbean Family Ships
As of 2016, Royal Caribbean has a total of 25 ships. Families should consider ships in the Oasis, Freedom and Voyager Class. We especially like Quantum of the Sea, with its SeaPlex and sky ride; Anthem of the Seas, Allure of the Seas, Harmony of the Seas and Ovation of the Seas.
Royal Caribbean Ports
As its name suggests, Royal originally traveled only to the Caribbean. Families love the Caribbean itineraries and they are still very popular today. These voyages transport guests to outdoor playgrounds with swimming, snorkeling, waterfall hunting and horseback riding on the beach. Ports of call include the Cayman Islands, Puerto Rico, Cozumel, St. Lucia and many others.
Since the 1990s, however, Royal Caribbean has branched out to present voyages to Alaska, Europe, Asia, Australia, South America and more. Alaska's Inside Passage cruises are a hit with families, offering a chance to see wildlife, glaciers and rainforests. Dog sledding is a well-liked cruise excursion in Alaska. Royal also offers unique, exotic cruises to places that few other commercial cruise lines visit. Multi-destination trips are also available, spanning 14 to 18 days in length. On these trips, families can experience multiple countries before returning home.
Many embarkation ports are in the United States. Homeports include Boston, Baltimore, New Orleans, Fort Lauderdale, Miami, Tampa, San Diego, Oahu, Seattle and Vancouver.
Royal Caribbean Staterooms
On its newer ships, Royal Caribbean offers Family Staterooms that can accommodate up to six guests. The line also offers Family Connected Junior Suites With Balconies that include three bedrooms and three bathrooms to sleep a total of eight guests. And because they're three separate units, they're great for multigenerational families, families with teens, or families traveling with friends.
Royal Caribbean Family Dining
All Royal Caribbean cruises feature an elegant main dining room. "My Family Time Dining" offers an expedited eating experience with healthy, kid-friendly options. Vegetarian meals are also available. Meals are guaranteed to be served within 40-minutes, while appetizers are served immediately. After the meal, kids are escorted to the Adventure Ocean Youth Program. Families must register for this option and enroll children in the children's program in advance.
"My Time Dining Daily Reservations" is another program that allows families of less than 11 people to eat as if attending a standard, land-bound restaurant. Guests make daily dinner reservations for anytime between 6 and 9:30 p.m. No waiting in line! All meals in the main dining room are included in the cruise rate, but this special dining option must also be reserved in advance.
Many restaurants are geared towards casual, family-friendly eaters. Johnny Rockets is popular among families. Specialty dining is also available. The ship decides which evenings require casual, smart casual or formal dress. Longer cruises have only two or three formal nights. Room service is also provided at all hours of the day and night.
Royal Caribbean Kids' Activities
Royal Caribbean is known for its diverse activities and entertainment options. Most ships have rock-climbing walls, ice skating rinks, Flowriders (onboard surf simulators), AquaTheater movies, water parks, miniature golf, rollerblading tracks, and carousels. Try zip-lining across an open atrium, suspended nine decks high. Onboard arcades feature recent and classic games, from Galaga to Guitar Hero to Fast and Furious. The cruise line also hosts a variety of family-friendly live entertainment, often held in the lounges. Families can typically find magicians, comedians, jugglers, singers and dancers in extravagant performances. Professional ice shows are the climax of the entertainment, taking place on Voyager-, Freedom- and Oasis-class ships only.
Royal has partnered with DreamWorks Animation to create a fun experience for kids. Kids can meet their favorite characters from Shrek, Madagascar and Kung Fu Panda onboard and at meal times. "How to Train Your Dragon" on Ice and "The Madagascar Aqua Show" are performed on certain ships. Movies are brought to life in the ships' 3D theaters, and also available in your room on the DreamWorks channel. Select ships offer the DreamWorks features, including Allure of the Seas, Oasis of the Seas, Freedom of the Seas and Liberty of the Seas.
Royal Caribbean Kids' Clubs
Even babies have their own programs at Royal Caribbean. Children ages 6 months to 3 years are split into a Babies and a Tots program. These kids get to run and romp around the colorful nursery. Developmental toys and activities are provided by trained nursery staff. Parents can drop kids off at certain morning or the evening times. The infant and toddler programs are only available on Allure, Oasis, Freedom and Liberty. Kids can be registered on the first day aboard.
Adventure Ocean youth programs offer age-appropriate activities for children between ages 3 and 11. Groups are split into Aquanauts (age 3 to 5), Explorers (age 6 to 8) and Voyagers (age 9 to 11). Aquanauts engage in theater games and make bubble potions to become Certified Jr. Adventure Scientists. Explorers make kites, learn about local culture, have parties and create gummy candies. Voyagers take a backstage tour of the ship, play "List-O-Rama" and learn the unique sport, "Gagaball." No matter what age your children are, they receive the personalized attention of youth leaders.
Teens are split into two groups between ages 12 and 17, above and below age 14. Video games, movies and sports are at their disposal. Battle of the Sexes competitions are a regular occurrence. Dance parties include dance offs and DJ lessons are planned for them. A teen-only center serves as a main hangout.
All programs are complimentary.
Royal Caribbean for Mom and Dad
Royal's "Sitters at Sea" babysitting service allows parents to have a romantic evening, lingering over dinner or enjoying an entertainment show. Babysitting is available in group session or a one-on-one in your stateroom between the hours of 8 p.m. and 2a.m. Individual childcare must be reserved at least 24 hours in advance.
More From Family Vacation Critic:
10 Best Cruise Ships for Teens
5 Best Cruise Lines for Families
Our team of parents and travel experts chooses each product and service we recommend. Anything you purchase through links on our site may earn us a commission.