In 2015 (and beyond), guests will find Disney World is so cool that it's practically iced over in tribute to the wildly popular, animated movie, "Frozen." A movie-themed ride, sing-a-long, character meet-and-greet experiences and even specialty desserts are among the icy enhancements. Beyond the frosty fun, however, there are many exciting surprises in store for Walt Disney World Resort guests, including new parades, entertainment and attractions, and novel food and beverage offerings.
Magic Kingdom
Phineas, Ferb and Stitch are among the newest stars in the new Move It! Shake It! Dance & Play It! Street Party at Magic Kingdom. Replacing the former Move it! Shake it! Celebrate It! parade, the show features new music, new characters, more audience interaction and the same groovy dance party theme.
Princess-loving fans should be advised that Cinderella's Royal Table in Fantasyland will be closed until March 2015 while it receives a royal polishing. In the interim, you can have a fairytale breakfast or brunch with Cinderella and other princesses at Citricos at Disney's Grand Floridian Resort & Spa.
In Adventureland, interactive elements have been added to the stand-by queue at Peter Pan's Flight. Guests can beat the boredom blues by taking a stroll through rooms in the Darling family household. Meanwhile, Memento Mori, a Haunted Mansion-themed merchandise shop, is now open in Liberty Square.
Epcot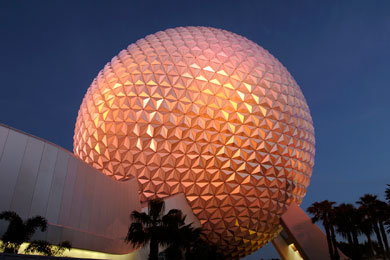 At the Canada pavilion in Epcot, lumberjacks toting axes and chainsaws at the Canadian Lumberjack Show have replaced kilt-wearing bagpipe players in the Off Kilter band as the entertainment headliner. More World Showcase entertainment changes are in the works, including a new dance troupe in Morocco — replacing Mo'Rockin' — and the debut of a new Scottish musical trio in the United Kingdom, following the departure of The World Showcase Players. Another popular group — the Spirit of America Fife and Drum Corps — recently ended its long-standing run at the American Adventure. In Italy, a new flag-waving act has debuted.
In Norway, the Maelstrom ride has closed, making way for a "Frozen"-themed attraction scheduled to open in 2016.
Animal Kingdom
Through 2017, Animal Kingdom visitors will find alterations and enhancements in preparation for the opening of an "Avatar"-inspired land, said to be the largest expansion in Animal Kingdom history. Paying tribute to James Cameron's epic science-fiction film, the new land will immerse guests in the mythical world of Pandora, featuring bioluminescent rainforests, floating mountains and soaring banshees. Recent "Avatar"-related changes include the closing of Camp Minnie Mickey and the discontinuation of Mickey's Jammin' Jungle Parade.
In spring 2015, a new Africa Marketplace is slated to debut. Highlights of the Harambe village shopping and dining headquarters include a quick-service food and beverage outlet with walk-up windows and a new pathway from Bradley Falls to Asia. Beginning in March 2015, you can also have dinner with Donald Duck and Daisy at Tusker House in Harambe Village. Advance reservations for the new sit-down character dining experience are currently being accepted.
And soon, the Discovery River, between Discovery Island and Expedition Everest, will be the stage for the planned Rivers of Light nighttime spectacular. Set to music, the illuminated show will feature floating lanterns, water screens and swirling animal imagery. An opening date for the eagerly anticipated show has not yet been announced.
Disney's Hollywood Studios
Several attractions closed at Disney's Hollywood Studios in 2014, including the Studio Backlot Tour, the American Idol Experience, and The Legend of Captain Jack Sparrow. Meanwhile, the Great Movie Ride, a park classic, is undergoing some updates in 2015.
Along Hollywood Boulevard, some cosmetic changes are planned for 2015, including the removal of the Sorcerer's Hat. The elimination of the park icon, which was installed in 2001, will reportedly allow for a better view of the Chinese Theater.
Inside Premiere Theater, a new "Frozen"-themed show brings fun and excitement to the Streets of America. Guests can sing along (or belt it out) with cast and characters in For the First Time in Forever: A Frozen Sing-Along Celebration.
Meanwhile, inside the Magic of Disney Animation, Hiro and Baymax — stars from "Big Hero 6" — are now on-hand to greet fans and give autographs. They replace characters from "Wreck-it Ralph," who had presided in the space since 2012.
In 2015, Star Wars Weekends return to the Studios, offering themed dining opportunities with Darth Vader and Jedi Mickey. Events during Star Wars Weekends, held every weekend, Friday to Sunday from May 15 to June 14, are included with regular theme park admission. Star Wars-themed character dining experiences are additional and are available from May 4 to June 14. Dining reservations tend to sell out early, so plan accordingly.
Starting in February 2015, Starbucks fans can get their caffeine fix at the Trolley Car Cafe situated along Hollywood Boulevard. With a classic trolley car theme, the third Walt Disney World Resort Starbucks location will serve Starbucks coffee, Disney-inspired baked goods and Starbucks La Boulange pastries.
New and Updated Hotels
Coming soon is an exciting new Disney Vacation Club lodging option. The first phase of Disney's Polynesian Villas & Bungalows — which, when completed, will include 20 unique waterfront South Pacific-style bungalows and 360 spacious Deluxe Studios — is slated to open in 2015. Located adjacent to Disney's Polynesian Village Resort, a Deluxe Disney property, the lodging will provide easy access to recently enhanced amenities at Disney's Polynesian Village resort, including a re-imagined feature pool, Pineapple Lanai — a counter service option serving refreshing Dole whip treats — and Lilo's Playhouse, a supervised activity center for children ages 3 to 12.
More changes are in the works at the iconic Swan and Dolphin resorts, privately owned resorts located on Walt Disney World Resort property. Renovation of the Swan's 750-plus guestrooms will be the first phase of the multi-year, $125-million redesign project, scheduled to be complete by 2017. A majority of rooms at the Swan were renovated in 2014, while guest room renovations at the Dolphin are scheduled to begin in 2016.
New Dining Options
Meanwhile, a new restaurant opened nearby recently at Disney's Boardwalk Resort. Trattoria al Forno, an Italian eatery, serves breakfast, dinner, cannoli and S'mores desserts daily.
Beginning in January, 2015, you can schedule a Perfectly Prepared Princess makeover at Ivy Trellis Salon at Disney's Grand Floridian Resort, which comes complete with glittery nails and a tiara. In addition to the Grand Floridian, Perfectly Prepared Princess packages are also available at Ship Shape Salon at Disney's Yacht and Beach Club Resort and at Casa de Bellaza at Disney's Coronado Springs Resort.
Disney Springs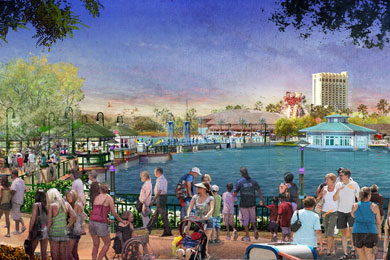 In late 2014, the first of two new parking garages opened at Downtown Disney (soon to be Disney Springs), offering ease of access for visitors and greater peace of mind for guests with show and dining reservations. In 2015, a number of exciting additions are planned for Disney Springs, the new name for the four-district neighborhood currently in the midst of a multi-year renovation and expansion.
Exposition Park at Downtown Disney West Side is the new permanent home for the Disney Food Trucks. Visiting food trucks will occasionally join one to four of the Disney-operated and one ESPN-branded food truck at the waterfront spot, where visitors can enjoy food truck fare, along with regular live evening entertainment.
In 2015, a number of new dining experiences will make their debut at the Landing at Disney Springs. Morimoto Asia, a multi-level Pan-Asian venue owned by Iron Chef Masaharu Morimoto, is scheduled to open in summer 2015, while The Boathouse, a Schlusser Creative dining concept featuring steaks and seafood, will open its doors in spring 2015. At the latter venue, guests will be able to enjoy guided water taxi and Amphicar tours of the landmarks of Disney Springs. Also joining the Boathouse and Morimoto Asia at The Landing in 2015 is STK Steakhouse Orlando, a sprawling 14,000-square-foot modern steak and lounge ONE Group concept.
More From Family Vacation Critic:
10 Best Disney World Resorts for Families
7 Unique Experiences Around Disney World – No Passes Required
Special Experiences at Walt Disney World Resort Parks
Our team of parents and travel experts chooses each product and service we recommend. Anything you purchase through links on our site may earn us a commission.