Disney Cruise Line continues to move full steam ahead with families in mind. The company has announced new activities — including "Star Wars" Day at Sea and A Day of Frozen Fun — and new itineraries, some of which will depart from New York City for the first time in several years.

New Itineraries
In May 2015, Disney Cruise Line announced limited itineraries for Miami, New York City and Galveston, Texas. The Disney Magic will depart New York for Canada (Nova Scotia and New Brunswick) and the Bahamas, with a stop in Disney World (with park admission included in rates); sailings will last up to seven nights. From Miami, Disney Magic will head to the Western and Eastern Caribbean on four-, five-, six- and seven-night sailings. The Disney Wonder will depart Galveston for the Bahamas, Caribbean and parts of Mexico on four- or seven-night sailings.
Star Wars Day at Sea
"Star Wars" Day at Sea, available on the Disney Fantasy, will feature meet-and-greet experiences with characters, themed activities, special food and drinks, exclusive merchandise and best of all, deck party celebrations! "Star Wars" Day at Sea will take place on the following sailings to the Western Caribbean in 2016: January 9, January 23, February 6, February 20, March 5, March 19, April 2 and April 16.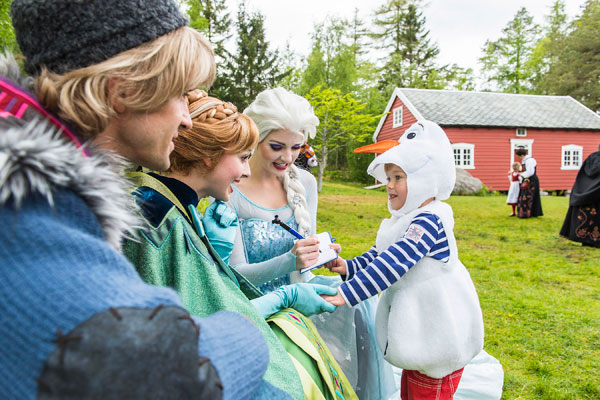 A Day of Frozen Fun
In 2015, Anna and Elsa are boarding select sailings on the Disney Magic and Disney Wonder. They're joining families for A Day of Frozen Fun, which includes "Freezing the Night Away with Anna, Elsa and Friends," a new deck party. Anna and Elsa are also performing in the ships' production of "Disney Dreams… An Enchanted Classic," with performances of — you guessed it — "Let It Go," along with "In Summer" and "For the First Time in Forever." Families also have a chance to meet Anna and Elsa, and on Castaway Cay, they can chill out with a refreshing drink at Summertime Freeze, inspired by everyone's favorite snowman, Olaf.
Port Adventures in Norway
On Disney Magic sailings to Oslo, Norway, families have a chance to visit a recreated, historic village — exclusive to guests of Disney Cruise Line. Highlights include local music, old-fashioned games and food specialties like svele, a sweet pancake. Of course, Anna and Elsa join in on the fun, too.
Tangled: The Musical
In the film's first adaptation for the stage, "Tangled: The Musical" will debut on the Disney Magic in November 2015. Academy Award-winning composer Alan Menken and Grammy Award-winning lyricist Glenn Slater have created three new songs for the show.
More From Family Vacation Critic:
Cruising with Disney: What to Expect
What's New at Disney World in 2015
Our team of parents and travel experts chooses each product and service we recommend. Anything you purchase through links on our site may earn us a commission.