The camaraderie and freedom to focus on scenery and fellow travelers instead of maps and road signs makes train travel a wonderful choice for families traveling in Europe.
Trains are, of course, magical in their own right, especially for young kids. They're big and powerful as they rumble and toot through exciting tunnels and over sky-high viaducts. Thanks to Thomas the Tank Engine and The Little Engine that Could, trains feel friendly, too. Plus, there's room for the restless to ramble and stretch their legs, and often free Wi-Fi and outlets, too.
With its efficient, far-reaching rail networks, impressively grand train stations and wide range of price points and scenic routes, Europe begs to be explored by rail. From thrilling overnight odysseys to mountain-climbing steam trains, here are ten wonderful train trips for families: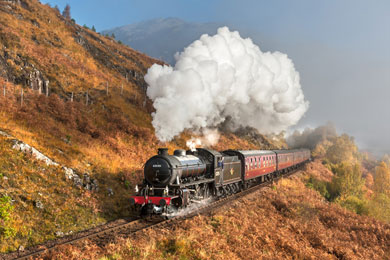 1. The Jacobite
Harry Potter fans will be thrilled to know that the actual rail cars and steam engine featured as the Hogwarts Express in the Harry Potter films are still in use through some of that very same wild scenery, including the very recognizable Glenfinnan viaduct, with its 21 soaring arches.
The route is called The Jacobite, and is operated by West Coast Railways. The 84 mile roundtrip journey, which only operates mid-May through late October, sets out from Fort William, near Britain's highest mountain peak (Ben Nevis), and winds through valleys and glens, past the country's deepest fresh- and sea-water lakes and the lovely white-sand beaches of Morar (featured in several films), on its way to the fishing port of Mallaig.
Fort William can be reached by train from Glasgow or London, either by day or on an overnight sleeper train. The final section is a stunning route, overlooking the shores of Loch Lomond and across the untamed Rannoch Moor. Once there, Inverlochy Castle, which meets guests at the Fort William train station, makes a fun home base.
2. Royal Scotsman
The only thing more exciting than riding on a train through Scotland is sleeping on one — especially when combined with stops for clay shooting, falconry, fly-fishing and walks through battlefields and castles. Two- to seven-night journeys on the Royal Scotsman begin with a rousing walk through Edinburgh's Waverly Station to the train, led by a bagpipe player dressed in full ceremonial kilted regalia. Itineraries include visits to Plockton, where kids will enjoy a boat excursion to a colony of wild seals, and historic and "haunted" castles.
This trip will appeal to kids drawn to elegance and getting dressed up. A maximum of 36 passengers enjoy afternoon tea, candle-lit dinners with rave-worthy cuisine and posh sleeping, dining and lounge cars. Note: There are no adjoining or family cabins or onboard Wi-Fi, and some routes, such as Whiskey Tastings, do not welcome young children.
3. The Chocolate Train
What kid — or adult — wouldn't love an all-you-can-eat Swiss chocolate tasting? That's just one of the highlights of the Chocolate Train, an all-day (nearly 10-hour) trip that travels roundtrip from Montreux to the Cailler-Nestle chocolate factory in Broc. To ensure that the sugar rush isn't too intense, the train stops first at Gruyeres for a tour and tasting at the Gruyeres cheese factory, allowing plenty of time to explore the pretty medieval village and castle.
While it's easy to organize the trip on your own, the excursion (greatly discounted with a rail pass) invites families to travel in style in a vintage Pullman "Belle Epoque" carriage or modern panoramic car. Plus, there's a bus to carry the weary up the hill to Gruyeres castle, and no worrying about train schedules or tour times. Either way, the route affords awe-inspiring views of Lake Gruyeres with the Swiss Alps as a backdrop.
4. Bernina Express
For sheer variety of terrain and culture, the train/PostBus Bernina Express route, also in Switzerland, can't be beat. A large section of the four-hour train ride is actually a UNESCO World Heritage Site and panoramic, and on some departures, open-air cars are an added delight. Along the way, you can experience three of Switzerland's cultures: Italian, German and Romansh, plus a swath of Italy. The route runs from Chur, the oldest town in Switzerland, and jet-setting St. Moritz, through the dramatic, glacier-clad Swiss and Italian Alps, to the palm trees and city-side sand beaches of Lake Lugano.
And it's not just the scenery. Kids love the tunnels, towering stone viaducts and curving mountainside tracks, where people in the front and back of the train can practically wave to each other. Another favorite memory on this route is the three-hour PostBus segment from Tirano, Italy to Lugano, where their big-windowed bus has the right of way, tooting its "dee-da-doe" three-tone horn at the hairpin turns, often causing cars and trucks to back up and make way.
5. Transcantabrico Gran Lujo
With a steam sauna and hydro-massage shower in every suite, posh panoramic lounge car, and only one spacious suite per train car, the upscale Transcantabrico Gran Lujo is one of Europe's most luxurious trains. Each train has just 14 suites, each with a double or two twin beds and an optional extra bed. The train travels between Santiago de Compostela and San Sebastian, tracing Spain's stunning cliff-lined northern coast, enhancing the journey with daily bus excursions and dining onboard and in top-rated restaurants along the way.
While the full-day sightseeing trips and leisurely meals may be too much for younger kids, there's plenty to engage most middle schoolers and older kids, from Paleolithic cave paintings and Bilbao's Guggenheim Museum, to the pilgrimage trail of Santiago de Compostela — and they're sure to appreciate the in-suite PC with free Internet and game console. More budget-friendly multi-day train tours, such as the Transcantabrico Classico and El Roble, also travel the region.
6. Elipsos Train
After a full day of playing in Paris' Luxembourg Gardens and a boat ride along the Seine, families can board the Elipsos Train for Spain in time for dinner, and then let the clickety-clack of the tracks rock them to sleep. Overnight Elipsos trains connect Paris with the beaches and colorful Gaudi-architecture of Barcelona and Madrid, where a puppet show or rowboat ride at Retiro Park can be a special treat after touring the Prado Museum.
The Elipsos offers a comfortable alternative to flying, but the best part is the adventurous feeling of going to bed and waking up the next morning in a totally new country. Tourist (four-bed) and Comfort (two-bed) class sleeper compartments come with a sink, but no bathroom. More luxurious, Grand Class rooms come with single or double beds, a private bathroom and dinner and breakfast in the gourmet restaurant car. And for travel within Spain, AVE high-speed trains provide a nursery and play area, board games and outlets to power electronic devices.
7. Eurostar
Unlike many top train rides, the Eurostar, which connects London with Paris and Brussels, is most loved for what travelers don't see. Traveling city center to city center means no airports or traffic. And while kids may spot cows and sheep in the fields on both sides of the channel, the thrilling part comes in knowing that when the scene goes dark, the train is actually traveling underwater for more than thirty miles.
Moving at speeds of up to 186 MPH, the Eurostar crossing is surprisingly fast. About two hours after stepping off a double-decker bus in London, travelers can watch chocolate being hand-made in Brussels, savor freshly baked croissants in Paris, or with another 35 minutes, arrive at the gates of Disneyland Paris. There are three classes of service, all comfortable. When making reservations, it's possible to reserve seats in a coach with baby-changing facilities, extra space for luggage or family tables. Also check out Eurostar's Web site for downloadable, age-tailored activities. (It's no wonder Europeans can't understand why anyone would ever fly across the Channel.)
8. TGV
The TGV, France's high-speed train, offers a triple treat. First, the TGV has bragging rights as the world's fastest train. It regularly clips along at speeds up to 201 miles per hour, and travels between Paris and the French Riviera in about 5.5 hours. Still, that's not too fast to take in the scenery, from the pretty church-capped villages of the Rhone Valley in Provence to the Mediterranean Coast, with its castle-like hill towns and picturesque port towns.
Equally thrilling is the destination — the chic Mediterranean cities and beaches of the south of France. In addition to playing in the waves, you can see where stars walk the red carpet at the annual Cannes Film Festival and learn how Henri Matisse and other famous artists found their inspiration here.
Last, but not least, the TGV caters to families with special nursery areas, family seating with foldaway chairs and tables to give children open floor space for play. And during peak periods, there are organized games, shows, face painting and other activities in designated TGV Family sections of the train.
9. MittelrheinBahn
The Rhine River, an important highway since ancient times, is the stuff of legends, and nowhere is this more visible than in the castle-rich stretch between Koblenz and Mainz in Germany. The Rhine River Valley route hugs the river along this more than 62-mile stretch, as it cuts through the steep-sided Rhine River Gorge.
One of the most popular local legends is attached to Loreley Rock, which leans out over the river at one of its narrowest and fastest points. The sound it makes as wind passes by is said to be the singing of Loreley. The siren is blamed for the many ships wrecked by the quickening waters.
Visiting the castles and museums in this region, kids will also hear tales of ancient rulers, fierce battles and royal intrigues. Frequent regional train service makes it easy to visit castles, museums, hiking/biking trails and a fairytale-come-true stay at one of the many castle-hotels in the region.
10. RailJet
Wolfgang Amadeus Mozart called Austria home for most of his life, and there's no better place to enjoy his music than in the cities and countryside that inspired him. Start by visiting Mozarthaus in Vienna, where an engaging audio tour spices up tales about his life with samples of his music and the catch a castle concert, performed by musicians in period garb.
From Vienna, it's a two hour and twenty minute train ride to Salzburg. The route passes through hilly farmland and onion-spired churches. Aside from the wind turbines, the scenery seems to hearken back to Mozart's time. Approaching Salzburg, the landscape grows more dramatic as the Alps become a towering backdrop.
Salzburg was Mozart's birthplace and his childhood home is now a museum that showcases his past and his influence on modern music and the arts. But Mozart isn't Salzburg's only musical claim to fame. Much of The Sound of Music was filmed here, and fans will love singing "Do-Re-Mi" in the very gardens where Maria and the children did, as well as visiting the many other sites they'll recognize from the Rogers & Hammerstein classic.
More from Family Vacation Critic:
Europe Family Vacations
5 Places to Explore Harry Potter's Britain
Our team of parents and travel experts chooses each product and service we recommend. Anything you purchase through links on our site may earn us a commission.