Sometimes, the boardwalk is even better than the beach! An iconic part of summer vacations, beach boardwalks offer everyone a place to be kids (whether they are or not), with rides, amusements, deep-fried food, and entertainment. These are the best beach boardwalks across the U.S. for 2020.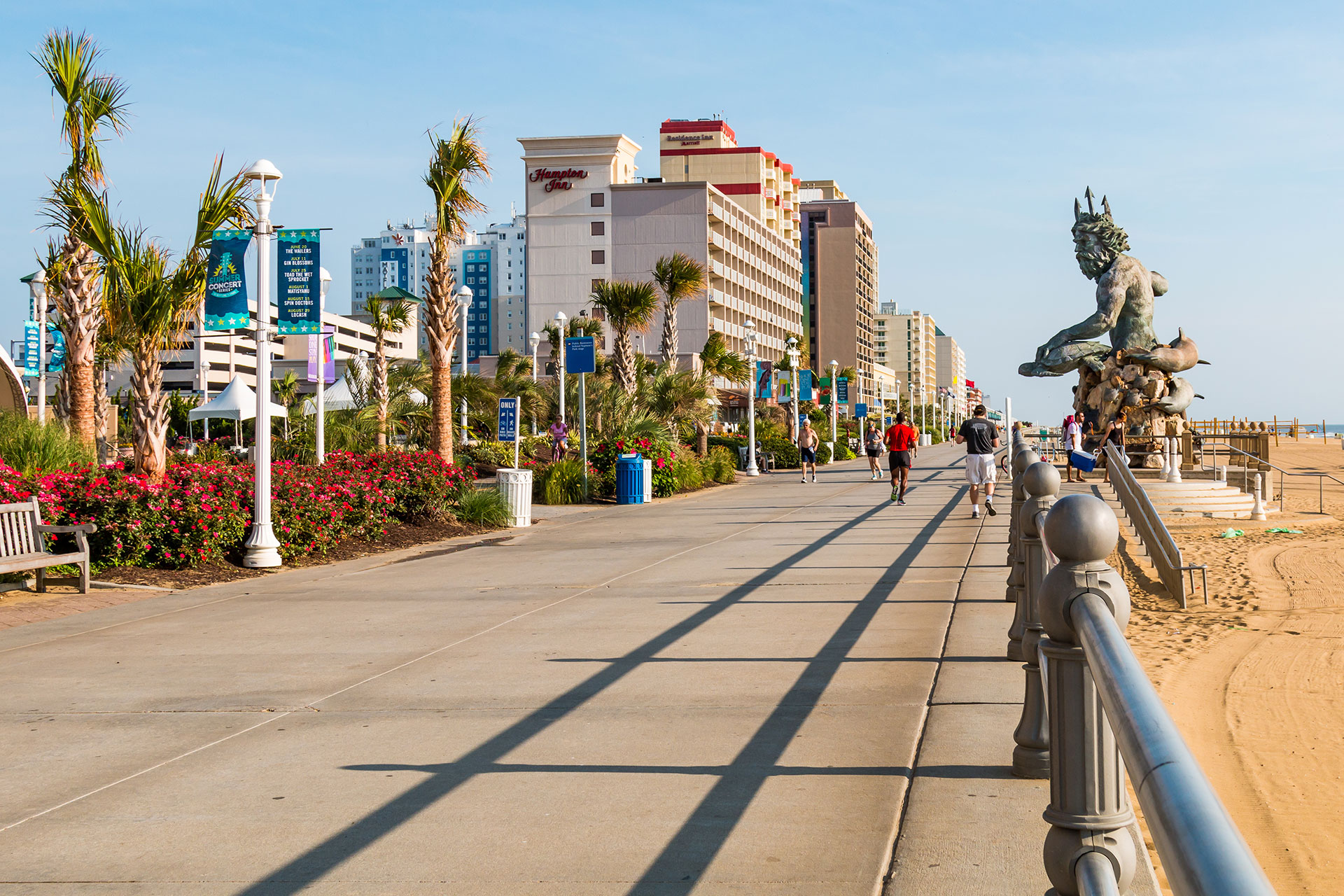 1. Virginia Beach Boardwalk – Virginia Beach, VA
Virginia Beach is home to a 3-mile boardwalk that evokes a nautical theme with an Old Coast Guard Station, the Atlantic Wildfowl Heritage Museum and sea-centric sculptures such as the 34-foot statue of King Neptune (God of the Sea). Right across from the pier, the small 15th Street Amusement Park offers a carnival atmosphere with rides such as the wild, spinning Skyscraper that shoots you up into the air.
Kids also gravitate toward the Hurricane, Music Express, Comic Storm and Inverter. Families love the four-seat surrey bikes, which can be ridden along a bike path parallel to the promenade to small, peaceful parks off the beach. When you need a bite to eat, sample the local blue crab at Catch 31 Fish House and Bar. Live music venues are also located along the boardwalk and beach.
Recommended Hotel: Comfort Inn & Suites Oceanfront Virginia Beach
2. Kemah Boardwalk – Kemah, TX
Families visiting Kemah, near Galveston, Texas, can step into the old world of carnivals, riding on wooden roller coasters, a 65-foot Ferris wheel, a double-decker carousel, a reproduced 1863 Central Pacific Huntington Train, and a dozen more free-swinging, spinning and dropping rides. Animatronics of elephants and gorillas live in the rainforest exhibit, and a tank allows children to pet stingrays and ride in a 140-passenger open speedboat.
Young kids especially like riding the Red Baron airplane ride and playing in the Dancing Water Fountains, 75 water jets that shoot water 10 to 12 feet in the air. The summer fair atmosphere runs all year long. When hunger strikes, head to Aquarium—a themed restaurant that serves high-quality seafood amid large fish tanks.
Recommended Hotel: Moody Gardens Hotel, Spa & Convention Center
3. Navy Pier – Chicago, IL
Not all beaches are on the ocean! Chicago enjoys a lakefront location on Lake Michigan—a body of water so big, you can surf its waves on one of the Windy City's windiest days. Built in the early 1900's, and the largest pier of its time, the Navy Pier has 50 acres of parks, promenades and attractions. Family-friendly events and entertainment are always happening on the Pier. Pier Park is on the upper deck and is home to a 36-animal musical carousel and an old-fashioned Wave Swinger. Kids can walk through a fun house maze, ride the Ferris wheel and play mini-golf, too; there's something for everyone!
If you need to get out of the sun, break for a movie in the IMAX Theater or see live performers at the Family Pavilion Stage. Make sure to visit on a Wednesday or Saturday night during the summer to witness a larger-than-life fireworks show.
Recommended Hotel: Embassy Suites by Hilton Chicago Downtown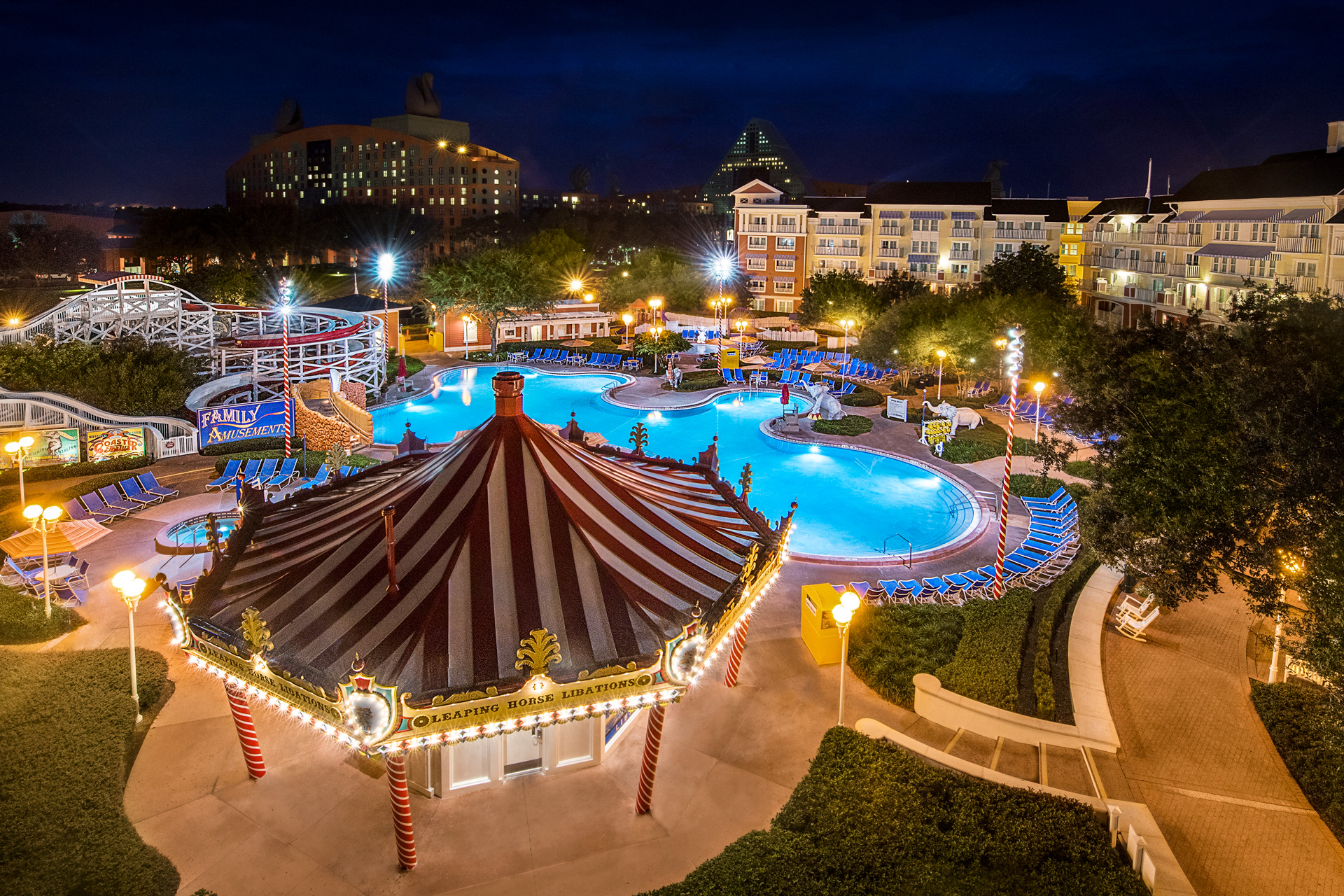 4. Disney World Boardwalk – Orlando, FL
So what if it's not near the ocean? That doesn't stop Disney World from providing families with its own version of a beach boardwalk. Located on Crescent Lake, the boardwalk features classic arcade games and surrey bicycle rentals, just like you'd find in a typical beach town. The Disney Boardwalk also features live entertainment, from street performers to dueling pianos, as well as a number of eats. From classic hot dogs, funnel cakes and saltwater taffy to sit-down seafood dining, you'll forget you're about an hour from the closest ocean. But if you want to head to the beach, check out these 5 Family-Friendly Beaches Near Disney World.
Recommended Hotel: Disney's BoardWalk Inn
5. Mission Beach Boardwalk – San Diego, CA
Like the city of San Diego, the Mission Beach Boardwalk caters to outdoor lovers, with Hamel's Surf Shop offering kayaks, surfboards, bikes and beach toys. A few minutes from the boardwalk, Belmont Park is an amusement park featuring the Giant Dipper roller coaster, a carousel and arcades. Surfers will find an alternative here at FlowRider, a man-made wave generator that is easier for beginners to learn on, and FlowBarrel, with 10-foot waves for pros. Sometimes, after a long day at the beach, you just want to get out of the sun! This is where the Plunge, an Olympic-size indoor pool, comes in handy.
Recommended Hotel: The Catamaran Resort & Spa
6. Wildwood Boardwalk – Wildwood, NJ
Wildwood is home to Morey's Piers, which operates three different amusement parks directly on the pier: Mariner's Landing Pier, Adventure Pier and Surfside Pier.
Ocean Oasis Waterpark & Beach Club and Raging Waters Water Park are also on the boardwalk for water fun directly off the soft sand beach. More than 100 rides and attractions are available, as well as shopping and dining along the 2-mile boardwalk—what's not to love? In 2019, the boardwalk is opening a new ride called Runaway Tram, a nod to the boardwalk's iconic tram car.
Recommended Hotel: The StarLux Boutique Hotel
7. Myrtle Beach Boardwalk – Myrtle Beach, SC
Myrtle Beach has a 1.2-mile-long boardwalk in the center of its 60-mile stretch of beach. A renovated, 11-acre section of the boardwalk hosts fun events like the Pacific BeachFest. A Kids Carnival on Monday nights typically includes inflatable bounce houses, face painters, jugglers, stilt artists and balloon artists. Live concerts and strolling musicians or bands are often on the boardwalk, too. Pier House Restaurant offers oceanfront dining and a kids' menu with games and tasty comfort food.
Set off the boardwalk, Family Kingdom amusement park is the area's only seaside theme park, offering more than 30 rides, including a wooden roller coaster, a log flume and a 110-foot free-fall drop. Splashes Oceanfront Water Park is across the street, showcasing waterslides, giant pools, spray features, waterfalls and a lazy river. Phew!
Recommended Hotel: South Bay Inn & Suites
8. Ocean City Boardwalk – Ocean City, MD
The 3-mile Ocean City boardwalk is a popular destination for families who want games, arcades, rides and more. Antique rides on the boardwalk include the Herschel-Spellman carousel built in 1902. The Ocean City Life-Saving Station Museum lets guests peek into the history of rescue teams and shipwrecks. Families can ride trams up and down the boardwalk for easy transportation.
During the evenings, the beach comes alive with performers. On Monday and Friday nights, families can watch free movies on the beach in the summertime. Also in the summer, the beach hosts a Family Beach Olympics event on Tuesday evenings. Make sure to try the famous fries at Thrasher's French fries, with a splash of malt vinegar.
Recommended Hotel: Francis Scott Key Resort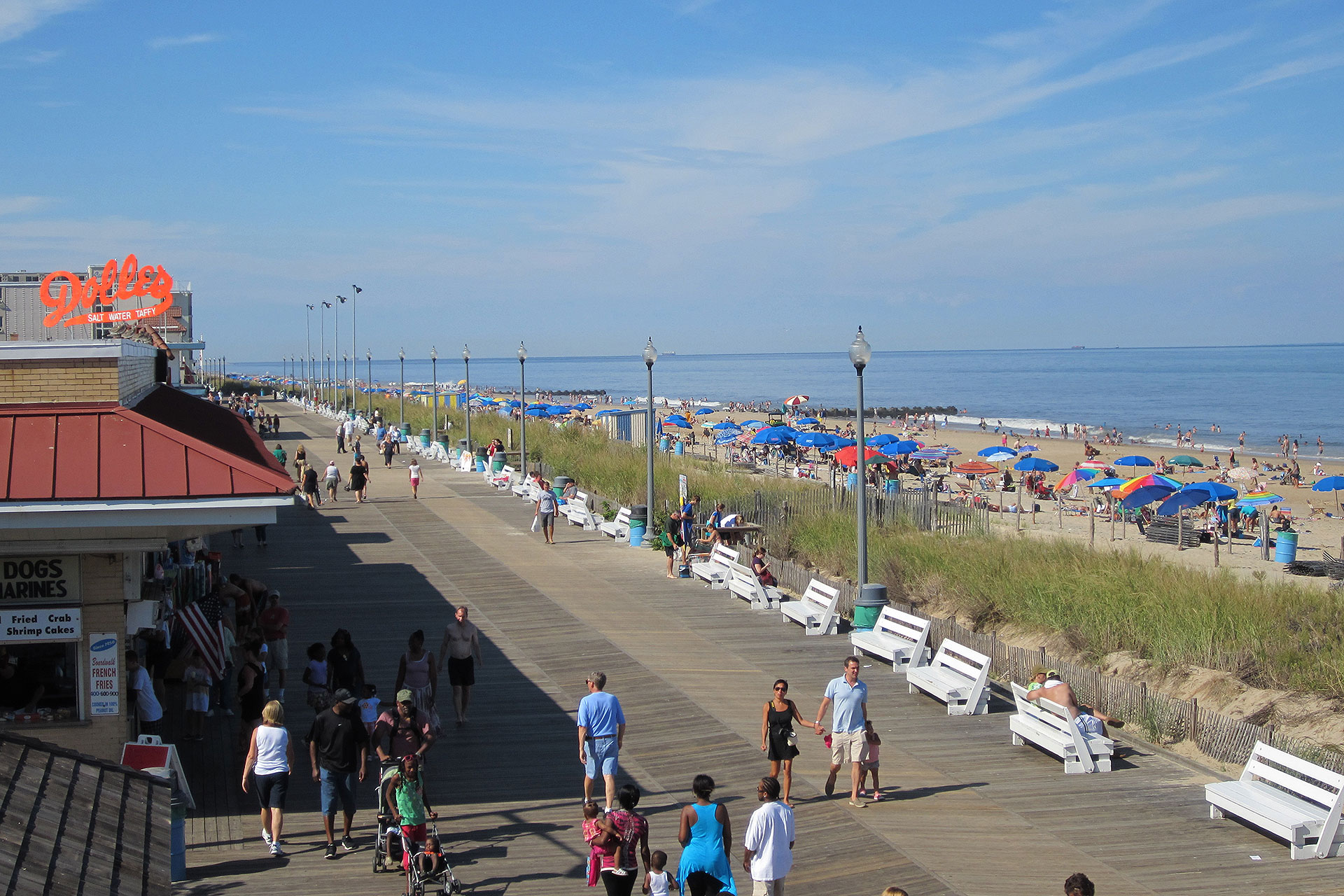 9. Rehoboth Beach Boardwalk – Rehoboth Beach, DE
One of the country's oldest boardwalks, Rehoboth Beach Boardwalk has been a family vacation destination since 1873. Plan a visit to see its quaint Victorian presence and hit its boardwalk for old-fashioned rides and games at Funland. The small boardwalk amusement park features an arcade, midway games and rides, including five original rides that have been in operation since 1962 for multiple generations to enjoy. Throughout summer weekends, visitors can enjoy live music as the sun sets at the beach bandstand. When visiting the boardwalk, be sure to stop at Dolle's, which has been churning out saltwater taffy, fudge and candies since 1910.
Recommended Hotel: Boardwalk Plaza Hotel
10. Santa Cruz Beach Boardwalk – Santa Cruz, CA
Santa Cruz Beach, deemed the "Coney Island of the West," offers a carnival-style boardwalk with the Giant Dipper roller coaster (circa 1924) and Looff Carousel, a National Historic Landmark and one of the only remaining carousels with a ring dispenser. Families can grab chocolate-dipped foods (even bacon!), make nut clusters and munch on English toffee at Marini's. In the summer, visitors enjoy free concerts on Friday nights.
Recommended Hotel: Beach Street Inn and Suites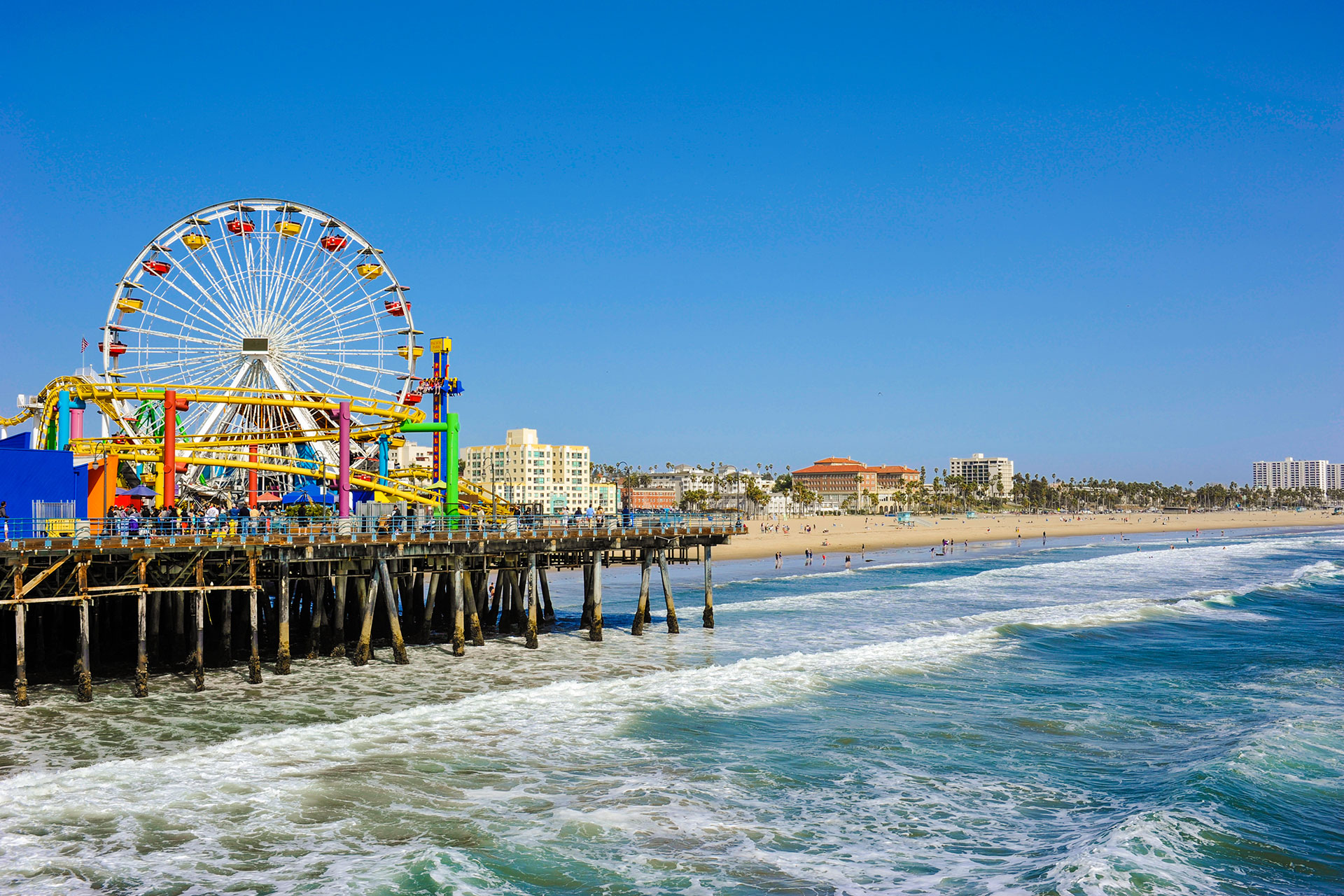 11. Santa Monica Pier – Santa Monica, CA
One of the most iconic boardwalks rests above the Pacific Ocean in Santa Monica, just outside of Los Angeles. This amusement park pier has stood at this spot for more than 100 years and families come for its iconic Ferris wheel and rides. Arcade games and small rides are easy on the wallet, and outdoor dining doesn't have a better view than from this location, making the pier ideal for visits any time of day.
For more energetic families, the bike path just outside of the pier travels all along the beach to Venice Beach about a mile away (the entire path is 8.5 miles long, if you really want a workout!). A small aquarium is also housed on the pier, with touch tanks that will entertain little ones for free. Don't miss taking a spin on the antique, wooden carousel, which has been housed in its Hippodrome location since the 1940s.
Recommended Hotel: Shore Hotel
12. Coney Island – Brooklyn, NY
Coney Island has been a favorite boardwalk in Brooklyn for more than 100 years, and we love the Luna Park theme park, which has brought Coney Island back to its amusement park heyday. Luna Park originally operated at Coney Island in the first half of the 20th century until a fire destroyed much of the park. In 2010, 66 years later, a new Luna Park opened with new thrill rides and old-fashioned fun that harkens back to Coney Island's glory days. Visitors to Coney Island can also enjoy a nearly 3-mile beach and learn the history of the boardwalk at the Coney Island Museum. For lunch, stop at Nathan's Famous and taste some of the best hot dogs in the nation.
Recommended Hotel: BEST WESTERN PLUS Brooklyn Bay Hotel
What to Pack for Your Next Trip
For info on these editor-selected items, click to visit the seller's site. Things you buy may earn us a commission.
Our team of parents and travel experts chooses each product and service we recommend. Anything you purchase through links on our site may earn us a commission.