While many destinations claim the overused cliche of "there's something for everyone," Europe lives up to the hype. Determine the type of experiences your family most enjoys when traveling, and you're bound to find a destination within Europe that offers this for a vacation to remember forever. These are the best bucket list family vacations in Europe.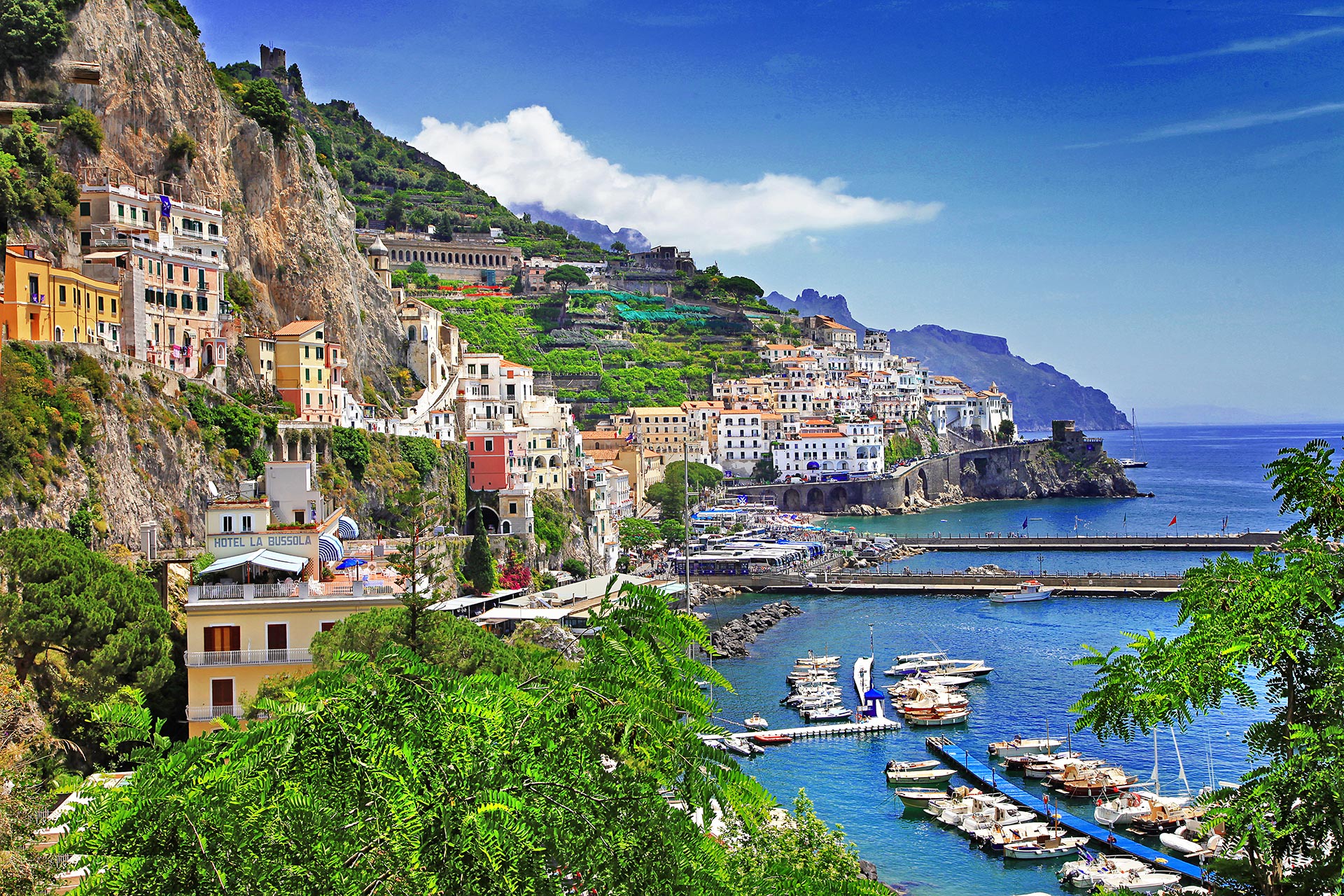 1. Italy
It's hard to find a more ideal European destination for families than Italy. Not only do Italians love children, but the cuisine is some of the best you'll find around the world and extremely pleasing to children's palettes. Italy offers a great mix of culturally interesting cities like Rome, Florence, and Venice, which are full of history, art, and architecture… not to mention gelato shops on nearly every corner! But families return year after year for the beautiful settings and incredible countryside, like those found in Tuscany, Lake Como, or the Amalfi Coast.
Recommended Hotel: Sofitel Rome Villa Borghese
2. United Kingdom
With no language barrier other than that charming accent, the UK makes for a popular location for a first family trip to Europe. London has so many iconic landmarks that kids will immediately recognize from books and movies, like Big Ben and Buckingham Palace. Checking Scotland off the bucket list is easy, as Edinburgh is a four-hour direct train ride from London. Or round out the trip by exploring England's own beautiful rural locations, like the Cotswolds, Devon, or Cornwall. For families with limited time, it's fun to just stay in London for a week and do day trips to smaller cities like Bath, Windsor, or Oxford. If this all sounds too touristy, consider Wales. It's one of Europe's undiscovered secrets and full of rugged natural terrain, beaches, and spectacular castles.
Recommended Hotel: The Rubens at the Palace
Related: 7 Exotic Family Vacation Spots Where English Is Widely Spoken
3. France
What parent doesn't dream of the moment their child sees the Eiffel Tower for the first time? Paris has long been a favorite city for families, with its charming carousels, incredible art museums, Seine river cruises, and parks that look straight out of a Monet painting. But don't miss the French countryside, where your children can play in castles in the Loire Valley, roam through lavender fields in Provence, or hike through caves from man's earliest days in the Dordogne. Consider renting an apartment in Paris or a gite in the countryside to really live like a local and embrace the French lifestyle, even if it's only for a couple of days.
Recommended Hotel: Hotel les Theatres
4. Spain
Spain is such a great microcosm of what's most appealing about a family vacation in Europe. Spain has incredible cities like Madrid and Barcelona, so full of art, architecture, museums, and parks. The two connect easily by high-speed train. Families can then head north for mountains, coastal villages, and often slightly cooler weather and fewer crowds. But southern Spain is even more popular, offering picture-perfect towns and smaller cities, like Granada (where a tour of the Alhambra is a must) and Seville (home to flamenco). And for families who feel like no trip is a vacation without time on a beach, don't miss what Europeans have long loved about Spain—their sunny coastal regions like Malaga.
Recommended Hotel: Hotel Roger De Lluria Barcelona
5. Ireland
Whether you're tracing your family's Irish ancestry or just want to finally see for yourself those legendary green fields dotted with sheep after countless movie and book scenes, Ireland makes a great family destination. As far as flights go, it's typically one of the shortest and cheapest European routes from North America. Once you arrive, families enjoy the leisurely pace of a trip here: lots of outdoor hikes, farm visits, famous driving routes, sheer cliffs, and maybe even some adventures like falconry or Irish dancing lessons. Dublin is walkable and feels less overwhelming than other larger European cities. Castles that have morphed into hotels and resorts are worth incorporating into travel plans for a true touch of Irish luxury.
Recommended Hotel: Fitzpatrick Castle Hotel
Related: Vacation Like Royalty: 5 Best Castle Hotels for Families
6. Switzerland
Outdoorsy, adventurous families should strongly consider a summer trip to Switzerland. The hiking is some of the best in the world, and the country is incredibly easy to get around given its highly developed and efficient train system. This is ideal for families who don't want to drive while in Europe, but still want to get to smaller villages. The ski resorts do a phenomenal job of offering fun, family-friendly summer experiences, like mountain biking trails and toboggan runs. Cap off each day's adventures by swimming in refreshing mountain lakes. This is one to save up for—Switzerland can be a very pricey destination, but the hotel quality is top-notch. What might be considered a 3-star hotel in Switzerland would be equivalent to a 4-star elsewhere in Europe.
Recommended Hotel: Gstaad Palace
7. Portugal
On the flip side, families can get incredible value and not compromise at all on quality with a trip to Portugal. It's one of the most affordable countries in Western Europe. Families typically begin and end their trip in Lisbon, a fascinating, lively city that always surprises visitors with its beauty and charm. A day trip to Sintra (or even a longer stay there) will allow your family to see some of the most picturesque castles and palaces in all of Europe. Upon leaving Lisbon, round out the trip with relaxation on the beach in one of the coastal regions like the Algarve or Cascais. This is one European destination that'll leave your family feeling like you truly had a vacation, not just a European sightseeing slog.
Recommended Hotel: Martinhal Sagres Beach Resort & Hotel
8. Norway
Norway first got on the radar of many traveling families because of the popularity of Disney's Frozen. But interest hasn't subsided since. It's also a popular re-direct for families who are considering Iceland, as there are many similarities between the two countries (in climate, scenery, and even the opportunity to catch the Northern Lights). Most visitors come to Norway for the fjords, the stunning mountains-meet-water landscape formed by glaciers. The Norway in a Nutshell tour makes planning your route and transportation easier and it will allow you to see much of the most picturesque views and be in areas that cater toward tourists. Driving is also fairly easy throughout Scandinavia, so more independent-minded families can consider renting a car and creating their own route through the countryside.
Recommended Hotel: Citybox Bergen
Related: 6 "Frozen"-Inspired Vacations Your Kids Will Love
9. Germany
A trip to Germany is a real treat for families who love to mix city exploration with natural, outdoor experiences. Munich is a great starting point: rent bikes and ride through the Englischer Garten, stopping for food and refreshments at beer gardens along the way. You'll be joining hundreds of local families, and most have live music and playgrounds for kids to enjoy while parents sip and socialize. You can also visit the BMW Museum, wander the Viktualienmarkt for interesting foods to try, people watch in the Marienplatz, and explore the Deutsches Museum (the largest science museum in the world). As you venture out of the city, Bavaria offers jaw-dropping castles like the famous Neuschwanstein (said to be the inspiration for Walt Disney's Cinderella Castle), hiking in the foothills of the Alps, and relaxing lakeside resort towns like Tegernsee.
Recommended Hotel: Aloft Munich

10. Greece
From ancient ruins to gorgeous beaches, the possibilities are endless for families traveling to Greece. Visit Athens for a modern city with ancient ruins, making it a perfect balance. The islands offer stunning scenery with beaches that will make everyone happy. Don't forget the literary side of Greece, either. If you have a kid who loves the Percy Jackson series, they'll love visiting spots that Percy explored. There are even tours you can take that cater to the books. If your kids are into Greek Mythology, visiting the places mentioned in various myths are sure to be a hit. Head to Crete to visit the home of Zeus, check out Mount Olympus, the Temple of Poseidon, or, if you really want to delve in, take a day trip from Mykonos to the island of Delos, which has no modern architecture.
Recommended Hotel: Hotel Erato

11. Austria
Skiing, caves, and dinosaur parks are just a few of the exciting adventures that Austria has to offer for your family. Head to Vienna and have a day of fun at Wiener Prater, the world's oldest amusement park; check out the city's many museums, including the ZOOM Children's Museum; explore the city in a fiaker (horse-drawn carriage), or take in a children's concert at the Haus Der Music. If it's caves you're after, Carinthia has the Obir Stalactite Caves, complete with a light show and a dragon that comes to life! If you're looking for a ski vacation, head to Tyrol, where there are plenty of family-friendly ski resorts. For fans of The Sound of Music, it's Salzburg you'll be interested in. You can also visit Mozart's birthplace and residence, not to mention take a tour of a salt mine.
Recommended Hotel: Hotel Sacher, Salzburg
12. Czech Republic
Maybe the Czech Republic isn't on your list… but it should be! Prague, considered the "heart of Europe," has so much to offer for families. Prague Castle is sure to delight everyone, and the Prague Zoo and National Technical Museum (where every exhibit is interactive) are also a must when visiting the capital city. Northeast of Prague, in Milovice, you'll find Mirakulum Park, a "child's dream come true" that has eight towers that interconnect through a system of footbridges, tunnels, and ladders. There's even a rope center for the more daring kids. In the southern part of the country, you can explore the life of monks in the middle ages at the Minorite Monestary.
Recommended Hotel: Aria Hotel Prague
13. Cruise
Families that may only do one European trip with their kids and who want to get the most out of the experience should consider a European cruise. Popular routes through the Mediterranean or the Baltic Seas allow families to see several different countries and cultures hassle-free. If your children have grown accustomed to Disney trips or family-oriented beach resorts when it comes to vacation, a cruise allows you to see Europe in a way that's not too far out of your family's comfort zone. It will give everyone a taste of destinations you might consider returning to in the future, while still having lots of entertainment and fun on board the ship. Families with older kids and those who dislike large ships can check out some of the river boat cruise lines, several of which are beginning to cater to children in meaningful ways. This allows you to get deeper into the continent and experience more of the smaller towns and cities, and avoid the crowds of the major ports of call in Europe.
Related: 4 Best River Cruises for Families
What to Pack for Your Next Trip
For info on these editor-selected items, click to visit the seller's site. Things you buy may earn us a commission.
Our team of parents and travel experts chooses each product and service we recommend. Anything you purchase through links on our site may earn us a commission.