It's tempting to buy the flashiest, most expensive toys for your baby; after all, those must be the best, right? In some cases, that may be true; in others, the simplest toys will not only entertain your little one, but they'll also stimulate their senses and help them grow. These are the best developmental toys for babies.
Best Developmental Toys for Babies – Classic Toys
1. Blocks
Old-fashioned and basic, blocks have been around for hundreds of years for a reason. They help with hand/eye coordination, creativity, and more. Best for older babies, Lovevery has a Block Set that comes with 70 pieces, and 20 stage-based activities, so it can grow with your child from ages 18 months through 4 years old.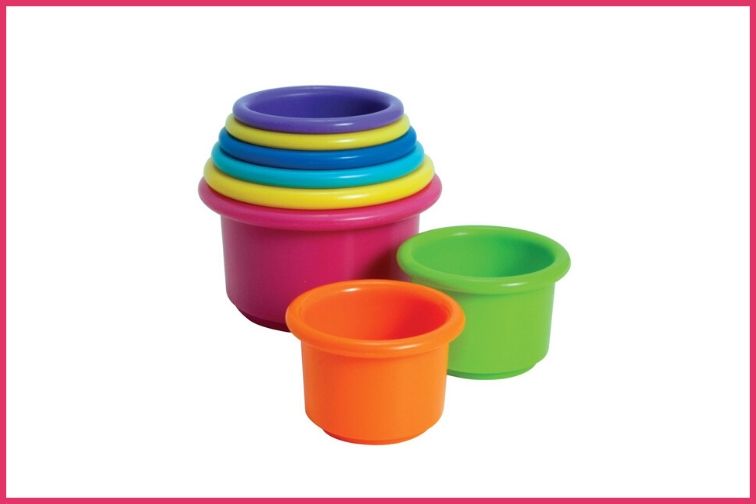 2. Stacking Toys
Stacking toys are another staple for baby's development. When we pulled these stacking cups out from the pile of gifts we received at my baby shower, our little guy was immediately obsessed. He loves watching us stack them for him, both piling them high and nesting them together, and he loves organizing them himself. They're great for helping those organizational/sorting brain cells! Don't forget the stacking rings, either! The day my son figured out how to put the ring on himself was red-letter!
3. NogginStik
Although the NogginStik does have some lights, we aren't quite classifying it as electronic. We got one of these from my mom, who read it was good for development. At my new mothers group, there was another mom there who said her mom got one and said the same thing, and we all know grandmas know best! It's similar to a traditional rattle, but lights up with three different colors, which stimulates a baby's eyes and encourages visual tracking.
4. Activity Mat
From tummy time, learning to sit, and beyond, the activity mat is a key "toy" for development. Most come with mirrors, toys to grab, and various textures/colors, so during tummy time, there's plenty of visual stimulus, with tons of things to explore and grab as your baby grows. Our favorite is the Infantino Pond Pals Twist and Fold Activity Mat, which even comes with a little pillow to prop up your baby for tummy time!
5. Playgro My First Bead Buddies Giraffe
The Playgro My First Bead Buddies Giraffe is an important item in my house; we simply cannot go anywhere without "Mrs. Giraffe." This has been my son's go-to travel buddy since he was just a few months old. It has an easy-to-grasp neck with four textured rings to support baby's tactile and fine motor skills; a built-in mirror that doubles as a rattle, with beads that engage visual and auditory senses; and various textures and crinkle sounds, making the giraffe a whole lot of fun.
6. Shape Sorter
Another classic, a shape sorter is a key developmental toy for any baby. We love this one from Fat Brain Toys. It helps strengthen fine motor skills and spatial reasoning, not to mention it assists with learning shapes and colors. It's perfect for older babies.
7. Books
This may seem like a no-brainer, but we couldn't leave it off the list! Studies have shown how important reading to your baby is. You can probably read regular picture books to a newborn, but once they start grabbing things, board books are the way to go. Luckily, you can get pretty much any classic kids' book in board form (Where's Spot was, and always will be, my favorite). Cloth books are also great as they're easier for smaller babies to grab.
Best Developmental Toys for Babies – Electronic Toys
8. VTech Magic Star Learning Table
You may find yourself humming the tunes that play from this learning table, but it'll be worth it. With a bilingual option, you can start them learning two languages when they're young! It teaches colors, numbers, nursery rhymes and more. Plus, there are loads of interactive aspects such as turning pages, picking up a phone, and pressing buttons. You can start it on the floor for sitting babies, prop it up on two legs for crawling babies, and have it high on all four legs for standing babies! It's best for ages 6 months to 3 years.
9. BEST LEARNING Learning Cube
If you like to buy award-winning toys, this is the toy for you! The Learning Cube from BEST LEARNING has won awards from Creative Child, Mom's Choice, Academics Choice and more. An interactive cube with different activities on each of its six sides, it'll teach your baby the alphabet, numbers, animals, colors, and assist with creativity and imagination. It gets them started with music, logical thinking, motor functions and dexterity, making it a perfect all-in-one learning toy.
10. Baby Einstein Take Along Tunes Musical Toy
An oldie but a goodie, the Baby Einstein Take Along Tunes Musical toy will have you humming well-known classical music throughout the day. It's easy for baby to hold, with a big button in the middle to make switching between tunes easy for baby. Get your child started on their musical talents early with this toy!
11. VTech Touch and Swipe Baby Phone
Whether we like it or not, smartphones are likely going to be an important part of our babies futures. Perfect to keep in the car, the VTech Touch and Swipe Baby Phone is nice and small for easy portability. Babies can swipe to their heart's content, mesmerized by the objects on the screen, and older toddlers can practice putting in mom and dad's phone numbers! With various activities and games, it's the perfect introduction to the digital world.
What to Pack for Your Next Trip
For info on these editor-selected items, click to visit the seller's site. Things you buy may earn us a commission.
Our team of parents and travel experts chooses each product and service we recommend. Anything you purchase through links on our site may earn us a commission.