Maine offers a fine selection of family ski areas with tall mountains, great terrain and the least-crowded slopes in the East. From family-run ski hills to old-fashioned mountains and world-class ski resorts, these are our favorite Maine ski resorts for families.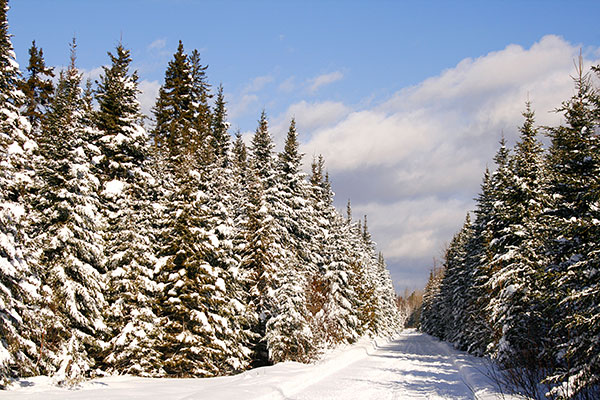 Saddleback Ski Resort
Shadowed by big ski resorts in the East, Saddleback is one of the most underappreciated ski resorts in New England. With 66 trails and more than 200 acres of skiable terrain, Saddleback offers families a perfect outdoor riding experience. From beginner to intermediate and expert trails, Saddleback is equally divided between skill levels, providing a little something for everyone. Gentle slopes help beginners perfect their riding abilities before hitting the more challenging terrains. Experts and highly skilled riders can put their abilities to the test on the resort's black and double black diamond trails.
The resort offers a ski and ride school perfect for all ages and abilities. Group lessons are available for adults and children ages 3 to 14, as well as private lessons. Private lessons offer skiers and boarders a great way to improve their skills and abilities with interactive instructors. The Learn to Ski & Snowboard School takes beginners to the gentle slopes of the mountain and provides helpful information and quality training. There are several ski-in/ski-out accommodations on the mountain for families, as well.
Recommended Nearby Hotel: Nestlewood Inn
Shawnee Peak
Known as Maine's longest running ski resort, families will enjoy this snow community full of endless ski trails, winter activities and cozy bed and breakfasts and condos. Shawnee Peak features 239 skiable acres and 40 trails perfect for all skill levels. Beginner and intermediate trails make up 70 percent of the resort's terrain, with the other 30 percent of the trails dedicated to advanced riders. There are two terrain parks and one halfpipe for those looking to test their skills on jumps, boxes and rails.
Shawnee offers a children's program for kids 3 months to 6 years, with a variety of fun-filled activities. Kids will love the movies, snow play, arts and crafts, and story time. Both half- and full- day programs are available with lunch, morning and afternoon snacks included. Ski programs are also available for children 4 and up. Full- and half-day programs are available, as well as first timer packages and tiny tot programs for young riders.
Shawnee Peak offers a wide range of accommodations for families, including condos, inns, bed and breakfasts and a wide range of nearby hotels.
Recommended Nearby Hotel: Pleasant Mountain Inn
Sugarloaf Mountain Resort
Surrounded by Maine's Western Mountains, Sugarloaf Mountain Resort is a great year-round family destination. Avid skiers and snowboarding families flock to this Maine ski resort for some of the best riding around. Hit the slopes and enjoy more than 900 developed acres of skiable area and 139 trails and glades. There are a variety of riding trails to choose from ranging from easy to expert, as well as three terrain parks for beginners, intermediate and advanced riders.
Great for skiers and snowboarders of all abilities, it offers group programs and private lessons for adults and children. Whether its your first day on the slopes, or you're looking to perfect your skills, there are programs for all. Other winter activities for families include tubing, ice skating, snowshoeing and snowmobiling.
Take advantage of the scheduled activities for children, which are offered daily. Participate in fun-filled activities such as snowshoeing safaris, game and movie nights and kids' tubing. Kids can start the weekend off with the special Kid's Night Out program for ages 5 to 10, offering movies, pizza, games and more.
Sugarloaf offers an assortment of lodging options and accommodations. From standard hotel rooms to three-bedroom suites and four-bedroom condo units, families of all sizes can be accommodated. Choose from the centrally located Sugarloaf Mountain Hotel, the slopeside mountain-style Sugarloaf Inn, ski-in/ski-out condo homes or mountainside condos with full kitchens.
Recommended Nearby Hotel: Sugarloaf Mountain Hotel
Sunday River Ski Resort
With over 130 trails, 18 lifts and eight interconnected peaks, Sunday River Ski Resort is a skiing and boarding paradise for families. There are a variety of trails and glades throughout Sunday River's 671 acres, creating an unforgettable experience for all. From easy and moderate trails to terrain parks and double black diamonds, choose your favorite and get ready to carve and weave your way down the mountain. For newcomers, or those looking to perfect their skills on the slopes, the resort offers skiing and snowboarding programs for kids and adults alike. Children's programs are available for kids 3 and up. Group and private clinics are offered for both adults and children.
In addition to skiing and boarding, families can enjoy a variety of other winter activities including zip-line tours, snow tubing, ice skating, snowshoeing and dog sledding. After a long day of activities, kick back and relax in one of the many cozy and comfortable accommodations at Sunday River. There are a variety of lodging options to choose from, including two Grand Resort hotels and several condominium units. Ranging from standard rooms to three-bedroom units and suites, families of all sizes can be accommodated. Each lodging option offers slopeside accommodations with direct access to the resort's trails.
Recommended Nearby Hotel: The Bethel Inn Resort
More From Family Vacation Critic:
10 Best Ski Resorts for Families
10 Best Family Ski Resorts on the East Coast
Our team of parents and travel experts chooses each product and service we recommend. Anything you purchase through links on our site may earn us a commission.