The mom bag; it's an institution. I remember rifling through my mom's purse as a kid. It wasn't the most attractive bag, but it got the job done. There were so many pockets! I knew I could always find tissues, cough drops, lip balm, and lotion in that cavernous bag.
We've come a long way since then, with purses and handbags for every mom, no matter her style. And yes, there are still pockets; they're just tucked away where no one sees them. From crossbody bags to stylish totes, these are the best purses for moms.
All of the products featured in this story were hand-selected by our travel editors. Some of the links featured in this story are affiliate links, and Family Vacation Critic may collect a commission (at no cost to you) if you shop through them.
1. Realer Bucket Purse
For those who don't want leather, but love the look, you can turn to the Realer handbags faux leather collection. The top zipper means you never have to worry about anyone grabbing things out of your purse without your consent, while the outside zipper pocket allows you to stash your phone and keys for easy access. You can hold this bag as a shoulder purse, or use the crossbody strap to sport that longer bag look. Either way, we can't get over the 11 colors this purse for moms comes in, or the price. Let's just say, you may want to buy a few to match all of your outfits.
2. Myhozee Women Tote Crossbody Bag
Every mom needs a good tote bag, and this Myhozee Tote Crossbody Bag is smaller than your average mega beach tote bag, but still holds a lot. Pop your laptop, the kids' homework, tablet, and water bottle in before you run out the door to meetings or to get the kids to soccer practice. Interior and exterior pockets give you easy access to your essentials (phone, keys, pacifiers, snacks), while still leaving plenty of room for everyday essentials with the kids.
3. Small Kita Convertible Leather Backpack
Who doesn't want a purse that they can carry hands-free? This convertible backpack can be carried two ways—as a purse with the convenient handle or as a backpack with the stylish and adjustable shoulder straps. A zipper closure at the top and internal and external zipper and slip pockets are perfect for keeping all your essentials organized. The slouchy design and leather material make it easy to dress up or down.
Related: 13 Travel Totes That Do the Most
4. S-ZONE Vintage Leather Purse
For any mom who misses the classic shoulder bag/clutch, the S-Zone Vintage Leather purse is your new go-to bag. The short strap keeps it close to your shoulder, while the classic black, tan, and wine colors make it easy to switch from day to night or work to after-school activities. Compact and classic, you can easily pop your umbrella, makeup bag, cell phone, and wallet into this shoulder bag. No more huge bulky purses! You can even fit a few snacks in this one without giving away that you are carrying a "mom purse."
5. Wise Owl Genuine Leather Crossbody Handbag
Who loves pockets? We do! This leather Wise Owl crossbody handbag is about the size of a 10-inch tablet, and can fit that along with sunscreen, car keys, makeup, a wallet, charger, and your cell phone. It comes in 16 colors and three different leather treatments: washed vintage (vegetable tanned leather), multi-wax (gives that uneven break look), and Nappa (conventional leather style with natural pigments).
6. Fabuxry Crossbody Messenger Bag
The crossbody messenger bag is a classic, and one most parents with a baby will want to flock to as soon as they ditch the diaper bag. Don't let the compact shape fool you; though; the Fabuxry Crossbody Messenger Bag can handle all of your baby items, including baby bottles, baby food, a tablet and toys. Exterior pockets keep the pacifier, your phone, and lovies easily accessible. But don't worry, parents of older kids—this is no baby bag. You can still use it to stash all of your stuff, too.
Related: 10 Weekender Bags for Your Next Family Escape
7. Collsants Vintage Canvas Travel Purse
We love this small canvas crossbody bag that is stylish but can also carry all of your essentials for a day running errands or exploring with the kids in Rome. It's about the size of a mini-tablet, and is just right for your phone, a few snacks, hand sanitizer and sunscreen while you're out and about. Multiple pockets make it easy to stay organized. There's even a little hole for your headphones to sneak out of if you don't want to flash your phone when you chat with friends or listen to your favorite tunes.
8. NeatPack Crossbody Bag for Women with Anti Theft RFID Pocket
Anti-theft RFID is essential these days when you're traveling and want to keep your credit cards safe. A special RFID pocket is ready to hold your wallet, while the rest of your bag can keep your everyday items secure with this NeatPack Crossbody Bag. It's large enough to hold the kids swimsuits, a bottle of sunscreen and your favorite book for a day at the beach. Thanks to its tough nylon fabric that repels moisture and stains, you don't have to worry about getting splashed at the pool or those inevitable food accidents.
9. Travelon Anti-Theft Heritage Tote Bag
One of the best crossbody bags for travel, the Travelon Anti-Theft Tote is the perfect purse for moms whether you're at home or traveling across the world. The zippered RFID blocking pocket can hold your wallet, while two open pockets give you easy access to your phone and lipstick. A tethered key clip with LED light will help you find your hotel key and car keys in a pinch at night, too. Two slash-resistant, removable shoulder straps allow you to carry this as a crossbody or shoulder bag without fear of someone grabbing it off of you as you wander a new city. It's big enough to fit a 13-inch MacBook Air, change of clothes or water bottles and snacks for your day trips without looking too bulky.
Related: The 8 Best Lightweight Carry-On Luggage Under 5 Pounds
10. Heshe Vintage Women's Leather Handbags Tote Bag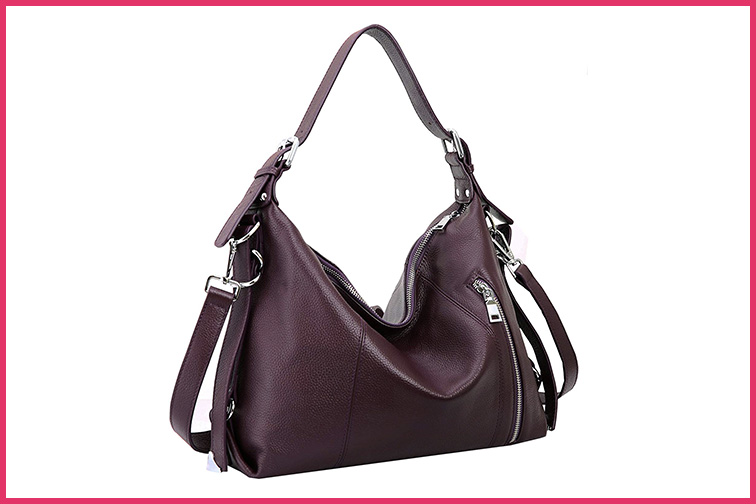 Cowhide leather exterior with an interior polyester lining and zipper closure make this Heshe Vintage Leather Tote practical and also a fashion statement to complement any mom on the go. A front pocket with side opening keeps your phone safe, while easily accessible. The interior is large enough to hold all of your essentials for work and play. Carry this purse for moms as a tote, shoulder bag or crossbody bag.
11. SHANGRI-LA Convertible Purse
We love a convertible bag, and this SHANGRI-LA Convertible Purse sits at the top of the list. Carry this purse for moms as a shoulder bag or a backpack when you need your hands free to carry kids. A padded sleeve protects your tablet or laptop, while the two exterior pockets give you easy access to your phone, keys and kid essentials. This bag is large enough to hold a 14-inch laptop, iPad, umbrella, wallet, towel, makeup, clothing, and even sunscreen and hand lotion, making it an everyday bag, as well as perfect for hikes, beach days and days in the office.
Keryn Means lives in the suburbs of Washington, D.C. with her husband, two boys and one fluffy little pup. She is an award-winning travel journalist with bylines on Thrillist.com, Travel Age West and more, and loves to talk travel on ABC's Good Morning Washington. You can find Keryn dragging her two boys around the DC area most days and across the globe several times a year. Follow along on their adventures on WalkingOnTravels.com and on Instagram.
Our team of parents and travel experts chooses each product and service we recommend. Anything you purchase through links on our site may earn us a commission.