If you get to light up with joy every time the UPS truck drops off your Amazon package, shouldn't your kids get in on the excitement? Give them something to look forward to each month with one of these fun subscription boxes.
Little GF Chefs
Kids with food allergies can sometimes feel left out—like when they have to pass on a cupcake at school or skip the pizza at a party. Fortunately, Little GF Chefs' subscriptions are designed to be inclusive. These fun baking kits are free from the top nine most common allergens, plus are gluten-free, vegan, and don't contain any artificial dyes. Kits include creative (but easy to make) projects like unicorn donuts, ice cream sandwiches, and rainbow pop tarts. Choose which boxes you want or sign up for a subscription to get a monthly delivery.
Radish Kids Cooking Subscription Box
Get a meal and an activity out of the Raddish Kids Cooking Box. Each month, you'll get a kit that features a surprise theme (such as cuisine from a certain country or a holiday). The boxes are designed for kids from 4 to 14 and include kid-friendly recipes, kitchen tools, grocery lists, and conversation starter cards.
The Preschool Subscription Box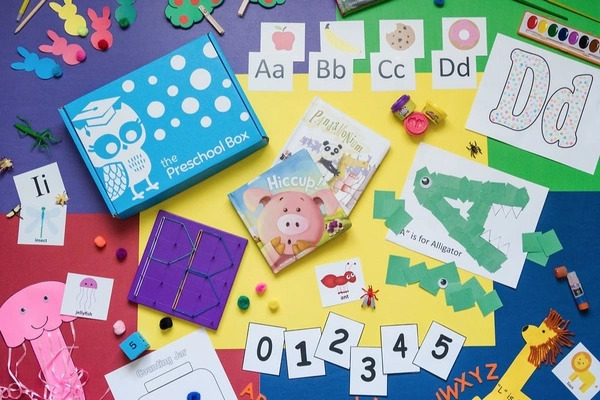 Whether you're learning from home or preparing to send your kid off to school, The Preschool Box will help get them ready. The box is for ages 3-6 and includes 16 learning-focused activities, a parent guide, fun stickers, and a book.
Eat2Explore Subscription Box
Take your kids on a world tour without ever leaving the kitchen with the Eat2Explore Subscription Box. Each month, you'll get a box that explores the cuisine of a new country through three different recipes. Choose from a regular, gluten-free, or vegetarian subscription to accommodate different dietary needs.
Our Little Book Club Subscription Box
With plans as low as $14.99 per month, Our Little Book Club is an affordable way to instill a love of reading in your child. Customize the subscription by age (options range from newborn to 11 years old). Each box includes two hardcover books and an activity book.
America's Test Kitchen, Young Chef's Club Subscription Box
Put on your own cooking show every month with America's Test Kitchen, Young Chef's Club subscription box. Intended for kids aged 5 to 13, the monthly themed boxes include recipes that will take anywhere from 15 minutes to a few hours to create.
Toy Box Monthly Subscription Box
The Toy Box Monthly subscription is like having a birthday every month because you get a box full of presents delivered to your door. Intended for kids aged 4 to 8, you can choose a boy, girl, or gender-neutral box that arrives packed with licensed toys from Star Wars, Avengers, Batman, LEGO, Playmobil, and much more
Loop Lab STEM Activities for Kids Subscription Box
Get your kids interested in STEM from an early age with the Loop Lab STEM Activities subscription box, which makes learning fun. The box includes four or more STEM experiments that can be done by children 8 or older.
Little Passports Early Explorer Subscription Box
Adults who can't travel right now might be jealous of the Little Passports Early Explorers subscription box, which lets kids explore the world from the comfort of their couch. For kids aged 3 to 5, the package focuses on a new country each month with fun learning activities.
Superpower Academy Subscription Box
If your kids are obsessed with superheroes, let them feel like one through the Superpower Academy box. This monthly subscription box sneaks in some learning with STEM-focused "secret mission" activities and projects for kids.
Gramma in a Box Subscription Box
A box can't replace a visit from grandma or grandpa, but the Gramma in a Box can help your kids feel the love each month. Each box contains eight fresh-baked sugar cookies, three frostings, four types of sprinkles, ingredients to make candy crafts, and instructions for decorating.
Which Way USA Subscription Box
Take a virtual road trip around the United States with the Which Way USA subscription box. Made by the beloved Higlights brand, the box encourages exploration and learning and includes illustrated state maps, puzzle books, and souvenir key tags for each state.
Our team of parents and travel experts chooses each product and service we recommend. Anything you purchase through links on our site may earn us a commission.