Heading out of town? Relax, guys, and follow our lead on what to pack. The best travel clothes for men are ones that layer well together without taking up much space in your luggage. We're not going to send you from the boardroom to the beach with all of these items, but whether you're packing for a long weekend or even longer, you really don't need to bring as many clothes as you think. The key is selecting pieces that don't wrinkle easily and can be dressed up or down to suit the occasions. Read on for some essential travel clothes for men to add to your wardrobe.
1. Buttercloth Long Sleeve Button Down
Smooth like butter (we couldn't resist), this Buttercloth long sleeve button down shirt is made from a super soft 100-percent natural and sustainable cotton that stays remarkably wrinkle-free, whether you wear it for a smart look on the plane or wait to unpack it upon arrival. Choose from solids or subtle prints. You might want more than one.
2. Crosstown Bomber by Public Rec
Dressed up or down, we love the tailored profile of this bomber jacket from Public Rec with two front zipper pockets that are perfectly sized for stashing your phone and passport. Made from a breathable fabric that packs down easily, it works well with a simple V-neck T-shirt underneath for a look that goes from business casual to the bar.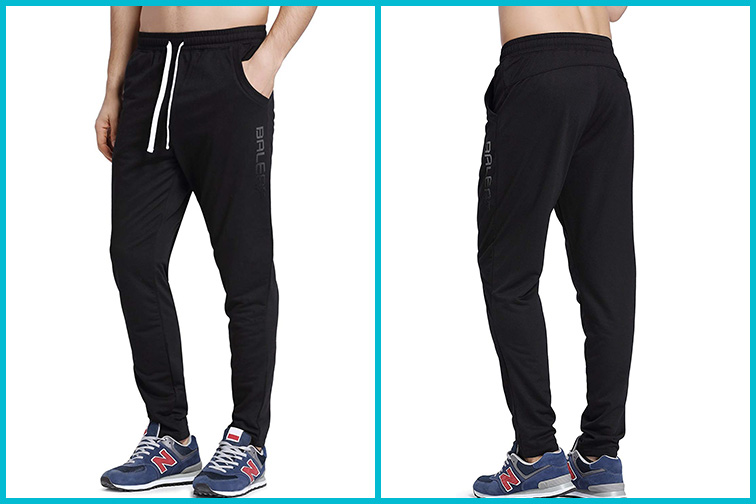 3. Men's Jogger Pants
The trim, clean look of these men's joggers by BALEAF are just the start of what's to like. Features like the elasticized waistband and adjustable waist cord keep you as comfortable as possible, even squeezed into a middle seat in coach. Made from 100-percent French terrycloth, they have a good stretch effect, too. But mostly we just think these joggers look fly on the fly.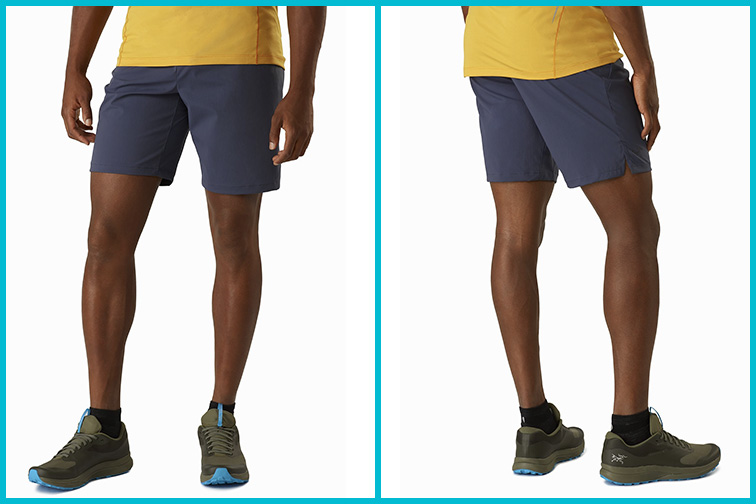 4. Incendo Shorts by Arc'teryx
Teslin fabric makes these shorts with a simple form both highly breathable and lightweight. The Incendo Shorts by Arc'teryx work as well for lounging around the resort as for heading out for a trail run. Roll them up in your carry-on and they're almost as small as a pair of socks.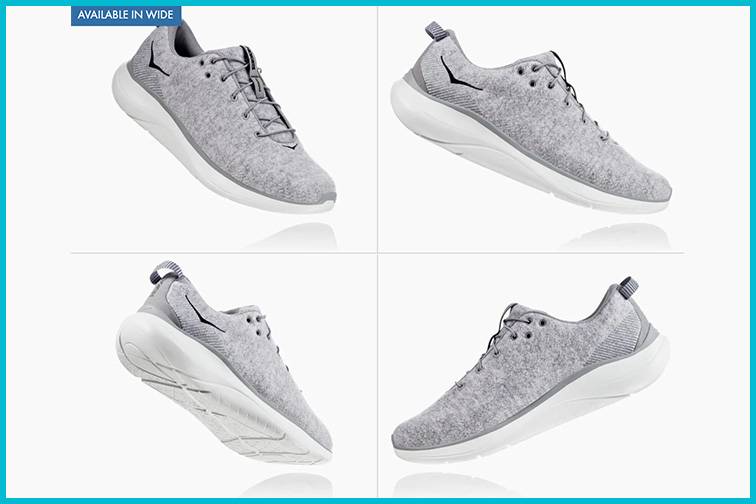 5. Men's Hupana Flow Wool Shoe by HOKA ONE ONE
With a breathable wool upper section that stays cool when it's hot and warm when it's cold out, this lightweight sneaker by HOKA ONE ONE is ideal for leisure travel (and when you might sneak a road run in, too). No-tie elastic laces ensure both a snug fit and a buttoned-up look. These shoes fit so much like a sock and are so comfortable, in fact, you might even be tempted to leave them on for a long flight.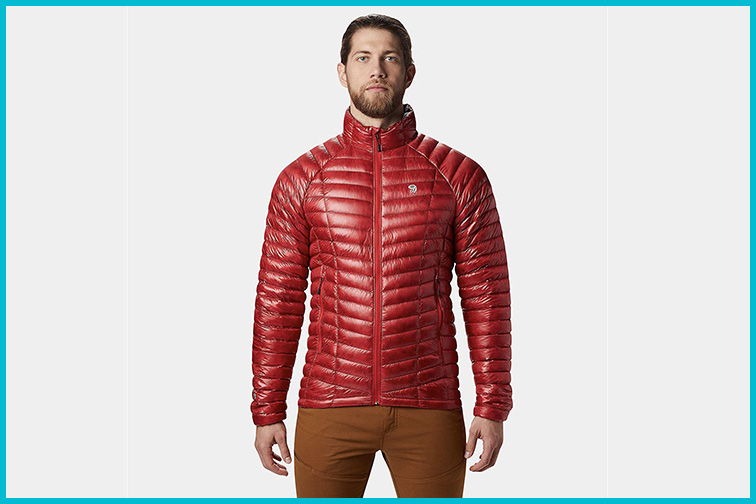 6. Mountain Hardwear Men's Ghost Whisperer Jacket
For a fashionable jacket to keep you warm on the plane and once you get where you're going that also packs incredibly small, this go-to travel jacket by Mountain Hardwear takes the cake. Consider it an investment piece you'll keep for years with a warmth-to-weight ration that's hard to beat. The fact that the shell is made from 100-percent recycled materials only makes us love it more.
7. Icebreaker Compass Short Sleeve Shirt
It's hard to believe this lightweight short sleeve shirt is made from merino wool, but you'll feel it in the quality and longevity of the Icebreaker Compass shirt. Available in solids or subtle patterns you can dress it up or down.
8. Cotopaxi Monte Hybrid Jacket
This is a great pick for a mid-weight jacket that keeps you warm, and mixes an athletic and urban aesthetic. The Monte Hybrid's shell and lining are made from 100 percent recycled polyester, and the Polartec Alpha insulation (also mostly recycled materials) keeps you surprisingly toasty despite the jacket's streamlined profile. The thumb-hole cuffs keep your hands warm when you need it, too.
9. Travel Cap by Bullbird
It's gimmicky, yes, but we can't help but love this travel cap by Bullbird that has a built-in sleeping mask for blocking out airplane and airport light pollution in a pinch. Made from organic cotton, the mask can be flipped down or up under the cap when not in use. The hat itself has a trucker snapback and curved brim to keep your hair neatly in place.
10. Thompson Tee Undershirt
The perfect undershirt can be hard to find, but travel with one or two good ones and you'll wonder why you didn't always spend a little bit more on this wardrobe essential. Thompson Tee undershirts have a patented, sweat-proof technology to stave off sweat marks and pit stains. They're light enough to wear under a button-down, too, helping get even more use out of your clothes on the road.
11. The Royale Knit Sneaker by GREATS
The white sneaker look appears here to stay, and it works well everywhere from a resort to a laidback wedding weekend. We love that The Royale Knit Sneaker by GREATS is made from recycled single use and ocean plastics (though you'd never know it from the stylish look). The shoes go the distance for travel by being breathable, machine washable and as light as regular sneakers, too.
12. Gramercy Travel Suit by Bluffworks
When you've got to travel with a suit, make it the Gramercy Travel Suit by Bluffworks—and make getting ready for the boardroom after a redeye as easy as possible. The suit is wrinkle-resistant and lightweight, so you can even wear it in-flight and count on looking office-ready on arrival.
13. Coolibar Rash Guard
There are lots of rash guards out there. But whether you plan to be bellying up to the pool bar or paddling out to surf a point break in Costa Rica, make sure you pick one like the Coolibar Rash Guard. It has UPF 50+ protection and a mock neck for maximum protection, and you can roll it up and slide inside a shoe in your carry-on.
Related: The Best Beach Out for Men: Essentials Every Dad Should Own

14. Alpine Road Pant by Royal Robbins
For comfort in-flight and on the ground, you'll appreciate the gusseted crotch and articulated knee area on these stylish travel pants by Royal Robbins. The quick-drying fabric has a touch of stretch that works to keep things wrinkle-free, too. In gray and khaki, these can easily segue from the plane to the golf course.
15. Woolly Clothing Merino Wool V-Neck T-Shirt
V-necks go the distance at being both polished and practical, and we like the moisture-wicking and anti-wrinkle properties of this 100-percent merino version by Woolly Clothing. Dress it up with a blazer for a casual wedding or pair it with shorts for a polished look around the all-inclusive resort with your family.
16. Shield Sunglasses by Julbo
Good eye protection is essential, whether you're hitting the beach or the slopes. We love the versatility of the Shield Sunglasses by French company, Julbo. The polarized glasses have removable side shields that give you more protection when you need it. And they have a non-slip curved temple and nose grip, as well as a neck strap to help them stay in place—whether you're horseback riding with the kids or tackling the resort waterslide.
17. BioLite Headlamp 200
It never hurts to have a headlamp along, whether you're going camping or headed off on a road trip. This ultra-lightweight version by BioLite, with a lamp that's fully integrated into the headband, stashes easily in your pocket and is rechargeable to boot. You'll be glad we thought of it.
Related: Travel-Inspired Books Dad Will Love
Longtime travel writer and adventurer Terry Ward lives in Florida with her husband and young son and daughter. She's constantly on the lookout for the next Scandinavia Airlines Kids Fly Free deal to save money on flights to Norway, her favorite place to visit both in the winter (Northern Lights!) and summer (Midnight Sun!). A travel writer since 2001 (read: long before the kids came along), she's written for such publications as Endless Vacation Magazine, Conde Nast Traveler and Scuba Diving Magazine, among many others. Find Terry on her website, Terry-Ward.com.
What to Pack for Your Next Trip