Love wet and wild vacations? We've scoured the globe for the most extraordinary water parks in the world. Our list includes some of the top-rated and most unique options of countless cool creations. These are the best water parks in the world.
1. Siam Park – Tenerife, Spain
Siam Park in Tenerife (part of the Canary Islands) is a kid's dream. The spacious, Thai-themed park in Spain is filled with lush, tropical plants. Divided by Relax, Family and Adrenaline categories, its attractions include the heart-pounding Tower of Power, where you drop more than 90 feet and can reach speeds close to 50 mph, zooming through an underwater aquarium that includes a shark. Other highlights include four-person raft rides; The Wave Palace, which features the biggest artificial waves in the world and thee Thai floating market. Tip: Fast passes are key to helping maximize your time.
Recommended Hotel: Hotel Mediterranean Palace
2. Thrill Waterpark – Perfect Day at CocoCay, Bahamas
Royal Caribbean's newly revamped private island experience, Perfect Day at CocoCay, launched in 2019 with Thrill Waterpark, featuring the tallest water slide in North America, the Caribbean's largest wave pool, the Caribbean's largest fresh water pool, as well as gorgeous, warm, clear-water beaches.
Slingshot, a half pipe where you experience moments of zero gravity, might be your favorite, followed by the Twister two-person raft ride that includes tunnels with multi-color lights. Daredevil's Peak is 135-feet tall and not for the faint-hearted. The obstacle course with lily pads and rope swings is fun for the kids, and in-water loungers make the pools super relaxing.
Related: Cruise Ship Water Parks, Ranked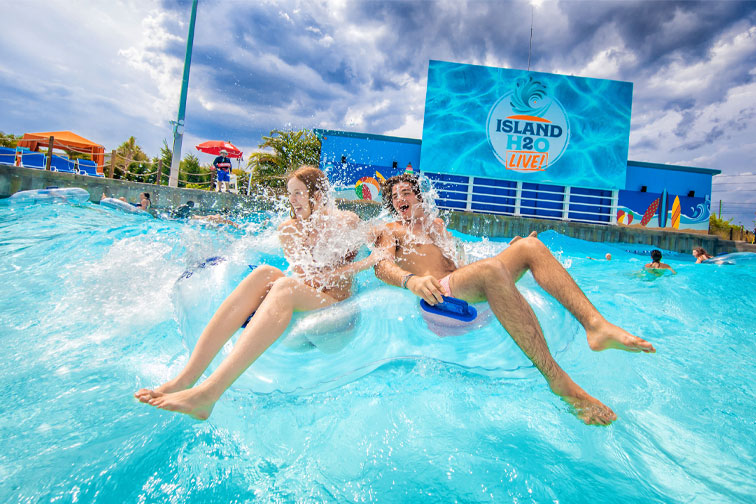 3. Island H2O Live! – Kissimmee, Florida
Opened in 2019, this water park at the Margaritaville Resort in Kissimmee, Florida, is all about social sharing and provides customizable, immersive experiences. With rides like Profile Plunge and Hashtag Heights, they capture your group's outrageous faces as you experience unexpected drops or feelings of weightlessness. They also have technology that helps you locate family and friends within the park and limit the areas your kids are allowed to explore.
Recommended Hotel: Margaritaville Resort
Related: 10 Best Florida Resorts with Water Parks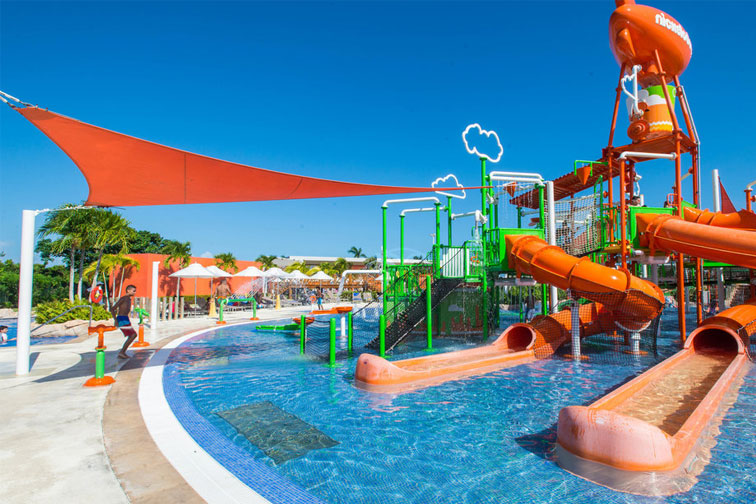 4. Aqua Nick – Punta Cana, Dominican Republic
The Aqua Nick water park at Nickelodeon Resort in Punta Cana is crazy cool because of its mass green slimings! What better way to celebrate vacation than to get a bucket of green slime dumped on you at the water park?! Plus the kids will love the character greetings and parents will be more than pleased with the Gourmet Inclusive Experience of delicious food and supreme service.
Recommended Hotel: Nickelodeon Resorts and Hotels Punta Cana
5. Aquaventure – Paradise Island, Bahamas
Atlantis on Paradise Island in the Bahamas is home to a 141-acre water park including adrenaline-rushing slides, raft rides, splash areas, cool pools and beautiful beaches. Leap of Faith dares you to drop from the Mayan Temple into a shark-infested lagoon via a clear tunnel. You'll also love the Challenger Slide, where you can check the timer to see who raced to the bottom first. The Falls is a river ride that's more exciting than lazy. Four beaches are available around the hotel, including wavy, blue waters or gentle lagoons with schools of little fish ready to be fed.
Recommended Hotel: The Coral at Atlantis, Autograph Collection
Related: Your Guide to Atlantis Resort in the Bahamas
6. World Waterpark – Edmonton, Canada
If the weather outside isn't cooperating, it's always warm inside North America's largest indoor water park in Edmonton, Canada. Next to a mall, this five-acre attraction includes Canada's largest indoor wave pool, a zip ine, hot tubs and a FlowRider surf simulator. A ride down the Cyclone loop slide could have you accelerate from 0 to 2.5Gs in less than two seconds as you zip around a near vertical 360-degree loop! Also try Slideboarding, a waterslide that's like a video game with interactive lights and buttons.
Recommended Hotel: Fairmont Hotel Macdonald
7. Waterbom – Bali, Indonesia
Bali has become a bit of a tourist hotspot lately. Visit for the gorgeous natural surroundings, then beat the heat on world-class waterslides. Waterbom Bali is home to the popular Boomerang, a rainbow tube slide that launches you up a giant quarter pipe wall. Dare to try Climax, a famous trapdoor slide, or Pipeline, a clear tube slide that whips you around turns.
Recommended Hotel: Kuta Paradiso Hotel
8. Universal's Volcano Bay – Orlando, Florida
Universal Orlando's water theme park, Volcano Bay, gets the greatest reviews for its TapuTapu technology that virtually holds your place in line so you can enjoy more fun in the sun versus carrying rafts around the park and waiting. Krakatau is a four-person aqua coaster you conquer in a canoe. There are drop slides, body slides, river rides and the huge Waturi Beach pool with waterfalls and cabanas.
Recommended Hotel: Universal's Cabana Bay Beach Resort
9. Water Cube Water Park – Beijing, China
The former site of the 2008 Summer Olympics is now home to an indoor themed water amusement park that simulates a dream-like underwater world with lights, music, water, bubbles and sea life. Try the Tornado slide, high-speed Aqualoop, Bullet Bowl, river ride, wave pool and kids area. There's more than enough to stimulate all of your senses!
Recommended Hotel: InterContinental Beijing Beichen
10. Wild Wadi Waterpark – Dubai, United Arab Emirates
This Dubai water park is top-rated and wonderful in the summer heat. Thirty rides and attractions themed after Arabian folklore are fun for the whole family. Kids enjoy racing slides and water guns. Tantrum Alley sends guests down a series of tornados and two FlowRider surf simulators challenge you to catch a wave.
Recommended Hotel: Grand Hyatt Dubai
11. Beach Park – Aquiraz, Brazil
The largest water park in Latin America, Beach Park is situated on the beach of Porto das Dunas. There's tons of family fun, spas and multiple towers of waterslides. If you're feeling brave, try the Insano, one of the tallest waterslides in the world, which drops you down 14 stories in about four or five seconds at speeds up to 65 mph! The Water Circus is great for the little ones with cannons, seesaws, fountains and slides. Surrounding resorts and restaurants make it a true vacation by the sea.
Recommended Hotel: Acqua Beach Park Hotel
12. Tropical Islands – Krausnick, Germany
Not far from Berlin, the highly-rated Tropical Islands Water Park is housed in a former airship hangar. Featuring the world's largest indoor rainforest and Germany's highest water lide tower, this is a perfect place to relax your cares away, then get your adrenaline pumping when you're ready. The Whitewater River is one of the outside attractions and the longest in Germany. The Jungle Splash water playground is a place where kids and adults can splash together. There's a tropical spa with saunas and massages (can you say, "Mommy time?"). The arcade and mini-golf are great for when you need a break from the water.
Recommended Hotel: Tropical Islands
Related: 8 Best Water Parks in Europe

13. Aquatica – Orlando, Florida
Aquatica, SeaWorld's water park in Orlando, is one of the best outdoor water parks in the world for its undersea-themed slides, gentle lagoons and white-sand beaches. With the opening of KareKare Curl in 2019, Aquatica has bragging rights for the most high-thrill rides of all Florida water parks. RayRush is a popular three-in-one water adventure that includes soaring on a half pipe designed to look like the wings of a manta ray. Two huge wave pools and animal exhibits are fun for the whole family. Aquatica is the first water park in the world to be recognized as a Certified Autism Center.
Recommended Hotel: DoubleTree by Hilton Orlando at SeaWorld
Cortney Fries (pronounced "freeze") is an award-winning Chicago-based writer and mom to two spunky elementary school-age kids. She loves nothing more than traveling with family, having adventures with friends and exploring the outdoors. Cortney believes that you should definitely do things that scare you just a little bit. Follow her on Instagram, @cortneyfries.
Casual Summer Swimsuit for Boys
For info on these editor-selected items, click to visit the seller's site. Things you buy may earn us a commission.
Casual Summer Swimsuit for Girls
For info on these editor-selected items, click to visit the seller's site. Things you buy may earn us a commission.
Our team of parents and travel experts chooses each product and service we recommend. Anything you purchase through links on our site may earn us a commission.