Traveling somewhere exotic from the U.S. doesn't have to mean a series of possible missed connections or long layovers in far-flung airports. These exotic locales can be reached in just one flight from major cities such as New York, Boston, Miami and Los Angeles.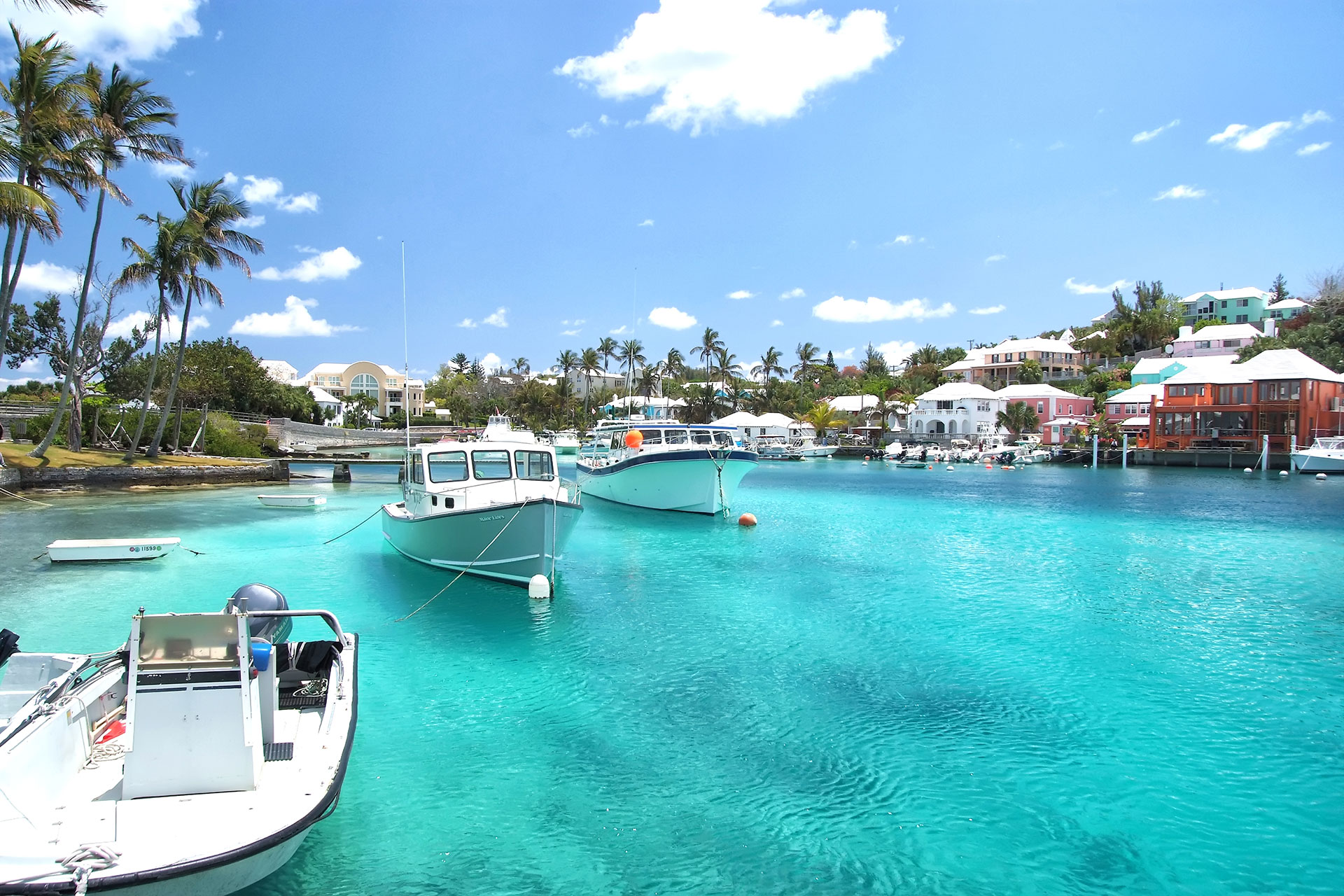 1. Bermuda
It comes as a surprise to many that the lovely island of Bermuda — famous for its pink-sand beaches and many golf courses — is just a 90-minute flight from New York City! And you can easily get there on nonstop flights from other U.S. cities including Boston, Washington, Philadelphia and Atlanta. Families love to go biking together on the Bermuda Railway Trail that covers the island from end to end, and the Crystal Caves are fascinating to explore. Don't miss the postcard-perfect beach at Horseshoe Bay, with its sand particles colored the same hue as cotton candy.
Recommended Resort: The Fairmont Southampton is one of many family-friendly resorts on the island. It's fun to treat the family to a very British — and very Bermudian — high tea here.
2. Bonaire
Part of the Dutch Antilles, the desert-like island of Bonaire is exotic for many reasons. For starters, Dutch is the main language here, just as if you were in Amsterdam. And instead of palm trees and lush rainforests like you see in other Caribbean locales, Bonaire is all about cactuses and the resident iguanas. The island is a scuba diving paradise, and for families that are certified (or just like snorkeling), the reefs are a wonderland of fish and coral. Other island highlights include the chance to see pink flamingoes and the Donkey Sanctuary, where you can visit rescued animals. You can fly here nonstop from Atlanta, Houston, Miami and Newark, New Jersey.
Recommended Resort: Buddy Dive Resort is a great place to stay right on the water if you want to make scuba diving your main pastime.
3. Tahiti
Popular with honeymooners, the islands of Tahiti are far from inexpensive for a family vacation. In fact, this has to be one of the world's priciest tropical locales. But French Polynesia is also as exotic as archipelagos get, full of tropical fruit, swaying palms and crystal-clear seas busy with frolicking rays and colorful fish. You can get here on a nonstop, overnight flight from Los Angeles that takes roughly 8.5 hours. Get onboard, get the kids to bed and wake up in an otherworldly paradise.
Recommended Resort: Accommodations range from family-run pensions to the uber-luxe and over-the-top Brando resort on the island of Tetiaroa.
4. Azores
The remote islands of the Azores in the North Atlantic belong to Portugal, but their rugged, wind-swept and verdant good looks appear to be a mix of New Zealand and Hawaii. You're in a very exotic corner of the world here, and nonstop flights from Boston and New York make it surprisingly easy to get to the Azores. Intrepid families who love hiking and whale-spotting and don't mind chilly ocean waters will have it made exploring the archipelago. Islands hardly get more exotic than the Azores.
Recommended Resort: Azoris Royal Garden, on beautiful Sao Miguel Island, has indoor and outdoor swimming pools for year-round family swimming.
5. Guadeloupe
When you're on the French Caribbean island of Guadeloupe , you're closer to Miami, yet technically in France. How's that for exotic?! Here, the cars have F on their EU-style license plates, you'll pay with euros instead of U.S. dollars, and even the small towns have signs pointing to la poste and the mairie (town hall). Butterfly-shaped Guadeloupe is full of dense rain forested areas and beautiful beaches to explore. Take the kids to see the fish market in Pointe-a-Pitre and make time for more than one coconut ice cream sold from casual stalls on the beach. Nonstop flights to Guadeloupe from the U.S. operate from Miami, Atlanta, New York and Fort Lauderdale.
Recommended Resort: Family stays don't get any finer than Club Med La Caravelle, an all-inclusive resort fronting the beach in Sainte-Anne.
6. Grenada
With very limited tourism of the mass scale variety, Grenada remains one of the most exotic and natural of the Caribbean islands. A spice island, it's a place where anything you drop in the soil can grow, and you can take the kids to tour nutmeg, cocoa and coffee plantations during your visit. The island is volcanic in origin, so black-sand beaches abound. Grand Anse, a sweeping stretch of white sand, is one of the prettiest places for water sports and swimming.
Recommended Resort: Mount Cinnamon Resort & Beach Club, right on Grande Anse, is a family favorite, with a lovely pool and hillside villas in addition to traditional rooms and suites.
7. Barbados
With British flair and some of the finest beaches in the Caribbean, Barbados is a family favorite that's just a nonstop flight away from cities like New York, Miami and Fort Lauderdale. Spend your days on snorkeling trips or sunset catamaran cruises with the family, or head out for some deep sea fishing when you're not relaxing on the beach. Barbados is known for having good surf, too, so if you have some young shredders in your entourage, they might want to take lessons from the local Bajan board riders.
Recommended Resort: Turtle Beach offers one-bedroom suites and direct beach access to a stretch of sand where turtles lumber ashore to lay their eggs.
8. Antigua
Hugely popular with the international yachting set, Antigua is a beautiful little island that's easy to drive around and full of great beaches, hotels and restaurants. Getting here is easy on nonstop flights from New York and Miami.
Recommended Resort: On the southern end of the island, you can't beat a family stay at Carlisle Bay Antigua, where you can head out directly from the resort on snorkeling and scuba diving excursions or spend the day sailing Hobie Cats from the idyllic sweep of private beach.
9. Iceland
Roughly midway between Europe and the U.S., the fantastical landscapes of Iceland (not to mention those adorable Icelandic fjord horses!) make it one of the most thrilling places you can reach on a nonstop flight from North America. You can spend your time exploring the city sights of Reykjavik, basking in the warm geothermal waters at the Blue Lagoon and — from early fall to early spring — scouting the night sky for the Northern Lights. Family vacations hardly get any more wondrous than that!
Recommended Resort: Families love the lodge-like Hotel Ranga on Iceland's south coast. It's a great base for seeing the Aurora Borealis in the winter, and exploring the surrounding countryside in the summer.
More From Family Vacation Critic:
5 Exotic No Passport Vacations for Families
10 Best All-Inclusive U.S. Resorts for Families
Our team of parents and travel experts chooses each product and service we recommend. Anything you purchase through links on our site may earn us a commission.