My kids were definitely "hiked out" after traversing the trails in Yellowstone National Park for three days this summer. Still, en route home to Colorado, which involved driving south through Wyoming's Grand Teton National Park, I insisted we get out of the car for a short nature walk to enjoy the glorious scenery. (My kids now know that "nature walk" typically means an hour or more of traipsing through the woods.)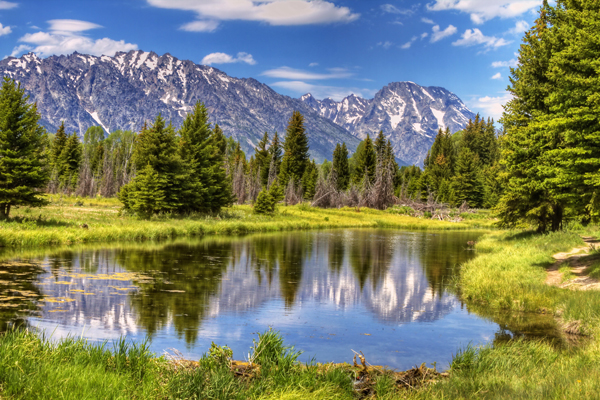 We stopped at the Flagg Ranch Information Station at the north entrance to the park. This isn't a full visitor center, per se, but it's a small building staffed with extremely helpful rangers who outfitted us with maps and handy "Day Hikes" flyers. We had a lot of kid-friendly, moderate trails to choose from, including many that skirted lakes in the park. If we had more time, we would have considered the Jenny Lake Shuttle Boat, which carries passengers across the body of water to a network of trails — including one easy path that leads to a waterfall.
Instead, we opted for a three-mile round trip around Heron Pond and Swan Lake at Colter Bay. I found this hike absolutely lovely. First, we viewed the jagged Grand Tetons — actually South Teton, Middle Teton and Grand Teton peaks — from across the most beautiful marina I've ever seen. Truly, I don't think there is any more a picturesque place to dock one's boat in the United States — in a mountain environment, anyway.
Second, we didn't pass too many people on this trail (that is, not many people passed us along the way). I think most folks head down to Jenny Lake for their day hikes, so Colter Bay trails are not as populated with tourists.
Third, the scenery was varied. While our hike began on a waterfront trail with views of the marina, the bay and the rocky peaks, we scooted "inland" through towering pine forest only to exit again to two ponds with an incredible amount of lilypads — so thick, it looked as if we could walk across them.
We lucked out choosing a trail that was well suited to my school-age kids' abilities – it took us about 90 minutes round trip, and it didn't gain much elevation at all. We were finished up in time for my daughter to attend a short ranger talk at the Colter Bay visitor center, on her way to earning her Grand Teton Junior Ranger badge — one of about a dozen she's collected on our trips to U.S. National Parks.
More From Family Vacation Critic:
10 Best National Parks for Families
National Park Summer Guide
10 Great Hikes for Families in National Parks
Our team of parents and travel experts chooses each product and service we recommend. Anything you purchase through links on our site may earn us a commission.