Buying gifts for the grown-ups on your list can be a challenge—particularly for the adult who's always on the go and traveling across the globe. What gift can you find that's fitting for someone whose life can often fit inside a suitcase?
We were up to that challenge—especially after a few delicious gourmet caramels washed down with a DIY Old Fashioned (see: Nos. 7 and 1). Sifting through more than 100 gift ideas for men and women, from the practical to the innovative to the just-plain-cool, we found 23 great options that we'd absolutely love to find wrapped under the tree this year.
1. DIY In-Flight Cocktail Kit
It was love at first sip when we sampled The Cocktail Box Co.'s too-cute-for-words tin, filled with everything you need to create your own Old Fashioned or Champagne cocktail in the sky (or anywhere else you might have access to tiny liquor bottles). New this year, the line includes Gin & Tonic and Moscow Mule varieties. Each kit comes with all of the essentials for your favorite drinks (except the alcohol), including bitters, muddler spoons, sugar cubes, and a linen napkin. Cheers!
2. Polaroid Mint Camera

Self-printing cameras have started to make a big comeback over the past few years, and many adults are familiar with the granddaddy of those cameras—indeed, they might even remember "shaking it like a Polaroid picture." But you don't have to shake anything with Polaroid Mint, which creates high-quality, smudge-proof, 2-by-3-inch photos printed using Zero Ink technology. People also like the pocket size of this adorable camera, which also allows you to store photos digitally.
3. Portable Wi-Fi Hotspot
Frequent travelers, especially those who travel across the globe, know all too well the headache of finding free Wi-Fi. Internet access is not as plentiful in other places as it is in the U.S., and it can be hard to find a steady, secure signal. Enter: the portable Wi-Fi hotspot, a reliable source of internet access for the person who's always on the go. We like Skyroam, which offers a pay-as-you-go access plan for $9 per day of internet access across the globe. It's so much easier than dealing with SIM cards!
4. Organic Wool Handmade Slippers
Do your gift recipients have cold feet? While they're on the road, they might enjoy snuggling their toes inside these 100-percent organic wool slippers, which are handmade by MadeTrade, a women-run cooperative between farmers and artisans in Kyrgyzstan.
5. Convertible Travel Luggage
We review dozens of bags of all varieties every year, but the Hypath 2-in-1 Convertible Travel Luggage stands out for a few reasons. First, the price point isn't outrageous for a good, solid set of bags that should hold up to a few years' worth of trips. You get two bags for the price of one, and each can be detached, reattached, and configured in several different ways. We love a bag that can function as both a backpack and a rollaboard, and this one offers that flexibility. This is a particularly good gift for a traveling parent, who often needs to use a backpack as a diaper bag one day, and an overnight traveling case the next.
Related: The Ultimate Carry-On Bag for Moms
6. Instant Coffee (That Actually Tastes Good)

If you're a frequent traveler, some of your biggest joys and disappointments come down to your quest for caffeination. Here are four scary words to help illustrate our point: hotel lobby drip coffee. OK, now for some relief: There are several companies on a mission to reinvent instant coffee, a product formerly considered even worse than the average lobby swill, and they're doing a stand-up job. Alpine Start is one great example, available in original, Dirty Chai and Coconut Creamer flavors. The best part about this coffee is that it works in hot or cold water.
For a gift to help keep your favorite traveler wired, we thought this would pair well with some Eat Your Coffee bars, which contain the caffeine equivalent of a cup of coffee in every bar.
7. Luxury Caramels
For the person who has everything and leads the minimalist life of a road warrior, a box of gourmet caramels from McCrea's Candies fits the bill. Handcrafted in Boston, these slow-cooked candies are available in seven flavors, from Black Lava Sea Salt to Ginger Fusion and Café Noir, balancing sweet with salty and spicy.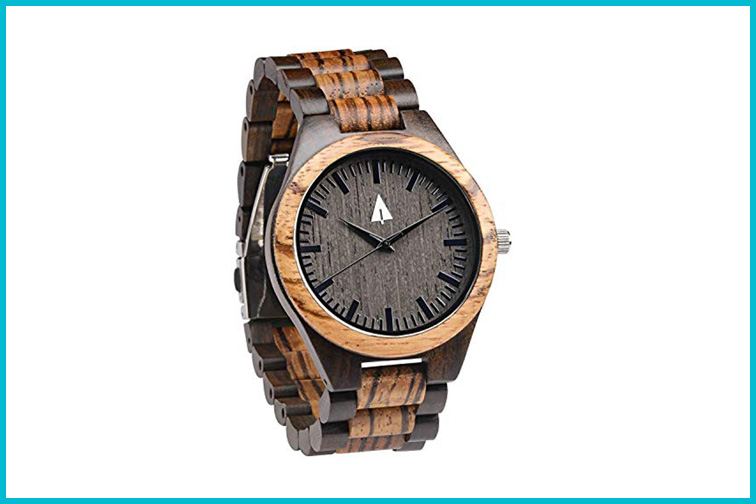 8. Treehut Bamboo Men's Watch
A trip to Bali inspired the beautiful bamboo-and-leather designs of Treehut watches, which aren't so much about luxury as they are about quality craftsmanship and an appreciation for showcasing natural materials. Each watch, which incorporates light bamboo woods and genuine leather, is unique yet simple, and universal enough to work with a variety of wardrobe styles in rich brown and black hues.
9. Wacom Intuos Tablet
The Wacom Intuos pen and touch tablet is a handy gadget that is simple in its interface, yet sophisticated in terms of what it can do. If you know how to use a pen and paper, you already know how to work with this touch tablet, which will quickly replace your regular ol' computer mouse. For signing contracts, taking notes, or even just letting your kids play illustrator on your computer, this is a great tool that will greatly expand the capabilities of your existing technology. And for travelers, the small size (and smartphone-sized slim dimension) make it easy to take along on the road.
10. The M.C. Hammie
Besides the awesome name, the M.C. Hammie from Wildish earns high marks for its versatility, particularly for any adults on your list that have an adventurous streak. This double hammock, which comes with built-in tree straps, would make MacGyver proud, since it can convert into a sun shelter or fort for a campout, and can also be used as a blanket for a picnic or day at the beach. The M.C. Hammie packs up nice and small for your friend or family member who loves getting out in the great outdoors.
11. A Great Men's Soap
A little bit practical, a little bit luxurious, the Aidan Gill Super Facial Cleansing Bar is a highly-concentrated cleansing bar that provides an incredible lather (enough to shave with) and a deep clean for the skin. One user said his bar lasted more than a year. This product is made in the USA by a company named for a Dublin-born and London-trained barber, Aidan Gill, who also has a full line of high-quality razors, shave balms, creams, oils, and brush kits.
12. Portable Power Bank
Another essential for travelers is a reliable battery backup for charging your cell phone, tablet, or laptop while you're on the road. We asked some travel writers for their favorite recommendations, and one suggestion that came up consistently was the myCharge AdventurePlus portable charger. It allows you to charge more than one device at a time and holds a charge for a long time—some users report that it charged their phones three times before needing to be plugged in.
13. Portable Washing Machine
If you've got a budget or minimalist traveler in your life, the Scrubba Wash Bag could change the game for their packing list. Most travelers have occasionally resorted to washing a pair of underwear or two in a hotel sink, but this "washing machine in a bag" allows you to really get your clothes clean in a cheap, easy, and effective way. Just pour in a bit of laundry detergent and water, scrub, rinse and hang to dry. You can add a few easy-wash items of clothing (such as these prAna pants) to make this gift even better.
14. CBD-Infused Muscle Rub
CBD products are all the rage this year, from dog bones to calming gummies. We liked the Quanta Muscle Rub, which comes in an easy-traveling 1-ounce tin. The balm smells minty and spicy and felt soothing—definitely an upgrade from some of the overly medicinal smelling muscle relief products on the market. For the adults on your list who are runners or are serious about getting their workouts in at the hotel gym, this is a great gift idea.
15. Lay-Flat Make-Up Bag
Help make cosmetic packing a cinch with this Lay-n-Go Cosmetic Bag, an ingenious bag that lays flat and displays all your makeup, brushes, and other tools for easy organization, and then gathers up into a tidy bag when you're ready to check out of the hotel. The nylon material repels water, too.
Related: Best Toiletry Bags for Moms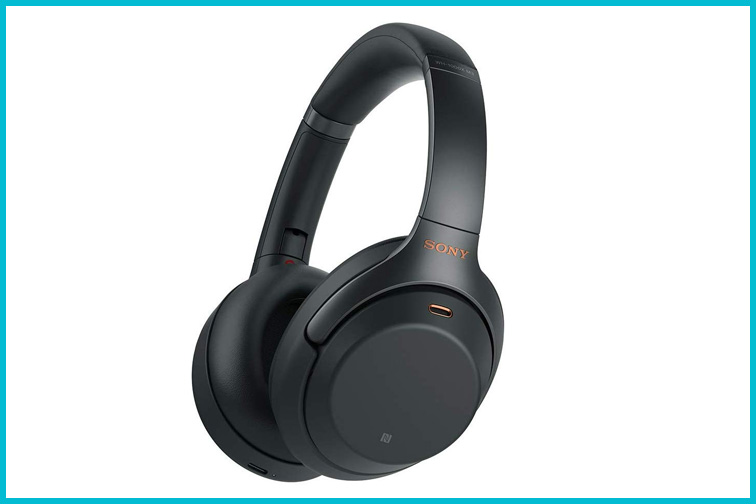 16. Noise-Cancelling Headphones
Frequent fliers are worth the splurge on a high-quality pair of noise-canceling headphones. The best brands, such as Sony's WH1000XM3 are wireless and have 30-hour battery life. You can also use the voice assistant to scroll through your music, turn the music up or down with a quick touch, and fold them up for easy transport.
Related: Best Headphones for Parents
17. Portable Speaker
This is one of those products that you don't realize how handy it will be until you have it. Particularly if you have an existing smart speaker, like the Amazon Echo, a secondary wireless speaker like the Anker Soundcore Flare Mini is a great option for carrying your tunes from one room to the other without unplugging. This little-yet-mighty speaker is also waterproof. We tested it out on a family 5K Bubble Run, and it successfully provided the tunes throughout our entire day in the suds. We also used it while soaking in the tub, without worrying about splashes. It'd be great to use it at the beach or the pool, too.
18. Bring Back the Fanny Pack
Those of us of a certain age have lived through at least one fanny pack era, only to see the utilitarian fashion accessory roundly shunned. Well, if you aren't aware, the fanny pack is back. And it turns out to be a fantastic travel companion. The HEX Unisex Waist Pack is a secure way to keep your belongings like phone, camera or wallet strapped close to you, while having your hands free to explore. The updated fanny pack can either be worn in the classic, round-the-waist style, or across the shoulder. They are gender neutral and come in fun prints.
19. Lotion Made by Survivors
It was instant inspiration when we visited Thistle Farms in Nashville, a socially conscious business venture that employs women who have survived trafficking and addiction and now make a living wage creating bath, body and home products. We particularly love the body lotions. It's thick and packed with fragrance, and great for combatting travel-induced dryness.
20. Soothing Face Masks
Ideal for a stocking stuffer or a colorful gift basket for your friend on the go, this 24-pack of Dermal Korean collagen facial masks is an instant refresher for that person who might not have time for regular facials or skin maintenance. We love tucking a few of these in our cosmetic bags for a quick before-bed relaxation ritual while we're on the road. The varieties range from soothing (cucumber) to interesting (snail?).
21. Fire TV Stick
Parents in particular will find a Fire TV Stick useful when traveling with their kids. The handy tool allows people to transport the shows their family loves watching with their Amazon Prime, Netflix, Sling, HBO, and other services, simply plug it into the hotel TV's HDMI port, and surf all your TV shows and movies instantly.
22. Insulated Water Bottle
Help your loved one to stay hydrated while traveling with a high-quality insulated water bottle, which can be refilled at the airport drinking fountain or the hotel lobby. Our fave? This stainless steel, vacuum insulated bottle by Hydro Flask has lasted for nearly five years, throughout daily runs in the dishwasher, and still keeps drinks icy—even after a long day at the beach.
Related: Best Kid-Proof Water Bottles for Travel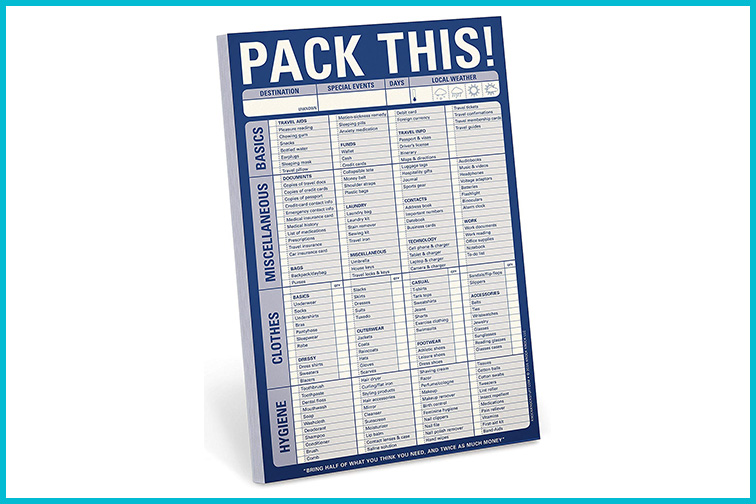 23. Knock Knock Pack This! List
For anyone who's a fan of a good checklist (and who isn't?), these tear-off packing lists from Knock Knock allow you to see at a glance what's left to pack for your next trip, from important documents to outerwear. Even seasoned travelers will enjoy a fresh list for each trip, reducing the likelihood that they'll forget something important (it happens to everyone). Other fun checklist variations, which would make great stocking stuffers: a Don't Kill the Kids list for babysitters; Paper Voodoo; and even a Reality Checklist notepad.
Cynthia J. Drake is a travel writer based in Austin, Texas, where she lives with her husband and two sons. Since becoming a mom, she's been stranded at sea with her family, gotten lost in the Rocky Mountains, dealt with more than her fair share of public vomiting, and still can't wait for the next trip. She writes regularly for AAA magazines, Austin American-Statesman, Texas Highways and Cruise Critic. Follow her on Facebook and Twitter.
Some products for this article were also provided for review.
What to Pack for Your Next Trip