With so many gift options for preschoolers and little kids, it can be tough to narrow down your holiday shopping list. So we've done the research on what's new and popular for 2019, and have also added some all-time favorites. These are the best gifts for 3 year olds, 4 year olds, 5 year olds and 6 year olds.
Best Gifts for 3 Year Olds

Disney Frozen 2 Adventure Collection Doll Set
With Disney's Frozen 2 out this November, the Disney Frozen 2 Adventure Collection Doll Set will warm the hearts of preschoolers and young kids. Anna, Elsa, Olaf, Kristoff and Sven dolls, as well as a gale wind accessory, are all included. Kids can play out scenes from the movie or create their own magical wonderland.
Green Toys Ferry Boat with Mini Cars Bathtub Toy
Whether in a bathtub or at the pool or beach, this ferry boat with slide-out ramp and two cars will delight toddlers and preschoolers. Plus, this Green Toys Ferry Boat and other Green Toys are made from plastic milk jugs, so it's a win for the planet, too!

Melissa & Doug Tote & Tour Pet Travel Play Set
If your kids are animal lovers, they'll love the Melissa & Doug Tote & Tour Travel Play Set. This pet carrier set includes a collapsible bowl, bed, customizable name tags, and other travel essentials for your little one's new cat and dog. On vacation and at home, kids can play vet or practice caring for furry friends.

Hape Dynamo Wooden Domino Set
Children will have as much fun building a colorful domino creation as they will watching it fall down. Designed with little fingers in mind, the Hape Dynamo Wooden Domino Set includes 100 wooden dominoes and seven trick pieces, including a bell and a bridge. Youngsters will use logic and hand-eye coordination to balance and test cause and effect. Adults will also appreciate collaborating on fun designs and watching them come crashing down. This gift is great for Grandma's house!
ALEX Toys Little Hands Paper Bag Monsters
These award-winning crafts are a hit with kids and adults alike because the five funny face monsters are packaged separately, easy to assemble and ignite imaginations. Tuck the ALEX Toys Little Hands Paper Bag Monsters in a carry-on bag for fun on the airplane or use for school or play group parties.
Best Gifts for 4 Year Olds

Fun Little Toys Camping Play Set
This 18-piece camping play set by Fun Little Toys is sure to be a dream for little outdoor adventurers. Preschoolers can pretend they're hiking, cooking and navigating the outdoors, or even take it on their next camping trip. The collapsible tent can also be used as a play space or even as a private reading nook.

Paw Patrol Mighty Pups 2-in-1 Jet Command Center
Rescue missions come to life for mighty Paw Patrol enthusiasts with this fairly large, durable jet/command center combo (which requires no assembly—parenting win!). Open the jet to transform it into a command center. Launch Ryder in the mini jet by the touch of a button. Five flying discs, lights and sounds fire kids up for adventure.
Little Experimenter Night Vision Binoculars
The Little Experimenter Night Vision Binoculars offer tough construction designed to fit the hands of little kids, but clear views to take in the sights—at night! Designed for ages 3 and up, the binoculars are focus-free and feature a large and flexible eyepiece, flashlight and neck strap with safety clasp.

Activ Life Kid's Frisbee Rings
This two-pack of lightweight, easy-to-toss and catch Frisbees is the perfect toy to get kids outside and active. The unique design of the Activities Life Kid's Frisbee Rings helps them sail straighter and float in water, too. Take these on your next beach vacation and activate the kid in everyone!

Magna-Qubix Magnetic 3D Building Shapes
These small, colorful, magnetic shapes, designed for ages 3 and up, are sure to keep little hands and minds creating for hours. Pair with Magna-Tiles or other creative toys and watch imaginations take off while math, science and spatial skills are secretly built, too! This set is small enough to use on a plane tray table or even in the car.
Best Gifts for 5 Year Olds

WowWee Untamed Radioactive Dinosaurs
The makers of Fingerlings Monkeys have now come out with untamed, radioactive dinosaurs that roar, chomp and make sounds like they're releasing gas. Kids can place the WowWee Untamed Radioactive Dinosaurs on their fingers and interact with them through lights, sounds and motion. They're especially great gifts to pack for a trip.
Barbie Dreamtopia Brush 'n Sparkle Unicorn
Unicorns are all the rage right now, so why not gift your little one with the Barbie Dreamtopia Brush 'n Sparkle Unicorn? The white, shimmery Barbie Dreamtopia Unicorn has long, pink hair, and stars light up and play music when you brush its mane or tail, or touch the star button. Kids love to watch the light show in the dark and dream about fantastical tales as they listen to the whimsical tunes.

Treasure X Aliens
If slime, aliens and treasure hunting sound cool to your kid, they'll be fascinated by the Treasure X Aliens. Cut the alien open and pull the hunter character out of the slime-filled belly. Find the treasure hunter's weapon and a treasure (perhaps even a real gem) inside the stomach too, The slime can be squished inside the alien head to have it ooze out of its face. Be sure to save the slime in the included container for future fun!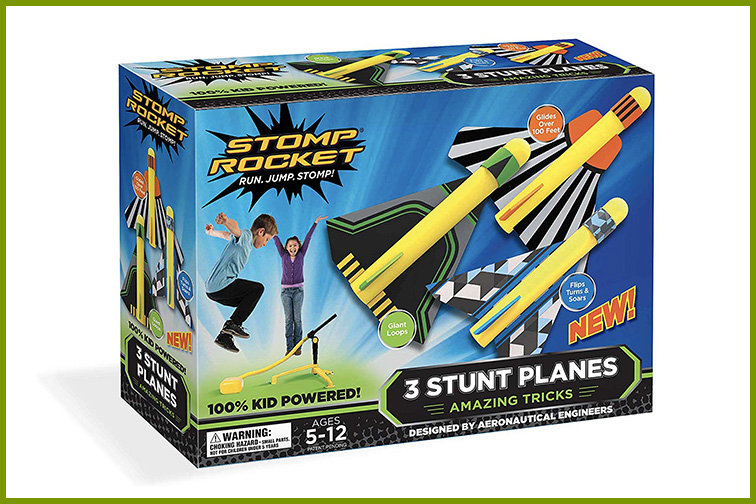 Stomp Rockets Stunt Planes
Kids and parents will love active, engaging toys like Stomp Rockets, especially after a long day of traveling. The Stunt Planes are designed by aeronautical engineers for pure fun experimenting with STEM principles; they're recommended for ages 5 and up. Kids jump on the launch pad to send one of three planes soaring into the skies. Test angles or stomping power to see how they affect the rockets' speed or flight path. Stomp Rockets are great for trips as they're relatively small.
Best Gifts for 6 Year Olds

Magnetic Dart Board
A magnetic dart board can offer hours of entertainment and is easy to set up anywhere, as it hangs indoors or outdoors on a small nail or hook. Magnetic darts are safer for little kids, plus the game helps with hand-eye coordination, aim and number skills. Friends and family of all ages will want to join in the fun. You can even pack the slim board to take on your next trip.
ZOOB RacerZ Car Designer
Curious, creative kids who love to build and play with cars will be enthralled with ZOOB RacerZ Car Designer. This building set comes with wheels and parts that rotate and spin so that you can make your masterpiece move. Consider taking them on the move with you to keep kids busy for hours.
My Book About Me by Dr. Seuss and Roy McKie
Little writers will enjoy customizing this book with information on activities they enjoy, pictures of themselves, and facts about their home and neighborhood. In its 50th anniversary, My Book About Me is still super fun and silly, engaging kids to count the number of sinks in their house, declare the farthest they've been from home, and various other interesting tasks. Parents will treasure the completed book as a keepsake for years to come.
Long Range Walkie Talkies for Kids
These child-size walkie-talkie sets work within a large, two-mile range. Kids can communicate with the touch of a button and hear clear voices with minimal feedback. They're especially great for outdoor adventures and cruises.
Cortney Fries (pronounced "freeze") is an award-winning Chicago-based writer and mom to two spunky elementary school-age kids. She loves nothing more than traveling with family, having adventures with friends and exploring the outdoors. Cortney believes that you should definitely do things that scare you just a little bit. Follow her on Instagram, @cortneyfries.
What to Pack for Your Next Trip
For info on these editor-selected items, click to visit the seller's site. Things you buy may earn us a commission.