For those who've always imagined wielding a lightsaber and walking in Luke Skywalker's footsteps, Star Wars: Galaxy's Edge is a dream come true. After visiting the newly opened Star Wars: Galaxy's Edge at Disneyland and Disney World, we've created this comprehensive guide to help you and your family safely land in Black Spire Outpost and maximize your time on the Planet Batuu (the setting for Galaxy's Edge).
1. Stay at an Official Disney Resort Hotel
Staying at a Disney Resort Hotel won't guarantee access to Star Wars: Galaxy's Edge, but does allow entry to the park during Extra Magic Hours. This will ensure your family is in place, up front, once the land opens for the day.
Staying at a Walt Disney World Resort hotel provides Extra Magic Hours benefits for all onsite hotel guests. Extra Magic Hours at Disney's Hollywood Studios occur from 6 to 9 a.m., allowing families to get into the park, head to Galaxy's Edge, and knock off the two signature attractions: Star Wars: Rise of the Resistance and Millennium Falcon: Smugglers Run, before the lines get too long.

2. Head Straight for Star Wars: Rise of the Resistance
Star Wars: Rise of the Resistance opens January 17, 2020 in Disneyland. We were able to ride it at Disney's Hollywood Studios in December. The attractions are identical, so the tips remain the same. As soon as you enter the theme park, check your theme park app to see if the virtual queue is active for Rise of the Resistance. If it is, request to join the virtual queue immediately to get assigned to a boarding group. Once your boarding group is called, you have two hours to enter the attraction. If there's no virtual queue, enter the land as soon as it opens and make a bee-line to Rise of the Resistance.
Disney promised that Star Wars: Rise of the Resistance would be "the most ambitious, immersive, advanced, action-packed attraction ever created," and they did not disappoint. At nearly 20 minutes in length, the ride is one of the longest in a Disney Park. Throughout the queue and ride, familiar Star Wars characters including Rey, BB-8, Poe, Finn, Hux, and Kylo Ren all make appearances via video or audio animatronic figures (sometimes both). During the ride-portion of the fast-paced attraction, families board a transport and race through a Star Destroyer, weave past 50-foot-tall AT-AT walkers and Turbocannons, dodge Stormtrooper blasts, and evade the ever present Kylo Ren. The ride ends with a small drop and simulated free-fall back down to the planet surface.
Star Wars: Rise of the Resistance is an intense attraction with a 40-inch height requirement. It is dark, loud, and has bright, flashing lights. In terms of scariness, if your child can handle DINOSAUR at Disney's Animal Kingdom, they should have no trouble with Star Wars: Rise of the Resistance—especially if they're familiar with, and fans of, the Star Wars movies.
3. Ride Millennium Falcon: Smuggler's Run Next
After riding Star Wars: Rise of the Resistance, make your way over to Millennium Falcon: Smuggler's Run. You may not see it right away, as it's hidden in the back with an impressive cinematic reveal. The wait for Millennium Falcon: Smuggler's Run will get longer and longer over the course of the day, so ride it as soon as you can in the morning. As with many new Disney attractions, there is no FastPass option available when it first opens—so everyone will need to wait in the standby line.
When your crew is called, six people strap into the Millennium Falcon cockpit assigned to one of three roles: pilot, gunner, or engineer. Each role is crucial to the success of the mission, and the crew must work together in order to succeed. While all roles are important, the pilots who sit in front and steer the ship will have the most fun. Note: Those prone to motion sickness should sit further back in the cockpit (gunner or engineer role).
The 38-inch height requirement ensures the ride is suitable for young children. The ride is dark and loud, but not too scary at all.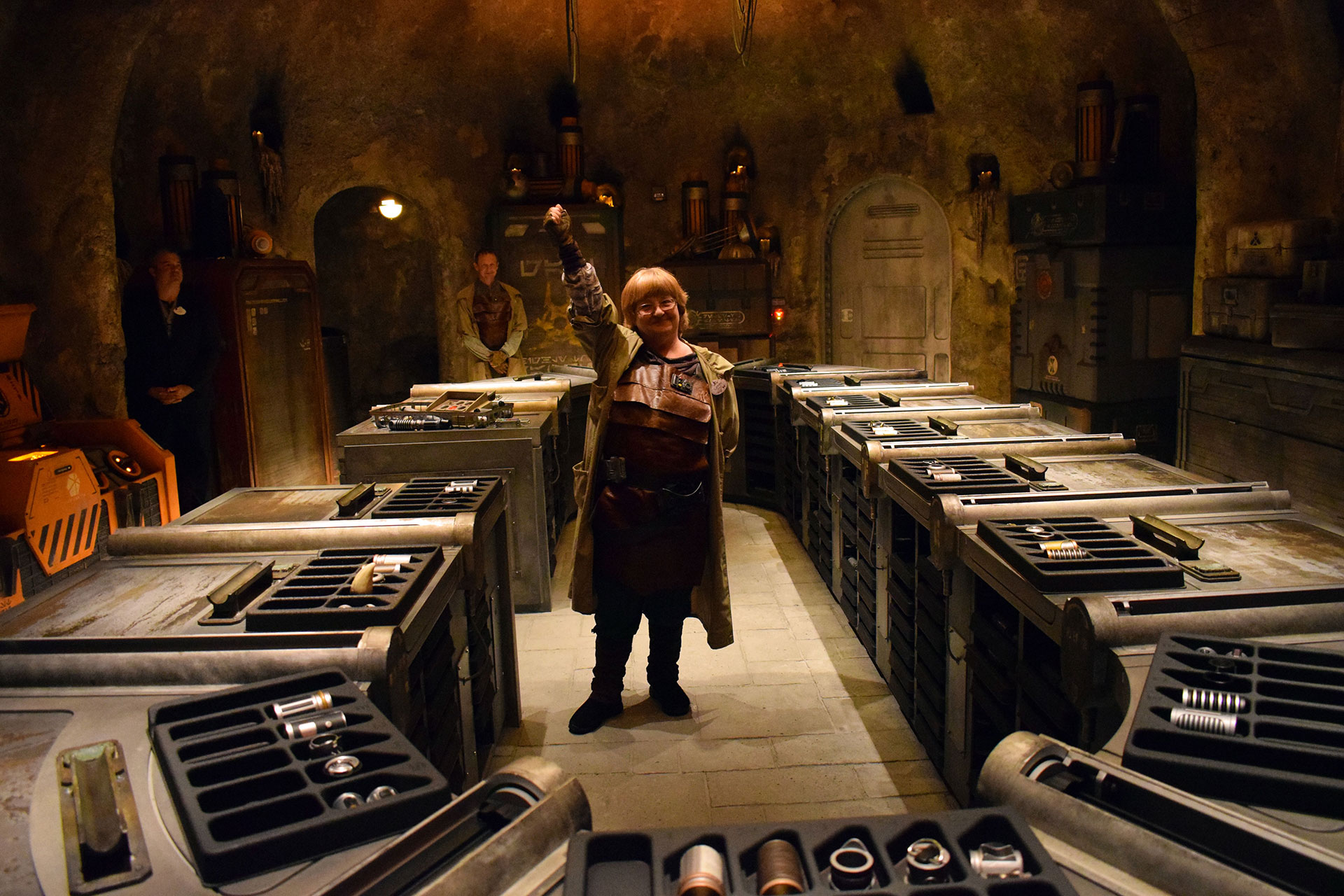 4. Build Your Own Lightsabers at Savi's Workshop
There are two premium, interactive "build-your-own" experiences in Galaxy's Edge. First is the build-your-own lightsaber at Savi's Workshop for $200. During the 20-minute experience, a Master Craftsman guides you through the entire process with lots of lore and Star Wars surprises. Only 28 people at a time can enter the small chamber—14 builders can each bring one guest along with them. Prepare your family ahead of time to decide who wants to accompany the lightsaber builder. There are four different types of lightsabers with heavy, substantial hilts. These are not the plastic, extendable sabers, although those are relabeled and sold as "Padawan" (young training) lightsabers in the gift shops. At $200, this is a pricey souvenir that may be best for the "super" Star Wars fan.
5. Make Your Own Droid at the Droid Depot
The second experience is found at the Droid Depot. This factory is filled with pieces and parts for families to create their own Astromech Droid (like R2-D2 or BB-8) for $100. While pricey, this is a souvenir better suited for younger children compared to the lightsaber. The radio-controlled Droid created at the depot is well worth the investment and has lots of "play"-ability for families and their kids. The Droid is also equipped with Bluetooth technology to interact with other equipment inside Galaxy's Edge. Also, if your child is a fan of the Droids from the films, you can purchase pre-made "stock" droids including: BB-8, R2-D2, and C-3PO.
6. Don't Miss the Themed Drinks
Who hasn't wanted to venture inside a Star Wars Cantina since they first saw it on the big screen? Oga's Cantina is a must when visiting the new Star Wars Land. Just know that seating is limited inside and reservations are highly recommended. Reservations for Oga's Cantina can be made up to 60 days in advance on the Disney Parks website or using the park app.
In the morning, Oga serves a Star Wars version of a Bloody Mary called a "Bloody Rancor" and a "Spiran Caf" alcoholic coffee, both of which are absolutely delicious! Afternoon and evening cocktails have clever names such as Jedi Mind Trick, Fuzzy Tauntaun, and a Yub Nub served in a Tiki-style souvenir mug. Oga's Cantina does not offer much food, but has a sweet roll and oats for breakfast and a bowl of Batuu Bits crispy snacks for the afternoon and evening.
Travelers looking for a heartier meal should head to Docking Bay 7 Food and Cargo—the counter-service dining location in the land. Docking Bay 7 offers breakfast, lunch, and dinner, as well as kids' options for each. To keep the immersion going, traditional dishes are given Star Wars names—you'll find Kaadu (pork) ribs, Fried Endorian Tip-yip (chicken), and Batuu-bon (chocolate cake with coffee custard) for dessert. Looking for a sandwich on the go? Ronto Roasters offers a signature Ronto Wrap (an absolutely delicious roasted pork and grilled sausage topped with slaw).
One beverage we saw Luke Skywalker drink on screen is milk—a Blue variety in the original Star Wars film and Green Milk in Star Wars: The Last Jedi. You will find both versions served at the Milk Stand, but don't expect a thick dairy drink (that wouldn't hold up in a theme park). Both the Blue and Green "Milk" drinks are non-dairy frozen drinks made from rice and coconut milk—very refreshing. Blue Milk is a berry flavored tropical drink, and Green Milk has citrus and mint overtones.
Our recommendations for food inside Star Wars: Galaxy's Edge are the Ronto Wrap and Batuu-Bon washed down with a Blue Milk.
7. Savor the Atmosphere in Star Wars: Galaxy's Edge
Once your family has enjoyed the two signature rides/attractions, take time to soak up the atmosphere within Star Wars: Galaxy's Edge. Talk to the costumed workers, ask them their backstories, and learn the elaborate tales that go along with their characters. Walt Disney Imagineers have created a setting so rich in details and tributes to the Star Wars films that the land is a whole attraction unto itself.
Dave Parfitt lives in Rochester, New York, with his wife and two daughters. A runner with a PhD in neuroscience, he lived in numerous Northeastern and Midwestern U.S. cities before taking a college job in the Finger Lakes. He's traveled worldwide, but a Walt Disney World trip with two budding princesses is the trip that elicited the family travel wanderlust. He shares his vacation tips and tricks on AdventuresbyDaddy.com.
What to Pack for Your Next Trip
For info on these editor-selected items, click to visit the seller's site. Things you buy may earn us a commission.
Our team of parents and travel experts chooses each product and service we recommend. Anything you purchase through links on our site may earn us a commission.