The Best Spooky Halloween Books for Kids and Tweens
Spooky middle-grade fiction aimed at children ages eight and up has seen a creative renaissance in recent years, with more and more options available for kids and tweens. And while there's no doubt that kids love Halloween stories, it can be hard to know which scary books are age-appropriate for younger readers. Some books are slightly spooky, others delightfully creepy, and still others downright scary. Use this guide, curated by the parents and experts of Family Vacation Critic, to find the best Halloween books and graphic novels for kids and tweens.
From the publisher: "After suffering a tragic loss, eleven-year-old Ollie, who only finds solace in books, discovers a chilling ghost story about a girl named Beth, the two brothers who loved her, and a peculiar deal made with 'the smiling man'—a sinister specter who grants your most tightly held wish, but only for the ultimate price.
"Captivated by the tale, Ollie begins to wonder if the smiling man might be real when she stumbles upon the graves of the very people she's been reading about on a school trip to a nearby farm. Then, later, when her school bus breaks down on the ride home, the strange bus driver tells Ollie and her classmates: 'Best get moving. At nightfall they'll come for the rest of you.' Nightfall is, indeed, fast descending when Ollie's previously broken digital wristwatch begins a startling countdown and delivers a terrifying message: RUN.
"Only Ollie and two of her classmates heed these warnings. As the trio head out into the woods—bordered by a field of scarecrows that seem to be watching them—the bus driver has just one final piece of advice for Ollie and her friends: 'Avoid large places. Keep to small.'
"And with that, a deliciously creepy and hair-raising adventure begins."
What critics say: "Atmospheric horror at its best. Chillingly tender."—Kirkus, starred review
Our take: A terrifying-but-tender page turner, fast-paced and spine-tingling, but centered around relatable characters. Best for ages 10 and up. Followed by a sequel, Dead Voices. Great middle-grade horror.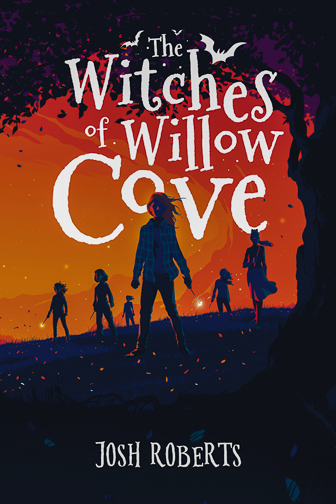 From the publisher: "It's not easy being a teenage witch. Seventh grader Abby Shepherd is just getting the hang of it when weird stuff starts happening all around her hometown of Willow Cove. Green slime bubbling to life in science class. Giant snakes slithering around the middle school gym. Her best friend suddenly keeping secrets and telling lies.
"Things only begin to make sense when a stranger named Miss Winters reveals that Abby isn't the only young witch in town—and that Willow Cove is home to a secret past that connects them all. Miss Winters, herself a witch, even offers to teach Abby and the others everything she knows about witchcraft.
"But as Abby learns more about Miss Winters' past, she begins to suspect her new mentor is keeping secrets of her own. Can Abby trust her, or does Miss Winters have something wicked planned for the young witches of Willow Cove?"
What critics say: "Full of magic, mayhem, gripping danger, and a good dose of humor… Hits all the sweet spots for the modern spooky middle grade novel." —WritersRumpus
Our take: This twisty-turny supernatural page-turner is brimming with mystery, suspense, a lovable cast of characters, and a delightfully enigmatic villain—a clever synthesis of Salem witch lore and magical adventures. Best for ages 10 and up. Spooky and atmospheric, but not scary.
From the publisher: "Corinne La Mer isn't afraid of anything. Not scorpions, not the boys who tease her, and certainly not jumbies. They're just tricksters parents make up to frighten their children. Then one night Corinne chases an agouti all the way into the forbidden forest. Those shining yellow eyes that followed her to the edge of the trees, they couldn't belong to a jumbie. Or could they?
"When Corinne spots a beautiful stranger speaking to the town witch at the market the next day, she knows something unexpected is about to happen. And when this same beauty, called Severine, turns up at Corinne's house, Corinne is sure that danger is in the air. She soon finds out that bewitching her father, Pierre, is only the first step in Severine's plan to claim the entire island for the jumbies. Corinne must call on her courage and her friends and learn to use ancient magic she didn't know she possessed to stop Severine and to save her island home."
What critics say: "Endlessly addictive and hypnotic… Baptiste has a lot of fun remixing the classic Haitian folktale The Magic Orange Tree, while adding her own original touches." —Essence
Our take: A refreshingly original retelling of Haitian folklore, with loads of creepy elements and a heavy dose of adventure. Followed by two sequels, Rise of the Jumbies and The Jumbie God's Revenge. A little bit spooky, but mostly a rousing fantasy adventure.
From the publisher: "It takes graveyard to raise a child. Nobody Owens, known as Bod, is a normal boy. He would be completely normal if he didn't live in a graveyard, being raised by ghosts, with a guardian who belongs to neither the world of the living nor the dead.
"There are adventures in the graveyard for a boy—an ancient Indigo Man, a gateway to the abandoned city of ghouls, the strange and terrible Sleer. But if Bod leaves the graveyard, he will be in danger from the man Jack—who has already killed Bod's family."
What critics say: "The Graveyard Book, by turns exciting and witty, sinister and tender, shows Gaiman at the top of his form. In this novel of wonder, Neil Gaiman follows in the footsteps of long-ago storytellers, weaving a tale of unforgettable enchantment." —New York Times Book Review
Our take: Neil Gaiman's masterpiece is the only book to ever to win both the Newbery (US) and Carnegie (UK) medals for best children's book of the year. Appropriate for ages 10 and up. Creepy, but not especially scary.
From the publisher: "A boy is imprisoned by a witch and must tell her a new scary story each night to stay alive. Alex's original hair-raising tales are the only thing keeping the witch Natacha happy, but soon he'll run out of pages to read from and be trapped forever. He's loved scary stories his whole life, and he knows most don't have a happily ever after. Now that Alex is trapped in a true terrifying tale, he's desperate for a different ending—and a way out of this twisted place.
"This modern spin on the Scheherazade story is perfect for fans of Coraline and A Tale Dark and Grimm. With interwoven tips on writing with suspense, adding in plot twists, hooks, interior logic, and dealing with writer's block, this is the ideal book for budding writers and all readers of delightfully just-dark-enough tales."
What critics say: "The blend of folk and fairy tale elements works extremely well. Despite the dark premise, the narrative never crosses the line into horror, making it a safe bet for younger readers." —Publishers Weekly, starred review
Our take: Perfect for kids with a taste for terror and literary flair of their own. Appropriate for ages eight and up. A creepy read that's just scary enough.
From the publisher: "Olivia Stellatella is having a rough year. Her mother's left, her neglectful father—the maestro of a failing orchestra—has moved her and her grandmother into the city's dark, broken-down concert hall to save money, and her only friend is Igor, an ornery stray cat.
"Just when she thinks life couldn't get any weirder, she meets four ghosts who haunt the hall. They need Olivia's help—if the hall is torn down, they'll be stuck as ghosts forever, never able to move on.
"Olivia has to do the impossible for her shadowy new friends: Save the concert hall. But helping the dead has powerful consequences for the living… and soon it's not just the concert hall that needs saving."
What critics say: "A horror-tinged tale of triumph over loss and the destructive nature of hopelessness, that is full of well-rounded characters, a spooky gothic mood, and eerie glimpses into the past lives of the ghosts." —Booklist
Our take: A not-too-scary ghost story (the ghosts are, after all, friendly) that finds its frights in all-too-real misfortunes like the loss of a loved one. The sweetly snarky Olivia is a character to remember. Best for ages eight and up.
From the publisher: "The Night Gardener follows two abandoned Irish siblings who travel to work as servants at a creepy, crumbling English manor house. But the house and its family are not quite what they seem. Soon the children are confronted by a mysterious specter and an ancient curse that threatens their very lives."
What critics say: "Auxier achieves an ideal mix of adventure and horror, offering all of it in elegant, atmospheric language that forces the reader to slow down a bit and revel in both the high-quality plot and the storytelling itself." —Bulletin of the Center for Children's Books
Our take: A spooky Victorian ghost story with characters you'll care about and a nocturnal visitor creepy enough to spook even the hardiest of young readers. Appropriate for ages 12 and up. One of the more creepy books for kids on this list.
From the publisher: "A sinister Problem has occurred in London: all nature of ghosts, haunts, spirits, and specters are appearing throughout the city, and they aren't exactly friendly. Only young people have the psychic abilities required to see-and eradicate-these supernatural foes. Many different Psychic Detection Agencies have cropped up to handle the dangerous work, and they are in fierce competition for business.
"In The Screaming Staircase, the plucky and talented Lucy Carlyle teams up with Anthony Lockwood, the charismatic leader of Lockwood & Co, a small agency that runs independent of any adult supervision. After an assignment leads to both a grisly discovery and a disastrous end, Lucy, Anthony, and their sarcastic colleague, George, are forced to take part in the perilous investigation of Combe Carey Hall, one of the most haunted houses in England. Will Lockwood & Co. survive the Hall's legendary Screaming Staircase and Red Room to see another day?"
What critics say: "Smart as a whip, funny, witty, and honestly frightening at times, Stroud lets loose and gives readers exactly what they want. Ghosts, kids on their own without adult supervision, and loads of delicious cookies." —School Library Journal
Our take: This inventive, funny, and often scary ghost story is the first in Stroud's five-book Lockwood & Co series. Best for tween readers ages 12 and up. One of our favorite spooky stories to read at Halloween or any time; the rest of the series is very good, too.
From the publisher: "Ever since Cass almost drowned (okay, she did drown, but she doesn't like to think about it), she can pull back the Veil that separates the living from the dead… and enter the world of spirits. Her best friend is even a ghost. So things are already pretty strange. But they're about to get much stranger.
"When Cass's parents start hosting a TV show about the world's most haunted places, the family heads off to Edinburgh, Scotland. Here, graveyards, castles, and secret passageways teem with restless phantoms. And when Cass meets a girl who shares her 'gift,' she realizes how much she still has to learn about the Veil—and herself.
"And she'll have to learn fast. The city of ghosts is more dangerous than she ever imagined."
What critics say: "[A] fresh spin on ghost tales. [Schwab] evokes the real-world Edinburgh with plenty of vivid sensory detail, and imbues the Veil and its inhabitants with spine-tingling spookiness and melancholy. The humor and warmth of the protagonists' strong bond and the support and safety of Cass's and Lara's loving families nicely balance the suspense of this supernatural adventure." —The Horn Book
Our take: Overflowing with humor, heart, and just the right amount of spookiness. Great for middle-grade readers ages nine and older. Followed by a sequel, Tunnel of Bones.
From the publisher: "Tessa Woodward isn't exactly thrilled to move to rainy, cold Chicago from her home in sunny Florida. But homesickness turns to icy fear when unexplainable things start happening in her new house. Things like flickering lights, mysterious drawings appearing out of nowhere, and a crackling noise she can feel in her bones.
"When her little brother's doll starts crying real tears, Tessa realizes that someone—or something—is trying to communicate with her. And it involves a secret that's been shrouded in mystery for more than one hundred years.
"With the help of three new friends, Tessa begins unraveling the mystery of what happened in the house on Shady Street—and more importantly, what it has to do with her!"
What critics say: "Just the ticket for a cold autumn night." —Kirkus
Our take: Currie's debut earns its spooks with a slow and steady drumbeat of foreboding. Recommended for kids ages eight and up. One of the creepier books on our list (we mean that in a good way!).
Hoodoo by Ronald L. Smith
From the publisher: "Twelve-year-old Hoodoo Hatcher was born into a family with a rich tradition of practicing folk magic: hoodoo, as most people call it. But even though his name is Hoodoo, he can't seem to cast a simple spell.
"Then a mysterious man called the Stranger comes to town, and Hoodoo starts dreaming of the dead rising from their graves. Even worse, he soon learns the Stranger is looking for a boy. Not just any boy. A boy named Hoodoo. The entire town is at risk from the Stranger's black magic, and only Hoodoo can defeat him. He'll just need to learn how to conjure first.
What critics say: "The horror element is just as vividly drawn, with the terrifying Stranger rivaling Barraclough's Long Lankin in his creepiness. The straightforward plot makes this accessible to younger readers, and the atmospheric setting will certainly leave them with a chill." —The Bulletin of the Center for Children's Books
Our take: Set against a backdrop of 1930s Alabama, this spooky book goes heavy on the creep factor, but its gentle humor softens the scares. Best for ages 10 and up.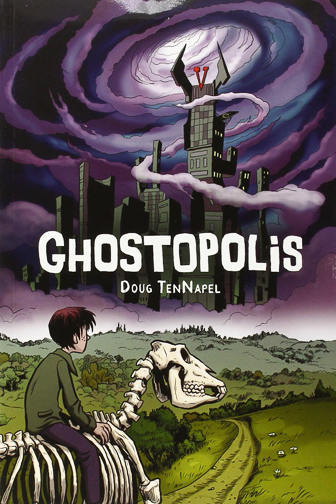 From the publisher: "Imagine Garth Hale's surprise when he's accidentally zapped to the spirit world by Frank Gallows, a washed-out ghost wrangler. Suddenly Garth finds he has powers the ghosts don't have, and he's stuck in a world run by the evil ruler of Ghostopolis, who would use Garth's newfound abilities to rule the ghostly kingdom.
"When Garth meets Cecil, his grandfather's ghost, the two search for a way to get Garth back home, and nearly lose hope until Frank Gallows shows up to fix his mistake."
What critics say: "Creepy details, quick quips and a wry, deadpan (pun absolutely intended) humor are sure to delight." —Kirkus
Our take: This graphic novel for ages nine and up takes readers to a ghostly underworld populated with ghoulishly fun characters. An exciting adventure story in a spooky land-of-the-dead setting.
From the publisher: "Eddie Fennicks has always been a loner, content to lose himself in a mystery novel by his favorite author, Nathaniel Olmstead. That's why moving to the small town of Gatesweed becomes a dream come true when Eddie discovers that Olmstead lived there before mysteriously disappearing thirteen years ago. Even better, Eddie finds a handwritten, never-before-seen Nathaniel Olmstead book printed in code and befriends Harris, who's as much an Olmsteady as he is.
"But then the frightening creatures of Olmstead's books begin to show up in real life, and Eddie's dream turns into a nightmare. Eddie, Harris, and their new friend, Maggie, must break Olmstead's code, banish all gremlins and monster lake-dogs from the town of Gatesweed, and solve the mystery of the missing author, all before Eddie's mom finishes writing her own tale of terror and brings to life the scariest creature of all."
What critics say: "Succeeds admirably in its intricate plotting… Fans of John Bellairs will enjoy this fine debut." —Kirkus
Our take: A well-plotted, page-turning adventure. Great for ages nine and up. Some frightening monsters, but nothing too scary.
From the publisher: "Zach, Poppy, and Alice have been friends forever. And for almost as long, they've been playing one continuous, ever-changing game of pirates and thieves, mermaids and warriors. Ruling over all is the Great Queen, a bone-china doll cursing those who displease her.
"But they are in middle school now. Zach's father pushes him to give up make-believe, and Zach quits the game. Their friendship might be over, until Poppy declares she's been having dreams about the Queen—and the ghost of a girl who will not rest until the bone-china doll is buried in her empty grave.
"Zach and Alice and Poppy set off on one last adventure to lay the Queen's ghost to rest. But nothing goes according to plan, and as their adventure turns into an epic journey, creepy things begin to happen. Is the doll just a doll or something more sinister? And if there really is a ghost, will it let them go now that it has them in its clutches?"
What critics say: "A deep, strange, and compelling book, at times lovely, at times heartbreaking and deliciously weird." —New York Times Book Review
Our take: As haunting as it is exciting. A great adventure and a spooky tale with something interesting to say about the challenges of navigating middle school friendships. Perfect for readers ages 10 and up.
From the publisher: "When eleven-year-old Olive and her parents move into the crumbling mansion on Linden Street and find it filled with mysterious paintings, Olive knows the place is creepy—but it isn't until she encounters its three talking cats that she realizes there's something darkly magical afoot. Then Olive finds a pair of antique spectacles in a dusty drawer and discovers the most peculiar thing yet: She can travel inside the house's spooky paintings to a world that's strangely quiet… and eerily sinister.
"But in entering Elsewhere, Olive has been ensnared in a mystery darker and more dangerous than she could have imagined, confronting a power that wants to be rid of her by any means necessary. With only the cats and an unusual boy she meets in Elsewhere on her side, it's up to Olive to save the house from the shadows, before the lights go out for good."
What critics say: "A suspenseful plot and insight into childhood loneliness will have readers anxiously awaiting the new book." —Publishers Weekly, starred review
Our take: With an easy-to-like protagonist and a satisfyingly spooky setting, this is an inventive first entry in the Books of Elsewhere series (there are four sequels). Best for readers ages nine and up.
Ghosts by Raina Telgemeier
From the publisher: "Catrina and her family are moving to the coast of Northern California because her little sister, Maya, is sick. Cat isn't happy about leaving her friends for Bahía de la Luna, but Maya has cystic fibrosis and will benefit from the cool, salty air that blows in from the sea.
"As the girls explore their new home, a neighbor lets them in on a secret: There are ghosts in Bahía de la Luna. Maya is determined to meet one, but Cat wants nothing to do with them. As the time of year when ghosts reunite with their loved ones approaches, Cat must figure out how to put aside her fears for her sister's sake—and her own."
What critics say: "Telgemeier's bold colors, superior visual storytelling, and unusual subject matter will keep readers emotionally engaged and unable to put down this compelling tale." —Kirkus, starred review
Our take: There's no better graphic novelist alive today than Raina Telgemeier, and this spooky story of sisters, families, and illness is arguably her best work. A near-perfect graphic novel that's great for readers ages eight and up.
From the publisher: "Twelve-year-old Stanly knows the bone growing in his yard is a little weird, but that's okay, because now he'll have the perfect photo to submit to the Young Discoverer's Competition. With such a unique find, he's sure to win the grand prize. But, oddly, the bone doesn't appear in any photos. Even stranger, it seems to be growing into a full skeleton… one that only children can see.
"There's just one person who doesn't find any of this weird—Stanly's little sister. Mischievous Miren adopts the skeleton as a friend, and soon, the two become inseparable playmates.
"When Miren starts to grow sick, Stanly suspects that the skeleton is responsible, and does everything in his power to drive the creature away. However, Miren is desperate not to lose her friend, forcing Stanly to question everything he's ever believed about life, love, and the mysterious forces that connect us."
What critics say: "Quietly powerful; dark yet whimsical…" —Booklist
Our take: Heavy on spookiness and fantasy, but the scariest parts are real-world issues like grief and loss. Best for tweens ages 10 and up. Ventrella's follow-up, Bone Hollow, is another great choice for young readers.

From the publisher: "'Keep calm and carry on.' That's what Katherine Bateson's father told her, and that's what she's trying to do: when her father goes off to the war, when her mother sends Kat and her brother and sister away from London to escape the incessant bombing, even when the children arrive at Rookskill Castle, an ancient, crumbling manor on the misty Scottish highlands.
"But it's hard to keep calm in the strange castle that seems haunted by ghosts or worse. What's making those terrifying screeches and groans at night? Why do the castle's walls seem to have a mind of their own? And why do people seem to mysteriously appear and disappear?
"Kat believes she knows the answer: Lady Eleanor, who rules Rookskill Castle, is harboring a Nazi spy. But when her classmates begin to vanish, one by one, Kat must uncover the truth about what the castle actually harbors—and who Lady Eleanor really is—before it's too late."
What critics say: "[A] cleverly-crafted thriller… readers who enjoy historical fiction, science fiction, or horror will not want to miss this book!"—School Library Connections
Our take: A wonderfully written ghost story set in a spooky, isolated castle. Perfect for kids interested in World War II. Best for readers ages 10 and up.

From the publisher: "Things are getting weird in Surfside. Lately, Samantha's best friend Jade explodes into fits of giggles whenever she sees a boy, and it's throwing a wrench into the kick-back summer of surfing and hanging out that Sam had planned.
"But after swimming through a secret underwater cave, Sam starts to… see things. Like ghosts. And pirates. And maybe something even scarier! Can she and Jade get to the bottom of this mystery in time to save their town?"
What critics say: "Kim Dwinell's Surfside Girls has a timeless quality. With its likable characters, sunny colors, and supernatural mystery, it's a perfect summer read." —School Library Journal
Our take: Like a modern day Nancy Drew story where the ghostly specters are actually ghosts. A supremely fun graphic novel for kids ages eight and up. Followed by a sequel, Surfside Girls: The Mystery at the Old Rancho.

From the publisher: "When middle schooler Kelly Ferguson's Halloween plans switch from party-going to babysitting, she thinks the scariest part of her night will be the death of her social life. But then Baby Jacob gets kidnapped by the Boogeyman's minions and Kelly learns there's a whole lot more to childcare than free snacks and Netflix. Like chasing shadow monsters, drop-kicking Toadies, and mastering monster-fighting moves like the Naptime Headlock and Playground Punch.
"Now, with the help of an ancient handbook and a secret society of butt-kicking babysitters, Kelly sets out to destroy the Boogeyman before he brings Jacob's nightmares to life. But when the monsters' trail leads to her school's big Halloween bash, Kelly will have to prove she can save the world—without totally embarrassing herself in front of her friends."
What critics say: "This new series gives babysitting a daring edge and sets up girls outside of the popular crowd as heroines. An entertaining debut." —Booklist
Our take: Buffy the Vampire Slayer meets The Babysitter's Club in this fantastic novel for younger readers. Best for ages eight and up. Not too scary.

From the publisher: "Harper doesn't trust her new home from the moment she steps inside, and the rumors are that the Raine family's new house is haunted. Harper isn't sure she believes those rumors, until her younger brother, Michael, starts acting strangely.
"The whole atmosphere gives Harper a sense of déjà vu, but she can't remember why. She knows that the memories she's blocking will help make sense of her brother's behavior and the strange and threatening sensations she feels in this house, but will she be able to put the pieces together in time?"
What critics say: "Oh has crafted a truly chilling middle grade horror novel that will grab readers' imaginations." —Publishers Weekly, starred review
Our take: Part mystery, part thriller, and a whole lot of fun. A chilling good story with a diverse cast and just the right amount of scares. Followed by a sequel, The Island of Monsters.

From the publisher: "A classic collection of chillingly scary tales, collected and retold by Alvin Schwartz and illustrated by renowned artist Brett Helquist. Scary Stories to Tell in the Dark contains some of the most alarming tales of horror, dark revenge, and supernatural events of all time. Walking corpses, dancing bones, knife-wielding madmen, and narrow escapes from death—they're all here in this chilling collection of ghost stories. Make sure you read these books with the light ON!"
What critics say: "This new edition is handsome and accessible; now young readers have a choice of how scared they want to be―just a little, or a whole lot. " —Horn Book
Our take: This collection of creepy stories, first published in 1981, has seen renewed popularity with the release of a movie of the same name in 2019. Easily one of the most frightening books on this list. Best for tweens ages 12 and up. Followed by More Scary Stories to Tell in the Dark and Scary Stories 3: More Tales to Chill Your Bones. All three scary Halloween books for kids are collected in a box set, as well.

From the publisher: "Molly Thompson has lots of questions. Questions like, is her Aunt Carol an undead fiend who drinks the blood of the living? Is she secretly lurking in the attic? And is Molly's friend Lowry a descendant of a long line of Kroglin werewolves?
"Serious young historian Molly suspects that the creepy legends about her tourist town of Howlfair are starting to come true. But when her mother bans her from doing any further research, she must enlist the help of her two best friends to try to keep Howlfair safe: Lowry and her own beloved cat, Gabriel. It seems that someone is secretly trying to summon Howlfair's mythical monsters, and with the election of a new town mayor looming, everyone—and everything—is becoming increasingly suspicious…"
What critics say: "A fabulously spooky read from the start. So refreshing to see a bold, resourceful and empathetic female protagonist who isn't afraid to stand out! I devoured this book in nearly one sitting." —Lindsay Currie, author of The Peculiar Incident on Shady Street
Our take: A supernatural mystery with monsters! This book is a lot of fun, light on the frights but heavy on the fun. Younger readers will enjoy spending time with Molly and her friends. A great spooky book for ages nine and up.

From the publisher: "1919. Mama is ill. Father has taken a job abroad. Nanny Jane is too busy to pay any attention to Henrietta and the things she sees—or thinks she sees—in the shadows of their new home, Hope House.
"All alone, with only stories for company, Henry discovers that Hope House is full of strange secrets: a forgotten attic, ghostly figures, mysterious firelight that flickers in the trees beyond the garden.
"One night she ventures into the darkness of Nightingale Wood. What she finds there will change her whole world…"
What critics say: "A brave heroine propels this strong and richly layered novel, a memorable portrait of grief, resilience, and rebirth." —Publisher's Weekly, starred review
Our take: The spookiness here is all in the atmosphere: ghostly visions, creepy woods, things that go bump in the night. This is not a scary book, but one that deals with grief, growing up, and mental illness in a deft and age-appropriate way—fueled by a suspenseful plot and a likeable young heroine.

From the publisher: "Rosa Ramona Díaz has a very special talent. She comes from a family of librarians who specialize in ghost appeasement. So she can't understand why her mother has moved them to Ingot, the world's only unhaunted town. What are they supposed to do there, with no poltergeists to quiet and no specters to soothe? Frankly, Rosa doesn't think anyone should want to live in a place where the biggest attraction is a woefully inaccurate Renaissance Festival.
"But Jasper Chevalier has always lived in Ingot, working at the festival while his parents hold court. Jasper has never seen a ghost, and can't imagine his unhaunted town any other way… until an angry apparition thunders into the fairgrounds and turns Ingot upside down. Jasper is astonished… and Rosa is delighted.
"Mist is building in the hills, and something otherworldly is about to be unleashed. Rosa will need all her ghost appeasement tools—and a little help from Jasper—to try to rein in the angry ghosts in this hilariously spooky adventure."
What critics say: "A fun and fast-paced supernatural mystery with secret depths for those who dare explore them." —Kirkus
Our take: A delightful cast of characters and gently spooky situations make this a perfect "just scary enough" book for the younger crowd. Followed by a sequel, A Festival of Ghosts. Best for ages eight and up.
Anya's Ghost by Vera Brosgol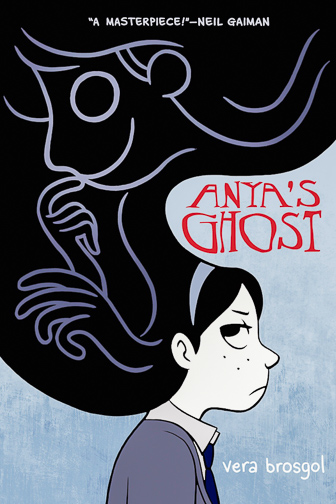 From the publisher: "Of all the things Anya expected to find at the bottom of an old well, a new friend was not one of them. Especially not a new friend who's been dead for a century.
"Falling down a well is bad enough, but Anya's normal life might actually be worse. She's embarrassed by her family, self-conscious about her body, and she's pretty much given up on fitting in at school. A new friend―even a ghost―is just what she needs. Or so she thinks."
What critics say: "Brosgol has created a smart, funny, and compassionate portrait of someone who, for all her sulking and sneering, is the kind of daughter many parents would like to have. And the kind of girl many of us maybe once were." ―New York Times Book Review
Our take: Don't let the cartoony illustrations or middle school coming-of-age setting fool you: This is a low-key horror story with some surprisingly scary moments and mature situations. Best suited to mature tweens ages 12 and up.

From the publisher: "When Tavorian Kreet and his mom move in with his great-grandmother, Tav is forbidden to go into the woods on the estate. But like most eleven-year-olds, he just can't resist.
"After secretly exploring the woods, Tav begins having dreams about a supernatural tree. Soon, the dreams change from pleasant to dark and menacing. On a dare, Tav ventures farther into the woods with his new friend, Harper. There, they meet a mysterious, mute boy named Edward who lives in a decrepit cabin nearby. Afraid, and unable to speak, Edward scrawls 'Wicked Tree' on the ground.
"Determined to help Edward, Tav enlists Harper, and they search the estate for clues to Edward's identity and how to help him. With Harper's help, Tav pieces together the Kreet family history and discovers an ancient curse. If Tav wants to save his friends and family, he must go into the heart of the woods, find the Wicked Tree, and confront a most evil magic."
What critics say: "Spooks, mystery, and heart make this a read to get lost in." —Bookworm for Kids
Our take: With ancient curses and a spooky dark forest setting, this enormously spooky book throws in a wonderful young protagonist and a dash of supernatural mystery on the side. Best for readers ages 10 and up.

From the publisher: "When Henry Davis moves into the neighborhood, Barbara Anne and her classmates at Washington Carver Elementary don't know what to make of him. He's pale, small, odd. For curious Barbara Anne, Henry's also a riddle—a boy who sits alone at recess sketching in a mysterious notebook, a boy, she soon learns, who's being haunted by a ghost named Edgar.
"With the help of some new friends, this unlikely duo is off on an adventure to discover who Edgar was while alive and why he's haunting Henry now. Together, they might just help Edgar find what he needs to finally be at peace."
What critics say: "Convincing, humorous, warm, and definitely spooky." —Kirkus
Our take: A classic ghost story with a modern twist. Perfect for younger readers looking for chills but not scares. Appropriate for ages eight and up.

From the publisher: "Irréelle fears she's not quite real. Only the finest magical thread tethers her to life―and to Miss Vesper. But for all her efforts to please her cruel creator, the thread is unraveling. Irréelle is forgetful as she gathers bone dust. She is slow returning from the dark passages beneath the cemetery. Worst of all, she is unmindful of her crooked bones.
"When Irréelle makes one final, unforgivable mistake by destroying a frightful creature just brought to life, Miss Vesper threatens to imagine her away once and for all. Defying her creator for the very first time, Irréelle flees to the underside of the graveyard and embarks on an adventure to unearth the mysterious magic that breathes bones to life, even if it means she will return to dust and be no more."
What critics say: "A thrilling read, with bone-chilling descriptions and enough ghastly moments to keep even the bravest young readers shivering―and entertained." ―Horn Book
Our take: With its spooky graveyard setting, brave and appealing heroine, and perfectly loathsome antagonist, this creepy story evokes the feeling of a deliciously dark fairy tale. Best for ages 10 and up.

From the publisher: "Magic is harder than it looks. Thirteen-year-old Moth Hush loves all things witchy. But she's about to discover that witches aren't just the stuff of movies, books, and spooky stories. When some eighth-grade bullies try to ruin her Halloween, something really strange happens. It turns out that Founder's Bluff, Massachusetts, has a centuries-old history of witch drama. And, surprise: Moth's family is at the center of it all!
"When Moth's new powers show up, things get totally out-of-control. She meets a talking cat, falls into an enchanted diary, and unlocks a hidden witch world. Secrets surface from generations past as Moth unravels the complicated legacy at the heart of her town, her family, and herself.
What critics say: "Moth's magic proves better than 'okay,' and readers will hope for a sequel for the intriguing characters." —Publisher's Weekly
Our take: What this fast-paced graphic novel lacks in scares it more than makes up for in witchy adventure. Perfect for fans of the classic Sabrina the Teenage Witch comics who aren't ready for the mature horror of The Chilling Adventures of Sabrina.

From the publisher: "For those who still dream and remember, for those yet to experience the hypnotic power of its dark poetry, step inside. The show is about to begin. Cooger & Dark's Pandemonium Shadow Show has come to Green Town, Illinois, to destroy every life touched by its strange and sinister mystery.
"The carnival rolls in sometime after midnight, ushering in Halloween a week early. A calliope's shrill siren song beckons to all with a seductive promise of dreams and youth regained. Two boys will discover the secret of its smoke, mazes, and mirrors; two friends who will soon know all too well the heavy cost of wishes… and the stuff of nightmares.
"Few novels have endured in the heart and memory as has Ray Bradbury's unparalleled literary masterpiece Something Wicked This Way Comes. Scary and suspenseful, it is a timeless classic in the American canon."
What critics say: "While Stephen King frightened and thrilled me, Ray Bradbury's Something Wicked haunted me. Spoke to me. Crawled under my skin and stayed there, like the face of that cold, graying corpse." ―NPR
Our take: The oldest book on this list—it was first published in 1962—and also the scariest, Bradbury's classic Halloween story about two 13-year-old best friends was not written as a children's book. But for mature tweens looking for something to dig their teeth into, there's still nothing better. (Ray Bradbury did write a spooky book intended for young readers, The Halloween Tree, which is plenty scary, too.)