Once you've taught your child to pack his or her own bags, the next step is to make sure they actually lug it all on vacation! While teens crave independence, they're usually all too happy to let someone else worry about the luggage. The best way to convince them to pull their weight? Choose the right luggage. These are our picks for the best carry-on bags for teens.
1. Fjallraven Kanken Backpack
Your teen either owns a Fjallraven Kanken Backpack or wants one (there is no in-between). These trendy backpacks come in various colors, but all are super-sleek and simple in design. Most of the backpacks can hold a laptop or tablet. The versatility of this backpack—teens can use it as travel luggage or a school bag—makes it worth the investment, too.
2. French Bull Hard Case Carry On Spinner Luggage
With four vibrant choices that pack a powerful punch, the French Bull 20-inch Spinner will delight teens who want to look stylish and also pack a ton of stuff for every trip. The roomy interior has a zippered pocket and straps to hold items in place. Four smooth, multi-directional wheels and a 21-inch push-button telescoping handle make long walks between terminals a breeze.
3. Veegul Multipurpose Backpack With Laptop Compartment
Designed to be stashed either in the overhead bin or under the seat, the lightweight Veegul Wide Open Multipurpose Backpack comes in 10 colors and is made of durable nylon. It opens wide like a doctor's bag, and has tons of compartments, including one large enough to hold a 15-inch laptop, making this the perfect bag to strap on and go. Adjustable padded back panel and shoulder straps make even the heaviest contents easy to carry either on your back or by its top handle. It works great as a day bag, too.
4. Kipling Discover S
If your teen prefers stuffing a rolling duffle bag, check out the Kipling Discover S, which features lots of zippered pockets, adjustable packing straps, four spinning wheels and a sturdy retractable handle. Available in four colors and crafted from crinkled nylon, this collapsible, yet durable lightweight bag also comes with locking zipper sliders and a cute money keychain.
Related: 10 Best All-Inclusive Resorts for Teens in 2020
5. Rockland Luggage Polycarbonate Carry-On
Teens who throw their luggage into the trunk or airport carts will find the Rockland 20-inch Polycarbonate Carry-On nearly indestructible. With a sturdy ergonomic telescoping handle and multi-directional spinner wheels, this bag can withstand lots of adventure. Plus, its lightweight design makes it super easy to hoist into the overhead bin. Inside, there's a zippered mesh pocket. Outside, its funky cityscape design helps your teen find it quickly if it's in a pile of bags on a school trip.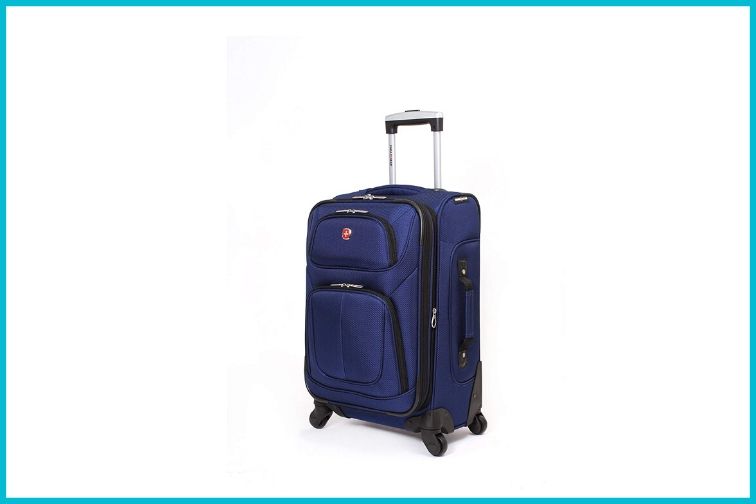 6. SwissGear Sion
Does your teen need an expandable bag to hold the souvenirs from your vacation? SwissGear's 21-inch Sion bag delivers with additional packing space once the expanding zipper is undone. Sturdy metal zippers and a locking telescopic handle, plus reinforced carrying handles, make this a smart choice for travelers. Three outside zippered pockets mean not having to open the entire bag for reading material, tablets and other necessities.
7. Travelpro Maxlite Easy Carry-On Spinner Under Seat Bag
When you're traveling on a plane with teeny-tiny overhead bins, your teen will be happy with the Travelpro Maxlite 4 Easy Carry On Spinner Under Seat Bag, which comes in three colors. Along with its lifetime guarantee, the bag's carrying handle has a comfy contoured grip, and the retractable handle is adjustable. It includes a roomy outside pocket to store magazines, headphones or electronic devices, plus a large main compartment with straps to keep a laptop secure.
8. Scooter Suitcase Ride-on Travel Trolley Luggage
Is there anything more fun than luggage that doubles as a skateboard? Nope! So as long as your teen is less than six feet tall, he or she can pack Modobag's Scooter Suitcase and ride it. Available in 13 colors of anti-scratch, waterproof material, this bag's aluminum frame is sturdy enough for all kinds of travel. There are even brakes on the bottom to control your speed.
Related: 8 Hacks for Traveling With a Surly Teenager
Montreal-based Wendy Helfenbaum is a journalist, content strategist and TV producer who writes for dozens of digital and print magazines, as well as many brands. Wendy loves cruising, adventure travel and venturing off the beaten path with her husband and teenage son, and she can pack a carry-on bag like nobody's business. Follow her @WendyHelfenbaum.
What to Pack for Your Next Trip
For info on these editor-selected items, click to visit the seller's site. Things you buy may earn us a commission.
Our team of parents and travel experts chooses each product and service we recommend. Anything you purchase through links on our site may earn us a commission.