Searching for cheap kids' luggage for your next vacation? There are loads of affordable luggage brands out there, whether you're a diehard Target fan or only trust Samsonite and American Tourister luggage to hold your worldly possessions. So what makes a great piece of luggage your kids will actually want to use? The best cheap kids luggage is not only adorable, but durable. It needs to hold up to the bumps and bangs from your kids and baggage handlers. Getting thrown onto the curbs and into taxis both at home and when you travel abroad is going to be part of that suitcase's life. Your kid's suitcase can't crack or tear along the way to grandma's house or infinity and beyond. Unless you plan on traveling with a roll of duct tape, your kids' luggage had better hold up. These are our picks for the best cheap kids luggage, all for under $100.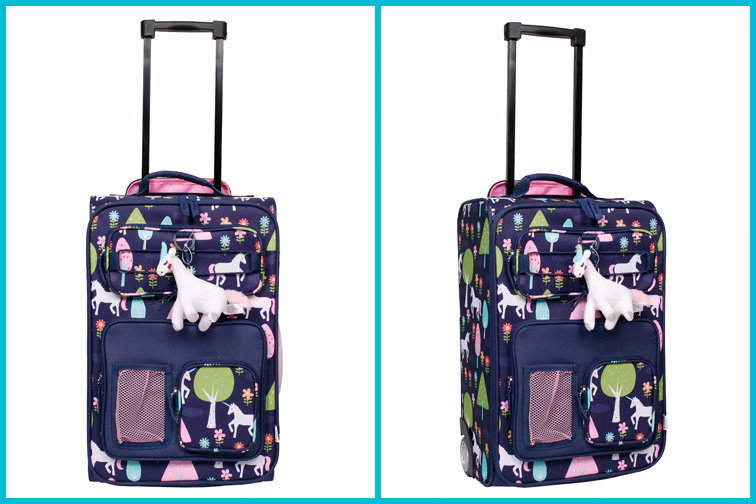 1. Crckt Carry On Kids Luggage
Target kids luggage comes in all shapes and sizes, as well as price points. For those ready to lug their own bag across the airport, grab the Crckt Carry On Suitcase. These kids suitcases come in fun patterns, featuring characters like unicorns and foxes. We love that it has multiple pockets on the outside to hold stuffed animals, water bottles and small toys for easy access as soon as you board the plane. It can also hold all of the clothing your child will need for any trip.
2. Skip Hop Luggage for Kids
When it comes to toddler bags, we love the Skip Hop kids luggage with wheels. These adorable animals-turned-suitcases will become your best bud on the road. The roller bag is just large enough for a weekend away, and the perfect height for young travelers to start learning how to pull their own bag. Even better, this luggage won't trip every adult at the airport along the way!
3. iPLay, iLearn Kids Luggage Sets
Sometimes you need more than one bag, which is when we turn to our favorite cheap kids' luggage sets. iPLay, iLearn has created the perfect scratch-proof, waterproof hard-shell sets to get young travelers started. Just like Skip Hop, these carry-on bags are the perfect size for toddlers to carry without weighing them down, but the adjustable shoulder strap and telescoping handle allows the bags to grow with kids, too. The suitcase can carry their tiny clothes, fitting an entire trip into one smaller bag. This cheap kids luggage also comes in a variety of fun themes like cars and trucks, or unicorns.
4. Mickey Mouse Kids Luggage Set
We all know more than one Minnie Mouse-loving mom who's picked up two-piece luggage set for herself (that she shares with her daughter on every trip to Disney World, of course). Mickey should never be left out either. When the entire family has to get out and go, grab the three-piece Mickey kids luggage set for your next trip to the Happiest Place On Earth.
5. Samsonite Spinner Underseater Kids Luggage
Samsonite does not have a specific kids luggage line, but that doesn't mean kids won't love this brand. This brand was built to last, and has enough colors and styles to keep even your teen fashionista happy. We love the Spinner Underseater with a USB port so our teens can keep their devices charged up without having to bug us for our external battery charger. Plus, mom and dad can always steal their kids' cheap luggage for a weekend getaway in a pinch. We love luggage that pulls double duty in the family, don't you? Bonus: If you want to dress up your Samsonite kids' luggage a bit, you can also add a few cheap kids luggage charms. Nothing says individual style like BB8 and friends luggage tags.
6. Goplus Carry On Kids Luggage
When you need that pop of color, but a basic suitcase that can be used by anyone in the family, Goplus has you covered. This cheap kids luggage is waterproof, which means it is easy to clean with a damp cloth — not a bad feature when children are in the mix. Plus, its four flexible 360-degree universal wheels make it perfect to navigate busy airports, even when your grade school kid is at the helm of their own bag.
7. TPRC Smart Under Seat Carry-On Kids Luggage
When fashion meets function, parents are happy. If we can steal our cheap kids luggage for our own trips, we are even happier. This 15-inch Smart Under Seat Carry-On Luggage offers side pockets that give kids quick access to lovies, phones and games. The USB charger will keep them playing on their tablet for hours during any travel delay. Bonus: Because this kids suitcase fits under the seat, you'll still be able to pop another bag in the overhead bin, meaning you can pack twice as much as you thought. Plus it's inexpensive enough to grab even more cheap kids luggage for the rest of the family.
8. Wrangler Kids Luggage
Did someone say cupholder? Your teens just might skip with glee when they see that this Wrangler hardside suitcase comes with a patented 3-in-1 cup holder, USB port, and phone holder located in the back of the luggage. Heck, mom and dad may want to steal this cheap kids luggage for themselves. The subdued colors wouldn't make it hard. Now your kids can maneuver around the airport with their favorite beverage, just like mom and dad, all while holding younger siblings' hands and their own bags, too.
9. Rockland Kids Luggage Sets
For older children who need a little more space for their gadgets and gear, we love the Rockland line. The Rockland kids luggage sets come in subtle, yet fun patterns, without all of the cartoon characters. Tweens and teens can still show off their individual style, without feeling like "kids." Best of all, these suitcases can grow with your kids, and they can continue to be used even when they go off to college. Who doesn't love pink dots?! You certainly won't miss your cheap kids luggage coming off the luggage carousel either.
Keryn Means lives in the suburbs of Washington, D.C. with her husband, two boys and one fluffy little pup. She is an award-winning travel journalist with bylines on Thrillist.com, Travel Age West and more, and loves to talk travel on ABC's Good Morning Washington. You can find Keryn dragging her two boys around the DC area most days and across the globe several times a year. Follow along on their adventures on WalkingOnTravels.com and on Instagram.
Girls Caribbean Vacation Day Outfit for Summer
Boys Caribbean Vacation Day Outfit for Summer
Our team of parents and travel experts chooses each product and service we recommend. Anything you purchase through links on our site may earn us a commission.