Most of the magic in Orlando was reserved for a certain mouse's kingdom — until Harry Potter set up camp across town at Universal Orlando Resort. For Muggles who are still waiting for their acceptance letters to Hogwarts, The Wizarding World of Harry Potter is the closest they'll get to becoming a wizard or witch.
But what happens if you only have one day to spend with the Boy Who Lived? Even without Hermione's time turner, we managed to check out the entire land in a day. Try our strategies to make the most of every minute.
Before You Go
Harry Potter is split between Universal Studios Orlando (which houses Diagon Alley, the magical shopping mecca) and Universal's Islands of Adventure (home to Hogsmeade and Hogwarts). In order to get the full experience, you'll need to spring for park-to-park admission. You'll also need to keep tickets handy in order to ride the Hogwarts Express train back and forth between the two parks.
1-Day Itinerary
Diagon Alley
Ride Escape from Gringotts
The coolest ride in Harry Potterdom garners the longest wait times, so head there first thing in the morning. Families can tour the magical world's famous bank, right at the moment when Harry and crew break in during the second "Deathly Hallows" movie. The 3D ride treats families to a wild ride on a runaway car in which they're attacked by statues, dark spells from Voldemort and his right-hand girl, Bellatrix LaStrange, plus one angry dragon. The ride's a bit scary, but the Rider Swap Program ensures that everyone who's game gets a chance, while the rest of the crew cools their heels and watches movie clips in the waiting area.
Grab a shot of the dragon above Gringotts
Afterward or beforehand, get a picture of the dragon atop Gringotts — it breathes fire! Hint: The dragon will growl three times before it spits fire, giving you just enough time to break out the camera.
Head for Ollivanders
Once you're done with Gringotts, get right in line for Ollivanders, where one lucky wizard or witch will find their perfect wand with a little bit of special effects magic. The Diagon Alley branch offers a larger space in comparison to the original location in Hogsmeade, making it easier to get in and out quickly. Tip: Pick up an interactive wand — it's worth springing for at least one of these for your party. It'll give you the ability to make feathers float, suits of armor build themselves and shop windows come alive throughout the parks, particularly in Diagon Alley.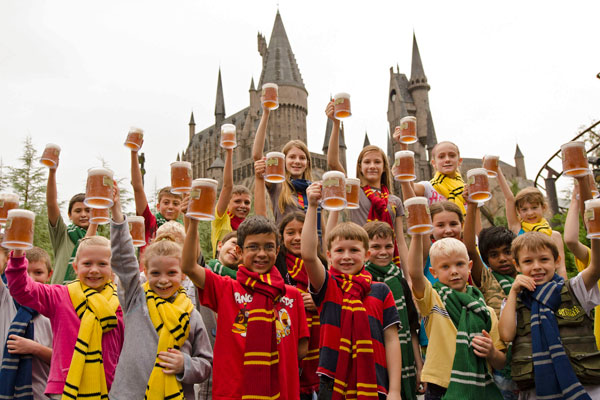 Test Out Your Wand Over a Butterbeer
Is it ever too early in the morning to have a Butterbeer? No. Go ahead and indulge in this beloved butterscotch-and-cream-soda beverage of the magical world. Throughout the park, you'll find it served frozen, cold or hot, so pick your favorite way to enjoy the brew. Other fun drinks include pumpkin juice, similar to spiced apple cider; Fishy Green Ale, a surprisingly delicious drink combo of mint and cinnamon with blueberry-flavored boba tea bubbles at the bottom; and Hog's Head Brew, Wizard's Brew and Dragon Scale, signature beers for the 21-and-over crowd. Afterward, test your wand skills with a few spells around Diagon Alley.
Take the Hogwarts Express to Hogsmeade
The Hogwarts Express is the fastest (and most fun) way to transfer between the two parks. When you're in the queue to ride the ride, pay close attention as you head around the corner to Platform 9 3/4 at Kings Cross Station — special effects make it look like you're walking through the wall! Make sure you ride the train both ways, too — the experience is different in each direction, with different characters from the books appearing during your travels.
Hogsmeade
Ride Harry Potter and the Forbidden Journey
This was Universal Orlando Resort's first immersive Harry Potter ride. It takes you through Hogwarts Castle, where you'll see the Mirror of Erised, the Defense Against the Dark Arts classroom and Dumbledore's office. The ride itself uses a combination of animatronics, holographic images and even water and smoke to bring you face to face with dementors, spiders and a wicked Quidditch match.
Tip: Heed all warnings regarding motion sickness — even the most iron-stomached of our crew felt a little green after the ride. If you don't plan to ride, you can still take in the amazing themed displays throughout the castle by hitting the tour-only line at the entrance (and it's well worth it for a glimpse of the Sorting Hat).
Ride Dragon Challenge and Flight of the Hippogriff
Dragon Challenge and Flight of the Hippogriff offer less immersive experiences than the signature rides, but they'll still be a thrill for fans. The Flight of the Hippogriff is a kid-friendly coaster (36 inches and taller), with mild hills and turns that are perfect for younger siblings. The coolest part is in the line leading up to the ride, where you'll encounter Hagrid's hut and an animatronic hippogriff.
Dragon Challenge takes its story from the "Goblet of Fire" dragon challenge, and lets you ride your pick of one of two looping roller coasters — the Hungarian Horntail or the Chinese Fireball. As with the other Harry Potter rides, there's plenty to keep you entertained while you're waiting to board — including a glimpse of the Goblet of Fire itself. This inverted coaster boasts the biggest drop — 115 feet — of any in the park, and several upside-down loops. It also has the highest height restriction (54 inches) of any of the Harry Potter rides.
Browse the Shops, Do a Little Magic, or Catch a Show
The best shopping is really in Diagon Alley, but it's worth taking a few minutes to explore Honeydukes (the glass jars of candy make a nice souvenir), and doing a few of the spells around Hogsmeade. If you're in the mood for a little light entertainment (and have about 10 minutes to spare), you can catch the Triwizard Tournament Spirit Rally, which features dance and gymnastics performances by the girls of Beauxbatons and the guys from Durmstrang, or the famed Hogwarts Frog Choir performing a few magical numbers.
Decide Where to Lunch
Depending on how long it took you to get through your rides, you might be ready for a lunch break. Take a look at wait times for the Hogwarts Express and at the Three Broomsticks, and decide if you'd rather take the train back to Diagon Alley to eat at the Leaky Cauldron, or hit the Three Broomsticks before you grab the train back. Keep in mind that the Leaky Cauldron has a larger space to manage a larger crowd of guests.
Menus are stocked with hearty Scottish and English fare, including fish and chips, Cornish pasties (meat pies), smoked turkey legs, and bangers and mash. The kids' menus come with mac and cheese and chicken fingers, along with a small-size version of fish and chips.
Both restaurants have lots of amazing detail pulled straight from the movies, including animated hogs' heads on the walls, so take time to look around the place and snap a picture or two.
Grab an Ice Cream
Florean Fortescue's Ice Cream Parlour became one of Harry's favorite Diagon Alley stops in the books, and you don't want to miss it when you're visiting either. The ice cream parlor has the usual chocolate and vanilla flavors, but skip the standards and try one of its more unique options, like the sticky toffee pudding, the frozen soft-serve Butterbeer, or the spicy chocolate-chili. It'd be a great way to cool off when the temps start rising in the afternoon.
Check out the Knight Bus and the Phone Booth
As the shops and attractions fill up, take a breather outside Diagon Alley and visit with the conductor of the infamous Knight Bus (and the animatronic shrunken head who helped steer). Be sure to duck into the phone booth right outside Kings Cross Station, too, where you'll get a special message from the Ministry if you dial the word "MAGIC." You'll also see Grimmauld Place, where the house elf Kreacher often peeks out from the window upstairs.
Additional Tips
View Visitor Stats Before You Visit
Sites like TouringPlans.com look at historic visitor stats and special events to help you predict what the crowd may be like on the days of your trip. Not surprisingly, low-traffic days typically occur mid-week.
Arrive Early
Even if you don't stay on the grounds, don't be shy about arriving up to an hour before the official opening time. To ensure that no one waits in the line at the gates too long, the gate attendants often start letting folks in early. We were able to get in a half hour before opening the day we visited, and managed to hit a few Diagon Alley shops and get in line at Gringotts before the park's official 9 a.m. opening.
Consider a VIP Tour
Universal Orlando's Express Pass isn't really the best investment for the Wizarding World of Harry Potter — it can't be used on Hogwarts Express, Harry Potter and the Escape from Gringotts or Harry Potter and the Forbidden Journey (in other words, all the coolest parts of Harry Potterdom). Alternatively (and if you're willing to a pay a premium), you can book a VIP Tour of the park, which includes front-of-the-line access to rides with no exclusions, and behind-the-scenes tours, plus valet parking and continental breakfast. VIP tours start at an additional $299 per person.
Use Single-Rider Lines
If you have older kids who'd be comfortable riding without you, rides like the Escape from Gringotts and Forbidden Journey have a single rider line, which often has a much shorter wait time. Keep in mind, however, that skipping the line means you miss parts of the cool theming included in the standard line.
Stay at a Universal Orlando Resort Hotel
If you stay at one of the park's official resort hotels, you get early access to the Harry Potter portions of the parks, which means you may be able to cross a few must-dos off your list before the other folks arrive.
Cabana Bay Beach Resort
Opened in 2014, Cabana Bay Beach Resort is a budget-friendly hotel with family suites that sleep up to six guests, pools with dive-in movies, a bowling alley, arcade and complimentary shuttles to the park.
Hard Rock Hotel at Universal Orlando Resort
Guests of this hotel enjoy early admission to the Wizarding World of Harry Potter, plus a swimming pool, children's activity center, onsite restaurants with kids' menus and spa services just for teens.
Loews Portofino Bay Hotel
Families at this hotel also get to take advantage of early entry to the Wizarding World of Harry Potter, along with three themed swimming pools, spa services for teens, kids-only dining areas and a children's program. It also has Despicable Me Kids Suites!
Loews Royal Pacific Resort
This hotel features a giant swimming pool, kids' program, teen spa services and early entry to the Wizarding World of Harry Potter. This resort features Jurassic Park Suites.
More From Family Vacation Critic:
5 Places to Explore Harry Potter's Britain
13 Secrets at Universal Orlando Resort
Our team of parents and travel experts chooses each product and service we recommend. Anything you purchase through links on our site may earn us a commission.