Skiing and snowboarding are cool and all, but both wintertime activities require pricey gear and expensive lift tickets. Sledding, on the other hand, requires little more than a piece of molded plastic, an old-fashioned wood and metal sled or a tube, a hill, and the determination to climb up to the top again and again.
Here are a dozen of the best snow sleds for kids of all ages, many of which offer excellent tandem sledding so parents can experience the cheap thrill of sledding this winter, too!
1. Slippery Racer Xtreme 1-2 person Toboggan Snow Sled
This one- to two-person snow sled for kids is made of a slick-coated flex plastic and is coated with ice vex cold-resistant treatment so your kids can be assured of gaining top speed on the snowy hills in wintertime. Big enough for a couple of kids as well as a parent and child to ride together, the Slippery Racer Extreme toboggan sled also has a pull rope to make it a breeze to haul back up the hill for another ride down.
2. Heavy Duty Snow Sledding Tube
This handsome blue snowflake sledding tube has a 47-inch diameter and can hold up to 600 pounds, making it a sturdy, impact-resistant inflatable wintertime mode of downhill transportation perfect for the entire family. Easy-to-grip handles and a deep seat mean the BAYKA sledding tube is ideal for kids to ride with their older siblings and/or favorite adults. The included carrying bag makes it easy to take this kids' sled away on wintertime road trips.
3. Goplus Snow Racer Sled
Built like a bobsled and looking like a jetski, this incredible sled for one to two kids will have kids reaching top speeds and steering like a professional snowmobiler as they careen down snowy hills this winter. The Goplus Snow Racer Sled features a differential steering system and a deep digging brake mechanism, and also includes an automatic self-retracting bungee cord for easily towing your kid on their sled if a suitable hill can't be found.
4. Elf Buddy's Magic Saucer Sled
This is a classic saucer snow sled for kids that's decorated with Will Ferrell as Buddy, everyone's favorite elf. This officially licensed, 26-inch Elf saucer sled is made of durable plastic, has dual grip handles built-in, and is coated with an ice vex cold-resistant treatment.
5. Magic Carpet Flexible Sled
Will your kid feel every bumpy patch of snow as they zoom down the hill on the Flexible Flyer Sled? Absolutely! Will they love every second of it? Absolutely! And you'll love that this 3-foot long flexible sled is foldable and easily storable, making it great for winter travel. With a weight cap of 90 pounds, the Magic Carpet is purely for the kiddos and will not be captained by mom or dad, unlike the majority of the other best snow sleds for kids on our list.
6. BigMouth Inflatable Ice Dragon Snow Tube
Kids will love to fly down any hill this winter in this cool, heavy-duty PVC ice dragon inflatable sledding tube. A deep seat and raised handles will help kids stay inside their 5-foot winter dragon while picking up speed and burning down the snow.
7. Four Person Toboggan Sled
Simple construction, unfussy design and 66 inches of surface space make this toboggan sled great for entire families to zoom down a snowy hill together. The made-in-the-USA ESP 66-inch snow sled can hold up to four people, meaning your kids and their friends can share in the thrill of sledding this winter, and the clever folded edge will prevent snow from being tossed up into the toboggan while sledding down the hill.
8. Flexible Flyer Metal Sled
This is the original Flexible Flyer steel runner sled! Measuring four feet long, the smooth birch wood Flexible Flyer sled is the perfect length for a kid to carve up a snowy hill all by themselves, or with a friend or grown-up on board, too, yet also manageable enough in size and weight for a child to get back up the hill for sledding run after run without any adult assistance.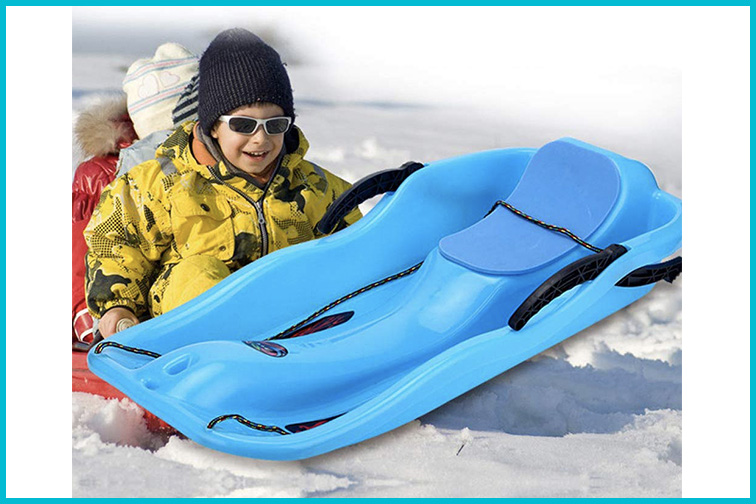 9. WAQIA Oh Snow Sled
This WAQIA's Oh Snow sled's double brake design and easy-to-hold rope let even the smallest of snowbaby kids sled safely down a snow-packed hill this winter. The comfortable anti-slip seat of this snow sled for kids helps to make hours of sledding in the snow more comfortable.
10. Geospace LED Ski Skooter
This isn't a sled in the traditional sense, but this stand-up ski scooter with LED lights provides a modern, exhilarating way for kids to travel down a snowy hill in the winter. Your kids will love to show off their sledding moves and impress their friends while zipping downhill on this Geospace Ski Skooter.
11. Flexible Flyer Baby Toddler Boggan Pull Sled
Crack resistant and made in the USA, this adorable baby boggan will allow your tiniest family members to experience the joy of sledding as you pull them through the snow like your baby or young toddler's own personal Rudolph! This Flexible Flyer pull sled with adjustable safety strap is the best snow sled for the littlest kids.
12. Round Snow Saucer Sled
Here's another classic saucer sled that is 26-inches in diameter, made for kids ages 3 and up, built with dual handle grips for added safety while gaining speed down a snowy hill, and coated in a silky resin for maximum glide. It's available in a three-pack of colors, meaning every kid can have their very own sled this winter.
Jeff Bogle lives in the suburbs of Philadelphia with his two teen daughters, two cats, one dog and six (yes, six) guinea pigs. He is an award-winning photographer and respected travel journalist with bylines on Reader's Digest, Good Housekeeping, PBS, Esquire and more. Jeff (probably) spends too much time in England watching football and far too many hours plotting his family's future travel adventures. Find Jeff on his own site, Out With the Kids.
What to Pack for Your Next Trip
Our team of parents and travel experts chooses each product and service we recommend. Anything you purchase through links on our site may earn us a commission.